For the past few years I have not been a great fan of backpacks and have tended to prefer messenger bags or small photo bags such as the Billingham Hadley Small. Sometimes, though, a compact backpack is the best solution and is particularly appropriate in the summer when travelling light. With this in mind, I've had my eye on the Tom Bihn Synapse backpack for some time. TB claims it is the ideal daybag, small and light, and that it can swallow an incredible amount of gear.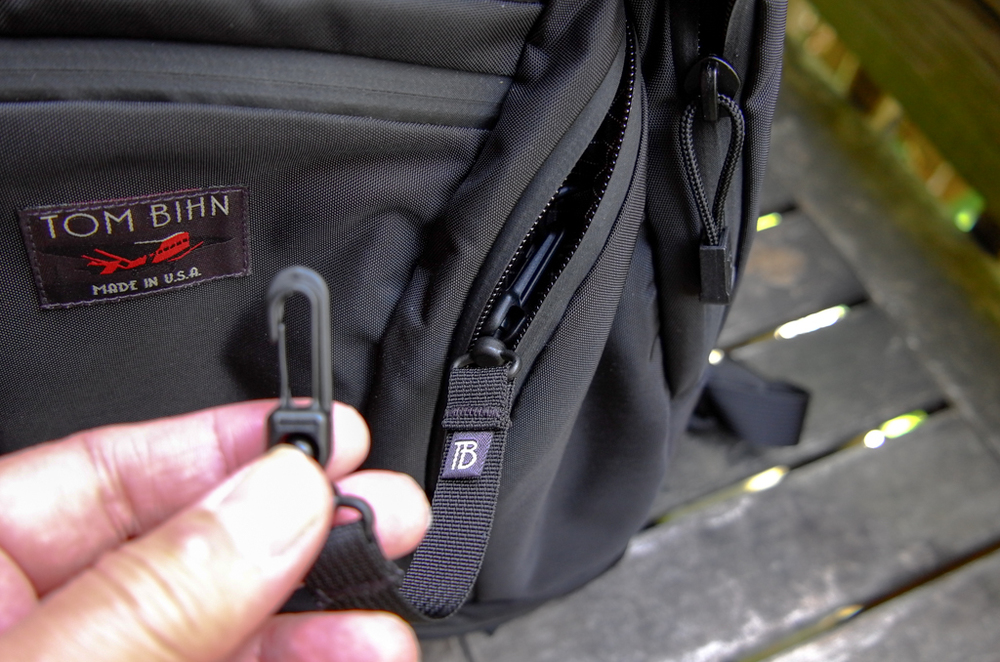 I am no stranger to Tom Bihn's superbly practical luggage, manufactured in Seattle, Washington State, and wrote glowingly about the Empire Builder carry-on bag, the Ristretto for iPad or MacBook Air messengers and the ingenious method of extending storage with a whole range of custom pouches, wallets and accessories. All Tom Bihn's popular bags come with at least one O ring to attach extender straps, key rings and TB's pouches.
Tom Bihn's quality and attention to detail is a given. So I had no qualms in mail ordering a black Synapse 19 backpack which has proved to be everything I expected—and a little more besides.
Mine is the smaller of the two Synapses and holds 19 litres of stuff. The bigger Synapse 25 holds 25 litres. The small size is perfect for a day pack and also makes a handy carry-on bag for air travel. I chose the smooth, rather shiny Dyneema nylon material which is a departure for me since all my previous Tom Bihn products have been made from Cordura. The Synapse is also available in a heavier nylon Parapak material or in Cordura. The Dyneema is the lightest material and I am very pleased with it. All Tom Bihn's bags seem to last forever and I think the Synapse in Dyneema will be no exception.
The Synapse 19 features five zippered pockets in addition to the main compartment which also offers a full-width inside pocket. All of the six individual areas contain at least one O ring for accessories. There is a total of eight rings so you can attach pouches, bags and other accessories anywhere within the Synapse.
The main compartment has four webbing loops which will anchor the optional padded Cache sleeve, available in a variety of sizes for iPads and Mac laptops. The Cache can be placed either side of the main compartment so you can choose whether to have the computer next to your body or against the outer divider. Ingeniously the Cache features a full-length webbing strap which enables it to be slid upwards and outwards to allow the computer to sit on the conveyor while passing through security checks. Subject to local regulations, it could be possible to pass through without removing the laptop from the padded Cache.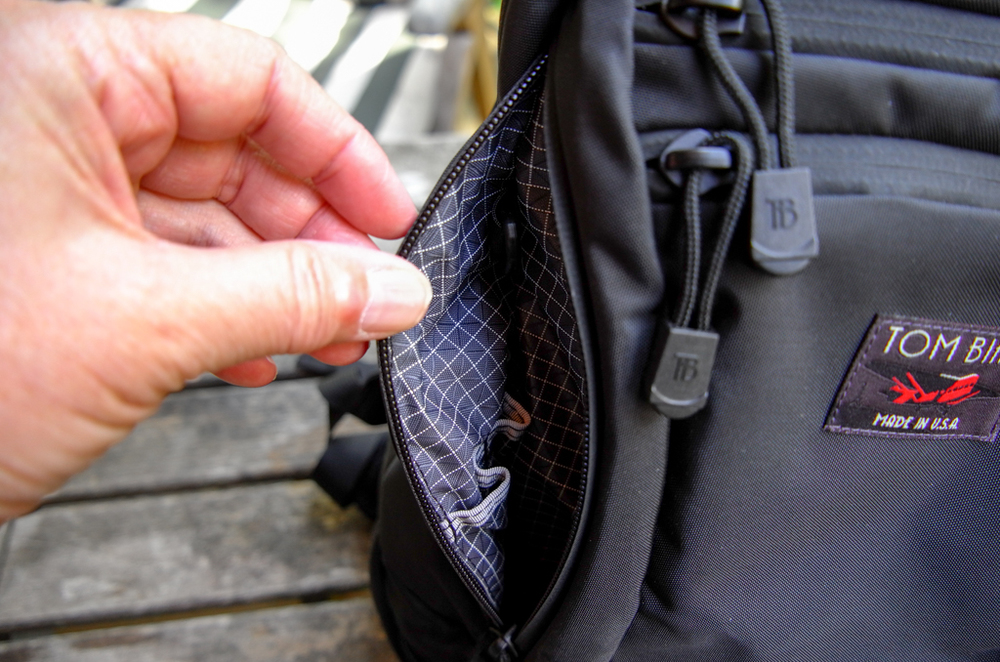 Tom Bihn tells me that the Synapse 19 will accommodate any Mac or iPad up to the 13in MacBook Pro, with its recommended 6Z-size Cache. I'm out of luck with my current 15in MacBook Pro but I am intending to downsize to the 13in model later this year so all will be well.
The two very useful vertical pockets, either side of the central pockets, also have pouches. Inside the righthand pocket is a single suede-lined compartment for a mobile phone while the left-hand pocket sports two pen holders. To the centre of the pack there are two zippered pockets, one for odds and ends and the other deep enough to hold a one-litre water bottle.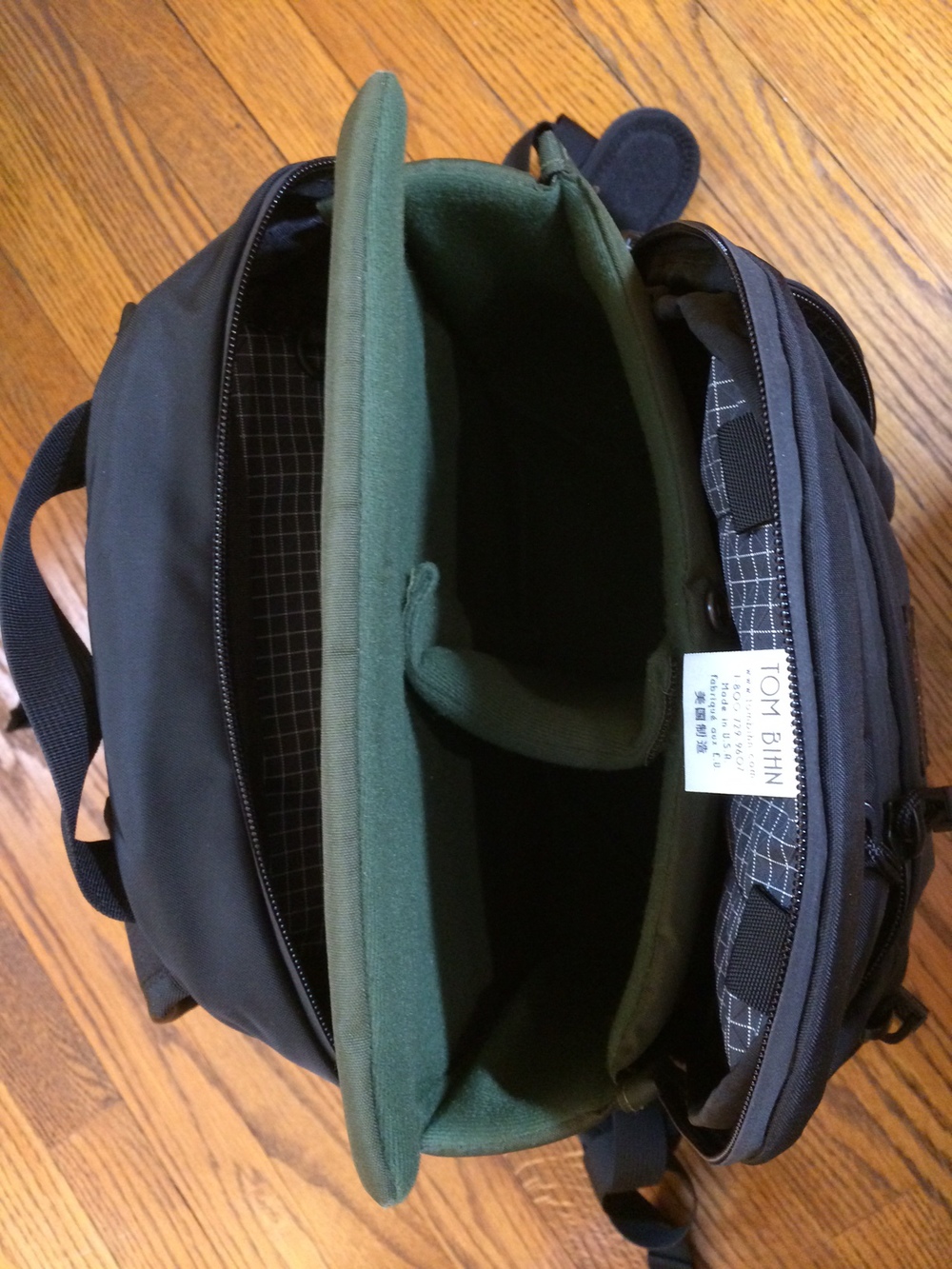 Since I always carry a camera, I envisaged the Synapse as a good place to store my photographic gear. There is just one snag: No padding. However, quite by chance I discovered that the padded "bucket" from my Billingham Hadley Small fits into the Synapse as though it were custom made. It is easy to swap the padded cell from the Billingham to the Synapse and the camera and lenses are given the same level of protection they would enjoy in the professional photo bag.
With the padded insert inside the Billingham Hadley Small, it is a little too shallow to easily accommodate a camera with modest zoom and external viewfinder attached. This applies to the Leica T I have had on test for some weeks. It is a tight fit in the Billingham but, because the Synapse is more flexible and wider, the camera slides into the padded cell with no problem.
The Billingham insert can be placed at the bottom of the main compartment of the Synapse or you can store other stuff below it, thus raising the padded cell and camera gear towards the top of the bag.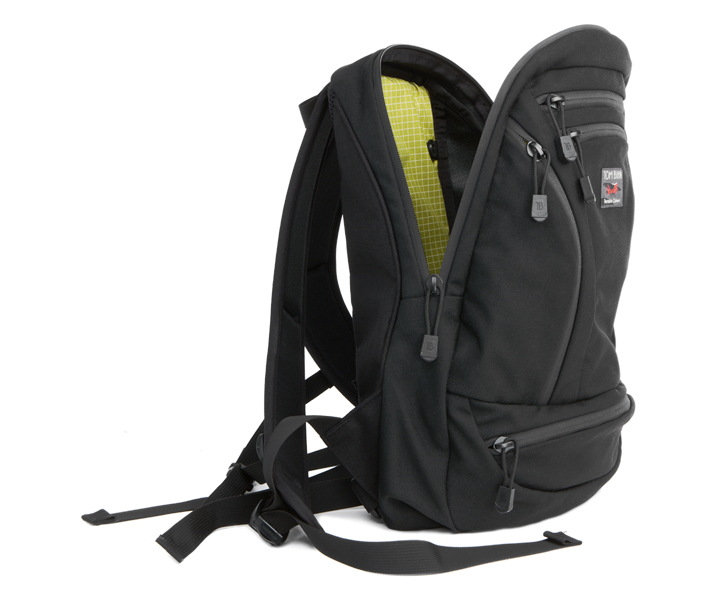 As usual with Tom Bihn products, the Synapse features covered YKK Aquaguard water-repellant zippers which leave virtually no gap and help prevent water ingress that can be a problem with standard open zips. All six zippers feature substantial corded pulls which are easier to grab and which can be replaced easily in the event of breakage or loss. You can buy a pack of these pulls for $3 from TB. I have also found them very useful for adding to other bags when the tiny metal zip pull has been damaged or lost.
The back of the bag has a mesh panel to provide for air circulation and help prevent sweating on hot days. The two shoulder straps are well padded and comfortable to wear, with lots of adjustment. There is and adjustable waist strap and a lighter strap which fits at sternum height to pull the shoulder straps towards the centre of the body for greater comfort. Both these straps can be removed entirely if not needed.
I didn't expect to be disappointed with the Synapse 19 and I am actually more enthusiastic than I thought I would be. Carrying a backpack containing a camera, spare lens, a laptop computer and other essentials is actually more comfortable than when using an equivalent-sized messenger bag.
This is an ideal small backpack for commuting, hiking and general use. It is exquisitely crafted and ingeniously practical, with customisable facilities that are positively mind boggling. Anyone who loves bags, as I do, will be delighted with this backpack.
The Synapse 19 costs $170, or around £100 before tax, and details of the Cache laptop sleeve and all the other accessories can be found on Tom's website here. It comes in a black or blue outer shell with a choice of coloured linings.