One of the great things about owning a Leica—any Leica—is that you can go up to an owner and strike up a conversation. Invariably I will admire a camera, especially if it is something unusual or old, and have a chat. I've met dozens of interesting people this way.
So it was that I stumbled upon David Lewis-Baker in Bath's Royal Crescent on a recent visit to the Spa. He was sitting quietly on a bench, facing the crescent across the expanse of green, clutching a Leica. I soon identified it as a V-Lux, a camera that I tested two years ago and took to instantly.
It turns out that David is a very experienced and talented photographer who gives talks on street photography and produces some stunning work himself. But David is an unusual street photographer. Not for him the age-old regime of standard to wide primes. Most well-known Leica photographers of the past relied almost entirely on the "standard" 50mm prime; and in recent years 35mm or, even, 28mm (as on the Leica Q and the Ricoh GR) has become even more fashionable.
Longer lens
I've dabbled with longer lenses, such as the Leica 75mm APO-Summicron or the Olympus 75mm—which is actually a very long 150mm in real focal lengths. David, it turns out, favours longer rather than shorter. The 50mm or 75mm focal lengths are at the wide end of his camera bag. Generally he uses a full-frame Canon but is currently in the process of moving over to a Fuji X-T2. But some of his best work comes from the Leica V-Lux which he loves because of its ultra-wide focal range, from 25mm to 400mm.
The V-Lux's relatively small 1in sensor enables this impressively versatile lens to be kept in manageable proportions. I know a number of people who cleave resolutely to the V-Lux, including Ivor Cooper, boss of London's Red Dot Cameras. Despite his having the run of the shop, it is invariably the V-Lux that he picks up when setting out for some serious photography. He chooses it because it is small, light and so versatile. David, in turn, is equally impressed with the camera and he intends to upgrade to the next generation V-Lux when it arrives.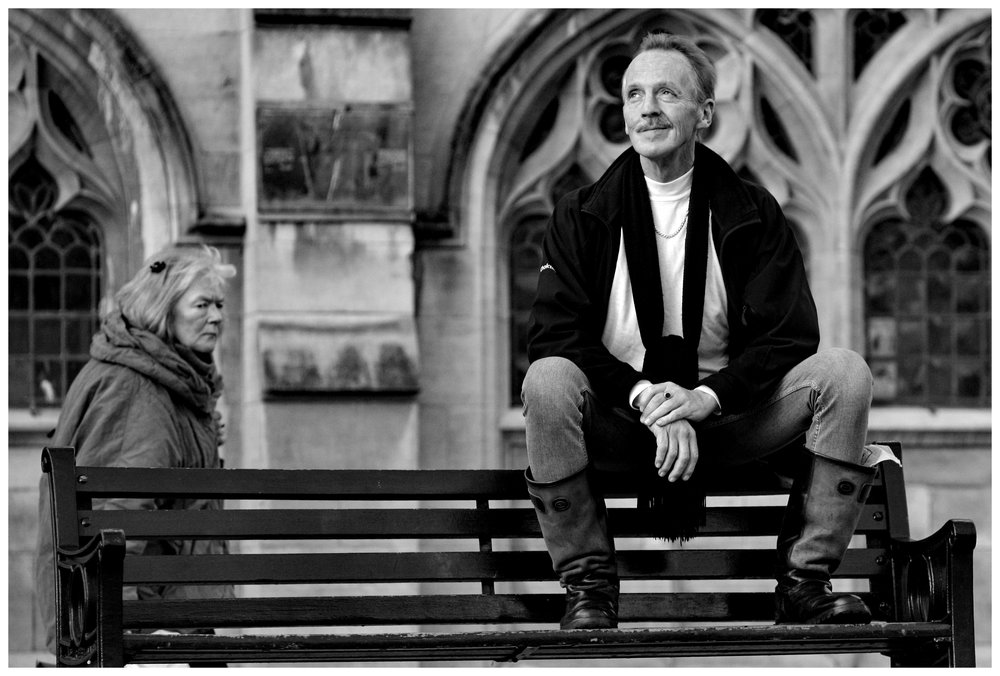 David's street work is based on longer focal lengths. He tends to sit somewhere and wait for a scene to evolve around him. He has a lifelong self-taught interest in the visual arts. He is a retired Warwick University professor who now lives and works in Bath with his wife Su, a former teacher and now a textile jewellery maker.
David has been drawing and painting since childhood. He has a passion for seeing original great works of art and photography in public and private exhibitions and galleries as he travelled around the world to academic conferences and on vacation.
Before his early retirement from Warwick in 2006 he had three web sites up and running, containing thousands of digital artworks, with his archive-quality Giclée prints selling to young professionals in US and Europe.
Passion
He had long intended to buy a good camera and take up photography after developing a passion for the medium, specifically for street photography. This was largely the result of a series of visits to Irving Penn, Cartier-Bresson and Joseph Koudelka exhibitions in Washington and London and to Lisette Model, Louis Faurer, Ted Croner, Saul Leiter, William Klein, and Robert Frank exhibitions in New York, Chicago, Paris, Berlin and San Francisco. Since then he has also been inspired by the works of Dian Arbus, Bill Brandt, Garry Winogrand, Joseph Koudelka and Vivian Maier.
In 2006 he bought a fairly decent secondhand Canon DSLR with a 70-300 zoom lens and set about teaching himself to shoot street photographs, a process which has already taken a decade and is still ongoing. Since this first DSLR he graduated to a professional EOS 1Ds Mark III in 2013, usually accompanied by an L USM 70-300mm zoom lens, and the very impressive V-Lux, purchased in 2015.
Over the last decade David has assembled a large body of street photographs, shot principally in Bath, Bristol and London, but also in the big cities of the USA and Europe, which are displayed on his Smugmug photography and artworks site. Also see his a Flickr site.
He has had exhibitions of his work in Bath and sells an occasional piece, but the main focus of his street photography has not been to sell (street photography doesn't generally sell well, even for the masters of the genre), rather his main aim has been to develop a body of work displaying an honest, affectionate and at times poignant portrait of contemporary society, caught unawares and acting spontaneously in its public activities.
Street photography is, for David, more than documentary reportage and recording his culture and age. As the great American street photographer Robert Frank wrote:
There is one thing the photograph must contain, the humanity of the moment. This kind of photography is realism. But realism is not enough, there has to be vision, and the two together can make a good photograph.
In David's case, he is looking to uncover the often hidden grandeur, pathos and humour of the theatre of street life
In your face
He shoots in colour and converts most of his works to black and white; a medium which, he believes, imparts more emotional depth to the works than most colour equivalents. But if he sees a piece which works better in colour he leaves it that way.
David says he is not an 'in your face' style street photographer and therefore his working practices revolve around blending into the environment (usually sitting down on a bench or steps) and using telephoto lenses to capture images. He doesn't attempt to disguise the camera, or cover its marking with black tape as some do, following the example of Cartier-Bresson with his Leica. He does set the shutter on silent on the Leica if he is working in relative close proximity with subjects.
He shoots only a single frame at a time since it forces him to observe intently what is happening and to chose his own 'decisive moment' to activate the shutter. He feels that he is a much better street photographer for imposing this discipline on himself. He generally leaves the settings on default auto, unless working in low light conditions, or he particularly wants to shorten the focal length of the image.
This choice is because street photography is not a planned form of photography and during long periods of waiting for a suitable 'moment' to occur, the light conditions can often change considerably. It also means he can sit quietly with the camera on his lap without drawing attention to it by constantly fiddling with the controls. In addition, with a really good camera there is sufficient information stored in the original file to compensate for basic problems of light and shade, for instance, when processing the final image. He does not shoot in RAW since the images are not intended to be blown up to a large size in the future. Street photographs are, after all, not intended to adorn advertising hoardings. In common with most street photographers, he always shoots hand held.
"Street photography has become a moral minefield in recent years", he points out. When he gives talks on the history and practice of street photography he also deals with the moral issues of the genre, including the privacy rights of the subjects, the vexed issue of obtaining permission, and so forth. In particular, terrorism and paedophilia have added a new layer of moral and physical risk to taking street photographs in the post-modern age. But David feels that being a street photographer in the great tradition means being in touch enough to face these moral dilemmas in order to continue to celebrate humanity in its rich variety in public spaces.
______________
Subscribe to Macfilos for free updates on articles as they are published. Read more here
Want to make a comment on this article but having problems? Please read this