In the early days of press photography the only easy way of printing was by the halftone process. Its first use was in December 1873 in the New York Daily Graphic but it did not come into regular use until the 1880s. The Daily Graphic became the first British paper to print a photograph, and by 1897 it became possible to reproduce halftone photographs on presses that were running at full speed. You will not be surprised to hear that I got those facts from the internet.
But this article is about the kinds of cameras that the 'Gentlemen of the Press' used to take their images. The first camera that they adopted was the Goerz Anschutz [fig01] which had a high speed shutter, folded pretty flat and had a good lens. Probably the next was the plate single lens reflex camera. [fig02] The American 'Graflex' and the British Adams Reflex were about the first box-form SLR cameras to put the bellows on the outside of the camera which made them useful for close-up work, and they could also be used with telephoto lenses. W. Butcher and Son imported the ICA reflex which they rebadged as the Popular Pressman camera [fig03] but I doubt any pressmen actually used it for their work. But it does go to show that the plate SLR was popular with the pressmen.
When the First World War came along, importation from Germany was no longer possible so the British firm Peeling and Van Neck offered the British Anschutz camera [fig04] which was a close copy of the German original but was fitted with British lenses. It first appeared in the 1920 edition of the BJA, which was published in 1919. By 1923 (1922) it had vanished from the advertising pages. But in 1932 they brought out the VN Press Camera [fig05] which was based on the earlier British Anschutz model. It was only available in the 12x9cm format. Around 1932 Soho Ltd. Brought out the Soho Press camera [fig06] with a focal plane shutter that was speeded up to 1/800th of a second. It was made in a number of formats up to 5×4. The shutter could be set from the outside on a single dial with just a short wind.
Then the Leica came along. By 1932 the new system had a number of lenses of different focal lengths, all of which coupled to the built-in rangefinder. It had a number of devotees; the best known was Henri Cartier-Bresson. But by and large press photographers stuck to their plate cameras.
This can be seen from a photograph of a group of Pressmen assembled on the deck of the Queen Mary [fig07] when it was going through its trials. This photograph, which was in a guard book of press cuttings, was given to a friend of mine when Sinclair was closing down. He worked as a medical photographer but they knew he was keen on photographic history. Sadly he had a problem with thicker than normal blood which first caused and a stroke and he died from a second one. His widow gave me the book for helping to find buyers for some of his collection.
If we look in detail at the cameras it looks as though at least one was using a Goerz Anschutz or maybe a VN Press Camera, they look very much alike, but it has been updated with a folding viewfinder of some kind, and one was using a Minimum-Palmos. Another is using a Contessa-Nettel Deckrullo Camera. The man on the far right also seems to be carrying a 35mm camera. The rest look as though they have been built specially or they have been boxed-in. One was using a flash bulb. So that sent me off on a search for pre-war cameras that could use flash bulbs.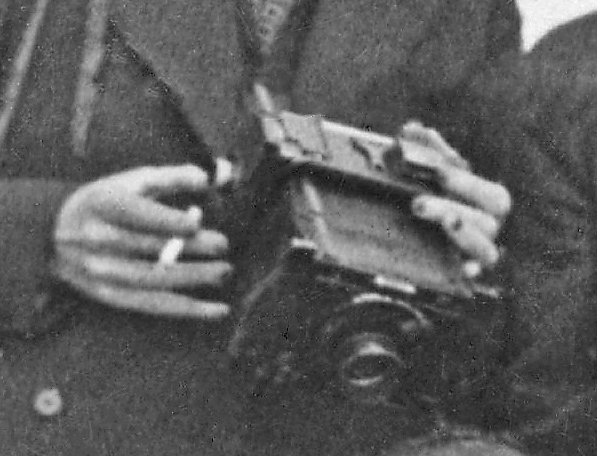 I found that you could use a synchroniser, but some cameras had the flash built-in. The earliest synchroniser I could find was the Kalart which was in the BJA for 1934 published in 1933. The ARKA [fig08, 09] appeared in the same year. By 1934 Roth was offering the Super Speed Press camera with built-in flash. The name was changed for the 1937 edition to the Roth Super Speed Focal Plane Camera. [fig10]
A camera that became a favourite with press photographers was the Speed Graphic that had both front and focal plane shutters. They started in 1912 but most date from much later. [fig11]
After WW2 importation from America and Germany was not possible and this led to the development of a number of British press cameras. Probably the best known was the VN, which had first appeared in 1932 and which came in the 9x12cm format only. [fig12] Mine, a post-war version, is equipped with both tele and wide angle lenses with frame finders to match.
For a short time VN also made a baseboard Press Camera which had a very handy lever for operating the focusing. The MPP Micropress was another which followed the pattern set by the Speed Graphic in having front and back shutters. [fig13] MPP made a dedicated flash gun to go with it which used flash bulbs. It came only in the 5×4 format. Less well known is Dawe's Universal Camera, which was fitted with an electrical release that triggered a solenoid release. [fig14] It had a coupled rangefinder and a Ross Xpres lens in a Synchro-Compur shutter. Mine is in a terrible condition and no longer works. It first saw the light of day in around 1950.
Dawes also made the Electronic Press Camera in 1950 [fig15] which was fitted, as its name suggests, with an electronic flash gun. It predates the Voigtländer Vitrona by many years. Another camera which, according to the review in the 1956 BJA, was hoped by the manufacturers to be suitable for press photography was the Peckham-Wray camera [fig16] which had been designed by Cyril Peckham for air to air photography, a design that Wray later commercialised. It has all the things that a press photographer could need like a 5×4 spring back, a focal plane shutter speeded to 1/000 second and a Synchro-Compur front shutter for flash photography. But it was very awkward to use.
But, in time, plates had had their day. For a while press photographers went everywhere with their Rolleiflexes and they, in turn, gave way to the 35mm SLR typified by the Nikon F camera. One camera that used film was the Mamiya Press camera of 1960. [fig17] It could take interchangeable lenses that coupled to a rangefinder and roll film backs that locked into place. The original camera was fitted with a tilting back that gave up to a 15 degree tilt. Mine came in a fitted case with spaces for the extra lenses and the film back. The maximum negative size was 6x9cm.
One camera that came my way was a black Canon 6L camera that had belonged to a press photographer. [fig18] It was fitted with a 28mm f/2.8 lens and matching viewfinder. I tried it out one morning in Club Row, which was then a thriving East London junk market. I spotted two men who were selling government surplus clothing. I pulled out the camera from beneath my jacket when one of them said 'look at that old black Canon' followed by 'does it work' I took a picture and went to have a chat with them to show them the camera. The picture came out very well so the next time I went up there I gave them both copies of the photograph.
Another camera that came my way, through the good offices of David Balfour, was a camera that had been used by a once famous press photographer, W. G. Vanderson. He was the man who took the famous picture of Chamberlain waving his piece of paper after he had returned from his meeting with Adolf Hitler. The family wanted it to go to a good home and I was delighted to have it. It is a modified TP reflex mounted on a long baseboard to house the 400mm f/4.5 Tessar lens. It is fitted with a plaque saying 'Fox Photos' the agency for whom he worked. [fig19]
_______________