"The only way to get rid of a temptation is to yield to it." — Oscar Wilde
This article is actually about the annual concert of the Porta music school, near my home in Vlotho, Germany. Every year it is one of my photographic highlights, primarily because of the creativeness of the college's teaching staff. They come up with something new every year, something which provides a unique photographic challenge — at least for me.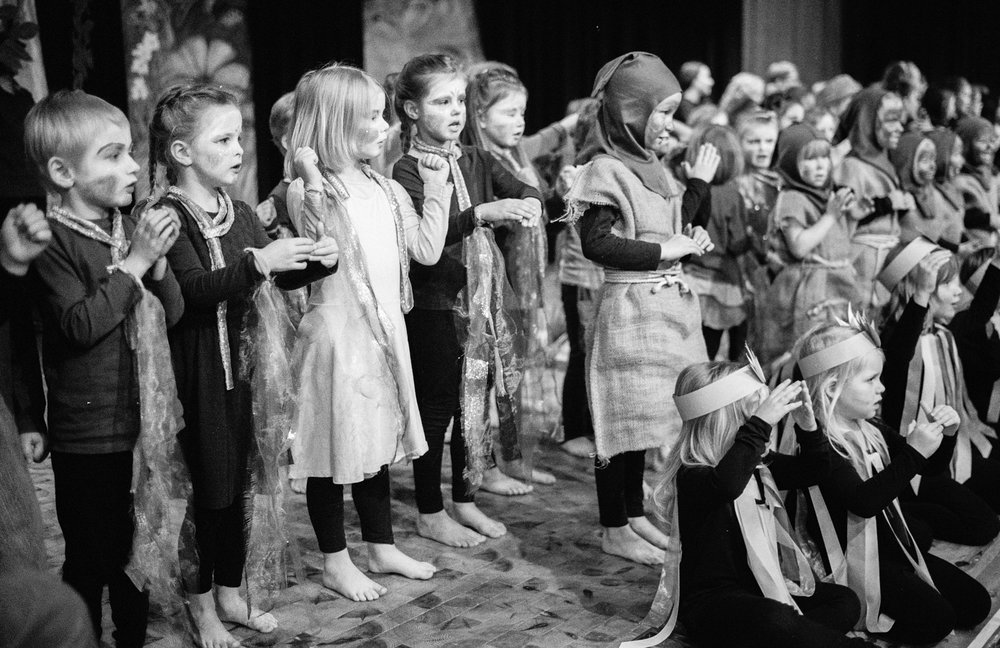 A "static" concert in which each group neatly performs its repertoire is entirely alien to their concept of presentation. "Think great" is their motto, and once again an instrumental genre and intergenerational programme is created.
Fire, Water, Earth, Air
The theme this year was "Fire, Water, Earth, Air" and these elements were presented by a large number of pre-school children, inserted into a small story and accompanied, of course, with a great deal of music.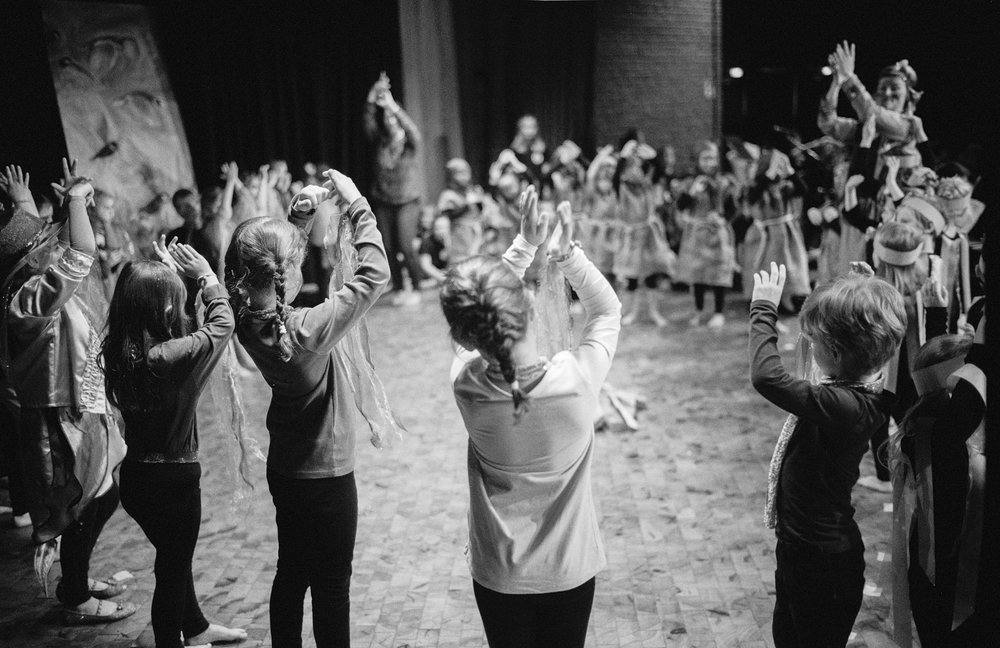 For some years now I have taken pictures for the music school, but if I should ever miss, I need not worry, because Christiane (herself a teacher there) and her niece Stephanie are capable photographers themselves.
Christiane's blog contains some excellent (alternative) impressions of the rehearsals and the concert together with more background information about the event (in German) ADD LINK
Primary tools
According to the motto "never change a winning team", my primary tools were the Leica M10 with 50mm Summilux and the Leica Q. I have already described how the two work together so often that I can spare them now. I have emphasised that I can cover all situations there with these two focal lengths and I also save time-consuming and sensor-dust-promoting changes of lenses.
The "harvest" from these two cameras are now on the music school's website.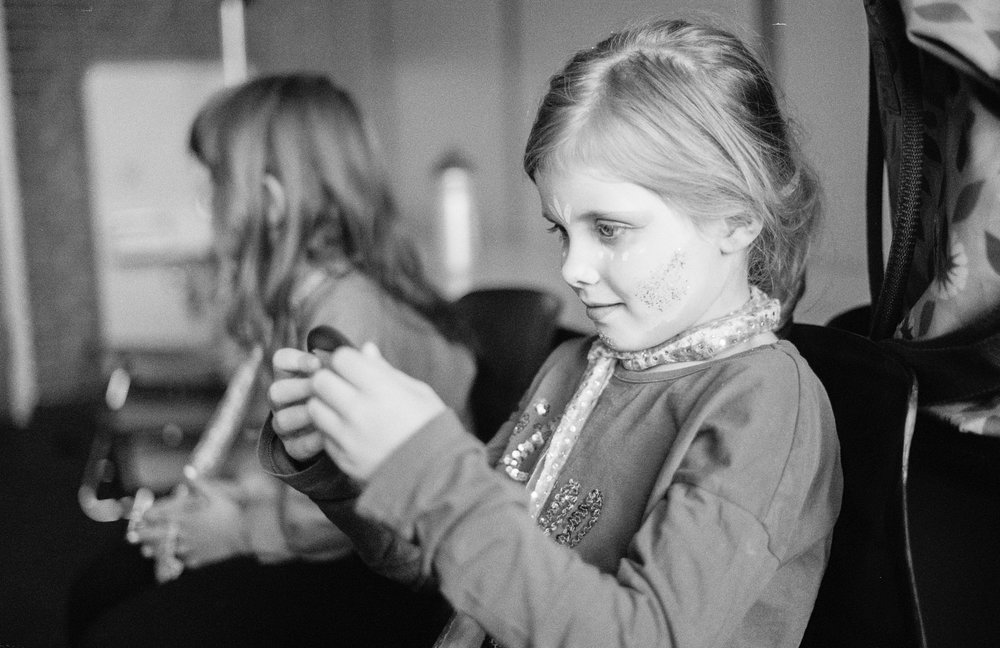 An analogue camera had to be included, of course, and my favourite, the M6 TTL with 35mm Summilux had a roll of Kodak TMax400 loaded and ready for action. But there was also a joker in the bag — and its presence requires a little history.
Stepper lust
A few weeks ago, I translated Mike Evans's article on the inspection of the Leitz works by a British delegation in 1946, and in the original report of the British Intelligence Objectives Sub-Committee, almost everything revolved around the production of the then current Leica IIIc. William Fagan, collector and specialist in historic Leica models, had contributed some pictures of Leica III specimens.
Usually, I do not need help to translate camera-specific terms from English, and I am familiar with all vocabulary related to rangefinder cameras. But even in the caption of the first picture in that article, I encountered a "stepper" and "non-stepper" version of IIIc. I was perplexed. Was there a unique Fred Astaire model? The time was right for a bit of research.
I became painfully aware (and it irked me no end) that I had previously dismissed any more in-depth knowledge of screw-mount Leicas as redundant because I had determined to specialise in M-bayonet models. But when looking at the pictures of some screw-mount Leicas (also known as LTM or Leica Thread Mount), I also noticed a few buttons and levers, whose function I could not divine. What I did not know about screw-mount Leicas could have filled libraries. But now curiosity seized my imagination.
Because of the "stepper" and "non-stepper" thing, I quickly found a reference (I think in the Leica wiki). Of course, I could have simply asked William, but I did not want to trouble him right away. As I found out, the "step" is merely a modification of the upper cover plate. In the earlier models of the IIIc, the rewind release lever sits on a small platform, but not in later models. Quiz solved, but my screw-mount appetite had been whetted, perhaps beyond redemption.
My Screw-Leica Story
Next step in my agenda to resolve the screw-mount Leica ignorance: Intensive study of a Leica IIIf manual (source also Leica Wiki). Then Web research on screw-mount Leicas (or, as we say in German, Schraubleicas), which led me to, among other things, the super-informative site of Karl Schmidt (aka "Kalleleica"), which he calls "My Schraubleica Story".
Now even the Sphinx could have asked me about Schraubleicas. Everything had become as clear as day. Just one problem. I had stumbled into my self-made trap. This whole operation had made me extremely curious. What would it be like to fondle a Schraubleica "for real". There was only one way to find out.
I do not know if it was a sort of post-hypnotic command, at any rate during the web research I caught myself looking suddenly for commercially available screw-type specimens. As always, there were models at each level of conservation and in all price ranges. My jaw dropped when I encountered a Leica IIIc "Luftwaffe" version for €10,000 on eBay (but also in a "very good" condition). William has two of the things! I did not want to invest that much, just to massage my ego.
Benjamin Button
Before I begin to suspect that I am turning into a kind of photographic "Benjamin Button" and soon anxious to coat plates with light-sensitive asphalt like Joseph Nicéphore Niépce, I have to say that I (initially) do not intend to "evolve" backwards "(pun intended).
If I change my mind, here's Konrad Adenauer's well-known quote for such situations: "What do I care about my gossip from yesterday? Nothing prevents me from becoming wiser."
I found a beautiful, well-preserved piece (at the Leica shop in Vienna) for €590. That was a reasonable price in the sense that there was a lens attached — and not just any. I had previously seen many much worse bodies without a lens for more money. So I acquired a Leica IIIf "Black Dial" from 1951 with a 5cm Summitar f/2. The lens, a direct precursor of the Summicron, is classified as "tricky", but also attracted me because of its fast aperture in contrast to the more common 5cm Elmar f/3.5.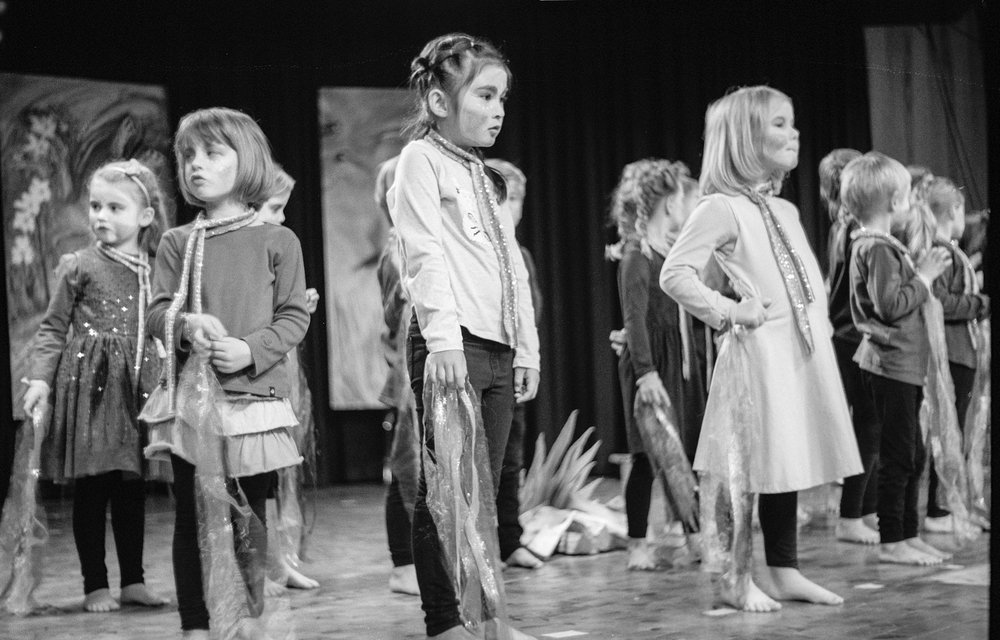 Unwrapping
The camera arrived on a Saturday morning, the day of the concert. I unwrapped it, and I was again: The typical Leica sensation that comes when you hold one in your hand. I recognise it well from my M cameras and the Leica Q. There was a difference, though. I usually hold a Leica and feel it is compact compared with the cameras that are common currency nowadays. But this thing was downright minute. It was the opposite of Texas: Everything is much smaller here!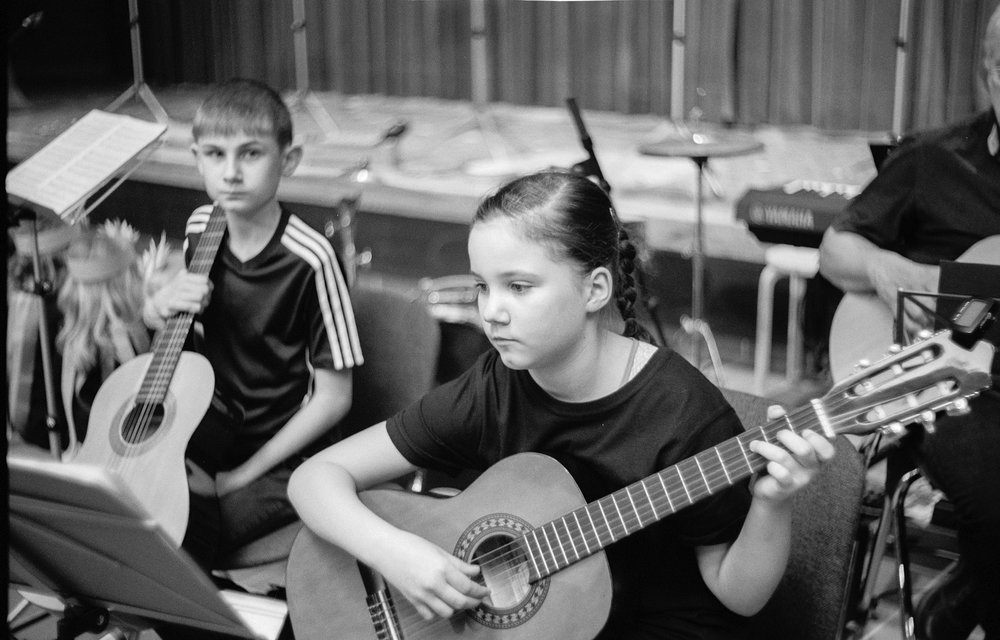 A quick check-up of the functions showed no apparent defects. The speeds (especially the slower ones) ran smoothly without the shutter hanging. All the buttons and levers were neither too light nor jammed. The lens was clear and free of fungus or dust deposits; aperture and focus rings moved with just the right degree of resistance. The viewfinder was bright and clear. The rangefinder (these screw-mount Leicas have a separate window for the finder) showed a well-delineated double image. Small, but perfectly formed.
The viewfinder and rangefinder windows are tiny, well in line with the rest of the camera. To simulate the rangefinder experience on a Leica III, just hold a "normal" M with the viewfinder in front of a keyhole and look through. Voila, the tunnel view immediately gives the Schraubleica feeling (note: That's just a joke!). Incidentally, the significant change between the two-window system on the screw-mount Leicas — combining rangefinder (Entfernungsmesser) and viewfinder (Sucher) leads to the M moniker, standing for Messsucher or range-viewfinder. Coincidentally, this is the name of my blog…..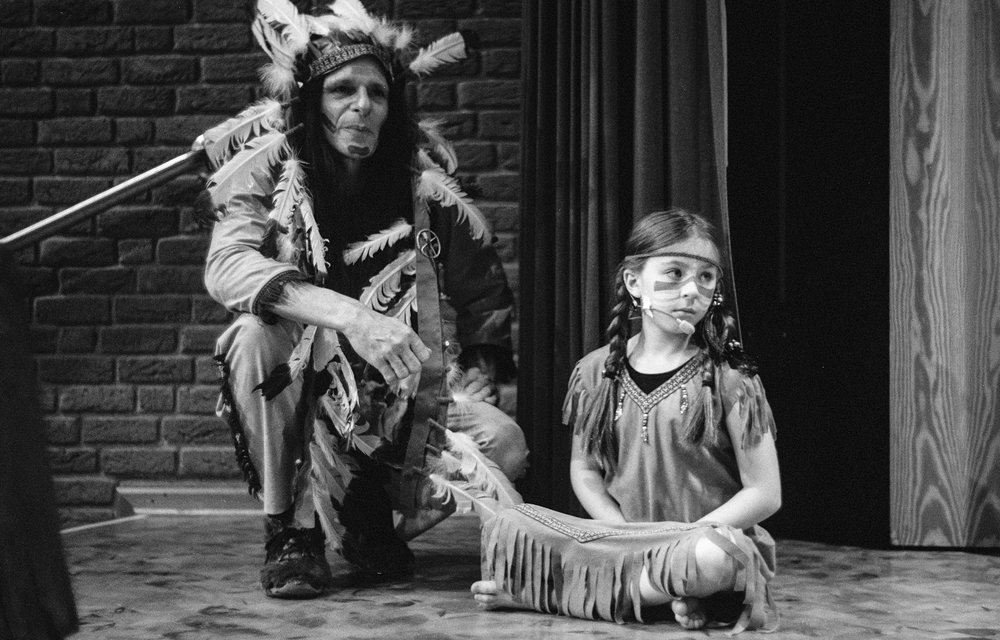 Hadley Small
I had already packed my cameras into the Hadley Small for the afternoon: My "workhorses", the Leica Q and M10. Added to this was the M6 TTL, with which I had already exposed half a film at the rehearsal the day before. Not to be outdone, I decided to put a Kodak TMax 400 into the Leica IIIf. Incidentally, that's pretty much an act, because you have to cut the film leader in a specific way. Ignoring this, one will fall victim to Oskar Barnack's revenge — that is, the film gets stuck, does not transport or "just pretends" and you have a problem on your hands.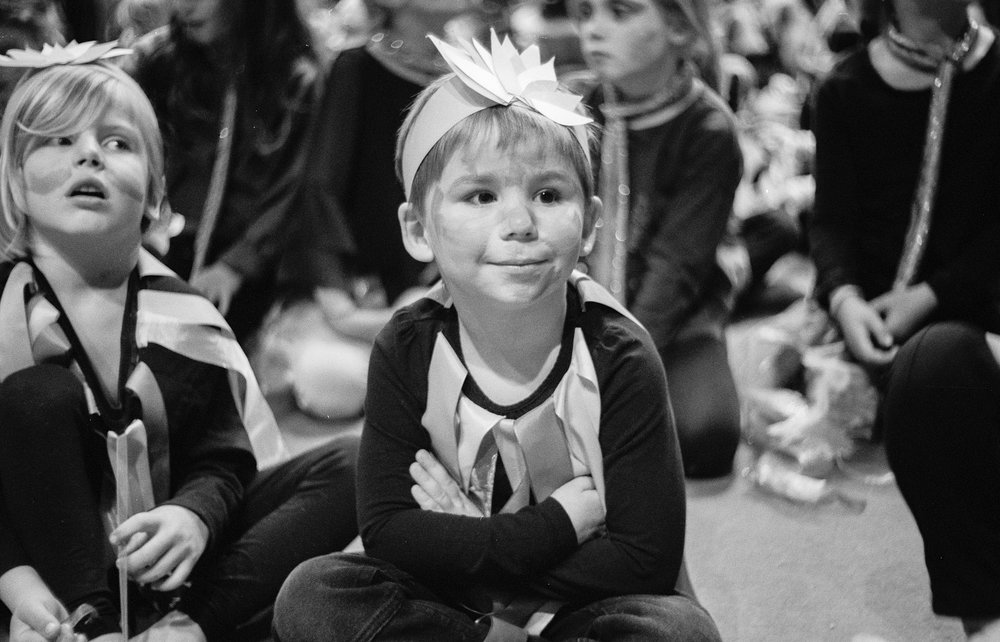 Anyway, the film was in there, but I did not intend to shoot anything vital with this camera. It was just a quirky makeweight in my mind at the time. First, I busied myself with finishing the film in the TTL. The M10 and Q had priority, as I had to document the course of the concert. But whenever I could manage it in between, I grabbed the Leica IIIf and pushed it into the fray.
I measured the exposure time with the TTL (only once was necessary), taking care to remove the yellow filter beforehand and setting the ISO to 400. I came to f/2 at 1/60s. That was enough for me. In darker scenes, I held back. I could have pushed the film to 800 or even 1600, but when I took the first pictures, I did not know if I would fill the film entirely. And finally, I did not want to become obsessed; I first needed to get familiar with the camera.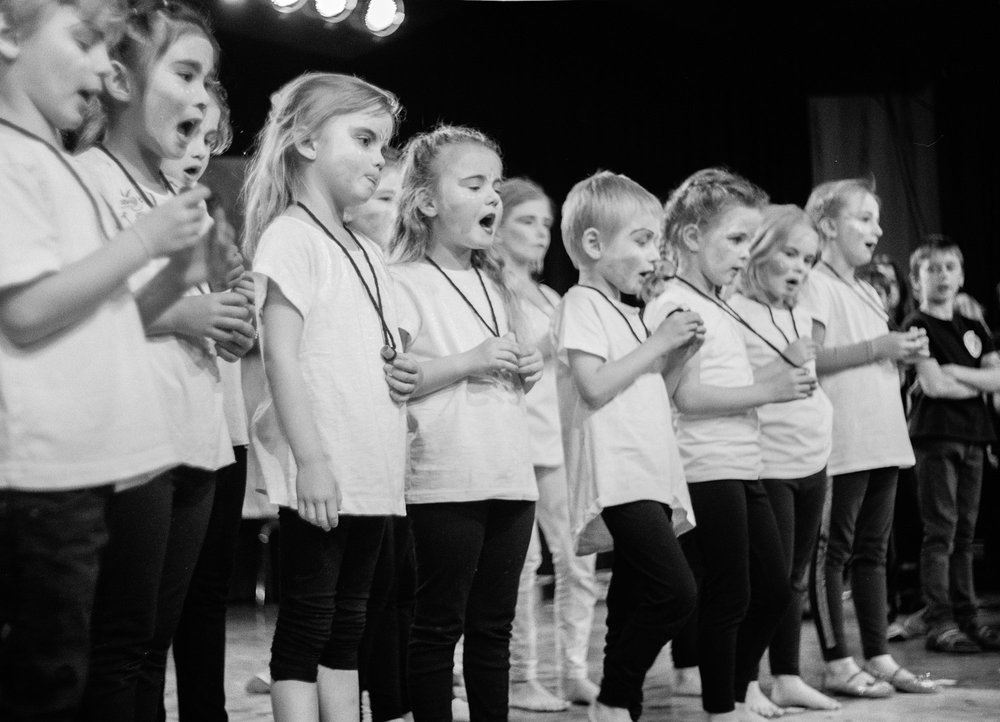 But familiarity came amazingly swiftly. After a short time, I had the process off to a tee. Lens pulled out, cover off, aperture set to 2, speed dial to 1/60s (you can adjust it only in the tensioned state, and it turns in the closing process with a rather curious click as it is fully wound). Then to the rangefinder window (check, adjust) followed by composition through the viewfinder and then (gasp!) finally a press of the shutter button!
Get organised
If you have to move fast, you must organise at the highest level. I am still working on that. I look forward to the time when it all comes as naturally as it does with my M6 TTL.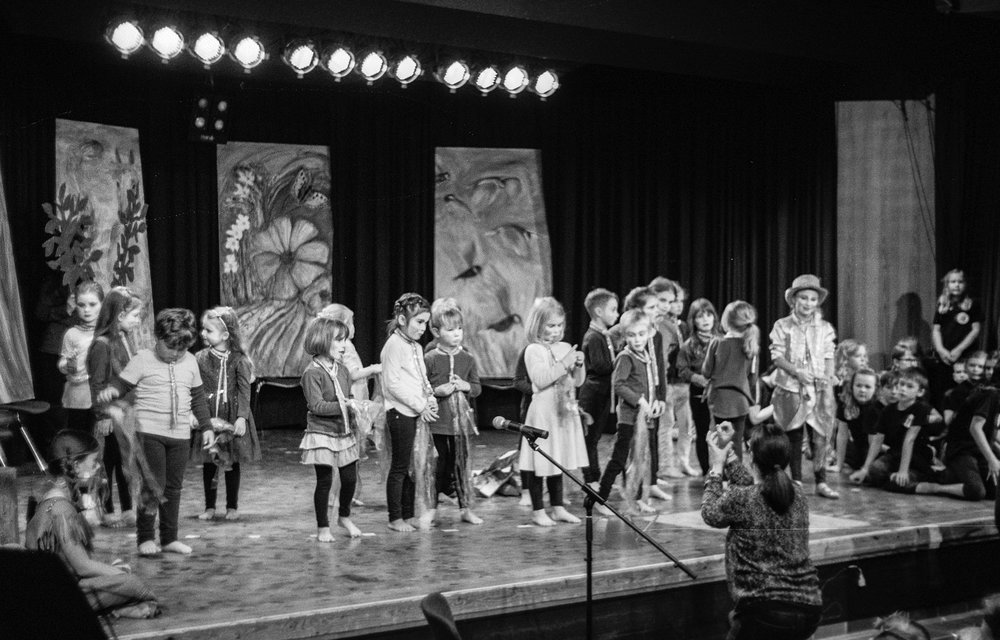 Today the eagerly awaited developed film arrived: 37 shots and almost all made it past the initial scrutiny. Three or four were blurred (1/60 sec at 50mm is perhaps a little slow), several I had twice photographed the same subject for security — and a few featured subjects who suddenly looked away or something similar.
The Summitar itself reveals its distinctive character at f/2. It is quite sharp in the middle and drops off to the edges noticeably. It provides Interesting bokeh. All this gelled with what I had read about the lens over the previous week. The "vintage" effect of the photos comes out clearly when compared to a few of the f/1.4 images from the 35mm Summilux. The modern lens results in full aperture sharpness over the whole picture, the bokeh being somehow "quiet". It has little to do with the camera. If I had a similar high-performance optics for the Leica IIIf, one could not tell from the photos which camera had been used.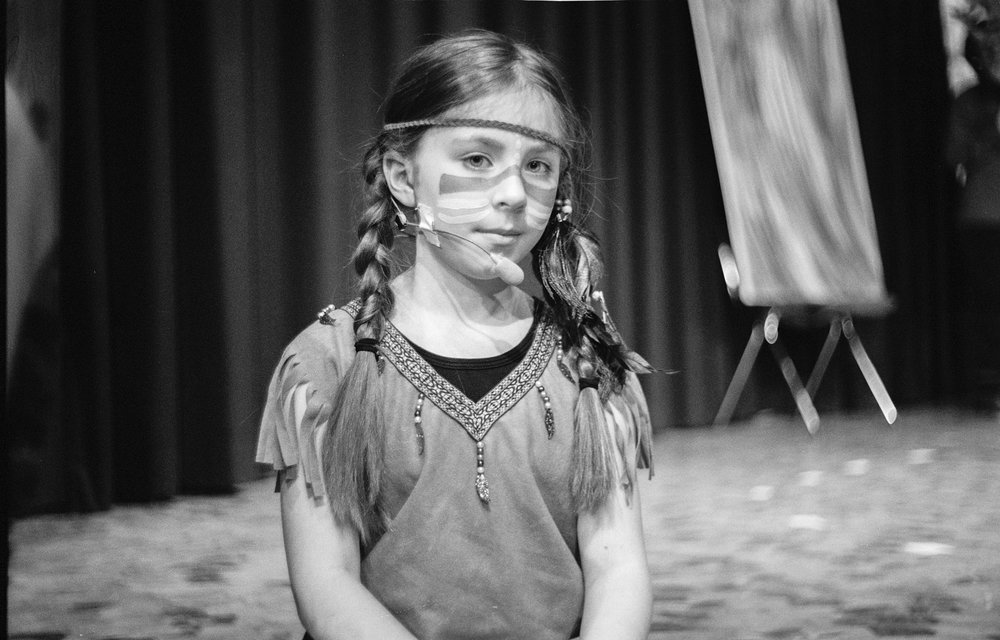 Good photos
But of course, the fact remains that I have a bunch of entirely good photos with which I am particularly pleased. Finally, one must not forget that I had the camera just under half a day and I did not know if the shutter was working correctly. The rangefinder was wholly unfamiliar, the lens an unknown quantity. I can only conclude that I might well have produced a pile of overexposed, blurred negatives.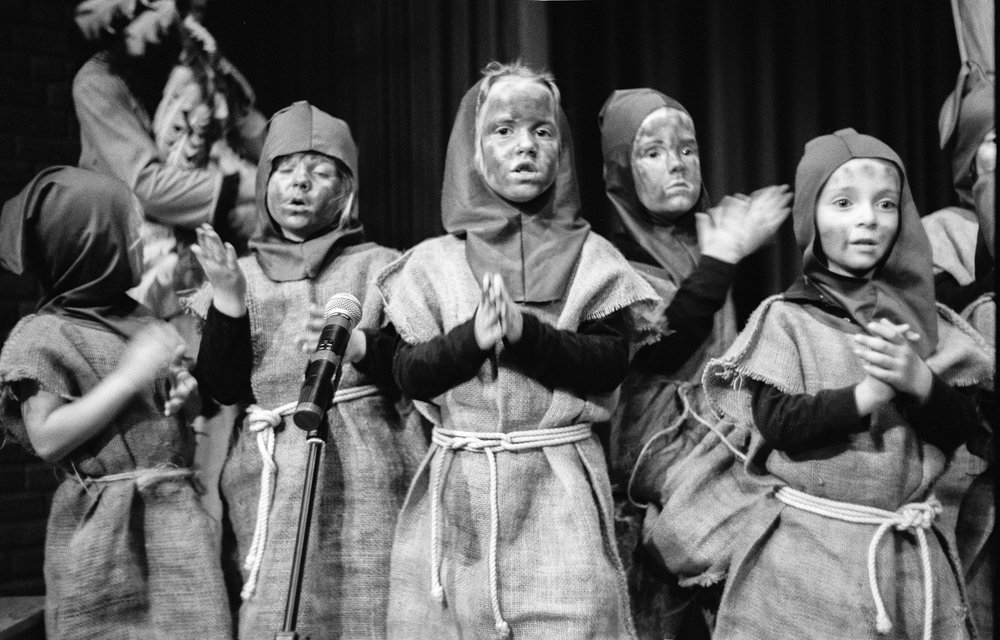 If the Summitar is stopped down a tad it produces pictures with edge-to-edge sharpness. An earlier shot taken in Vlotho town centre at f/5.6 and 1/500s, using the orange filter, demonstrates this. It shows that the optic is clinically sharp when stopped down.
Somehow I had had the feeling that the camera would not disappoint. And because 50mm is not my standard focal length, I have sourced another Summaron 3.5cm f/3.5 and added a universal finder VIOOH, both in excellent condition. The IIIf rangefinder handles only 50mm lenses, so for anything else you need an external viewfinder.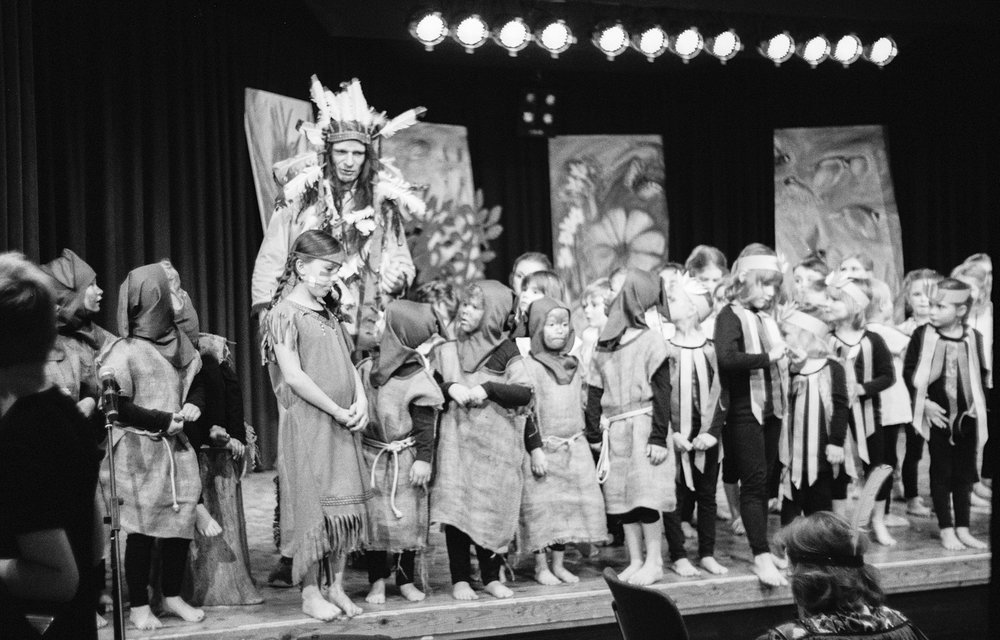 Filters, filters
Also, I always need filters. For the Summitar, which has an extraordinary thread connection in front of the front lens, I got an adapter, so that I get E39 filters (of which I have several) in front and for the Summaron an orange filter A36. Curiously enough, the eBay dealer I found was in Herford, which is a stone's throw away from Vlotho. I went there the same day and collected it. He, however, found it curious that I intended to take pictures with the IIIf. In his view, these cameras are strictly for collectors.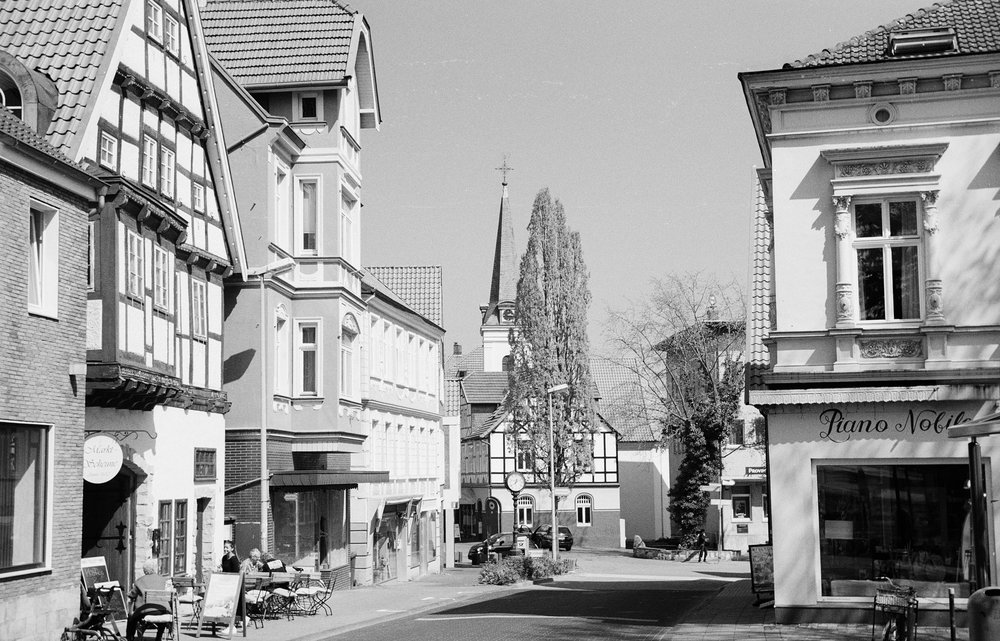 And there was one a small accessory that I did not have on the day of the concert. An OKARO. A what? It is an orange filter placed in front of one of the aperture windows of the rangefinder to improve the contrast. It works great. And for such tips and instructive explanations about Schraubleicas, I have to thank "Kalleleica" aka Karl Schmidt, who has created a very detailed page on the use of Schraubleicas (already linked above). For me, the OKARO also works best in front of the (from the front) right window, that is a matter of bitter dispute, probably similar to the disagreement between Lilliput and Blefusku: Is it better to open an egg at the pointed end or the round end?
The Schraubleica IIIf now fascinates me. It will surely be as much a part of my equipment as the M6 TTL, the Q and of course the M10. It goes without saying that I do not carry everything around with me. The longer I engage in photography, the more logical is it for me to take only one camera with one or two lenses. But the Schraubleica is here to stay.
This article appeared originally in Messsucherwelt and is translated and adapted from the German by Mike Evans
_________________