John Shingleton's reminiscences of the day of Winston Churchill's funeral and his mention of the camera he used on that day prompted me to mention the camera I owned at that time — an Agfa Silette which I had bought three years previously in 1963. It was my first "proper" camera. I covered this in detail back in 2013 and I thought current readers (there are a lot more of you now than there were then) would welcome a replay. So here it is…. My first camera.
Originally published on MacFilos on 31 May 2013
Two weeks ago, at the photo fair at the Royal Horticultural Hall in Victoria, I came across a good example of an Agfa Silette 35mm camera. I was reminded that my first proper photographic tool was a Silette, one of a long-running range of precision cameras made between 1953 and the early 70s. This particular example was older than mine (which I remember had a built-in light meter) but it was a snip at £15. Since then I have picked up another version, also made around 1958, in near mint condition. Bang goes another £40.
Nostalgia
This is all nostalgia, but it is a revelation to see how well built and durable these Agfa fixed-lens cameras are. One has a 45mm lens, the other a 50mm, both with a fast-for-the-day maximum aperture of f/2.8. Seeing them on my desk got me thinking. I decided to track down an Agfa identical to the one I bought back in the sixties. My first real camera.
Trouble is, I cannot remember which model I am looking for. A few years ago I saw the original receipt and put it "somewhere safe". It might have given a clue to the specification. Of course I can no longer find it. Not discouraged, I turned to a stack of bank files from the 1960s (my loft is a wondrous place with everything catalogued in Bento) and soon found the statement showing the cheque I had issued to pay for the camera. [Note: Bento, a database application published by Filemaker, went belly up shortly after this article was published and my database now resides in DevonThink Pro.]
Fifty years ago
The date was 13 July 1963 and I suspect I bought the camera with the money I received for my birthday a few days before. At the time I was a rookie technical journalist working at Dorset House, Waterloo, which was then a hotbed of magazines ranging from Motor Cycle (my employer) to Autocar, Flight and Amateur Photographer. All, with the exception of my old periodical, are still in business although probably under different ownership and certainly no longer at Dorset House.
I had taken advantage of my inside contacts and descended two floors to the home of Amateur Photographer. There the resident technical editor, the ever-helpful and knowledgeable Neville Maude ARPS, considered my impecunious plight and my need for a camera that would be good enough, in emergency, to produce publishable results.
Neville came down in favour of the Agfa Silette which, I suspect, was the Fuji X100S of its day, and headed all the charts of desirability. I couldn't afford a Leica by any stretch of the imagination, so the Agfa Silette was apparently the obvious choice. But with the imprimatur of no less an expert than the tech editor of AP, I decided I couldn't go wrong.
Armed with an introduction from the hallowed offices of AP, I went to the Westminster Photographic store in The Strand, just across Waterloo Bridge from my Stamford Street office. As a staff member I was entitled to a discount and I returned to the office with a brand-new Silette and brown leather case. Wasn't I just proud? [Note: I used the camera for about four years until graduating to a Pentax and several of my efforts were published in Motor Cycle magazine, although I was careful to avoid treading on the toes of the staff photographers whose real job this was]
I see from the bank statement that I paid £25 12s 5d, which was no paltry sum in those days. It was more than two weeks' wages and without my birthday money I would never have afforded it. (Note: £25 12s 5d is 25 pounds, twelve shillings and fivepence, roughly £25.65 in today's decimal currency)
I couldn't wait to shoot my first roll of ISO 125 Ilford and mail it to Paragon in Brighton. The cost, as you see from the statement above, was 13s 3d for developing and printing. After 50 years I cannot recall whether this was for one film or two, but 13s 3d would now be around £11. These days, with no-cost digital snapping, we have it easy.
Cub reporter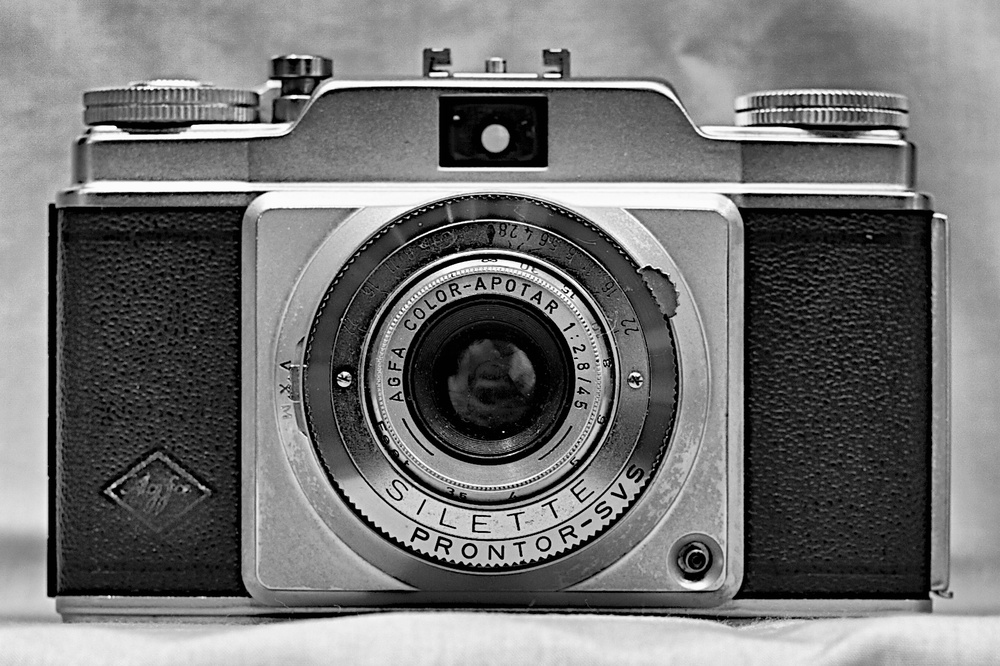 I also see from the statement that I was earning £46 a month, now equivalent to around £1,100. In wage terms, therefore, the Agfa cost about £500 in today's money
That's a big sum for a young cub reporter, even today, and I cherished that little camera. It was such a valuable asset that I took out a dedicated all-risks insurance policy to cover the £25 should I lose the beast.
Above: The same scene taken with a modern Leica MP film camera and 50mm Summicron lens, value around £5,000 (top) and the Agfa Silette with its built-in lens, value £15 (bottom)
Precision engineering
Both these old cameras are in excellent condition, a testament to the precision workmanship at Agfa's Munich factory and to the quality of the materials. The lens housings and engravings, in particular, are like new. Most of today's plastic-bodied popular cameras will hardly survive ten years, let alone fifty. They built 'em to last in those days. I have no idea what it would cost today to produce a camera to the same specification and quality as these ancient Silettes. The retail price would almost certainly be well over £2,000 simply because, as with a modern Leica film camera, production is labour intensive and specialised.
The surprising thing is how modern they both look. Today's retro-chic fashion has gone back in time to meet the Agfa half way. Another odd thing is that there are no strap lugs on either camera. I suppose a case with attached strap was an essential accessory; I assume that luglessness was normal practice on cheaper cameras of this sort at the time, although Leicas and many other cameras had them from the early 1930s.
The camera I bought for £15 has a simple viewfinder which offers no help with framing. The other, higher specced, Agfa has a second light window and a very serviceable bright line finder to help with picture composition. While neither has any means of measuring exposure, both have coupled speed and aperture dials so you can agree an exposure value and then change aperture and speed in unison without losing the relationship for correct exposure.
In those days it was either guesswork, and it is surprising how easily an experienced user can anticipate the correct settings, or reliance on an external light meter. As I said, the Silette I bought in 1963 had a built-in light meter so I had no direct experience of flying by the seat of my pants.
Quest
This has been something of a detective story but I am encouraged to keep it going. I have hopes of finding the original receipt and, even, the insurance policy I arranged to guard against loss. I can visualise both documents and they are in the house somewhere: By systemic failure they are absent from the otherwise comprehensive database. It is just a matter of searching and, probably, they will surface when I have given up hope.
My quest now is to identify and buy a copy of this very camera I treasured in 1963 and for a good few years afterwards. [Note: I soon lost interest and moved on to more interesting quests]. There are so many Agfa Silette models with various shutters, features and housings that it is a difficult task.
When I do see the model, the primordial depths of memory will probably click over. Meanwhile, I am planning an unscientific shootout between my two Agfas and the Leica MP with a 50mm Summicron (see photos above). Today I picked up a couple of rolls of Ilford FP4 B&W film, the same 125 ISO stock I fed into my original Agfa in 1963. It all feels a bit strange, rather like going back in time.
This nostalgia can become chronic and I am already thinking of buying a similar-aged Leica [thus began the slippery slope]. Back then I suppose a Leica 35mm camera would have cost upwards of £125, a phenomenal sum which I could never have afforded. Now, with luck, an early '60s M3 is within my budget. [Note: It was, see reference above to slippery slopes — cue in Leica I, Leica III, M3, M2, M4, M6, MP, M7, not to mention the odd digital or two].
See also: Back to life after 50 years, the first roll of film
_____________