The Ricoh GR is one of the best-kept secrets in the world of photography. Those who use it are almost messianic in their devotion. And here on Macfilos we've done our bit to popularise the camera. The GR II was indeed a modest upgrade, but the newly announced GR III takes a big step forward.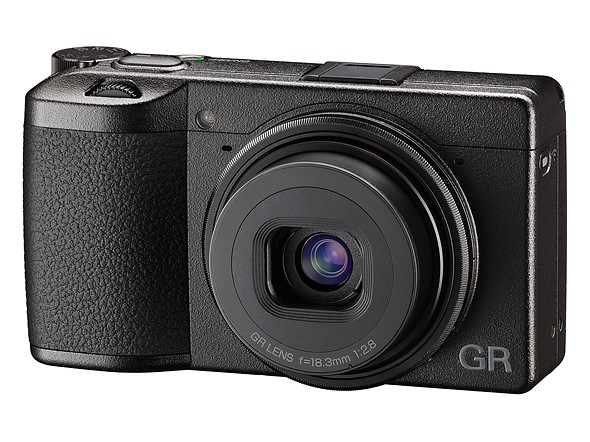 The new body is slightly smaller than that of its two predecessors and, from the photographs, appears to have a deeper grip to aid handling. Sensor density has been upped from 16MP to 24MP, keeping it in line with major competitors, and the 28mm f/2.8 lens has been reworked. It consists of six elements in four groups, with two aspherical elements. Close-focus distance is reduced to 6cm from 10cm. The 2-stop built-in ND filter continues from the old model.
Apart from optical improvements, the lens is better sealed to avoid dust ingress, a recognised problem with the earlier models. The new bigger sensor is equipped with ultrasonic dust reduction. The GR III has an improved autofocus system, including on-sensor phase detection. The 3in, 1.04MP screen now offers touch.
Perhaps the biggest change, though, is the inclusion of 3-axis in-body stabilisation which, Ricoh claim, can offer a four-stop improvement. This is something of a feat in a camera of this size. It is claimed that the stabilisation can even be used to simulate an AA filter when moiré reduction is necessary.
The rear layout of the camera is slightly less fussy than that of the I and II models, but for me the biggest improvement is the deletion of that awful exposure-compensation toggle at the top right, under where the thumb nudges it out of adjustment. This was undoubtedly my biggest gripe about the GR in the past.
Unfortunately, we can't have everything. There are ups and downs with the new GR III. Up is the price to £799 in the UK, a level which will make users think twice about upgrading. Down is battery life, from a claimed 320 down to 200 per charge. Nevertheless, the GR III makes a solid case for upgrading, especially for long-term owners of the original model.
We have many GR fans among the readers of Macfilos. What do you think about the GR III? Will you be tempted to upgrade or stick with the GR I or II. Leave a comment and start the discussion.
Hands on with the GR III at Digital Camera World