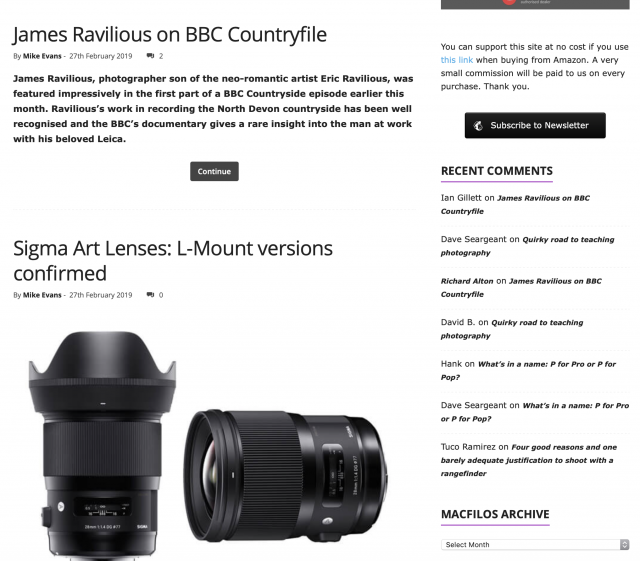 We are now into the third week of the new Macfilos website and things are running more smoothly than I could have hoped for. We have a few minor back-end problems but all will be sorted out soon. The most obvious one of these is that the Lightbox image magnification is not working, despite being switched on globally. This is something we are investigating and hope to have it fixed soon.
Galleries
The Lightbox effect — enabling individual images to be shown full size — is particularly important in the case of galleries of photographs such as those we have used extensively in the past, in particular with travelogue articles where the number of images could otherwise counterbalance the available text.
Going forward, we can ensure that these photographs can be expanded to full size. Unfortunately, past galleries created for Squarespace no longer work — instead the constituent images have been moved to full-size versions. This can make rather odd reading on some of the older travelogue posts.
Tip: Click on the author's name at the top of any article and you will be taken to a gallery of articles written by the same author
Speeds, fast and slow
We have had many positive comments on the improved speed of loading of the site, plus a couple of complaints of slow running — just to balance the books. Any further feedback on this issue would be welcome, although it looks as though problems of slow loading are likely to be down to local issues. Temporary issues, I hope.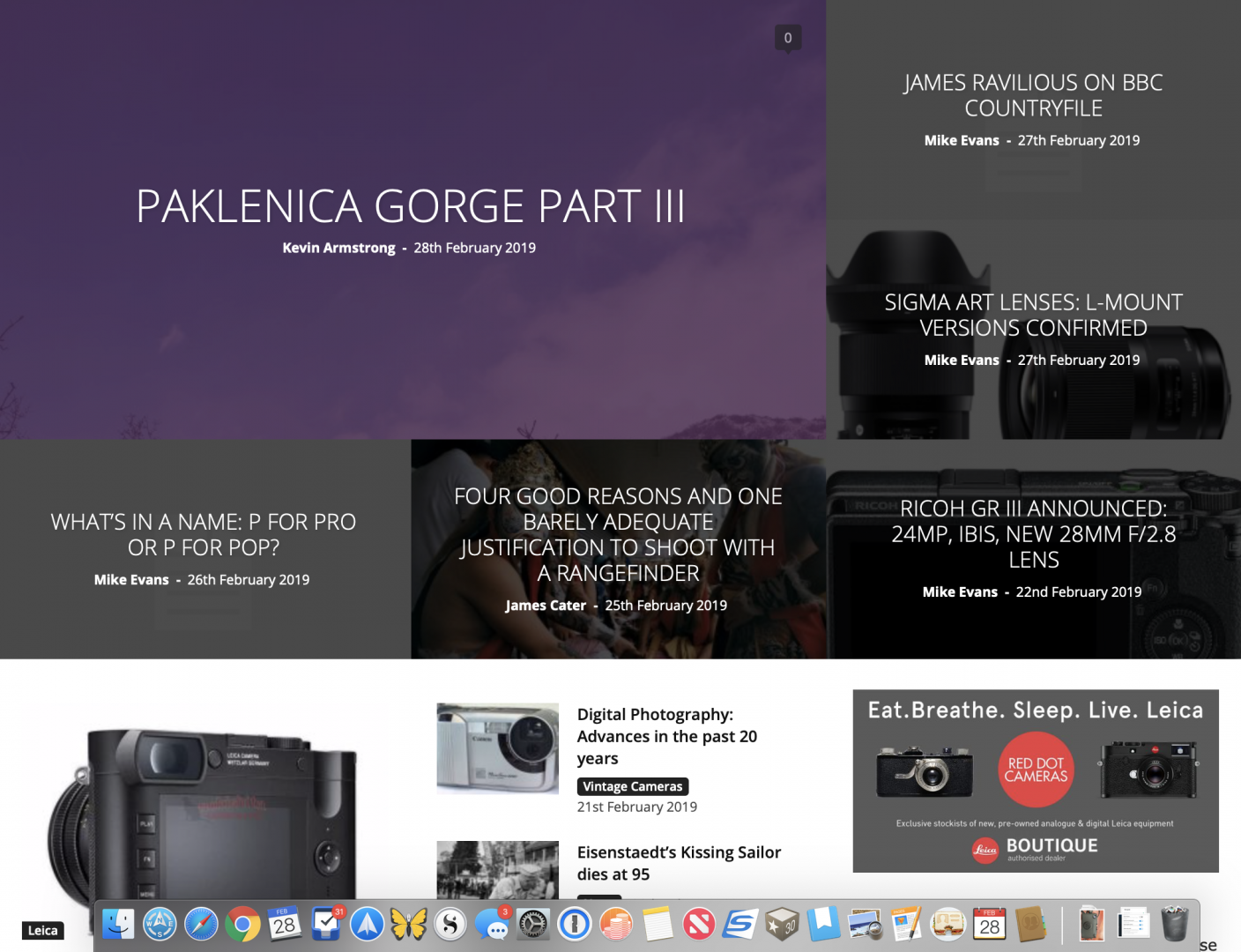 A few regular readers have not taken to the busy appearance of the new front page and miss the simple chronological blog-style of the old site. The front page does look busy, I agree, but it is a good place for new users to land, encouraging them to explore the site more widely. Many readers love this magazine layout and, in general, the tagDiv Newsmag theme for WordPress has proved to be a star performer.
Back to the blog
However, with traditionalists in mind, we have now created an alternative front page, called Blog, which you can find on the menu bar immediately to the right of Home. This reproduces the simple chronological blog-style layout which we were used to with the old site. If you still prefer this layout, it is a simple job to select Blog from the menu. You can even bookmark the page to ensure it is where you land when you click on Macfilos (see below).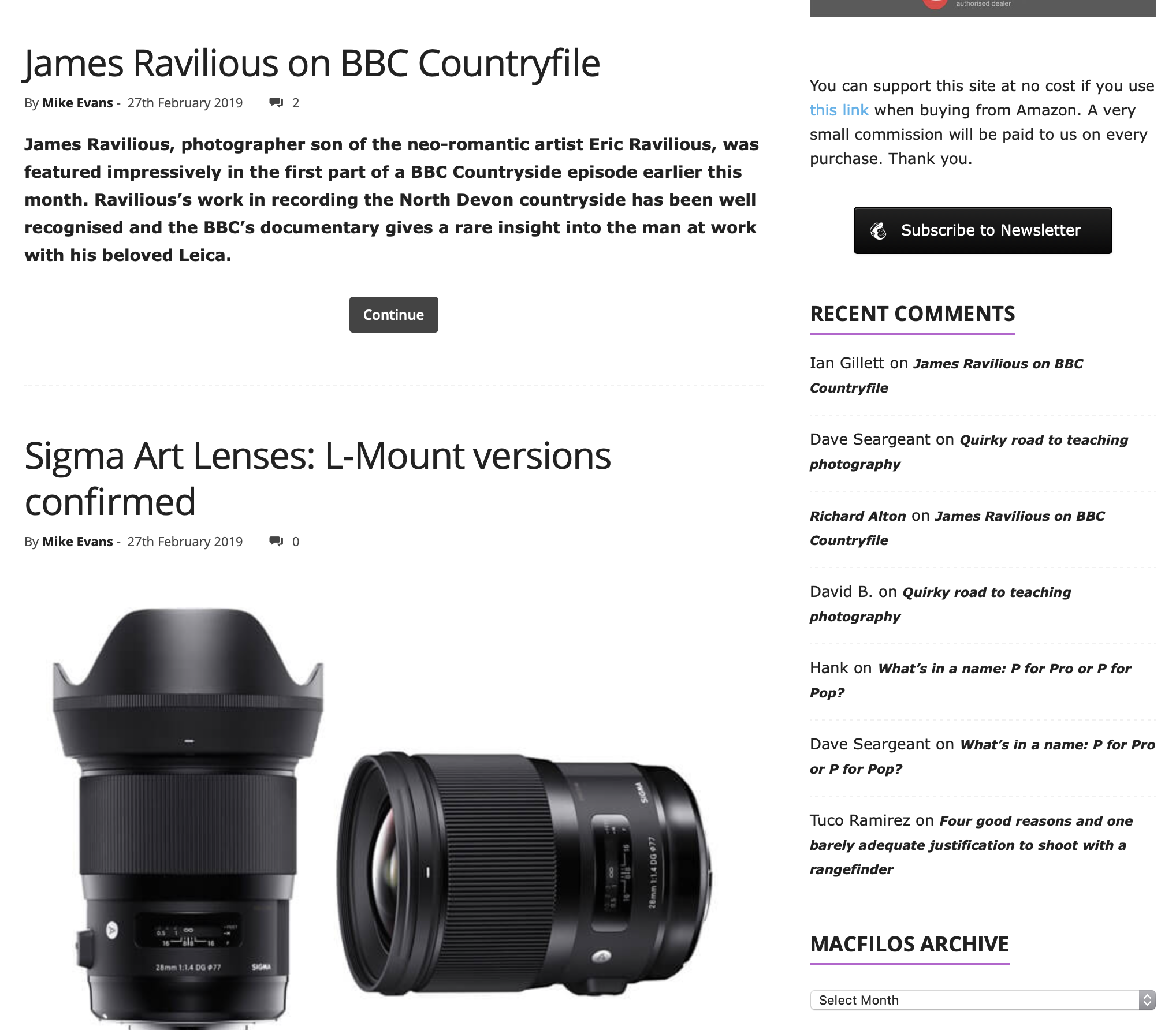 Mobile issues
One or two readers have complained that the mobile version of the front page is confusing in that it is necessary to swipe to the left to see all the items in the large top panel. I'm not too fond of this aspect myself, but it is an integral part of the theme and there is no easy way to change it. I plan to speak with the developers to see if a less confusing alternative is possible. Now, however, it is now easy to choose the Blog page as the default viewer and see a more straightforward list of articles.
On a couple of occasions, we have had issues with the mobile version not updating with the latest posts. I have experienced this and one other reader has mentioned it. Closing the browser and then reopening seems to solve the problem but, again, I shall be looking into this to see if there is an issue at our end that could be causing the odd behaviour.
Comments
One problem area which is difficult to address effectively is that the comments section of blog posts is buried right at the end, often after a succession of "related articles". Originally there were several further impediments, including an author box and examples of more articles from the same author. After complaints we have deleted these two elements in order to make the comments section more usable. It is sometjhing we are looking at with a view to improvements.
Involving
In general, though, the move from Squarespace to WordPress has put some much-needed life into Macfilos. The home page, which new readers see first, is much more involving and has encouraged first-time visitors to stay and explore rather than simply moving on after reading one article.
Even regular readers have been prompted into exploration and old posts from three, five or, even, ten years ago, are springing back into life as users find it easier to navigate and discover.
If you have any comments please leave them below. I will do my best to address any outstanding issues.