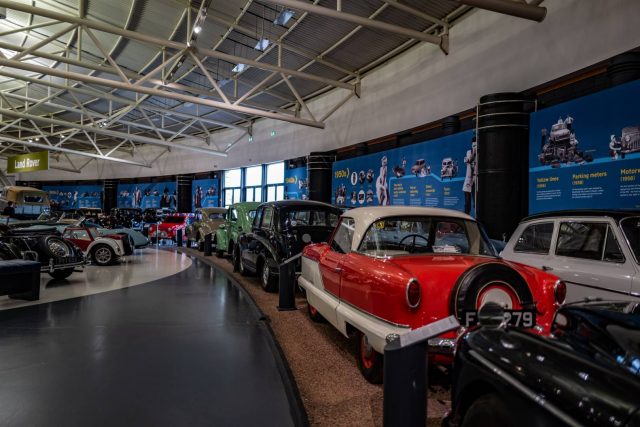 On the day the British Government announced that the sale of petrol and diesel cars will be banned in just fifteen years' time, I decided to take the new Jaguar I-Pace for a visit to its home turf in Gaydon, Warwickshire. Well, to be more precise, just across the road from Jaguar's HQ — a visit to the British Motor Museum. This gem of motoring history is worth a stopover if you are driving north on the M40 motorway. I packed the compact Leica Q2 as a suitable tool to record the occasion
This was my first extended test of the car. Yet, after returning home to write this article, I am wondering if I did the right thing in buying an all-electric vehicle. Or, more precisely, I wonder if I did the right thing in not buying a Tesla. It's all a matter of the ease, or otherwise, of charging the thing.
Infrastructure to blame
Make no mistake, it is not the car that's the problem. I absolutely love the I-Pace and it is a wonderful car to drive, with some of the best driver-assistance systems I have come across this side of a Tesla.
And it has some excellent instrumentation, including the brilliant HUD display, that I find more appealing than an iPad perched in the middle of the dash. No, it's the charging that is the most frustrating aspect of owning a Jaguar, and this failing is magnified in comparison with Tesla. I knew that and you all knew that, but the situation is possibly worse than we imagined.
Without a doubt, the charging infrastructure is the single most important factor when you buy an electric car. Tesla had it right from the beginning; the rest of the industry is playing catch-up and making a bad fist of it. As we shall find out.
Nine-thirty on a bright winter's morning and my halo was firmly in place as I unplugged the Jaguar with its "full tank" of 233 miles. Over the first few days of ownership, this estimated range had hovered around 246. But a dose of my driving style over the weekend, which included substantial stretches of 70-mph highway, and the car's computer had decided I was worth only 233 miles on a charge. It will soon be less as I drum up more highway motoring. Fact: EVs sup juice alarmingly at sustained highway driving at speeds over 70 mph.
Seasoned EV owners call this range display the GOM, or Guess-O-Meter, because that is precisely what it is.
It's worth mentioning at this stage that the Jaguar has an "official" range of 298 miles although the manufacturer admits that this is unrealistic and that the real-world maximum is up to 250 miles. Factors such as terrain, wind, temperature, size of wheels and, of course, driving style, all have a remarkable impact on these figures. My car has 20in wheels, for instance, whereas the smaller 18in wheels on the base-model car would add some 8 per cent to the range. These are factors you seldom think about with a petrol or diesel car. But they are important considerations for the EV owner.
Significantly, Porsche has just introduced the alluring all-electric Taycan with an official range of 201 miles. Yes, 101. What are they thinking of? Imagine what the real-world range is likely to be, given the typical Porsche owner's heavy right foot. In fairness, the Taycan accepts faster charging than the I-Pace and a special arrangement allows one-card access to a multitude of charging systems. Nonetheless, I sense there will be many disillusioned owners after they've shelled out their £86-130 grand and then find themselves grovelling in a remote corner of the car park fighting over the one available fast charger.
Best laid plans
The day's plan was to drive the 86 miles to Gaydon, plug in the car round the back of the Museum (for I had done my homework and knew that there were six charging pods available to visitors), take some pictures of the exhibits and drive straight back to London. A modest little excursion of 172 miles, and seemingly well within the GOM.
Plans of mice and men soon came into play, however.
I arrived at the museum at 11.20, having covered 85.8 miles. The GOM was showing a remaining range of only 118 miles, which means I'd used 115 miles of estimated range to cover 86 miles. I had 51% left, just about enough get me home, given a fair wind. I surmised. But I planned to stay at the museum for a couple of hours and this would be a chance to top up with juice. I drove around to the back of the museum in order to plug in the beast.
Snag No.1: Ford was hosting an electric car event and had reserved all the public pods, so no chance of topping up. I sought an interview with the museum's manager and few choice words were exchanged, "outrageous" featuring prominently. Here we were, across the road from Jaguar's headquarters, and I was unable to find a single charging pod for their pride and joy, the I-Pace. Maybe I hazarded "scandalous" as well, for it is little short of that. By this time my halo was slipping alarmingly.
Gumption
You would think, wouldn't you, that Jaguar could have had the gumption to install a bank of public fast chargers near its HQ as a PR exercise— less than two miles from a major motorway. It's the least they could do and there's plenty of spare land around. As far as I know, they do have many slow chargers inside the grounds, but these are presumably restricted to factory staff and visitors. Poor old Joe Public with his I-Pace is seemingly beyond the pale.
I curtailed the museum visit after bagging a few pictures of the products of the once-mighty British motor industry. I was keen to continue the experiment with the Jaguar. I foresaw, rightly as it turned out, some dillydallying while a-charging on the way back.
At 12.30 pm I set off back to London. Stopping at the Cherwell Valley service station, some 23 miles south of Gaydon, I noticed the GOM was down to 77 miles. I thought I'd try replenishing the tank while enjoying a coffee. However, as I had discovered at other service areas, there is no signposting to the electric vehicle charging points and it was quite by chance that I stumbled upon the two chargers tucked away in a corner next to Gregg's the bakers, both mercifully vacant. I was definitely feeling like a second-class citizen.
One was a fast 50kWh charger (half desirable, it should really be 100kWh or more), the other was rated at the slow 7.2kWh (not desirable). This is the life, I thought nevertheless, as the halo righted itself and hovered above my head encouragingly. I decided to try the slower charger just to see how it would perform. I knew it would be dire and so it was. These 7.2kWh chargers are ok for home use (I have one in my garage) a waste of space at a motorway service station when there could be a faster installation. Why do they bother? Perhaps it is to make the overall number of charging points in the country look acceptable.
Goody, 19 miles more
After 45 minutes, the maximum time allowed in one session, the Jaguar had supped a measly 5.9 kWh, enough for an extra 19 miles as disclosed by the Jaguar's GOM. Mercifully, it cost only £1.77 but the whole exercise was a monumental waste of my time. Why do they even bother fielding so many 7.2 kWh chargers if they are so demonstrably useless? To charge the car fully I would have needed to make that coffee last some seven or eight hours, assuming I hadn't been drummed off the charging point by a horde of disgruntled EV owners before then. I can foresee charger rage becoming a feature of future journeys.
I now had 96 miles in hand for a projected remaining journey of around 65 miles. Ok, you might think, but I've already learned not to venture too far onto the thin ice. If something went wrong — a detour or a traffic snarl-up — I could even run out of electricity before the end of the journey. And it isn't just a matter of coasting into the nearest filling station. Charging needs a PLAN. Best not to take chances, so I drove on down the motorway to Oxford services where I found a vacant 50 kWh fast charger. Since it was the only one, this was fortunate.
This was more like it. The 45-minute session (again automatically limited in the interests of fairness and unbloody noses) loaded 31.97 kWh and pushed the GOM up to 177 miles. It would have needed another session, 90 minutes in all, to take the car to fully charged. Still, this was more than enough to be getting on with and I still had 46 miles to cover…
From there the journey was entirely sans range angst and I arrived home in London with a healthy 137 miles in hand on the GOM, representing a remaining 61% charge. This was better than expected and shows the other side of the coin and how unpredictable these range estimates can be.
I'd driven 46 miles and used only 40 miles-worth of fuel! This is in direct contrast to the outward journey where the electricity use was well ahead of estimates. Why is this? I conclude that I had a headwind on the outward run but a corresponding tailwind on the way back. I'll probably need to consult Admiral Lord Nelson on future runs.
Hit or miss
During this journey, I've learned that highway charging for all cars other than Tesla is shambolic. It is a disgrace in a country which has just grandly announced the death of petrol and diesel in 2035. While I counted no fewer than sixteen ultra-fast Tesla chargers at Oxford Services, there was just one 50 kWh charger available for the rest of the non-Tesla world. Had I been unlucky, with a low tank and someone already charging, I could have been stuck for hours.
Worse, this one charger could have been broken (as, apparently, is often the case, apparently) and I could have been there for days, plugged into the microwave socket at Gregg's the Bakers. It takes 30 hours to fill the tank from a domestic 240-volt socket, a lot longer if you are in the USA and have only 110 volts to hand.
A further annoyance is the plethora of different companies offering charge points. I have a wallet full of RFID cards already and the whole system is a three-ringed circus, deeply in need of reform and coordination.
A 7.2kWh charger, which constitutes the majority of available stations, especially those in supermarkets and other facilities, is good for adding about 22 miles of range to an I-Pace in one hour. The faster 50 kWh version will provide around 125-150 miles in an hour although, in practice, it seems that there is a general 45-minute time limit on the use of these public chargers. So that's 110 extra miles at most (less thirsty cars than the Jaguar will do better). You can initiate a second session and fill the tank, but be prepared for fisticuffs if there's someone else waiting for the only charger.
As a result, once you've exhausted the full charge you leave home with, you could be reduced to hopping from charger to charger every 80-100 miles. This is by no means the Utopian world of electricity we've been promised.
The Jaguar can be charged at up to 100 kWh (with the promise of faster speeds following future software updates) but there is only a handful of such chargers in the whole of the UK, none of them convenient for me as it happens. An hour on one of these speedy devices should be good for a full range. In practice, since you are unlikely ever to arrive with an empty battery (for your own sanity), a 45-minute charge should be fine.
Tesla kudos
Tesla has clearly shown the way. I suspect Tesla owners use motorways without the slightest tremor of range angst. They can run down the tank and be fairly confident in finding an unoccupied charging point — and a very fast one — at the next service area. Owners of Jaguars and every other marque on the market are left collectively scrabbling around in the corner of the carpark with, at most, two fast chargers to choose from. If they are working, and that's another worry.
Clearly this is something of a disaster. Instead of placing unrealistic targets for the binning of fossil-fuel cars, the Government should be investing in the charging infrastructure and offering other incentives to owners of EVs. At the very least, ministers should be insisting that the industry gets together to fund a Tesla-like array of fast chargers at every service station if there is to be any chance of meeting these targets.
Annoyingly, the solution is there and visible at every bank of Tesla chargers. It's just that the rest of the world hasn't caught up.
It is beyond belief that Jaguar, Mercedes, Audi, Porsche — not to mention the many other electric car manufacturers — are now churning out vehicles and extolling their desirability without, seemingly, a thought for infrastructure.
I am sure this isn't actually the case, they must be worried; but I have yet to see any local evidence of any concerted effort. True, the German manufactures have combined their efforts in the Ionity consortium which is installing 100 kWh-plus chargers in Germany and other European countries. But, so far, there are few in Britain where these manufacturers are trying their hardest to sell their vehicles.
By 2035, when internal-combustion-engined cars and, even, hybrids bite the dust — in the UK, at least — we will need hundreds of chargers at every service station. By that time, of course, charging times will have decreased and the driving range will have extended in proportion. So, let's say, a five-minute infusion of electricity for a range of 500 miles; then we would be talking. But it's impossible at the moment. Without a doubt, though, technology for this type of charging and massive investment in the charging infrastructure must precede any fancy notions of scrapping petrol and diesel cars.
On the other side of the coin, by 2035 everyone with off-road parking will have their own filling station at home and this will reduce the pressure on the public charging network. And, presumably, every roadside parking space will by then be equipped with a charger. It better be!
What we need in the short term, even without considering the abandonment of the internal-combustion engine in 2035:
A minimum of sixteen 100 kWh chargers at every motorway service station
A single charging application or card which can be used on any system
In the medium term, the onus is on the motor industry:
To achieve a realistic range of 300 miles, ideally 500
To reduce charging times to no more than five minutes, partly by developing new technology and partly by introducing much faster, 400 kWh-plus chargers
Negative but optimistic
Although this is a relatively negative look at the electric car world, I think it is currently quite realistic. It doesn't put me off electric vehicles but it does highlight the problems we face as a nation.
For 95% of my motoring, an overnight charge at home gives me 230-250 miles of range (depending on season and type of driving). I will seldom need to use public chargers. But for anyone who has a tight schedule and has a job to do and regularly drives long distances, EVs (with the possible exception of Teslas) are not yet ready for prime time.
Do I regret buying the Jaguar? No, I am enjoying it immensely and, as I've explained, I think I can live with the restrictions. I would undoubtedly have had less range angst with a Tesla, but I chose the Jaguar because it is a better car, both in design and build quality.
I've been on a steep learning curve over the past two weeks and I am just now beginning to get to grips with the reality of owning an electric car. I will continue to provide updates as I go along. Next on the list is a 500-mile trip, with side excursions, to Lancashire. That should be a testing time.
I just hope the friends I intend to visit will let me plug in my car. It is now the sign of true friendship: Being allowed to charge your car on the washing machine circuit.
And if we really do get unplugged, this could be the answer, below. An altogether more leisurely form of transport, giving one time to admire the countryside. Love the steering wheel.