Just under five years ago I paid my first visit to the Skiadopoulos Leica store in Athens and made a surprise discovery. They showed me some sample camera straps made by a customer by the name of Evris Papanikolas. He would be in the store later that day but, unfortunately, I had to get back to Glyfada, in southern Athens, where I was living at the time.
Some days later, after returning to London, I had a long chat with Evris and offered to review his new straps on Macfilos. Evris explained that it all started with a visit to an Athens leather craftsman where he went to buy a lead for his dog. The owner of the store specialised in leather belts and accessories and Evris was very impressed with the standard of workmanship.
Would he be interested in making some same camera straps? He would, and he did. And this became the foundation of what is now one of the foremost manufacturers of camera straps and bags, known as Rock & Roll Straps.
Since then, Evris has carved out a substantial market, particularly among Leica aficionados around the world. Here at Macfilos, we were early fans of Rock & Roll straps and the message was carried far and wide by influential bloggers such as Steve Huff and Thorsten von Overgaard. One of the original designs was a rope wrist strap and I suggested the name — Komboloi — to Evris and it seems to have stuck.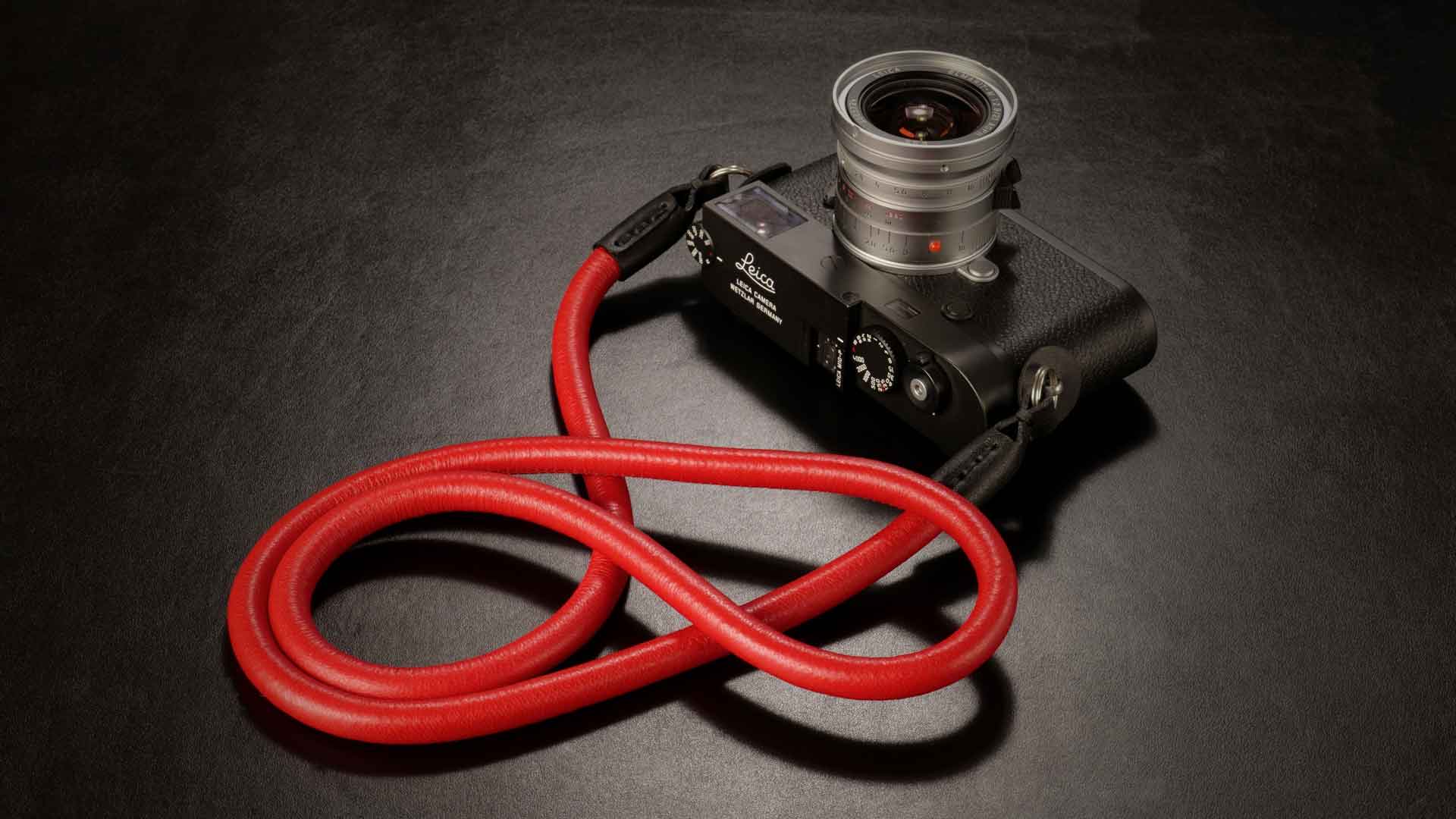 This week, Evris sent me a selection of his latest strap designs for Leica cameras. Some are made for the SL and SL2 and I will be looking at them in more detail later. In the meantime, though, I have been trying two novel one-metre rope straps which, unusually, are sheathed in fine leather. This adds a fine touch of luxury to the utility and strength of the more traditional design based on a strong climbing rope.
Both samples of the leather strap are similar in concept and differ only in the appearance and feel of the leather sheath. Both are in black and measure 100 cm but are also available in a length of 125cm if you prefer to wear your camera across the body. The basic material is the usual sturdy climbing rope but it is covered in soft nappa leather "inspired by 1960s-style driving gloves".
Strong leather end cups are furnished with heavy-duty split rings. In most cases, the bulk of the cup prevents scratching or scuffing the camera and this was the case with both my Leica Q2 and M10. However, both straps come with two leather rings which fit over the camera lug and offer even more protection if you feel there is any danger of the metal ring coming into contact with the body.
The two designs are distinguished by the leather covering. The Black Lash has a very smooth finish which is extremely tactile and attractive. The underlying rope is very pliable and the strap is comfortable in use. I've been trying it out on the Q2, as an alternative to my usual wrist strap, and it perfectly complements the camera.
If black isn't your thing, however, the Red Lash has exactly the same construction but adds a large dollop of colour to provide a delightful contrast with any black camera. Both the black and red versions cost €90 (plus 19% VAT if supplied to European countries) for the 100cm version and €100 for the 125mm strap.
The second version is the Black Mamba edition, limited to just 85 examples. It features an even softer tooled nappa leather which feels more like suede and which offers slightly more grip. I really can't make up my which of the two I prefer. This special edition comes at a premium, though: €135 for the standard length and €145 for the longer strap. In both cases, add 19% if you live in Europe.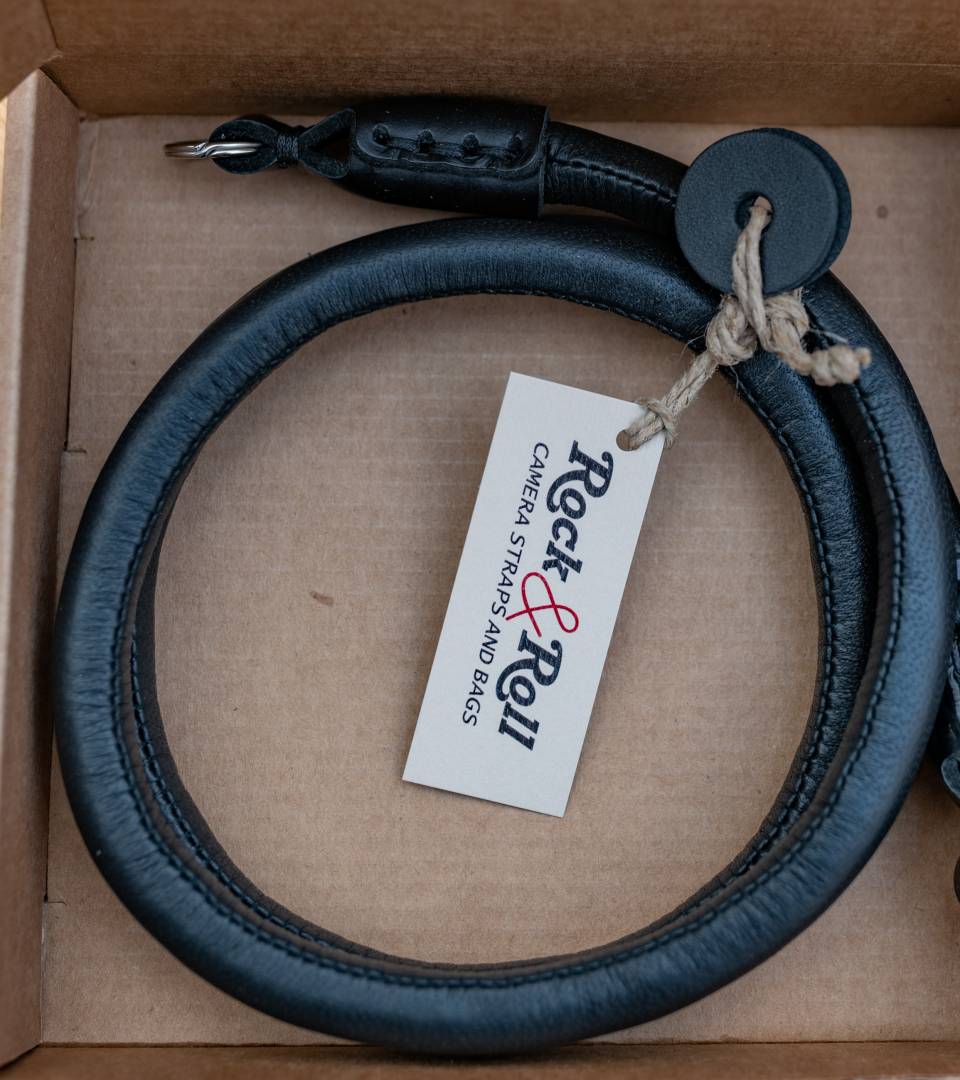 Rock n' Roll straps have come a long way in the past five years since those early days in Athens. They offer high quality with thoughtful design. Evris himself is a keen Leica enthusiast and makes sure that all his straps work well with all models in the range. As with most of the Rock n' Roll designs, the straps featured in this article are equipped with split rings intended for the traditional lug. The SL and SL2 with their DSLR-like slot, need a different type of attachment and I will be looking at this sector of the market next week.
---