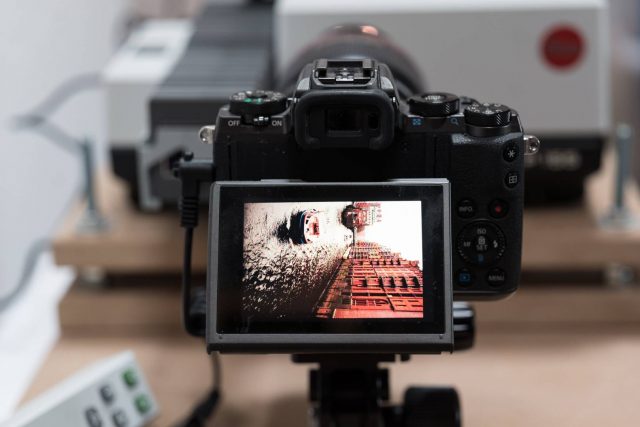 For many of us, a considerable part of our photographic career falls into the analogue age when there was a sometimes difficult choice to be made between exposing negatives, either monochrome or colour, and colour slides. Many committed amateurs often chose slide film. Others inherited vast collections of slides that were taken by deceased family members.
To keep or not to keep? Is there a workflow to preserve such memories at a reasonable effort? Here comes my solution to the problem.
Family documentary
I was faced with upwards of 20,000 colour slides. Beginning with my parents' honeymoon trip back in 1970, continuing with documents of all our family events, tons of landscape shots, mainly in the immediate area and ending with memory shots of the decorated graves of some of my father's friends who preceded him. Almost 50 years in photos that occupied many cupboards. And now, after the death of my father, Fritz-Peter, the question arose: Where to put them? What remains of this life-long passion, documented in the colour slides?
My mother, my sisters and I knew that we could not and would not keep the boxes of slides in original form. But the thought of having to throw away all these memories was simply too painful.
The logical answer was digitisation. However, at a price of up to 50 cents per slide, it was no option to use a commercial processor. The classical scanning method was not an option for me either, as efficient slide scanners have de facto disappeared from the market and moreover, the process is much too slow. So I chose a DIY solution which I would like to describe here in the hope that it gets your creative juices running.
A digital fix
An internet search made me aware of a product called Diadigifix. A German inventor provides a kit with which you can modify almost any slide projector and turn it into a unit for photographing the images instead. Basically, you remove the lens, you modify the lens/condenser system and add some high-quality white matte plastic plates. As a result, you see the slide projected inside the projector. With a suitable camera and a good macro lens, you then take an image, advance the slide tray and carry on. You can find all the details here. Sorry, the site is in German only but these days you can get the gist by using machine translation.
I soon discovered a major snag, however. All my efforts to align projector and camera accurately by using a normal table, tripod or so are pointless. After designing a solution with a purpose-made wooden base, I found out that others had had pretty much the same idea before me. I more or less used the construction that Volker Gottwald generously shared. I was immediately happy and have now proved its effectiveness over many slide copies.
Choosing the gear
The important point is to choose a camera/lens combination that allows enough space in front of the slide projector. If the camera sits too close to the projector, the magazine will not advance right until the last slide (especially if you use the most common 50-slide versions or the 80-slide LKM version).
I finally opted for a secondhand Canon EOS M5 and a Canon 100 EF-L Macro lens, second version. The appropriate EF- to EOS-M mount adaptor came with the camera. The lens turns into a 150mm focal length on the APS-C body and allows the use of (almost) the full 24 Megapixels of the sensor for capturing the 24x36mm slide (in fact, it is exactly 23x35mm due to the frame).
This choice turned out to be excellent at a very reasonable price. The camera did the roughly 20,000 shutter actuations bravely. It was only the genuine Canon cable release broke down halfway through the exercise. A cheap third-party replacement filled the gap flawlessly.
Three memory cards and three batteries were used. Every 1,000 pictures or so, I had to change the battery, so I took the opportunity to swap the SD card at the same time. While the battery charger did its duty, the files were imported into Lightroom, and I was able to proceed with another batch of 1,000 or so slides. Interesting – if you shoot at this rate, the battery reach is far higher than specified. This confirmed my suspicion that the relatively high battery consumption of mirrorless cameras is determined by the minutes of use and not by the actual number of shutter releases.
It would have been a further improvement to use an external camera power supply and to opt for tethered shooting, thus transferring the images directly onto the computer. But by the time I had found an external power adapter for the little EOS, the task was almost finished. However, it would have been a good idea to use cables for both power and data because you always have to do some slight adjustments when you return the camera to its working position.
Rainy weekend job
Long story short, I put my small digitising unit into the car, drove to my mother's home and did the whole job within two rainy weekends. That includes:
taking the photos
processing the RAW files (I would recommend this option because it helps with the enormous dynamic range of the slides)
running batch processes to mirror the images and to cut away the small safety margin I opted for
manually turning upright the photos taken in portrait mode
setting up a system of file names and file organisation
developing Jpegs and importing them in a well-structured manner into the photo library of my mother's iMac
It might have been even smarter to buy her an iPad right away so she could more easily access all these lovely memories.
Technicalities
Some technical points: 24 Megapixels are, from my experience, indeed the sweet spot for this task. In this setting, the sensor resolution is slightly higher than the definition of even the latest 35mm slide film. You see the grain in the digital photos, and this tells you that you will not get an improvement with a 36 MP sensor or denser.
The lens focus must be set manually focus of course, and the camera's display or electronic viewfinder have to be set on correctly for magnification and sharpness. ISO 200 offers the best quality in the RAW files, and f/8 aperture gives some depth of field to correct tolerances within the slide projector without showing diffraction problems due to small diaphragm opening. All this resulted in a very convenient exposure time of 1/250s.
The projector I used was a newly serviced, second-hand Leica Pradovit P 155 without lens that I found on eBay. It twice needed lubricating for the transport mechanism but otherwise it mastered this extremely heavy use very well. The Diadigifix kit comes with a special lamp you put into the projector. It is far less powerful than the normal 150-Watt bulb. This is to prevent heat and to have reasonable conditions for photography.
All alterations to the projector are reversible, but I will not need this because I already own one of the last Pradovit-PC projectors, bought new at a time when no one was interested in such gear. It was almost embarrassing how cheap it was, although the Colorplan lens adjusted this somehow. But of course, I would never use this beautiful piece for a DIY project.
Hints and tips
Some other minor points might be useful if you are tempted to set up your own processing kit:
All slides have to be ready in proper slide magazines. My father had stowed the earliest slides in small plastic boxes that consume less space. After the slides that were in magazines were processed, my mother used these magazines for the other slides. This was a surprisingly lengthy task, but worth it in the end.
All slides that were originally taken in portrait mode have to be turned by 90 degrees before the digitising starts. If they are in a magazine, run through it and adjust as necessary.
All corrections should be made within Lightroom. Do not play around with camera settings, including white balance. The results are uncontrollable.
Work in a room with subdued lighting. Avoid direct light or reflections that could reach the projector/camera setup.
Use a powerful computer. Handling thousands of RAW files within a short time is a heavy task. My 2017 16GB MacBook Pro with 16GB of RAM and fast, solid-state disk tackled the job with aplomb.
Invent a proper system of file nomenclature that helps you to keep the structure in your Lightroom catalogue. This is especially important when you want to maintain a chronological order but are not digitising in this order.
Think of regular backups. You will need a fast SSD for this. I ended up with almost 1 TB of data.
Most important: Do not even think of starting this job if the slides are not organised and archived in some manner. My father numbered them, starting with the year, and kept a list that connected his numbers with events. Without basic information (year, place, event) the images will tell you next to nothing, I am afraid.
Difficult choices
Finally, I want to raise some questions that I came across during the process.
The first and most important question is: Do you really want to keep all photos and, if yes, why? Consider a brutal culling before doing anything else. My initial strategy would have been to undertake a drastic culling of the library:
As a first step, I would have thrown away all landscape and architecture shots without people and which are show no evidence of unrecoverable conditions (a valley before flooding, a personally important building before demolition, the first glacier you rammed your crampons into…)
The second step would have been to dismiss all pictures of people that I, my sisters and my mother did not even know or remember. They are insignificant.
In a third step, I would have chosen a maximum of ten or so photos that represent a certain event (this was not such an issue to me because my father had already selected only the slides he believed to be important).
In the end, it is all a question of what is worth keeping. Culling in the way described above was eventually ruled out. I wanted to preserve my father's photographic legacy in its entirety and also because I wanted to remember him as the skilled nature photographer he was. With this quantity of pictures, the only way to do this was to digitise the pictures myself. If I could have reduced the number from 20,000 to, say, 2,000 images, I would have given them to a commercial scanning provider.
So if you have slides yourself, it's a good idea to make a wise choice when it comes to the question of keeping or discarding – and, depending on your age, also with a view to the next generation. With my own 10,000 or so slides and my young-ish age, I still think about how I want to handle them. This is especially so since there are a few more to come: I shoot a few rolls of slide film every year even to this day.
And: Out of my father's original slides, I didn't have the heart to brutally throw away some of the original images of me and my sisters as children and of our beloved parents. Of course, I have the digitised pictures now. But something in me says that in another 40 years' time we might be able to do more with a slide than with a heap of data (if both survive at all by then; although I have more confidence in the slide when it comes to this).
So, it's all about memories and the way to preserve them. My final advice is: When you have to find your own way to cope with this task, don't ignore emotion. I knew that the work with my father's photographic heritage would bring me close to him once more. It worked. So listen to your heart.