Max out the specification is my usual advice for anyone buying a new computer, usually a Mac computer because that's the area I know best. The theory is that choosing a faster processor and more memory, both RAM and disk, is the way to prolong happiness. As new models come along, your high-spec older model will fight its corner more effectively.
Good advice or not, I have just completely ignored my own recommendation. I've bought the basic, entry-level MacBook Air with the M1 chip, the standard 8-core processor and the 7-core graphics processor. I've also slummed it with the lowest 256GB solid-state disk and the lowest 8GB of memory. This is contrary to all my beliefs, especially the decision to stick with a measly 256GB of disc storage. To be honest, I have a suspicion it isn't going to be enough, but I have some ideas to cope with that.
For the past year, I have been without a portable MacBook. Just before last Christmas, I swapped my 15in MacBook Pro for one of the new M1-powered Mac minis and an LG monitor. It's worked well and I haven't missed having a portable Mac because of the lack of travel. Now, however, the world is opening up and I have several reasons to need a laptop again.
iPad v MacBook
While I love my iPad Pro, there are some jobs that a conventional computer can do better. For me, foremost among these is running Macfilos. It's possible to do everything on the iPad, of course, and several friends have moved over completely to tablet computing. But I find the file management and the multiple-window approach of a proper laptop makes blogging a lot less strenuous and more effective. iPads now do rudimentary windowing, but it's very limited and often awkward to use.
I also much prefer photo processing on a computer, although many would disagree. Ivor Cooper of Red Dot Cameras, who is himself a keen photographer, swears by the iPad and does all his processing and organisation on Apple's tablet. Each to his (sic, their) own, of course, and I wouldn't recommend one route or the other. It's just that I do like to have a Mac available when I'm away from home for more than a weekend. I will still use the MacBook Air for processing when I'm on the road, but this will be limited and, I hope, containable.
Ticking the boxes
I've been thinking of a new MacBook Air for some time and, several times, I've visited the Apple site and looked at the basic computer which costs £999 (aw shucks, let's call it a grand) here in the UK (but that does include 20% tax). Then, remembering my advice, I start ticking options. Well, why not go for the faster model with 512GB of storage, that's £1,249? Hmm. And, perhaps, it would be a good idea to double the RAM to 16GB and bump the storage up to 1TB. All very sensible, but do I really need it in a portable Mac when I have all this available on my office desk? That will be £1,649, thank you very much, and not including Apple Care which would add £189 to the package.
Yes, it's easy to get carried away. But two facts pushed me in the direction of the no-bells-and-whistles basic model. First, I know there is a redesigned MacBook Air coming along in the middle of 2022 and I might well be tempted. I'd even be tempted to wait if I already had a laptop, but I don't. So it makes sense just this once, you have to understand not to go mad on speccing out a current model. But the real deciding factor was the £100 discount I found on Amazon. That ten per cent sweetens the deal because Apple products are not noted for big discounts.
Decision, rash or no?
For better or for worse, I pressed the BUY button on the absolute basic MacBook Air and it arrived the following day, on Saturday. It's a lovely little device, with a super-sharp screen, the usual excellent keyboard and a Touch-ID button to get instant access. As I set it up, with a selective migration from my Mac mini (if you are migrating from a larger disk you do need to untick folders and files you don't need on the new computer), I began to have doubts about the limited 256GB storage. I've previously considered 512GB to be the absolute minimum I could live with, and I'm quite likely to go for 1TB to be on the safe side. But is it necessary these days when Cloud storage is so reliable and accessible?
It was worrying to find that even a basic installation, with system files and libraries, accounted for 100GB, leaving under 150GB for storage. It's something buyers often forget, that there is a basic level of storage that is inevitable and necessary. As a fan of Dropbox, I'm used to having upwards of 150GB of files stored locally and I realised that would have to change. Initially, I've set Dropbox to download just the very basic data files which serve several applications, including my accounts system. All the other files are showing, but not downloaded. Apple's iCloud storage is less easy to manage in this way, but I don't keep much more on there than the data to serve Apple's built-in apps.
Space angst
After all the transfers and the initial bedding down processing, the new MacBook Air is showing 148MB of free space, with the system and necessary data files occupying 103GB, less than I had imagined. It's now down to me to pay attention to storage in a way that wouldn't have to do had I gone for a larger disk. One important aspect to bear in mind is that any computer needs a certain amount of storage capacity as a working "scratchpad". This can be as high as 25% of the disk's capacity, so this again encroaches on the space you have available to store files.
It does help to keep an eye on redundant storage in hidden files and, of course, to remember to empty the bin regularly. Email servers can also tick along in the background, downloading old emails you no longer need. I but of housekeeping is a good idea.
If you are planning to run on empty, as I will be doing for the next year, it's also a good idea to use a disk cleaning application. My favourite is DaisyDisk but there are others out there to choose from. These applications find redundant files and folders which can safely be trashed. In some cases, operating systems will hold on to redundancies (purgeable files) until the space is needed; this can cause worry as you see the available space shrinking over time. Daisy Disk also helps identify redundant backups because some applications will store years of backups when, in most instances, it's safe enough to keep just two or three. These files, often quite large, can be deleted safely.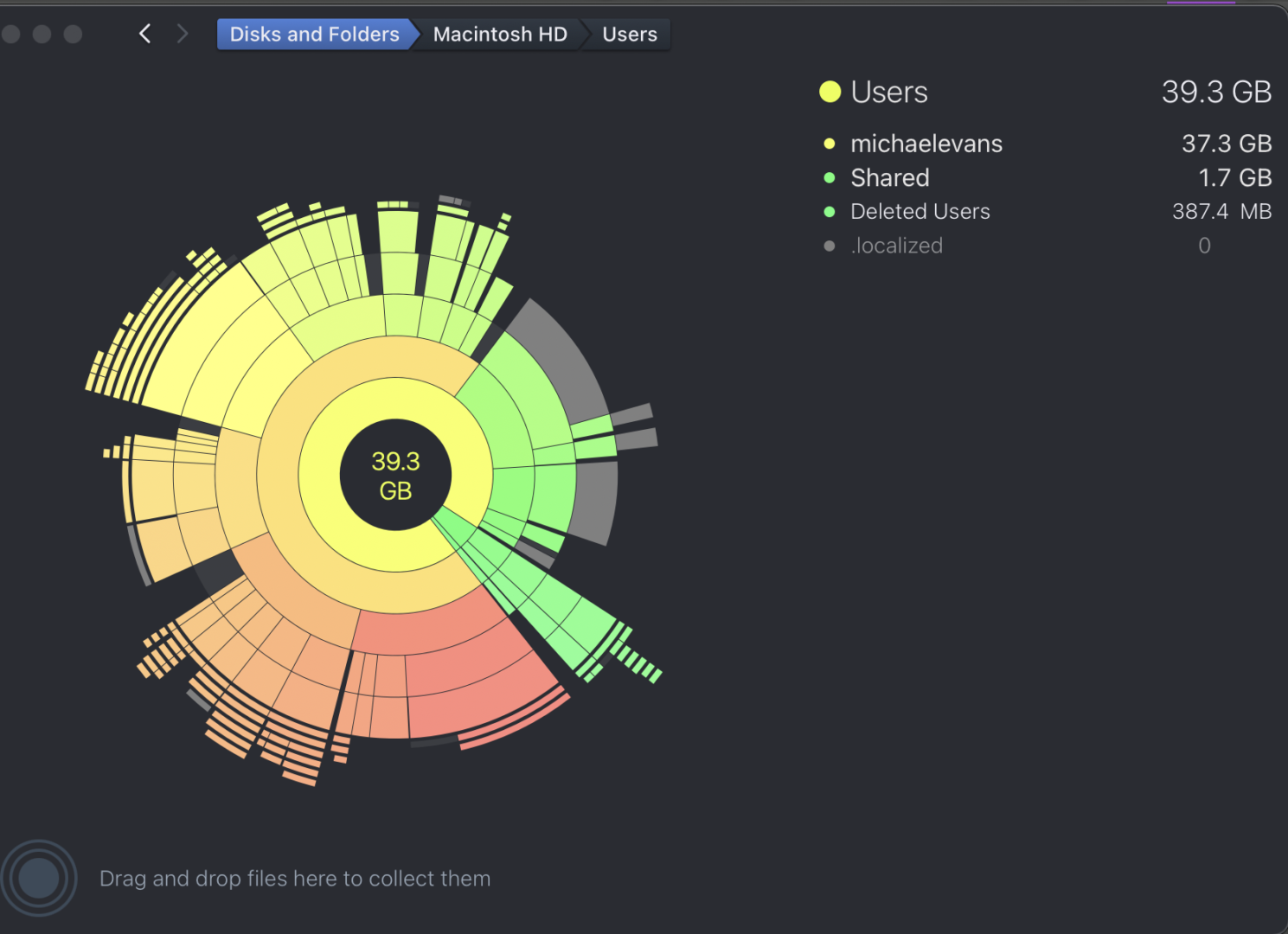 Of course, it's nice not to have to worry about disk storage. With 1TB at your disposal, I'd have an easier life. But I'm looking forward to my experiment in frugality. Will I still be happy with the meagre 256GB storage after a year?
Productivity = happiness
None of this makes the little MacBook Air any less productive, of course. I am not planning to use it for processor-intensive tasks such as video production or, for that matter, regular Lightroom processing. Nor do I need to store large picture or video files on the computer. All that can go to Dropbox or iCloud, available if I need it for temporary working. But for writing, editing and creation of blog posts, the Air should be perfect.
There's something satisfying about minimalism. And by choosing the cheapest possible route to MacBook ownership, I've left my options open for an upgrade in 2022 when the new model arrives. it will be interesting to see if I am as frugal with the new Air.
What about you? Are you a basics sort of person or are you tempted by manufacturers' attractive add-ons? Perhaps some of these upgrades are actually essential and you'd regret not ticking the box.
---
Join our community and play an active part in the future of Macfilos: This site is run by a group of volunteers and dedicated authors around the world. It is supported by donations from readers who appreciate a calm, stress-free experience, with courteous comments and an absence of advertising or commercialisation. Why not subscribe to the thrice-weekly newsletter by joining our mailing list? Comment on this article or, even, write your own. And if you have enjoyed the ride so far, please consider making a small donation to our ever-increasing running costs.
---