The benefits enjoyed by those of us living in sunny locations are manifold. These include year-round tans, self-sufficiency in vitamin D, and perpetually looking cool in shades. Even more importantly for photographers, it means pronounced contrast and deep shadows.
Shadows are the gift that keeps on giving for aficionados of modern art and abstract photography. They enrich the complexity of architectural features and colours through imposition of diagonals and curves in deeper shades, adding subtle Euclidean geometrical shapes that please the eye.
Although a favourite genre whose artistic concepts I aspire to master, this photographic niche is one where my own efforts remain embryonic. Perhaps though, if my portfolio of examples expands, a Macfilos article on this subject lies somewhere in my future.
Back in black
In contrast, so to speak, I have delved further into extreme tonal dynamic range as a compositional device. The ultimate expression of this 'hard-contrast' approach is the silhouette, a black shape set against a bright background. Here, photography in sunny climes comes into its own; blazing sunshine and an outdoor lifestyle afford backlit subjects galore, especially in early morning or late afternoon light at the beach.
The word silhouette derives from the name of an 18th century French finance minister, Etienne de Silhouette, infamous for the severe economic austerities he imposed. His name became associated with anything done cheaply, especially the minimalist black on white portraits through which admirers could impute the identity of a person merely by observing their profile. This ability of humans to recognise an object based upon its backlit shape has since opened up enticing photographic opportunities, in which clever use of intrinsically spare silhouettes stripped of extraneous details can yield arresting images.
Known unknowns
I have been drawn to the simplicity of subjects in silhouette since first picking up a camera, even more so when a jet black shape is set against an austere background. Both animate and inanimate objects make great subjects, but human figures hold prime position. The ambiguous nature of silhouettes — for example the difficulty in discerning whether a person is heading towards or away from the camera — is a boon to squeamish fellows like me who are uncomfortable photographing complete strangers face on. Feel free to guess in which direction the people photographed below are walking!
Another intriguing ambiguity of figures in silhouette is uncertainty about their emotional state. Since no facial features are discernible, body language becomes critical in interpreting the photograph. Again, feel free to consider whether the subject's disposition can be deduced from the photos coming up.
Yin and yang
Of the many ways a silhouette might be featured, several are especially appealing to me. Since the subject is nothing more than a black shape, the background source of illumination — the yang to the silhouette's yin — becomes an essential element of the composition and worthy of careful consideration. In black and white shots, shimmering reflections of sunlight on water make an effective counterpoint to the silhouetted subject — conditions often found looking south along the beach in the morning. Alternatively, a block of colour from the sky provides a striking contrast when the camera points up at the subject, provided sun flare can be avoided (for example, by obscuring the sun with the subject itself). Perhaps the most aesthetically pleasing backdrops are at sunrise or sunset, when ambient light is low and the sky is aglow with a range of gorgeous hues.
Just do it
As that great twentieth-century philosopher, Elvis Presley, once said: "A little less conversation, a little more action, please". So, time for some photos. They were taken at the beach with a Leica Q2 or Lumix S5, equipped with Sigma f/5.3-6.5 100-400mm telephoto or f/2.8 14-24mm wide-angle zoom lenses. They are grouped according to the strategies listed above, beginning with those in black and white.
Magical moment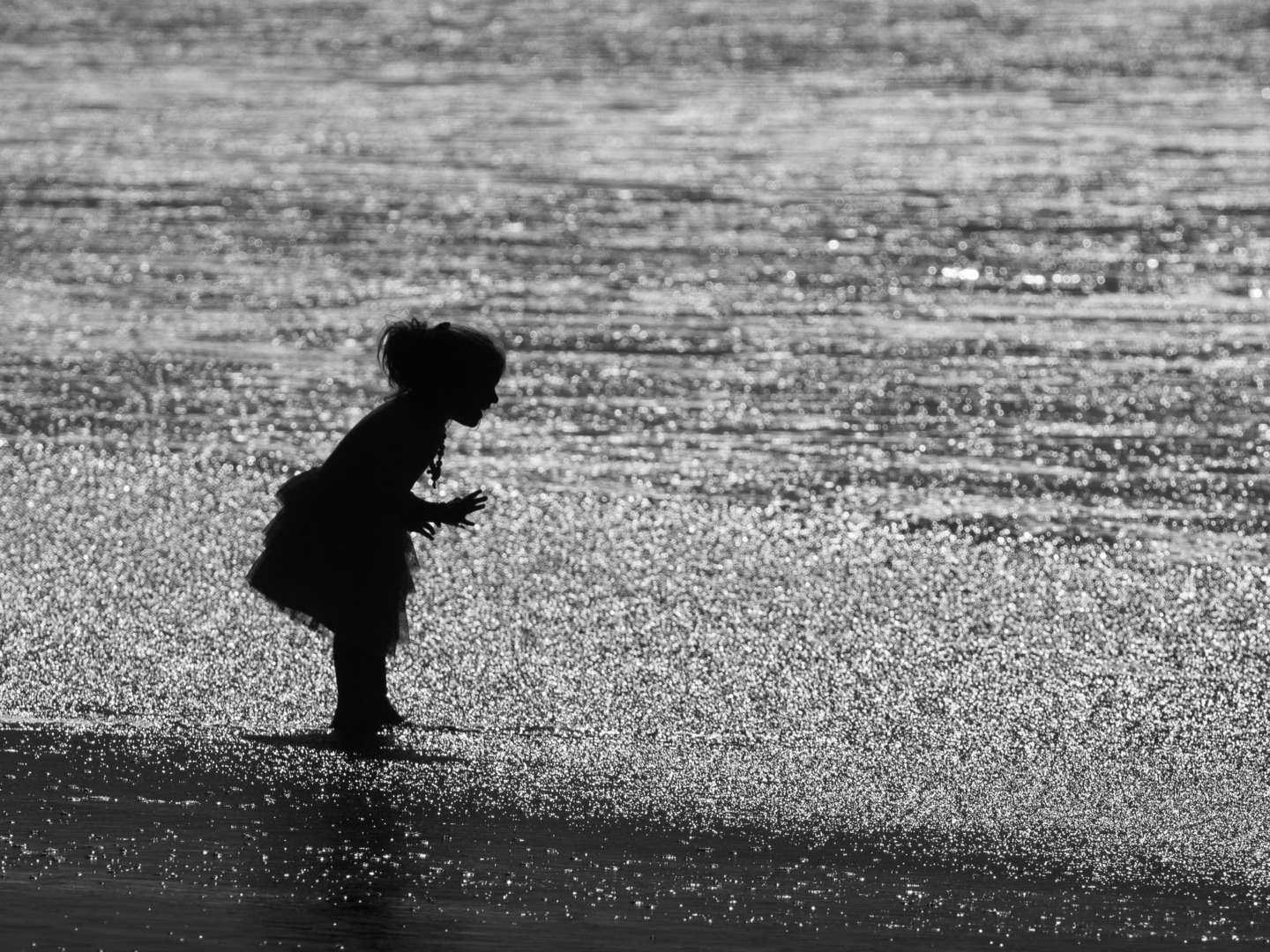 Even though we cannot see this little girl's face, I think she is expressing delight at shallow waves lapping deliciously over her bare feet. Or, perhaps she is thrilled at the sensation of receding water racing between her toes. Or, she might never have been this close to a seagull strutting through the shallows, just out of camera shot. What do you think?
Romance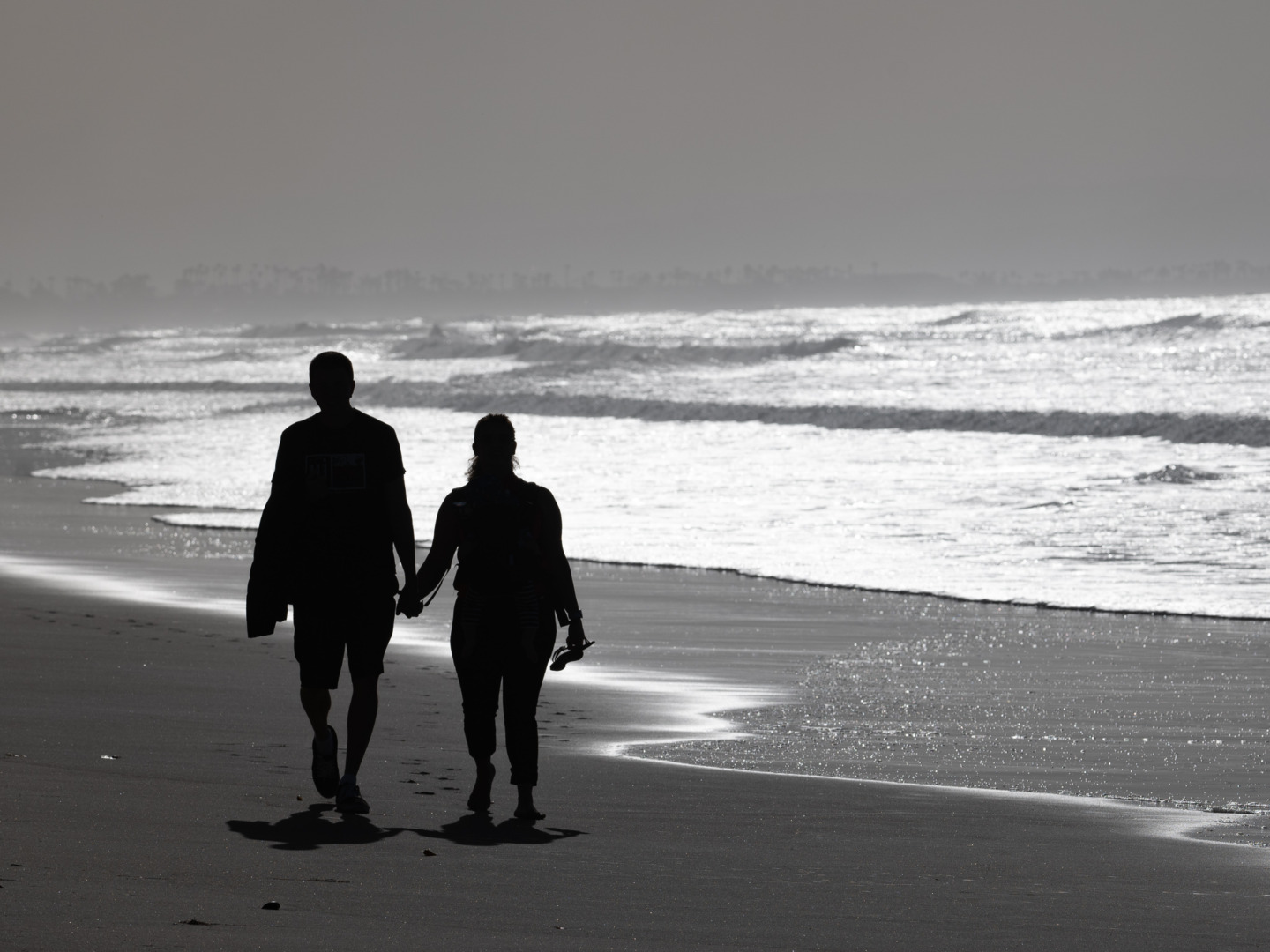 Holding hands as they stroll along the beach, a couple enjoys the morning together, listening to the waves crashing, their feet sinking into the soft sand underfoot. Careful inspection reveals a trail of footsteps behind them — they are walking towards the camera.
Adonis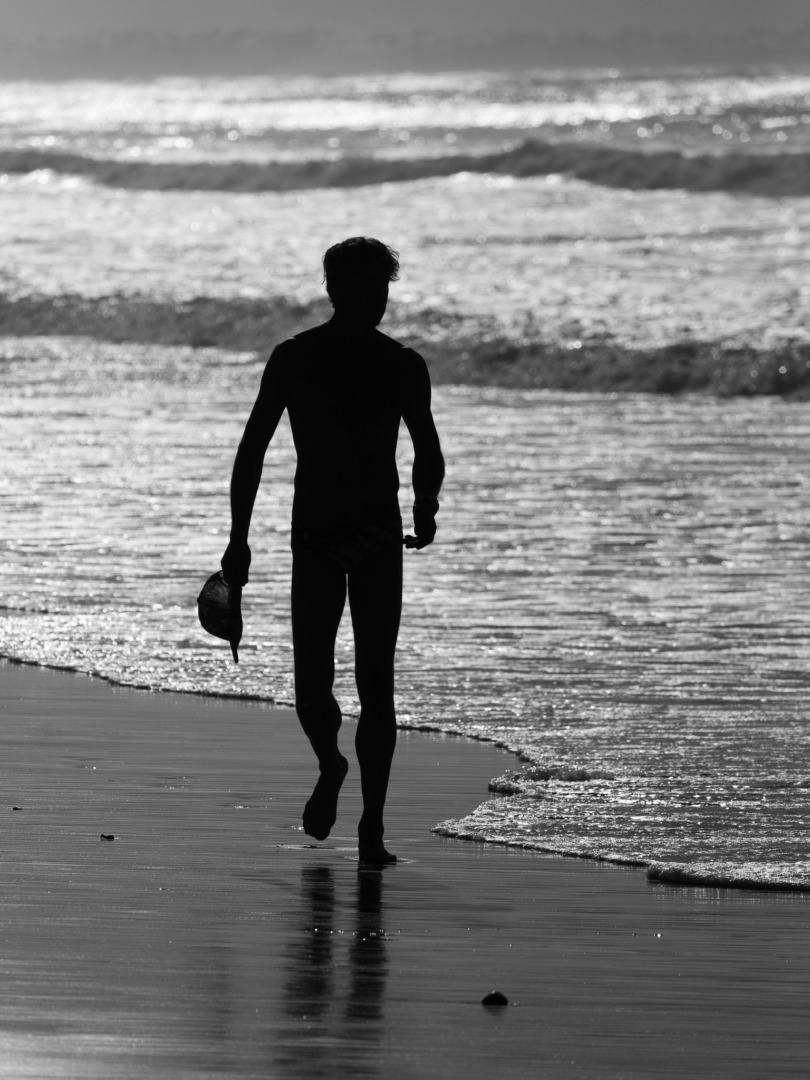 Cap in hand, this slim figure fresh from an encounter with Aphrodite walks barefoot through the shallows, content to let the incoming waves splash around his ankles.
Fishing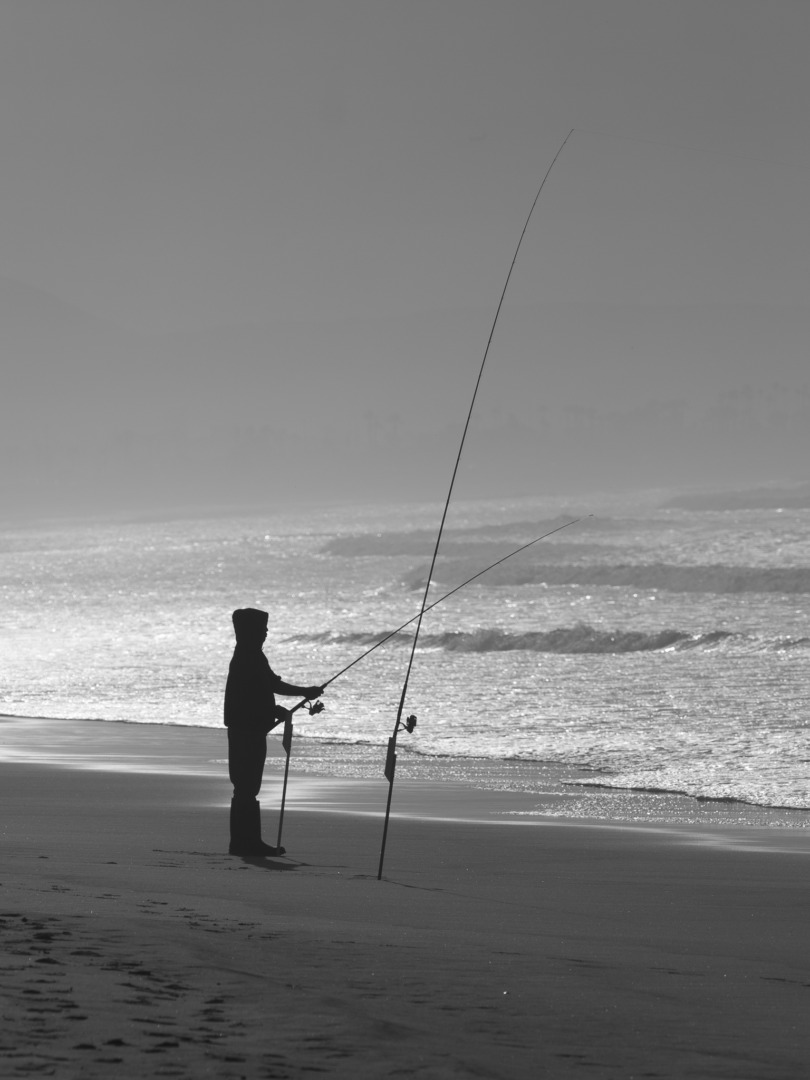 A hooded fisherman at the beach in the early morning works two rods in concert. He can wade into the shallows to retrieve a catch with the assurance of dry feet protected by his Wellington boots, or 'Wellies' in British parlance. How might this rodmeister handle the statistically unlikely event of two bites at once?
Family Frolics
Are the three figures a father and two daughters chasing each other along the shallows while the mother sits on the beach nearby out of camera shot? Or is the man a complete stranger, jogging sedately as the girls race by? Silhouetting and distance obscure clues of family resemblance and allow any manner of storylines.
Man on a mission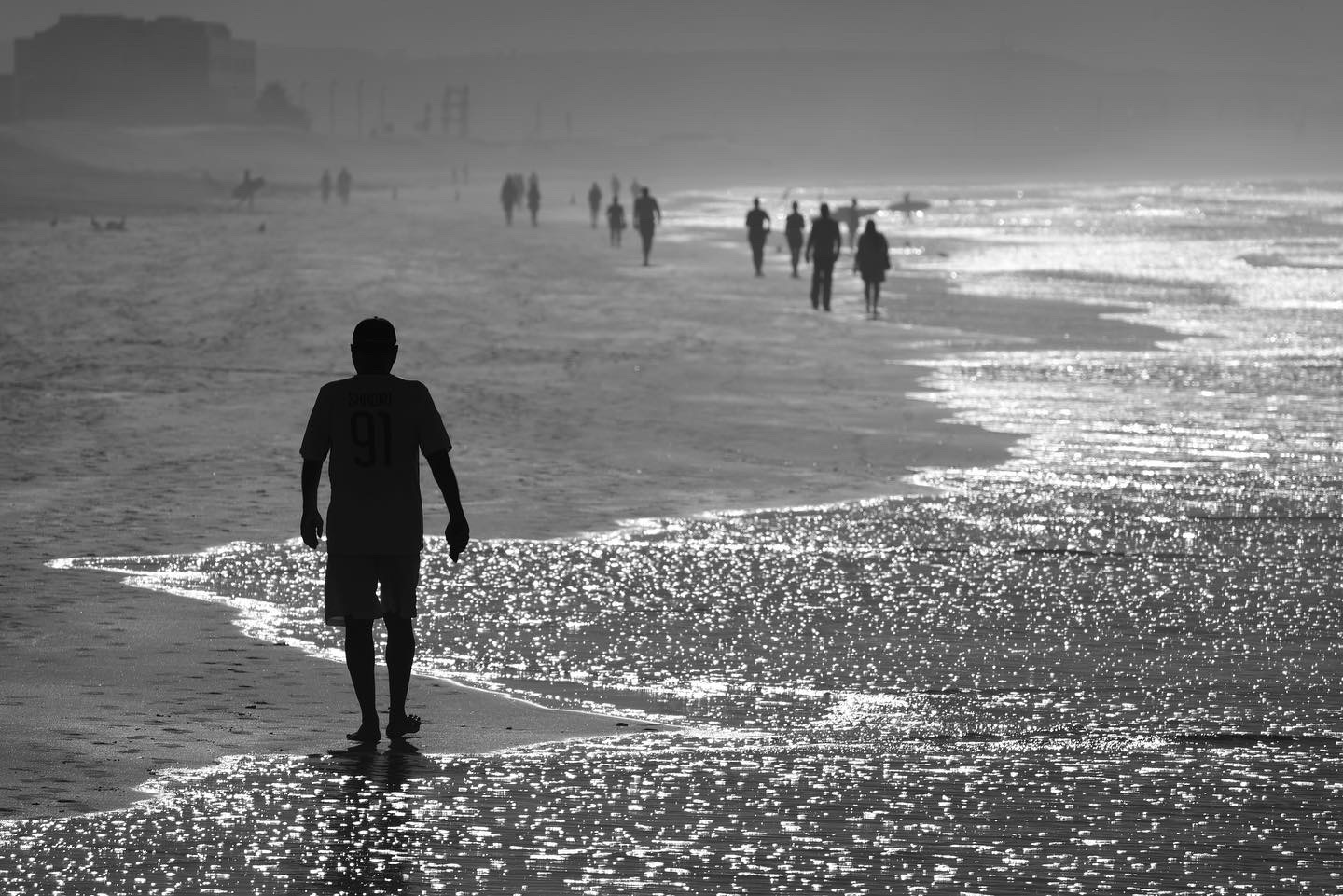 A walk along the beach constitutes a popular start to the day for locals and guests of the nearby Hotel Del Coronado. At first sight the entire crowd captured in this shot seems to be heading away from the camera (and the hotel). However, that seems unlikely, since at least a few of them must be feeling peckish and so heading back for breakfast. The fellow in the foreground marches along with determined demeanour. Whichever direction he is walking, he is about to splash into a finger of shallow water as the tide creeps up the beach.
Phone fascination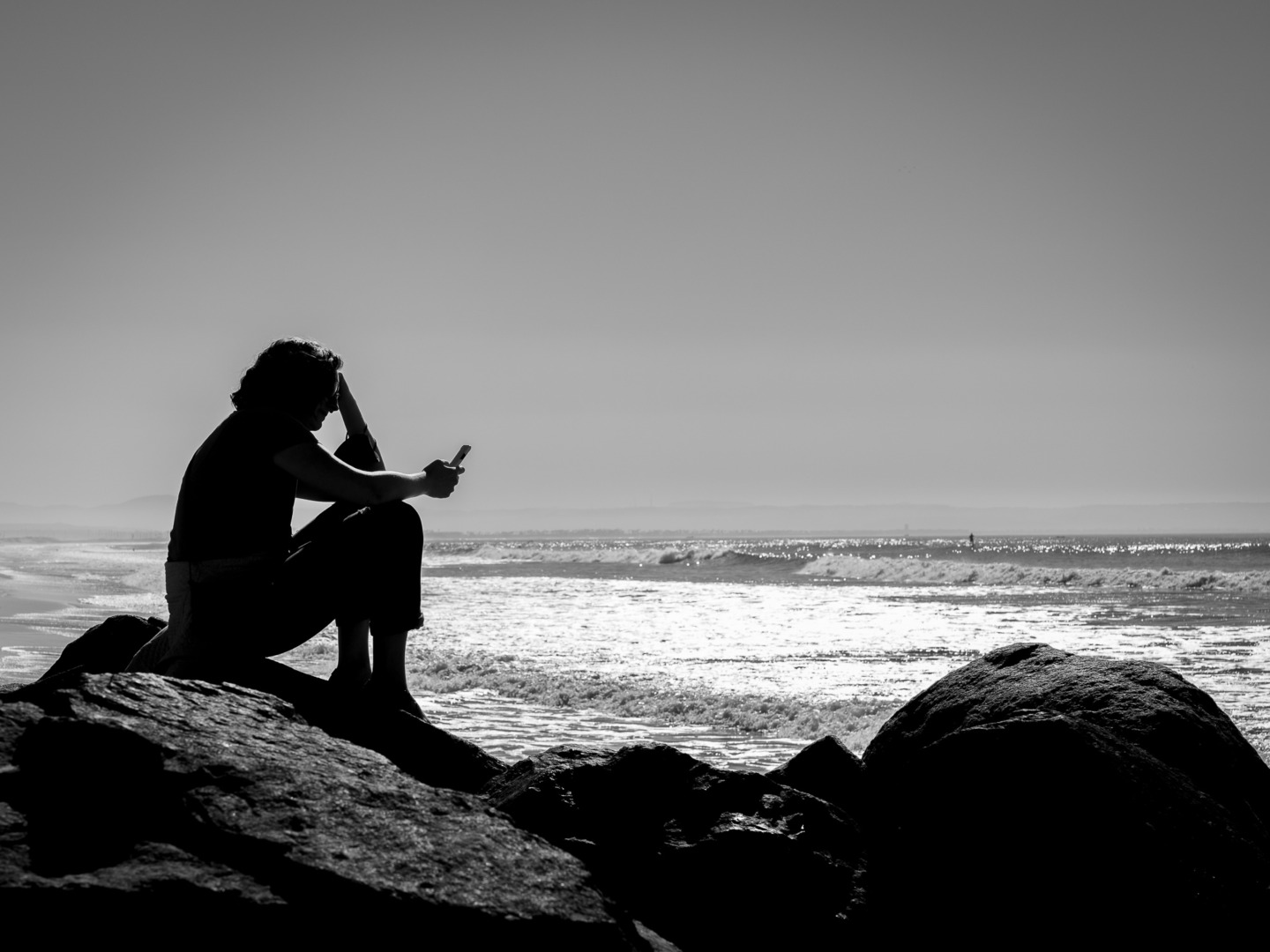 Eschewing the spectacular vista afforded by her rocky perch, a woman stares intently at her phone screen. She could be catching up on the day's news, checking her email, or reading a Kindle book. We will never know.
Jogger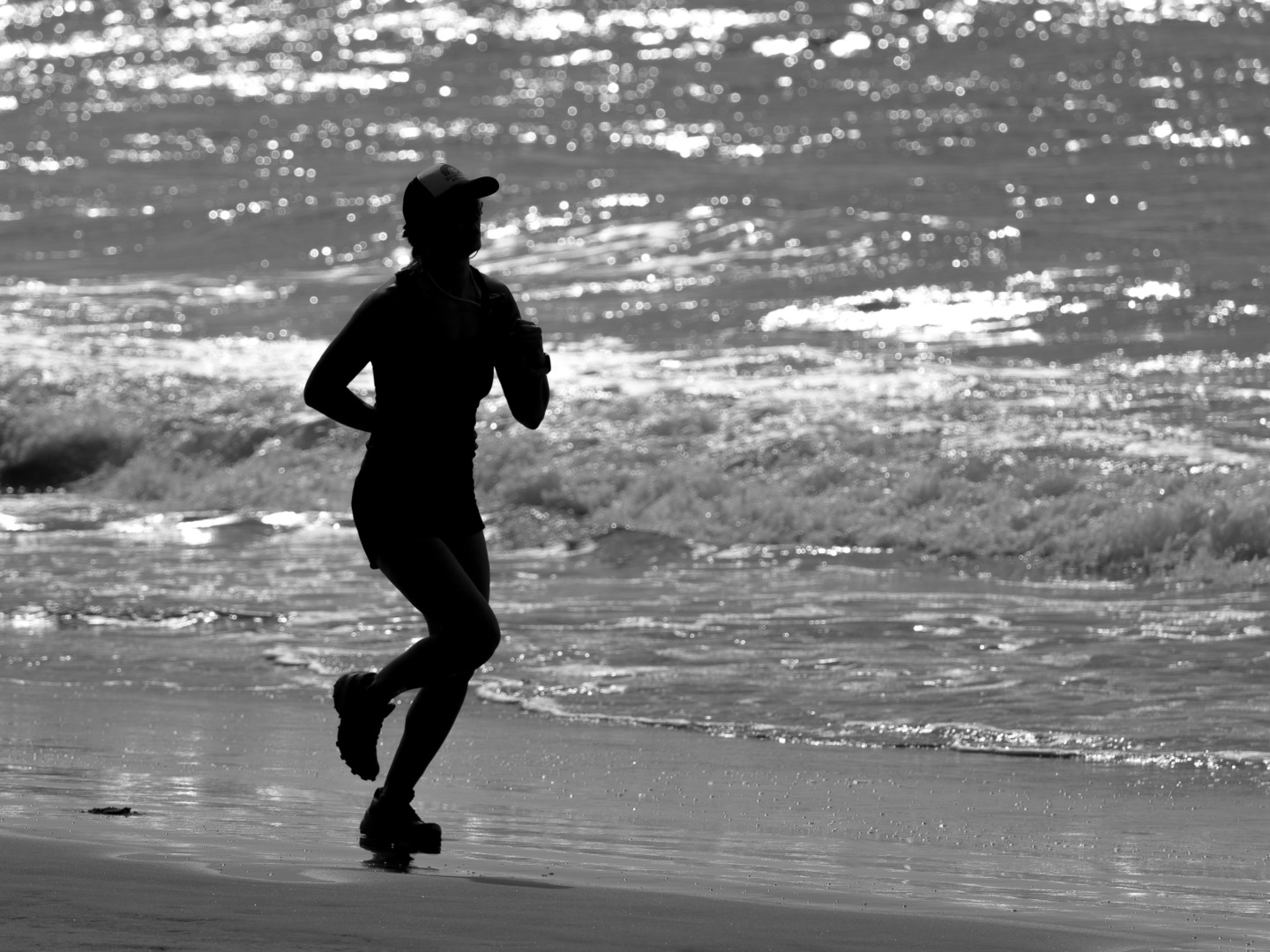 Not everyone strolls sedately along the shoreline. Here, a jogger striding along the margin between sand and sea, smartwatch on wrist, keeps track of distance, pace, heart rate and elapsed time. She probably knows that running on sand demands considerably more energy than running on grass.
Stormy Weather
Imperial Beach Pier, southernmost in California, extends almost 1500 ft into the Pacific. The geometric, criss-crossed, wooden pillars holding up its planked deck are silhouetted by late afternoon sunshine. The passing couple decided it was a good day to walk the beach rather than venture into the roiling surf.
Seagull series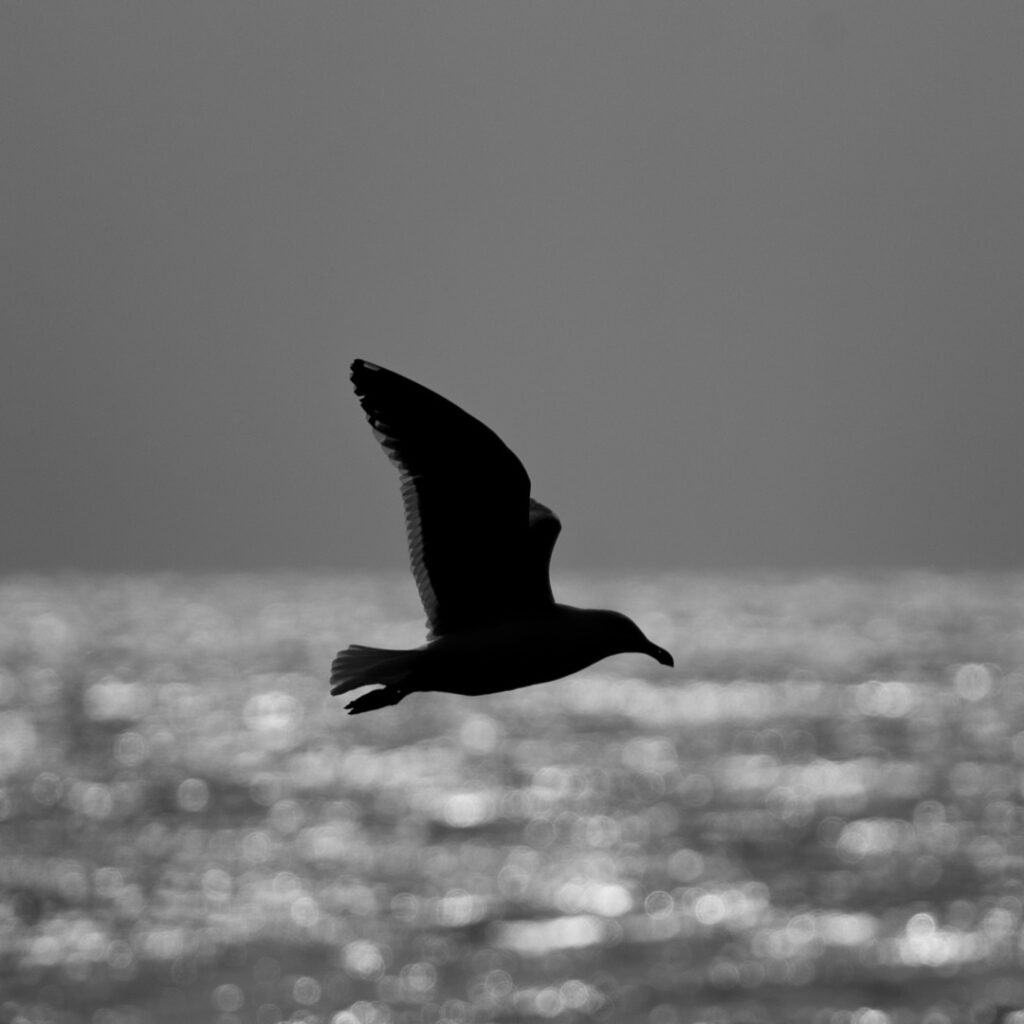 After people, birds are the next most common creature to be found at the beach. Soaring, sweeping, swooping, and skimming, their characteristic beak shapes and wing profiles make these four clearly recognisable as gulls.
Washingtonia in the breeze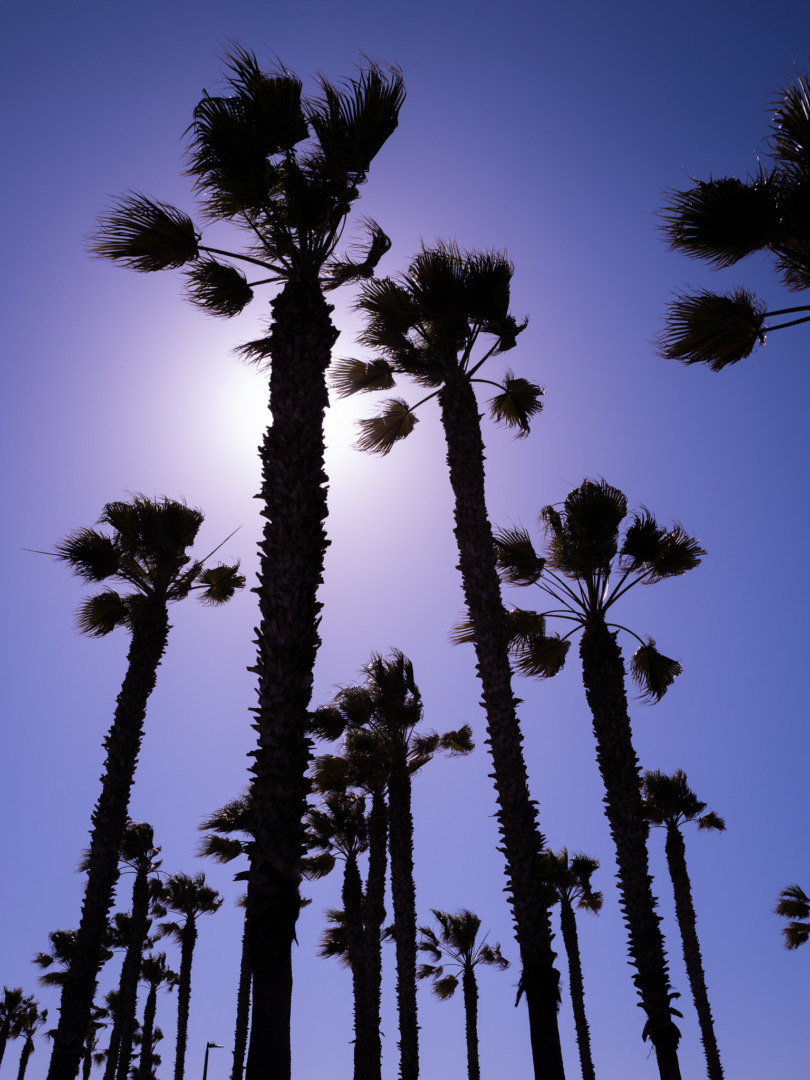 This variety of palm is ubiquitous along the coast, fronds swaying and rustling in the breeze. Strong onshore winds blowing through this beach-side grove bend their trunks, signalling their roots to dive deeper into the soil.
Osprey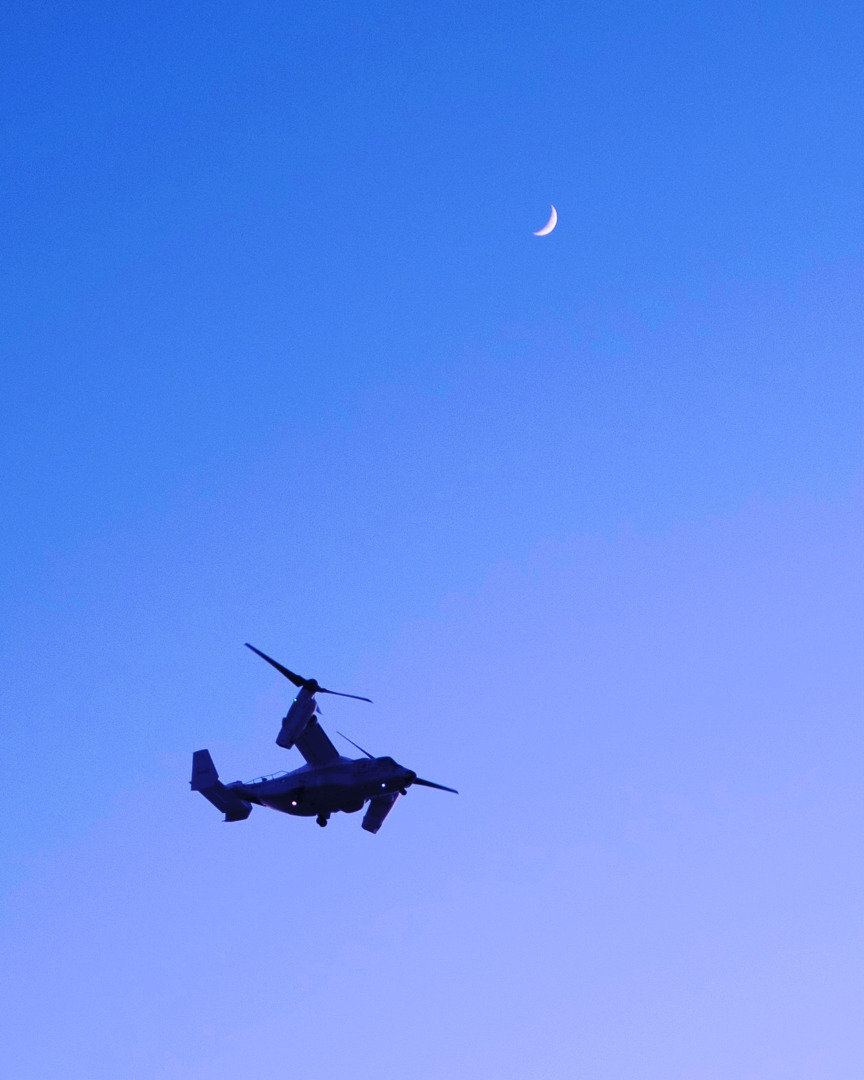 This Bell-Boeing Osprey, a vertical take-off and landing (VTOL) aircraft, flies overhead in the moonlight heading for the North Island Naval Airbase. Its tilting rotors enable vertical lift-off before adopting a more horizontal configuration for forward flight.
Ride of the Valkyries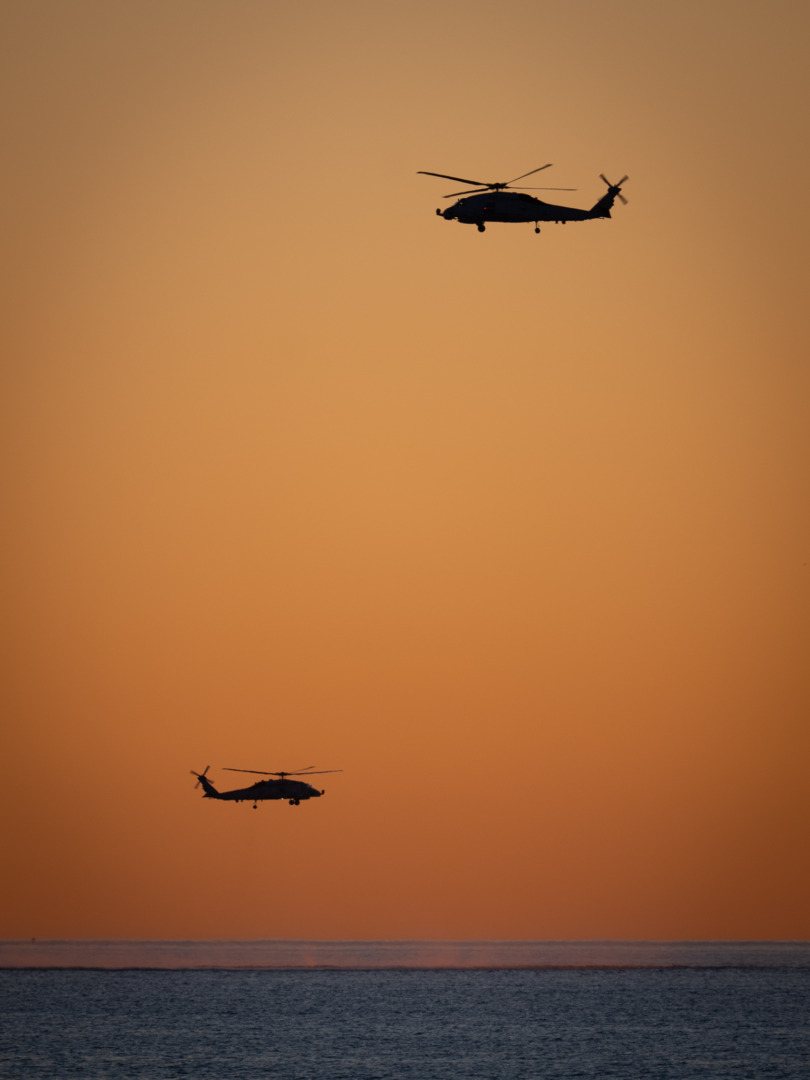 More military aircraft are in action off the beach. Two Seahawk helicopters, recognisable by their silhouettes, are on manoeuvre over the Pacific. Taking turns descending to the ocean to execute a practice rescue, the downward thrust of their rotors whips the ocean surface into a frenzy.
Lamp post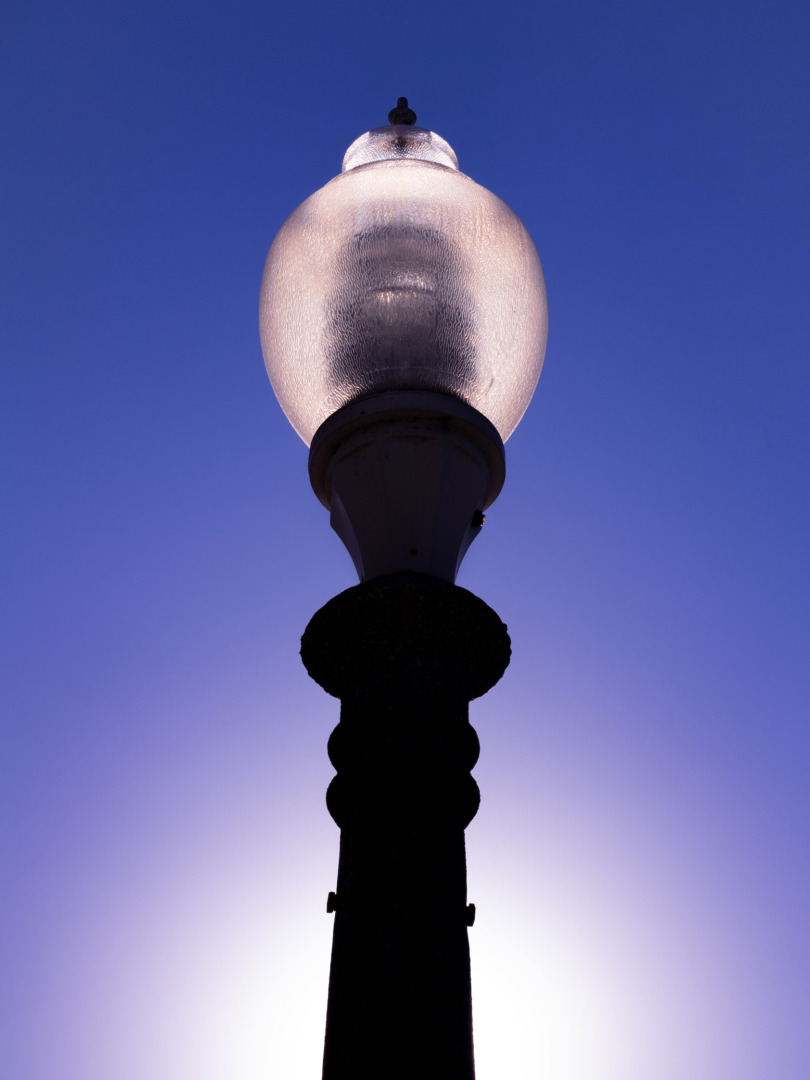 Stylish street lamps line the city streets and parade along Ocean Boulevard overlooking the beach. Each comprises a fluted concrete column and frosted globe. Late afternoon sun, hidden behind the post, brings this one to life.
Seagrass
Almost at sunset, beyond the stalks of beachgrass, a sun partially obscured by misty low clouds peers through the haze with a peach-coloured glow.
Deserted beach at dawn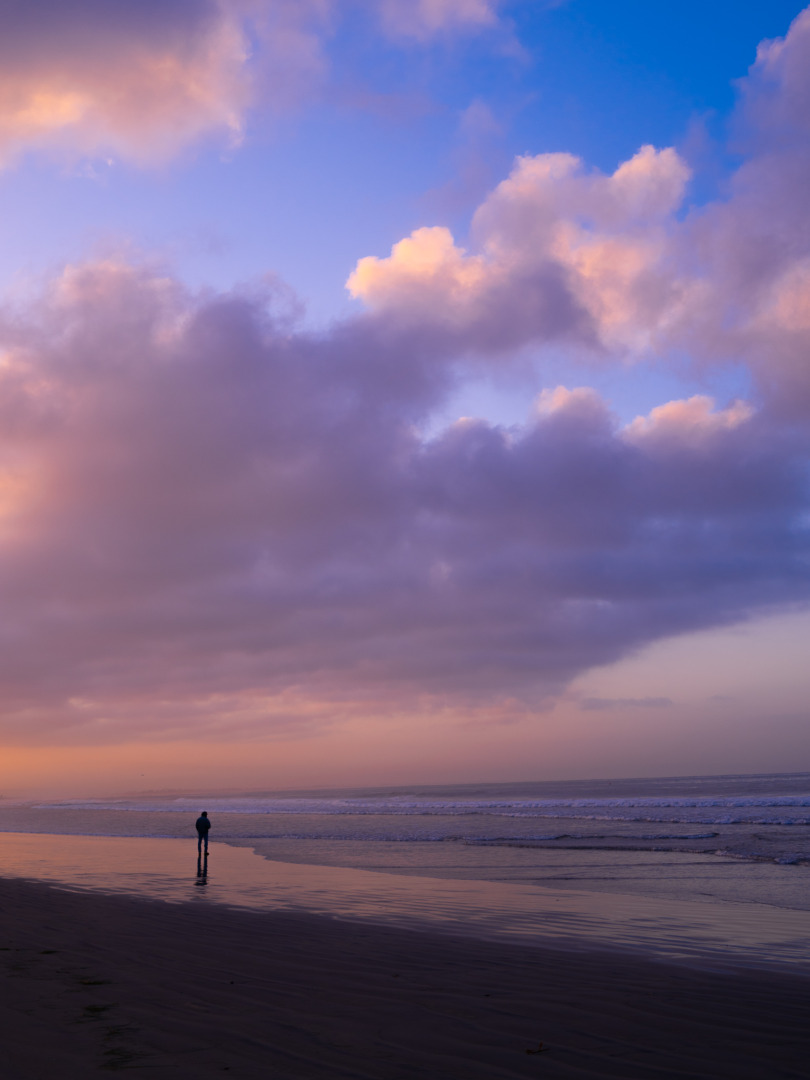 Unsurprisingly, the beach is less crowded at the crack of dawn. Here, a solitary figure stands in the shallows and stares out across the waves as pink clouds scud across the blue sky above.
Sunset jogger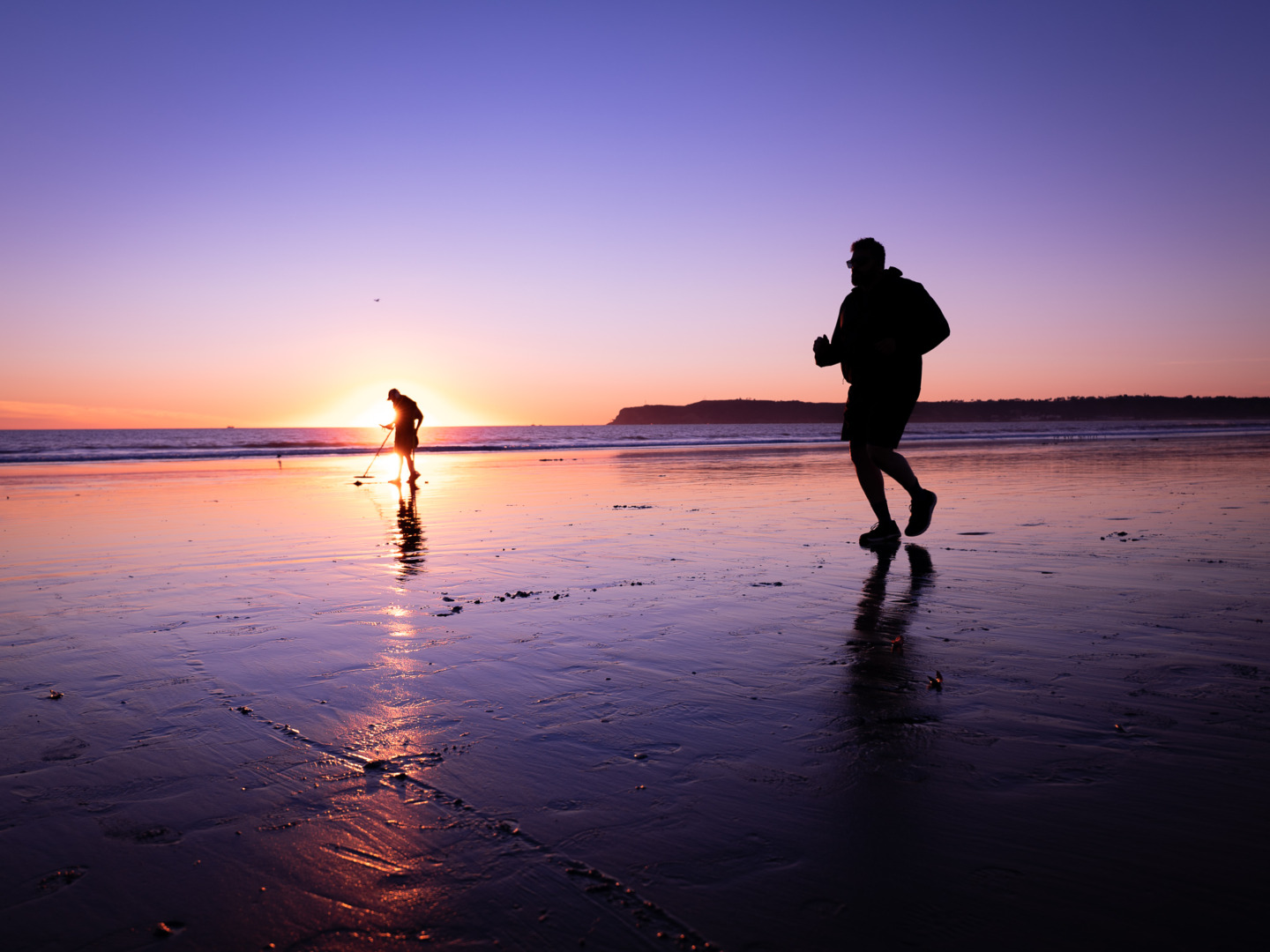 A few days after Winter solstice, this jogger splashing along on the wet sand passes unseen by the only other figure on the beach, preoccupied with his treasure hunting.
Sunset palm trees
A classic Southern California scene: palm trees, beach, and sun dipping below distant headland. Six weeks beyond the Winter solstice, the sun sets behind the tip of the Point Loma peninsula. Nine months will pass before it can be seen setting directly over the Pacific Ocean again from this vantage point — perhaps accompanied by a green flash.
Sunset lifeguard HQ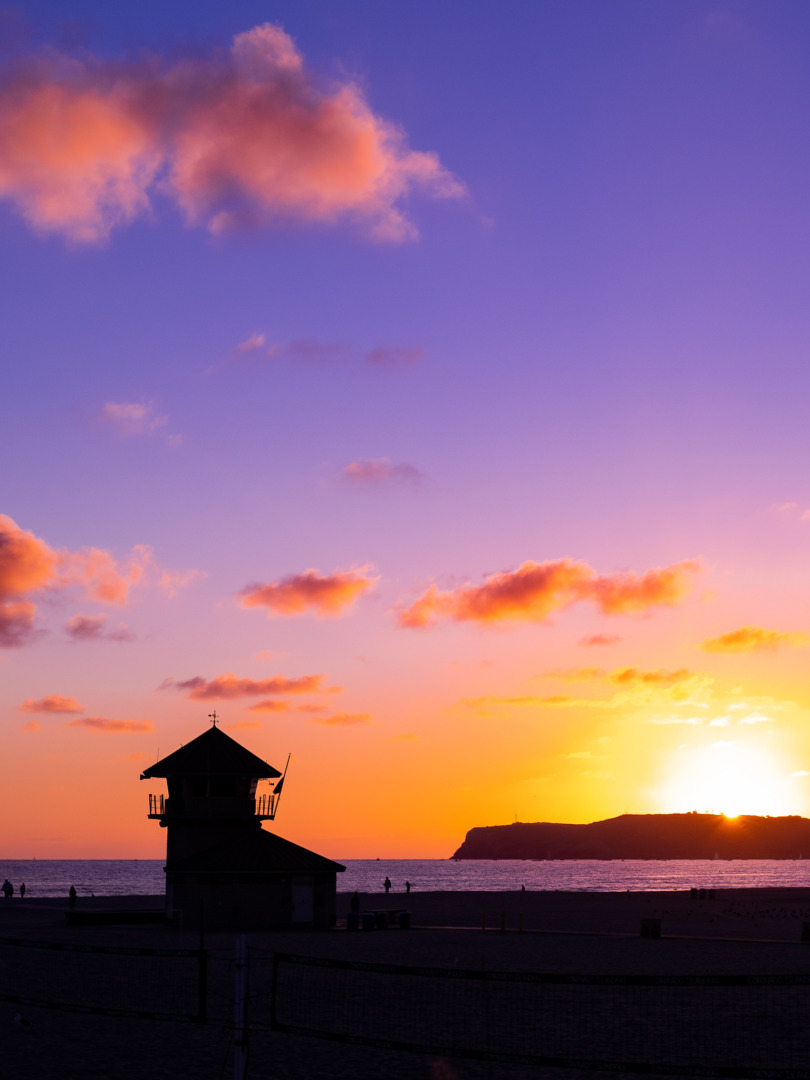 Just beyond the Autumn equinox six months later, the sunset heads south towards the ocean. Pink cotton candy clouds, perhaps the aftermath of an early rain shower, float above the lifeguard station where sun-tanned figures keep watch over one of California's most acclaimed beaches.
Sunset pier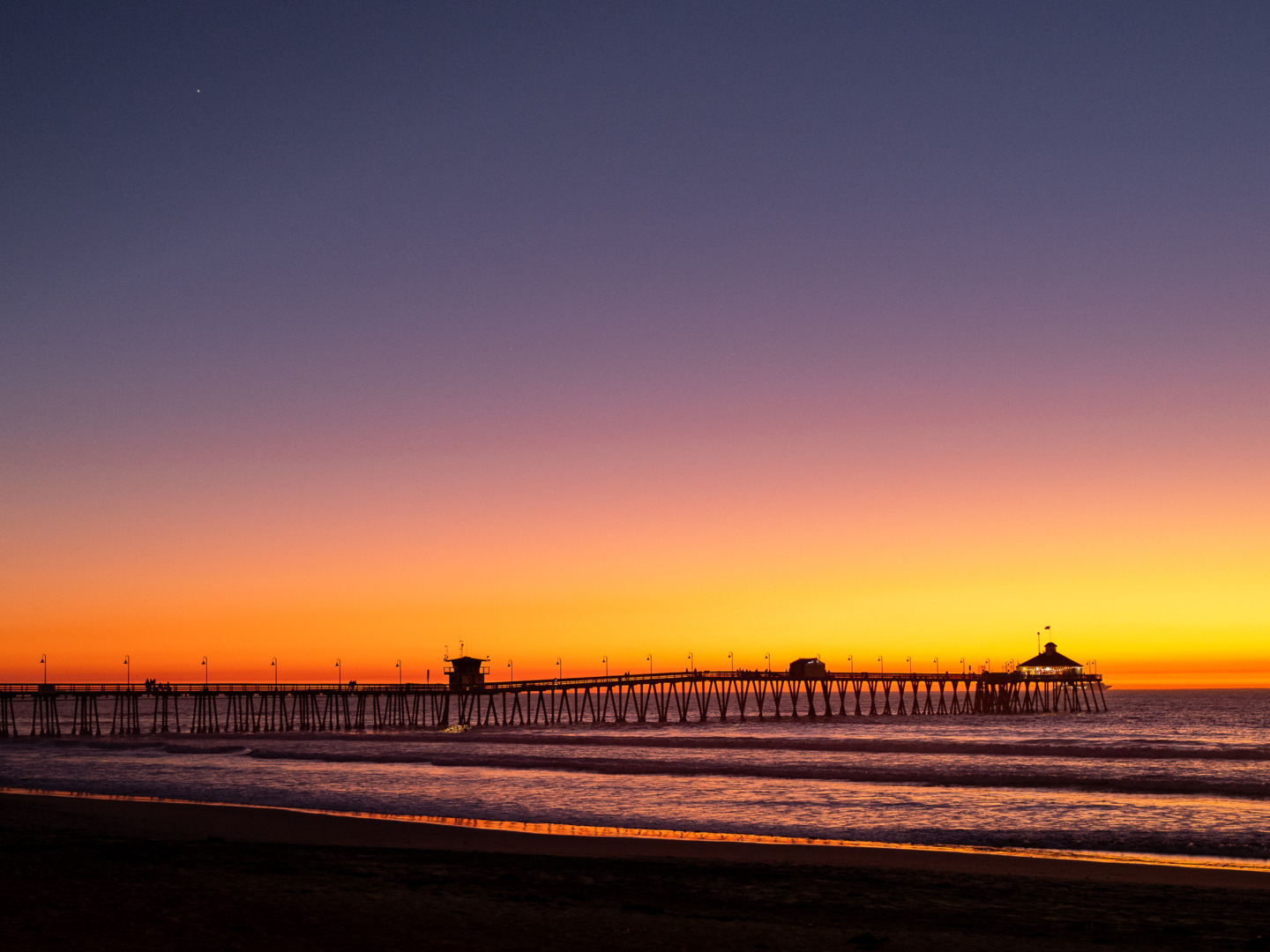 Another shot of Imperial Beach pier silhouetted against the dusk sky at sunset, viewed from a wider vantage point with a wider lens. The eagle-eyed may have spotted a cruise ship visible on the horizon just below the pavilion at the end of the pier. Stranded as a consequence of the pandemic and resultant downturn in cruise business, she has anchored offshore to avoid berthing fees at the Port of San Diego.
Sunset seagulls
Full on telephoto zoom at 400mm and cropped by 75% we have an image of two seagulls soaring through an orange sky as a giant fireball almost kisses the horizon. At f/6.3 and 1/3200 hand held, their crisply focused forms are frozen in mid-air. Are they flying towards or away from the camera? Who knows!
Paint it black
Exploring this high-contrast corner of the photography world has been a thoroughly enjoyable experience, requiring refinement of both compositional and post-process editing skills. Although taken with focal lengths ranging from 23mm to 400mm, my favorite shots employed the long end of that range in which the compression effect isolates the subjects from the bokeh background. Lacking detail, silhouettes are not everyone's cup of tea. But, if you enjoy more impressionist, abstract representations of the world, they may be calling you. They work in colour or black and white, but I reckon it's hard to beat the visual impact of a black silhouette against a grey-scale backdrop shimmering with highlights.