WARNING!
LEICA GEAR-NERD CONTENT
The following article contains material that may be harmful, traumatising, or infuriating to Sony, Canon, Fuji or Nikon users
READER DISCRETION ADVISED
I began my journey into the world of Leica full-frame digital cameras through the purchase of a Q2, having learned of the camera on (of all places) a website devoted to watches. The reviewer highlighted its killer lens and monster sensor, pointing out that not only is the Q2 eminently suited to wrist shots of high-end horological creations, but also to street, landscape and architectural photography.
As if ordained by fate, I attended an event organized by that very same watch website at a nearby Leica Store. I was sporting my limited edition 'Deconstructed Mickey Mouse' Swatch-Damien Hirst watch, which was photographed using a Q2 and subsequently featured on their Instagram feed. Here is the watch, together with an iPhone photo of the Instagram image (displayed on an iPad) and a Q2 just like the one used by the professional.
As someone considering a migration from iPhone to a 'real' camera, I was intrigued and enthralled. I researched this purported marvel online and discovered (of all things) Macfilos. It was just a matter of time before my life was forever changed: I made my way to the Leica Store in San Francisco and bought a Q2, and I became a regular reader of Macfilos.
From red case to red dot
The Q2 is an outstanding camera. It has accompanied me on countless excursions tackling street, landscape, architectural and even night-sky photography. Its 47-megapixel sensor has enabled digital zooms whilst still producing high-resolution images; its f/1.7 lens has yielded delicious bokeh while dealing with any low light situation thrown at it. And its ergonomic controls have afforded a simple and intuitive user experience. With such a powerful photographic tool, who could possibly need to buy another camera?
I think that counts as a rhetorical question.
It turns out that alluring photographic opportunities, such as distant sporting action and spectacular architectural interiors, reside beyond the focal length of the virtuoso Q2, accessible only with telephoto or wide-angle lenses. So, as the owner of an outstanding Leica camera, what would be the natural choice for a camera system with interchangeable lenses?
Is that also a rhetorical question?
Love with a little L
Someone once commented on Macfilos that the Q2 is a 'gateway drug' to further, more expensive Leica camera purchases. Never a truer word was written. Unfortunately, those further Leica camera purchases require a brutal reprioritization of one's personal finances. Or, to quote The Stones, "What can a poor boy do?".
An SL2 or even an SL2S seemed prohibitively expensive. But, the thought of migrating to a Nikon, Canon or Sony ecosystem was psychologically jarring. What about a Leica CL, that petite and less expensive L-mount body and interchangeable lens system? A series of email exchanges with our redoubtable editor quickly disabused me of that notion given the uncertain future of the Leica APS-C platform.
The solution was staring me in the face: I should buy a Lumix camera body. Doing so would make for a relatively inexpensive dive into the L-mount world with the seductive future option of Leica L-series lens ownership. In the distant (even more extravagant) future, even a Leica body on which to mount those lenses might be on the agenda. So, I drove to my local camera store and purchased a Lumix S5 and 20-60mm f/3.5-5.6 kit lens — more appealing and cost-effective than the larger S1 — along with a Lumix 85mm f/1.8 portrait lens offered at a significant bundled discount.
The Lumix S5 is a winner: a light, full-frame, L-mount body with a 24-megapixel sensor, in-body image stabilization (IBIS) and ergonomic design. What's not to like? And the kit lens, with its versatile 20-60mm zoom range, is nothing at which to turn up one's nose. In due course, I complemented mine with a Sigma 14-24mm f/2.8 Art series wide-angle zoom and a Sigma 100-400mm f/5.6-6.3 Contemporary series telephoto zoom, courtesy of the L-Mount Alliance.
Leica looming large
This collection has served me well over the last 18 months, allowing me to explore a multitude of photographic domains, some of which have been reflected in Macfilos articles. But, I confess, the call of Leica kit had not been assuaged. I decided the first step towards the incorporation of Leica gear into my L-mount system would be a pre-owned lens. Reviews pointed me in the direction of a 50mm f/2.0 APO-Summicron L-mount prime, which would nicely complement my collection of zooms. The photographs posted by Jonathan Slack in his review of the lens were sensational. After surveying pre-owned sections of Leica stores across the country for several months, the Leica Store Soho in New York came through with the goods – an almost mint-condition example – that I happily purchased.
The lens produces crisp, beautifully rendered images, and operates smoothly with the Lumix body. Manual focus is enabled by a three-way switch at the back of the camera, and autofocus works quickly and quietly. It suited a recent 'abstract photography' project especially well, generating sharp images of textured surfaces illuminated by oblique sunlight. I have yet to exploit fully its wide-open, shallow depth-of-field capabilities, for example, in portraiture but expect it to shine in those settings.
I know, I was now well and truly on the slippery slope.
Despite the excellent performance of the S5, there is no doubt that the electronic viewfinder of the Q2 is far superior, especially in low light. Its larger sensor also enabled the capture of detailed images even after aggressive cropping. So, as much as I enjoyed my S5, I felt an SL2 body calling out to me.
The guilt was almost overwhelming. I renewed my surveillance of Leica stores nationwide for a pre-owned SL2 in good condition. I tried one for size at the Leica store in Palm Desert, reassured that I could handle its increased size and weight. But, dilly-dallying too long, it was snapped up by someone else. However, as they say, patience is a virtue: a few months later a pre-owned model in excellent condition became available at the San Francisco Leica Store, where I had purchased my Q2. I pounced.
I love using this camera. The controls, the viewfinder, the menu system and the results are terrific. It works well with all my lenses. For example, coupled with the Lumix 85mm f1.8 it has allowed the capture of detailed architectural features where a fence and front garden lie between me and a building of interest. I am a happy camper and a happy photographer.
Leica-Lumix face-off
Now, to this article. I have never written a gear-oriented piece before. However, finding myself in possession of both Leica and Lumix L-mount bodies, and Leica and Lumix L-mount lenses, I recognized an opportunity to evaluate the performance of the four possible permutations of lens-body configurations. Our editor encouraged me to give it a go and report my findings to the Macfilos community. So, I began considering what could be suitable ways of comparing the lens-body permutations. Here they are:
Lumix S5 with Leica 50mm f/2.0 APO lens
Lumix S5 with Lumix 85mm f/1.8 lens
Leica SL2 with Leica 50mm f/2.0 APO lens
Leica SL2 with Lumix 85mm f/1.8 lens
The following photographs pit sensor size against focal length for three different scenes. I used the same f-stop for each lens and a tripod to ensure consistency of vantage point, generating both full-size and cropped images with minimal post-processing. I used manual focusing throughout. In one case I moved closer with the 50mm lens to achieve a field of view more like the 85mm lens. All photographs were taken out-door and so the movement of the sun over the course of the 'experiment' resulted in some differences in illumination.
Here is what I found…
Semi-tropical walkway
This walkway at the complex where I live provided a convenient scene with which to begin testing the four camera-lens configurations. It was literally on my doorstep. Although the sunlight penetrating the space varies slightly between shots, I do not see an obvious difference between the pairs of photographs employing the same lens and vantage point, all taken at f/5.6. Both sensors capture more than enough detail in these full-frame images.
In the next set of images, I used the blue octagonal 'ADT' security sign with white lettering (situated in the mid-distance) as an anchor point to examine the effect of an aggressive crop of each photo.
This challenge clearly differentiates the camera-lens combinations as judged by the degree of pixelation visible along the diagonals in the sign. The two extremes come as no surprise: the longer focal length/bigger sensor combo (Leica SL2 + Lumix 85mm) gives the clearest, least pixelated crop; the shorter focal length/small sensor combo (Lumix S5 + Leica 50mm) gives the most blurred, pixelated crop.
Between these extremes, differences are less pronounced but still discernible. To my eye, the Lumix S5 + Lumix 85mm crop is sharper than the Leica SL2 + Leica 50mm crop – the optical advantage of the longer focal length trumping the larger sensor. However, walking closer to the subject closed the gap between the Lumix S5 + Leica 50mm close-up crop and the Lumix S5 + Lumix 85mm crop. With the focal length advantage eroded, the Leica SL2 + Leica 50mm close-up crop now comes in second place, jumping ahead of the Lumix S5 + Lumix 85mm crop.
Having said all that, we have here a set of high-quality lenses and sensors, all of which produced great images, and it took a very aggressive, unrealistic crop of the original to tease them apart. Overall, in budget terms, I would say the Championship-level Lumix body and lens acquitted themselves commendably against Premier-League opposition.
Decorative lamp
In search of a setting in which to test the short-f-stop performance of the combos, I set up a decorative hurricane lamp on a pedestal, to be photographed at f/2.0 against a verdant garden backdrop.
This time I moved closer to the lamp when using the Leica 50mm APO f/2.0 lens, assuming that in a real-life situation a photographer would do just that when composing a portrait, utilizing as much of the sensor real-estate as possible to capture the subject of interest.
All four configurations produced attractive images of the lamp against a gently blurred background, and I would be hard-pressed to discern any significant difference between the sensors. However, the Leica 50mm APO lens delivered fantastic, crisp images with a depth-of-field sufficiently wide that the entire lamp was in focus, as well as the rear edge of the pedestal. The shallower depth-of-field 85mm lens produced a beautifully soft bokeh but a less sharply defined lamp and pedestal surface.
In the cropped images, encompassing just the upper section of the lamp, the Leica 50mm APO lens still held the edge in sharpness and clarity, but the delicious bokeh of the Lumix 85mm lens gave the images a very attractive, almost dreamy quality. Choice of the winning combination comes down to which of these styles appeals most to the viewer. I would declare this test an honourable draw.
Alstroemeria bouquet
The final challenge employed a backlit vase of alstroemeria or Peruvian Lilies. I had tried my best to grow these spectacular flowers in Kent when I lived in the United Kingdom but to no avail. Here in California, they grow in profusion, adorning mixed perennial borders in well-manicured 'yards'. The bouquet proved a slightly tricky subject to photograph with the lenses wide open because of the uncertainty over where to focus. Again I could detect no difference between the ability of the two sensors to deliver beautiful full-frame images. But to my eye, the slightly more generous depth of field of the Leica 50mm APO lens resulted in a superior rendition of the subject compared to the Lumix 85mm, even though the latter again delivers that delicious bokeh.
A strict comparison of the cropped images is confounded by the changes in backlighting resulting from the movement of the sun while the camera-lens setups were being changed. Nevertheless, regardless of which camera body is employed, the Leica 50mm APO at f/2.0 delivers sensational images, which are tack sharp and full of definition for both flowers and surrounding leaves. Without the dreamy bokeh to rescue them, the images produced by the Lumix 85mm at f/2.0 are flatter and less crisply defined. A convincing win for the Premier-League side.
Vital statistics
The weights of the four lens/body configurations, from heaviest to lightest are:
Leica SL2 with Leica 50mm f/2.0 APO 1656g (3.65 lb) $12,090 (£9,100)
Lumix S5 with Leica 50mm f/2.0 APO 1454g (3.20 lb) $6,793 (£5,400)
Leica SL2 with Lumix 85mm f/1.8 1271g (2.80 lb) $7,593 (£5,800)
Lumix S5 with Lumix 85mm f/1.8 1069g (2.36 lb) $2,296 (£2,200)
Note: US prices are quoted net, without tax. UK prices include 20 per cent Value Added Tax. While Leica gear is generally not discounted, this is not the case with Panasonic where savings can be made on the above prices.
First place goes to the Leica-Leica combo at 1.66 kilos. The lens itself weighs 0.74 kilos (1.63 lb), and so even its combination with the lightweight Lumix body comes second on the scales. The Lumix-Lumix combo sneaks in at just over a kilo. The Leica-Leica combo also heads the recommended retail cost table, trouncing the Lumix-Lumix combo which costs one fifth as much. This is comparable to the ratio of club salaries between Manchester City and Huddersfield Town – for those of you with an interest in English football clubs.
These comparisons do not take into account resale value, which as I know from experience holds up extremely well for the Leica gear. Nevertheless, given the comparative performance of these combinations, the Huddersfield Town fans are getting great value for money!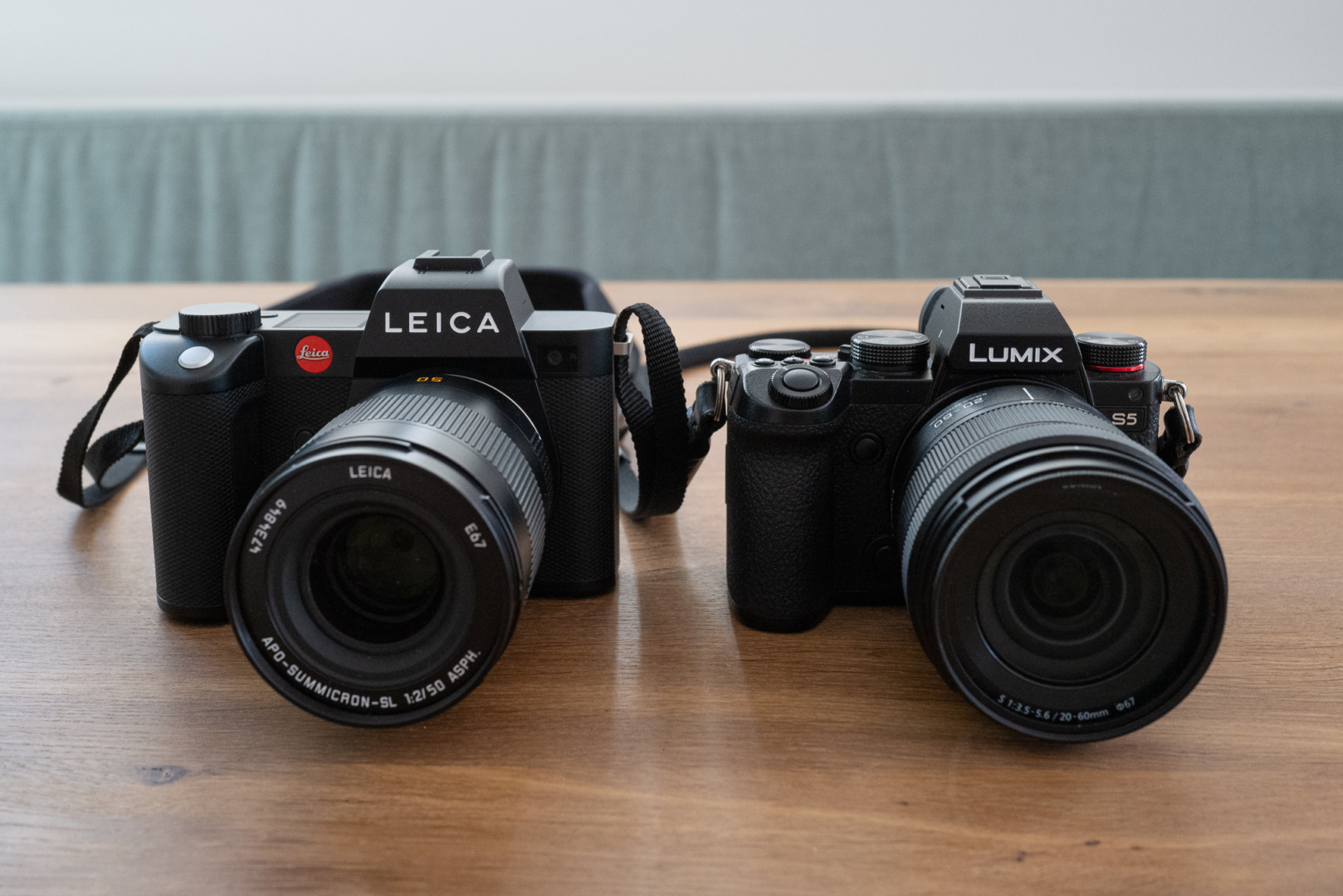 Qualitative considerations
Although I chose manual focusing for my comparative study, I evaluated various autofocus options for each camera/lens combination. In all cases focus was achieved quickly and smoothly. As far as I could detect, the Lumix 85mm f/1.8 was silent. The Leica 50mm APO f/2.0 produced a noticeable haptic clunk as its autofocus latched onto the subject. Spot, field, multi-field and zone focusing all worked like a charm in each case.
Each camera is easy to use. The Lumix provides a plethora of labelled buttons for controlling the camera's functions, a logical menu system, and a very useful tilting screen, enabling shots from low-down vantage points without crawling on aged knees. Incidentally, this screen can be reversed to present a smooth, screen-less back to the camera. Shades of the Leica M-D.
The Leica has a plethora of unlabeled, programmable buttons for custom control of the camera, as well as a clear display of the current configuration via the top-mounted LCD screen or the 'at-a-glance' overview visible on the rear (non-tilting) screen at the push of the menu button. You can't go wrong!
Conclusions
I feel very fortunate to have these outstanding cameras and lenses in my collection, and it has been fun trying to compare them. A true like-for-like comparison would have meant using a Lumix 50mm f/1.8 lens, reviews of which suggest its price, weight and performance are comparable to its 85mm sibling.
As a Californian teenager would say, the Lumix S5 provides 'awesome' value for money. For a quarter of the price of an SL2 ($1,698 versus $6,995), it delivers a highly functional L-mount body, complete with IBIS, which is also significantly lighter and more compact. Its lower resolution viewfinder becomes an issue only in low light conditions. It deserves a close look for anyone with a collection of Leica L-mount glass looking for a more streamlined body.
How will I use these cameras and lenses, now that I better understand their relative capabilities? The weight and size advantage of the Lumix S5 body make it especially useful paired with heavier lenses, like my Sigma 100-400mm f/5.0-6.3 telephoto zoom. When weight is not an issue, and I envisage cropping the image in post-processing, the SL2 is a natural choice.
I have a trip abroad coming up — the first for over three years — visiting Italian cities, coasts and countryside. Which camera set-up will I take?
The Q2 of course: a perfect compact, lightweight and versatile travel companion!
---