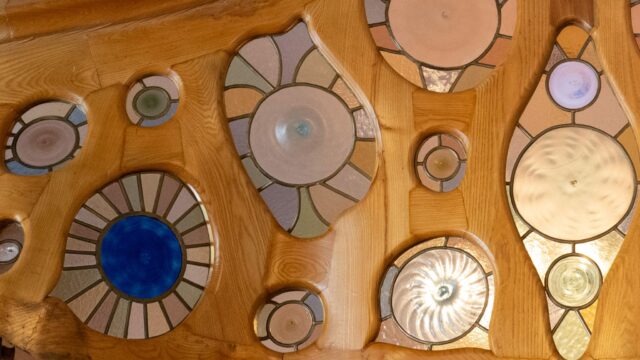 Whenever I think of Barcelona, I picture the works of Antoni Gaudi, the Catalan architect responsible for many of the city's most remarkable buildings. His otherworldly designs defy easy classification, leaving us grasping for adjectives to describe them: organic, nature-inspired, neo-Gothic, modernist, Art Nouveau, and sui generis.
A visit to Barcelona would be tragically incomplete without a tour of at least one of his creations. I recently saw three of them, each transporting me to an astonishing new world that sprung entirely from his imagination. All have been photographed countless times. Still, I was determined to photograph them myself: to gaze through the lens and compose my own interpretation of his genius.
Leica Q2 on the road
As described in a previous article, I travel with the minimal kit: a Leica Q2, a spare battery, three SD cards, and a MacBook Air for downloading and processing files on the hoof. I convinced myself on a previous trip to Europe that the Q2 could handle just about any photographic opportunity thrown at a tourist. Would it be up to the task of capturing these extraordinary Gaudi-designed structures and interior spaces?
Just as the Gaudi style transcends conventional genre boundaries, the launch of the Q series introduced a new Leica photographic niche. It is compact and superbly built but is not a rangefinder and has neither interchangeable lenses nor an optical zoom. Nevertheless, its 28mm f/1.7 Summilux lens, 47-megapixel sensor, and tactile controls put a highly capable and versatile device in the hands of photographers preferring to travel light.
A Sample of Gaudi
Although aware of Gaudi, I had not appreciated the range of projects he had undertaken. The buildings I visited included a family home (Casa Batllo), an apartment building (La Pedrera), and his masterpiece, an unfinished Catholic church (La Sagrada Familia). All three are designated UNESCO World Heritage Sites. Despite these differences in scope, the common architectural motifs and unifying vision I saw through my viewfinder made it clear they were the offspring of a single mind.
In this article, I have chosen not to provide a comprehensive treatise on Gaudi or these buildings; I will describe recurrent themes I found as I toured each of them over the course of twenty-four hours.
Attics
Whereas you and I probably view them as a place to store Christmas ornaments or family photos, Gaudi envisaged attics as a space in which he could create art. I roamed through the cavernous attic of La Pedrera in a daze of wonderment, marvelling at its serpentine ceiling supported by waves of brick arches.
I was reminded of a magical grotto visited as a kid on a family holiday, conjuring visions of a mystical kingdom in a fantasy novel. Its meandering halls trace the undulations of the spectacular roof above, but strolling through them, you would believe they had been sculpted solely for the purpose of enchantment. I was certainly enchanted.
The attic in Casa Batllo was more modest but still drew upon that arch motif, transporting its visitors from the mundane to the fascinating. Gaudi deployed catenary arches extensively in his work. These are described (upon inversion) by the shape a chain assumes when suspended between two horizontal points. They are similar to, but distinct from, parabolic arches.
Roofs
If his attics defied convention and provided an outlet for his boundless imagination, Gaudi's vision for roofs was even more fantastical. Open to the cerulean skies of their coastal Mediterranean location, the rooftops he created at Casa Batllo and La Pedrera are more sculpture gardens than workaday surfaces directing rain into gutters.
Why settle for a bog-standard chimney when you can build one that looks like a row of helmeted creatures? Why install a garden-variety air vent when you can fashion one that looks like a giant chess piece? His roofs are both functional, with walkways and steps allowing access for routine maintenance, and magical, with unexpected curves, twists and turns, and phantasmagorical installations. I could scarcely believe my eyes. Good that I was wearing my Q2 and so have photographic evidence to prove I was not dreaming.
Skylights
Gaudi was concerned with shepherding natural light into his buildings: skylights illuminating staircases, large windows ushering in daylight, and courtyards looking up to blue skies.
Capturing the spiralling interior staircase in Casa Batllo stretched the Q2 to its limit. Its field of view grappled with the tight quarters, and its sensor battled with the contrast between shadowy lower regions and sunlight bursting through the skylight. It performed admirably.
The camera didn't even break sweat while capturing the view looking up from the courtyards delivering natural light to the many rooms and hallways at La Pedrera. My neck and arms did the heavy lifting as I arched my back to point the Q2 directly upwards, completely level. The swivelling, tilting screen of my Lumix S5 would have come in handy for these shots.
Tile and Glass
Tiled surfaces are usually found in modern-day bathrooms and kitchens, their water-resistant and easy-clean surfaces mounting a fit-for-purpose riposte to those splashes and spills. Gaudi put his tiles to work covering interior and exterior surfaces far from a bathroom or kitchen.
He clad curved surfaces on Casa Batllo's and La Pedrera's roofs with a mosaic of tile fragments. The technique, trencadis, employs broken glazed crockery and multi-coloured tile fragments Gaudi obtained from Fabrica Pujol i Bausis.
Gaudi also arranged square tiles in a diagonal chequered pattern on the walls of the skylight and sit-in fireplace at Casa Batllo. The harmonious integration of tiles into his design, such as those surrounding the flowing Art Nouveau window in the stairway, implies their custom manufacture.
The same must be true for the profusion of glass discs incorporated into windows and door frames throughout the house.
I assume he worked directly with craft manufacturers, designing exactly the materials required to root his ideas in practical reality. The following equation comes to mind: imagination + attention to detail + mastery of materials = striking visual impact.
Ceilings
Since I had only ever seen photographs of the exterior of La Sagrada Familia, I had assumed its higgledy-piggledy assembly of ventilated, curving spires was the main attraction.
I was, therefore, completely unprepared for the sight that greeted me when I reached its interior. I have explored a few cathedrals in my time, but the glowing majesty of this sanctuary, illuminated by late afternoon sunlight bouncing from myriad columns and staircases, all fashioned in beautiful pale stone, set my head spinning.
My arms, neck, and arching back all received another workout as I craned to capture images of the ceiling and upper extremities of columns holding it up. I can only describe the extraordinary panorama by reaching for those adjectives listed in the opening paragraph: organic, nature-inspired, sui generis.
I understand why the style of La Sagrada Familia is described as neo-Gothic since it employs architectural principles found in the Gothic piles dotted across much of northern Europe. But, to my eyes and to my 28mm lens, its embodiment of those principles lies on a different plane of human imagination and artistry.
By pure luck, I visited as light was streaming through stained glass windows on the west-facing aspect of the building, bathing the interior in a warm, comforting glow. It was heavenly.
As I wandered through the sanctuary, furiously snapping shots in a frenzied effort to capture the beauty all around me, I felt the processor in my Q2 become hot to the touch — the first time this had ever happened — reflecting the flurry of 85 Mb RAW files being flung at it.
Virtuoso performance
Once again, the Q2 proved to be an outstanding camera, capable of capturing memorable holiday snaps and adroitly handling the challenges of photographing three remarkable buildings.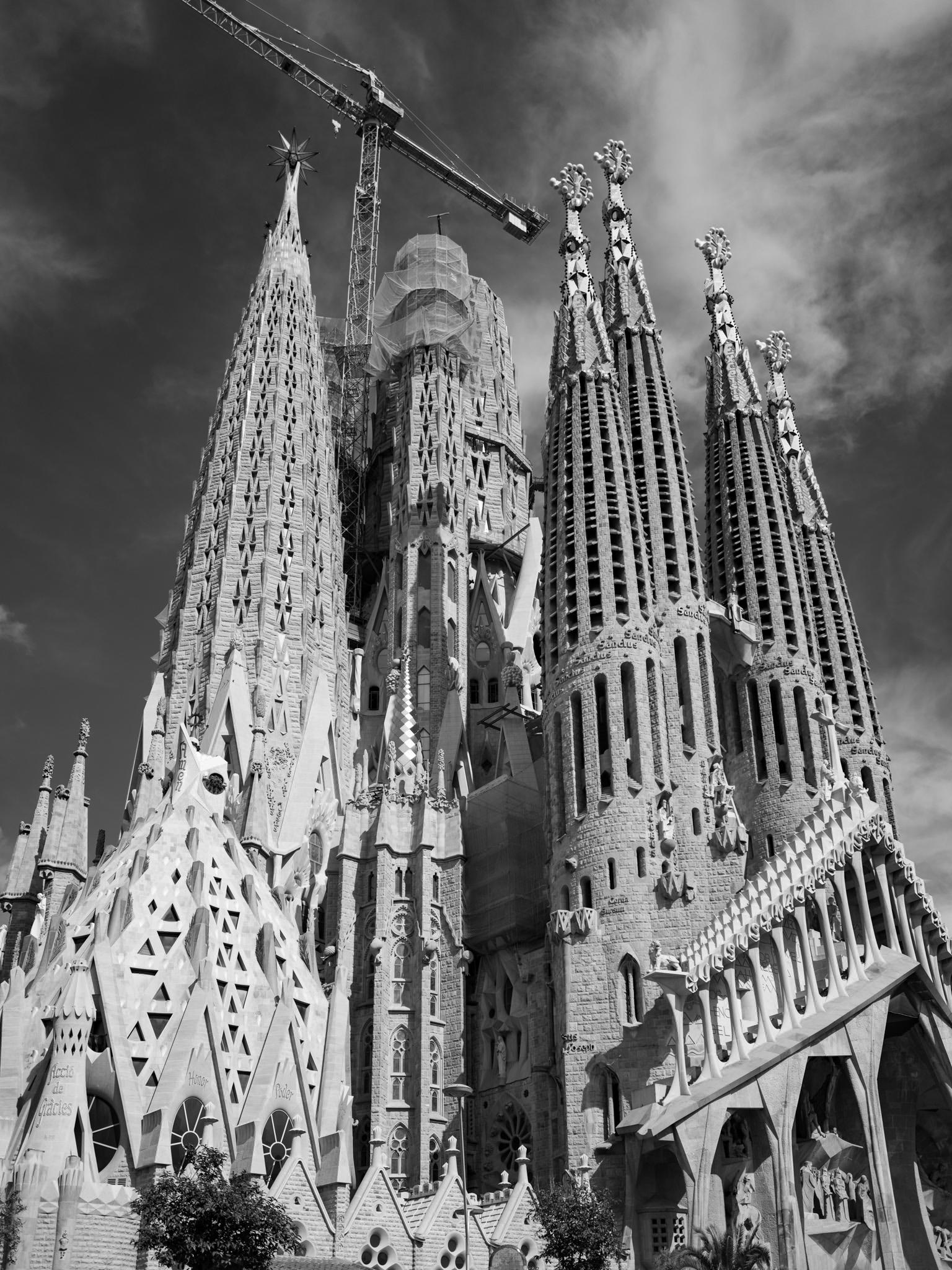 Yes, a tilting swivelling screen would prevent the photographer from engaging in impromptu callisthenics; yes, a wider angle lens would avoid the photographer having to risk life and limb backing up to frame a shot optimally. But these are minor quibbles.
My Q2 delivered the goods: I achieved my aspiration of photographing Antoni Gaudi's creations and will continue to appreciate his genius through my collection of images; the camera and I have gelled as a team, ready for the next challenge.
---