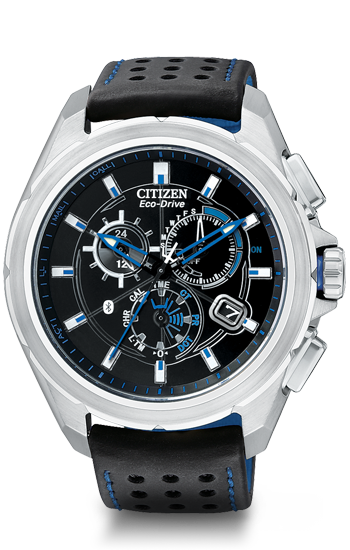 Once upon a time, there was no Apple Watch, no Android watch. This review, published ten years ago today, three years before the arrival of the game-changing Apple Watch, represents a glimpse into those between years. The single-function time-telling watch was still supreme; various electronic devices had poor functionality and patchy synchronisation with the increasingly popular smartphone. We were searching, and this article tells the story…
The Citizen Proximity is a high-quality and attractive analogue-display electronic watch offering integration with iPhone 4S and 5. It is superficially simple but rather frustrating to operate. Some of the features, such as mail alerts and the strength of the warning vibration, are disappointing. One glaring omission is the absence of text message alerts. On the positive side, the time and date integration with the iPhone is impressively good; change the time zone on the iPhone, and the watch follows within a few seconds. And the find-my-phone and lost-phone alerts are brilliant.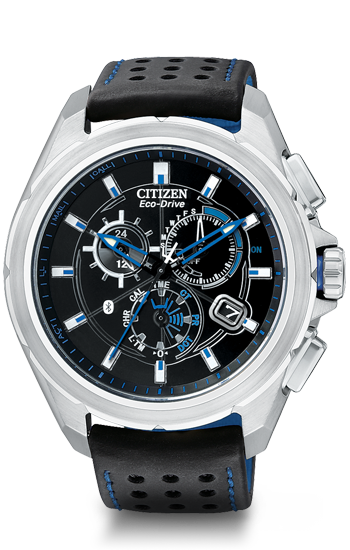 Description
This high-tech device masquerades as a good old-fashioned classic watch. Made in Japan, it compares in overall quality with Swiss watches costing much more than its £399 ticket tag. The polished stainless-steel casing and flat, scratch-resistant crystal glass will not disappoint even if you are used to wearing an expensive IWC, Rolex or Panerai. The perforated strap, in waterproof leather-look material, is stitched to match the colour of the face markings (in the case of the review model, blue) and is of good quality.
It is a big, relatively heavy watch with a diameter of 44mm and a depth of 13mm (my measurements). It is very similar in size and weight to a late-model IWC Flieger Chronograph. This is chunky by any standards, and some may find it just too big, particularly on a small wrist.
If you are a fan of good watches, this is something you will enjoy owning and wearing. Citizen is a premium manufacturer, up there with Seiko in desirability. Some would argue that either of these Japanese manufacturers produces watches that can compare well with the posh Swiss brands at a fraction of the cost.
A major advantage of this watch is the Eco-Drive system which recharges the battery from available light. Even kept in the dark, the watch will continue to run accurately for several weeks. It features a perpetual calendar, so none of that month-end fiddling with adjusting the date on short months, even on leap years. Although the time and date can be set manually, iPhone synchronisation is by far the best method.
Dial
Citizen multi-function watches are well known for their busy, complicated displays, and this model is no exception. There is a great deal going on in that 31mm dial, and the blue-on-black lettering is particularly hard on the eye. I suspect the alternative watch with yellow markings and stitching will offer better visibility, although it is unlikely to be as attractive and discreet. My eyesight is pretty good, but I had difficulty deciphering some of the function labels. I had to use a magnifying glass to make sure what I was doing. Of course, familiarity will soon overcome this problem.
Unfortunately, because of all the distractions, with the sub-dials and the blue-on-black markings, even reading the time in low-light conditions is a challenge. The blue hour and minute hands are skeletons with just the tips highlighted in white. They tend to disappear in poor light, and you are left hunting for those white tips.
Most worrying is that the markings for Activity, Link-loss, Mail, and Call alerts (at 8, 9, 10 and 11) are printed in the same blue but on the steeply sloping seconds scale. It took me some time to realise these markings were there; so modest are they. The seconds hand, which is also blue, is extremely thin, and it is by no means obvious when it is pointing to one of the alerts. There is an accompanying vibration, which helps, but it is very slight and easily missed. Again, though, once you realise that these alerts are at 8, 9, 10 and 11, it should become second nature to recognise them.
The three sub-dials contribute to the busy appearance. In the top left is a 24-hour day/night indicator. To the right is a multi-function dial which shows the day of the week (when the watch is in CAL mode) and reserve power status. The bottom dial functions as a mode selector.
At first, this is all very confusing, but half an hour with the instructions manual helps make sense of everything. Control is definitely not intuitive, however.
Set up
Initial set-up is straightforward once you figure out what to do. There are no instructions in the box (other than a generic Citizen watch adjustment guide), but there is a credit-card-sized piece of plastic with a raised section and the promising legend, "Getting Started – Setting Instructions."
I played with this card for some time, surmising that something lay beneath the hump but not able to budge it. I even tried waving it over the watch in the vain hope that it contained some near-field wizardry. Then I realised that applying pressure in one place caused the hump to hinge outwards to reveal a slim USB plug. Inserting that in the Mac took me to an instructions manual. Simple, once you know how, but what a convoluted way of going about things. It would be more helpful if the plastic card had printed instructions.
If you pride yourself on never reading an instruction manual, think again. This watch is not for the faint-hearted, and nor is the instructions booklet.
Pairing with the iPhone requires a free app which you can download from the App Store. Here you will find a very simple list of on/off settings for alerts: Incoming call, Schedule, Email, Link loss and iPhone search. It also includes a copy of the instructions manual (in tiny print), a pairing assistant and a routine for setting up email accounts, of which more later. Obviously, the app must be running at all times to provide the link to the phone.
First step is to set the watch mode to PR (Pairing) on the lower central dial (pull out the crown and turn until the indicator points to PR). When the connection is established—it was quick and straightforward in my case—the hands of the watch spring into action and eventually settle in agreement with the iPhone's timezone and settings. The day window also changes without any manual intervention. I love this feature, and alone it makes the watch worthwhile.
In order to switch on mail alerts, you must use the Citizen app to enter the details of the mail accounts you wish to monitor. It handles only IMAP accounts. You must set up every mail account manually, including server details and password. This is a right royal pain in the arse, even when it works. It is definitely a very disappointing aspect of the watch: So much simpler if the app simply responded to the phone's Mail alerts. The lack of integration with Mail probably explains why it hasn't been possible to include Message alerts.
Unfortunately, I have so far failed to set up any of my mail accounts. I tried Apple mail and was told that the account name or password was incorrect. After repeated attempts with iCloud, I tried four other email accounts and had the same error message every time. There is undoubtedly a simple explanation, but I gave up.
Modes
This is a fully featured watch which does much more than simply tell the time. It comes with several function modes, which are selected by pulling out the crown and twiddling the knob until the required function is highlighted in the lower dial. There are three Bluetooth modes, all shown in blue on the righthand side of the mode dial:
Pairing (PR): To connect the watch to the phone for the first time
Connect (CT): To reconnect the watch after initial pairing (this can also be accomplished by pressing the top righthand external button for a few seconds).
Disconnect (DCT): To disconnect the phone. The watch, yet another wireless device to worry about, must be disconnected while on an aircraft. Still, not many flight attendants will be savvy enough to target your watch.
Next, we have the function modes, displayed in white lettering on the lefthand side of the mode dial:
Time (TME): The current home or base time
Local Time (L-TM): Second time zone
Chronograph (CHR): To use the chronograph functions
Calendar (CAL): To enhance the calendar display in addition to the day window at 4 o'clock: When CAL mode is selected, the seconds hand stops on the month (1-12) and the day of the week is indicated in the upper right-hand sub-dial. I really don't like this and prefer a day/date window. I can manage without a reminder of the month, at least for a few more years.
Reference position (0): To force the hands and the date to return to the current "reference position" stored in memory. I assume this can be used to reset the home time to match the local time as dictated by the iPhone. There is a rather complicated chart in the instructions book to help if you are feeling particularly brave. I have so far failed miserably to understand any of this.
Alerts and phone integration
The raison d'etre of this watch is that it links to the iPhone and provides visual and tactile warnings of events. I have been unable to test the mail alert function because I could not set up any of my mail accounts. However, the remaining alerts work well, although some are more useful than others, and I have no doubt that Mail alerts will work in the same way:
Lost Link (LL): Vibration and second hand at 9 o'clock. This is a particularly useful feature because it shows when you move away from the phone and can warn you if you have left it behind in a cafe or other public place. It can be a nuisance at home when moving around the house. On several occasions, I got a warning buzz and then had to relink the watch to my phone.
Mail (MAIL): Vibrate and second hand at 10 o'clock. This same setting warns of a Calendar activity, which can be rather confusing.
Call (CALL): Vibrate and second hand at 11 o'clock. Another excellent feature if you are in a noisy place and the phone is in a pocket or bag.
Action (ACT): Seconds hand points to 8 o'clock. Used to indicate the setting of automatic date/time adjustment and for the iPhone search function (see below).
The problem with many of these alerts is that they simply tell you something is happening. To find out what it is, you still need to look at the phone.
iPhone search
You will love this feature. First, make sure the watch is in one of Time, Local Time, Pairing or Connect modes and then press the two external buttons simultaneously. Miraculously your lost iPhone will play a nice tune until you find it, enter the Citizen app and silence the alert. This is a big improvement on phoning your own number, but note that it works only if the phone is in Bluetooth range of the watch (5 or 10 meters, depending on walls and other obstructions).
Bluetooth
Many iPhone users regard Bluetooth as a potential security threat, allowing the possibility of uninvited access to the device from a nearby table in Starbucks. In the past, I have always left Bluetooth switched off until needed. It also saves a bit of battery. If you buy a syncable watch such as the Citizen, you will have to leave Bluetooth active at all times, so bear that in mind.
Overview
The Citizen Eco-Drive Proximity watch is a very attractive, high-quality analogue-display timepiece that you will be proud to own. Even without the iPhone integration, it is a nice watch to have on your wrist. It approaches phone integration at a different angle from, say, the electronic Pebble watch. The Pebble, in common with several others about to be launched, is a digital display device built primarily as a wrist terminal for the phone. It will be possible to provide more detailed information on the small e-ink screen of the Pebble. The Citizen, on the other hand, is the first conventional, analogue-display watch to link with the iPhone and remains a rather odd mix of electronics and dials and pointers.
There is a lot of information displayed on the dial, and, as I mentioned at the outset, the tiny blue-on-black lettering is difficult to read. The hour and minute hands frequently cover the particular part of the function or mode dial that you need to consult. It is a cluttered display, typical of Citizen multi-function watches over the years, and will be frustrating for anyone with less-than-perfect eyesight. It isn't all that good for people with good eyesight, come to think of it.
The time synchronisation with the iPhone is faultless, and the watch is a buy on this function alone. With two time zones and integration with the iPhone's over-the-air time sync, the watch is likely to be an ideal travelling companion. Old-style mechanical time-zone watches, such as the Rolex GMT Master II, require manual setting and adjustment. However, the display on the Rolex, for instance, is far clearer and simpler than Citizen has managed to achieve.
The alerts are a mixed bag. To be able to get your watch to make your phone come to life and tell you its location is a brilliant idea. And the warning that you have left the phone behind can save you financial loss and inconvenience. On the other hand, the dial indicator for alerts (the thin blue seconds hand moving to 8,9,10 or 11) is of questionable value. Yet it is difficult to see how Citizen could have done it any other way.
The alert vibration (which cannot be adjusted) is also too weak and, frankly, is easy to miss. A stronger buzz and, perhaps, a nagging repeat would be more useful, although I suspect Citizen is constrained by power limitations.
The need to set up mail accounts in the iPhone Citizen app is wholly unacceptable. The lack of SMS/message alerts is also a major flaw. If anything, text message alerts are probably the most important of all.
After trying out the watch, I have very mixed views. I love "proper" watches and have, in the past, owned some very desirable timepieces. The Citizen is a really nice, substantial watch if a little on the thick and heavy side. It is electronic, with Eco-Drive, and never needs a battery. Above all, I find it impressive that Citizen has managed to incorporate a low-powered Bluetooth wireless in a device that never needs charging. Imagine having a light-powered iPhone.
It is a watch you would want to keep for years, but I worry that it could soon become technologically incompatible with future iPhones. Then you will be left with a beautiful watch cluttered with features that no longer have relevance. It is a watch for life containing electronics for the moment. In this case, then, a cheap Pebble or similar electronic digital-display watch could be a better bet for phone integration. You will be happier to throw it away when it no longer syncs with your shiny new iPhone 7.
The Citizen is probably worth the £399 it costs, even without the iPhone features, and no doubt it will soon be discounted. It is a brave first attempt by Citizen at creating a desirable standard watch with some up-to-the-minute technical tricks. After trying it, however, I find it is as frustrating as it is desirable.
The good
High-quality, traditionally-styled wristwatch
Five-year-guarantee
No maintenance or batteries needed
Easy to set up once you find the instructions
Impressive time and date sync with iPhone 4S and 5.
Brilliant find-my-phone and lost-my-phone alerts
The bad
Complicated mode functions and unintuitive operation—don't lose that instruction manual; store it in Evernote with a "frequent" tag
Cluttered dial with functions often hidden by hands, difficult-to-read text labels
Very thick, even by mechanical watch standards
No alerts for messages and texts, nor for calls from apps such as Viber or Tango.
Alert indication by means of the seconds hand pointer is difficult to see against the black dial
Alert vibration is weak and cannot be adjusted
Email accounts must be set up in the Citizen app rather than syncing with the phone's settings.
by Mike Evans, 17 November 2012
What about you? Did you experiment with "smartwatches" before their time?
---