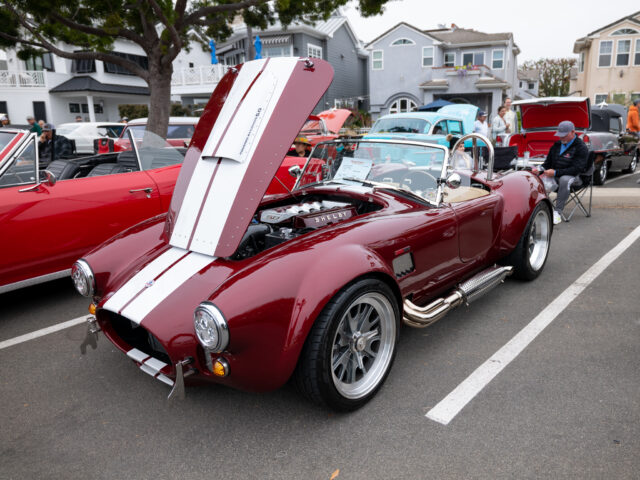 Few local events attract as many visitors as Coronado's annual car show: Motor Cars on Mainstreet. It's a perfect opportunity to admire pristine examples of iconic vintage cars, meet their proud owners, and grab some photos. So, armed with my Leica SL2, equipped with a Vario-Elmarit 24-70mm f/2.8 lens, I set off to join the crowds.
What is it about vintage cars?
Is it me, or were the cars of yesteryear so much more ravishing than those produced today? Perhaps it's all that chromework, or those curves, or the bags of character they exude. Take this 1950 Mercedes 170S, for example. Talk about chromework, curves, and character, not to mention the beautiful wood trim and the gleaming two-tone bodywork.
Vintage cars hold enormous popular appeal, sitting as they do at the intersection of nostalgia, aesthetics, and craftsmanship. Often, we are admiring the craftsmanship of both the original manufacturers and the enthusiasts who have lovingly restored them. The Coronado event makes that very easy: closed city-centre roads allow visitors to wander freely, viewing spectacular vehicles parked right on the street. A chance to view dozens and dozens of them, practically on one's front doorstep, is therefore a treat not to be missed.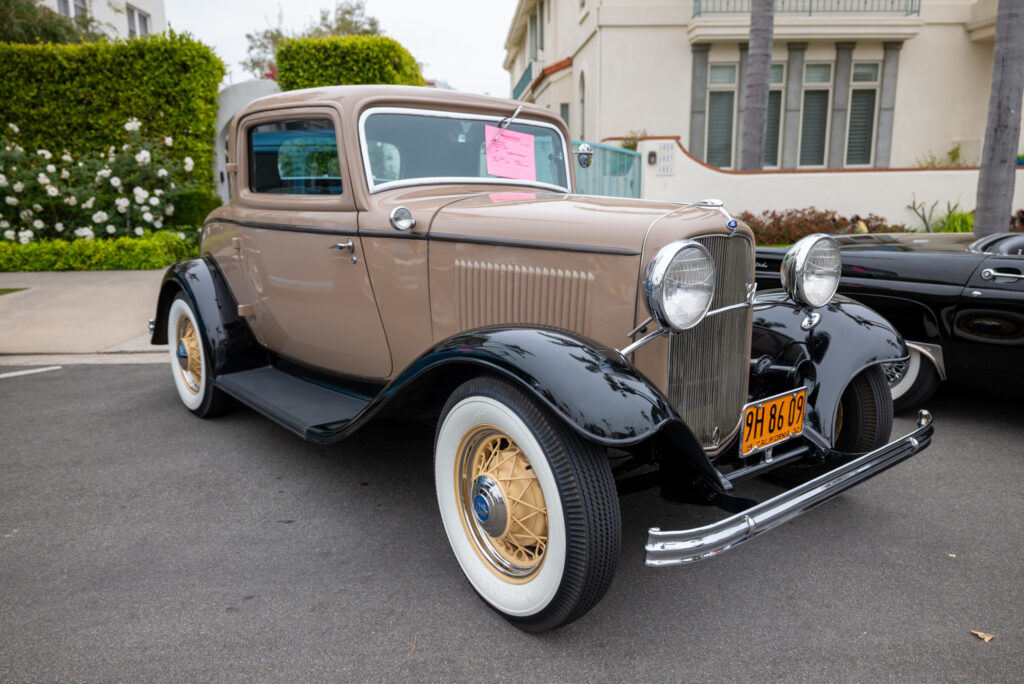 Here's a 1932 Ford three-window coupe that snagged a parking spot on Park Place — how appropriate.
Picking the right lens
Our editor, Mike Evans, wrote recently of his visit to such a car show event at Brooklands, in England, focused on Italian motors. His gear of choice was a Lumix S5 equipped with the big brother of my lens, a Vario-Elmarit 24-90mm f/2.8-4.0. Ironically, in Britain, he enjoyed glorious blue skies, yielding deep shadows and brilliant highlights. In California, I was under overcast skies, courtesy of a coastal cloud layer referred to locally as 'May Gray'. I am nevertheless going to argue that my lens produced images that were just as sharp whilst being both lighter and less expensive than his. You can judge whether that is the case.
It would be impossible to fit in photographs of all the cars that I saw. So, I have restricted myself to those that particularly caught my eye.
Sports car crazy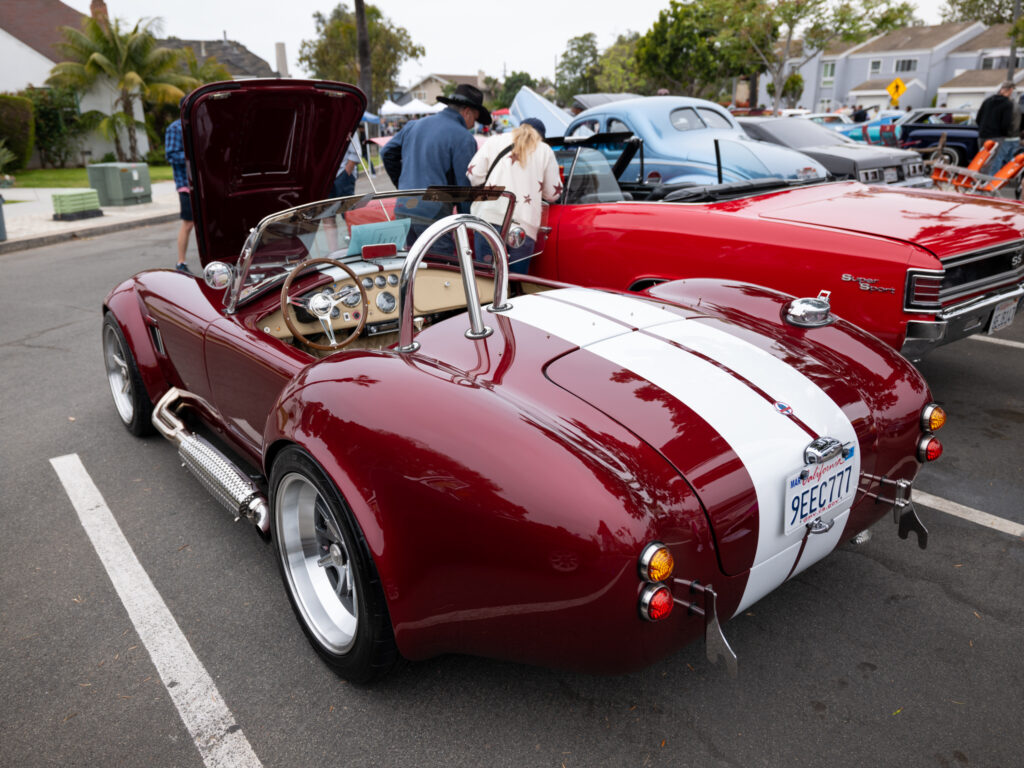 Here is one of them, a gorgeous 1965 Ford 'Shelby' AC Cobra, in Burgundy. I am no expert, but this car could be described as a hybrid in a very different sense than when referring to a Toyota Prius. Early models were produced by a British company, AC, based upon a specification by Caroll Shelby and employing an engine from Ford. This particular model, a Cobra 427, was designed in conjunction with Ford in Detroit and manufactured in the US.
I found other examples of British sports car imports at the show. Although they complain incessantly about the unreliability of their electrics, car enthusiasts still love these vintage models. Here is a 1965 Austin-Healey 3000 Mk III in mint condition and two MGs of 1940s and 1960s vintages. Note that they are all red, the only acceptable colour for a sports car in my view.
Now to sports cars of a quintessential American design and manufacture. Here are two Chevrolet Corvettes, one in white from 1959 and one in blue from 1960.
Corvettes are my favourite vintage convertible American sports cars. The chrome grills, twin headlamps, curvaceous bodies, and white-wall tyres add up to a visual masterpiece. Although the blue two-tone body is striking, I think the white model takes the prize.
The lowdown on vintage cars
If one were to draw a Venn diagram encompassing people who enjoy vintage cars, vintage watches, and vintage cameras, I reckon there would be considerable overlap of these domains. It's that blend of nostalgia, aesthetics, and craftsmanship again. Strictly, I should have been photographing these beautiful cars with a vintage Leica rangefinder while wearing a vintage Rolex. Perhaps next year.
'Lowriders' represent a peculiar and fascinating niche within the vintage car world. Emerging in the 1940s in the Hispanic suburbs of Los Angeles, they remain strongly associated with Chicano culture. They are usually fitted with hydraulic systems that enable height-adjustable suspensions. These examples are riding so low while stationary that they are literally touching the ground. Both appear to be Mercury models from the 1950s, but each has been highly customised, as is typical of the genre.
I have included a photo of this 1954 robin's egg-blue Sunbeam-Talbot since I had never previously seen an example of this marque here in the US. From a quick investigation online, it appears to be a Mk IIA drophead without the usual canvas convertible roof. The owner said it was a nightmare tracking down spare parts.
Let's get futuristic
This year the show featured a few more futuristic vehicles to complement the traditional vintage fest. Here is a McLaren supercar proudly displaying its wing doors as if engaged in a mating ritual with would-be purchasers. I believe it is a 540C model. If so, it is the entry-level McLaren, with a list price of $184,900 (£146,000). Yikes!
Even more futuristic is a model we are just beginning to see on the road here in California — an all-electric Lucid Air. One of Tesla's many emerging competitors, the Lucid Air claims to have the longest available range of any electric car.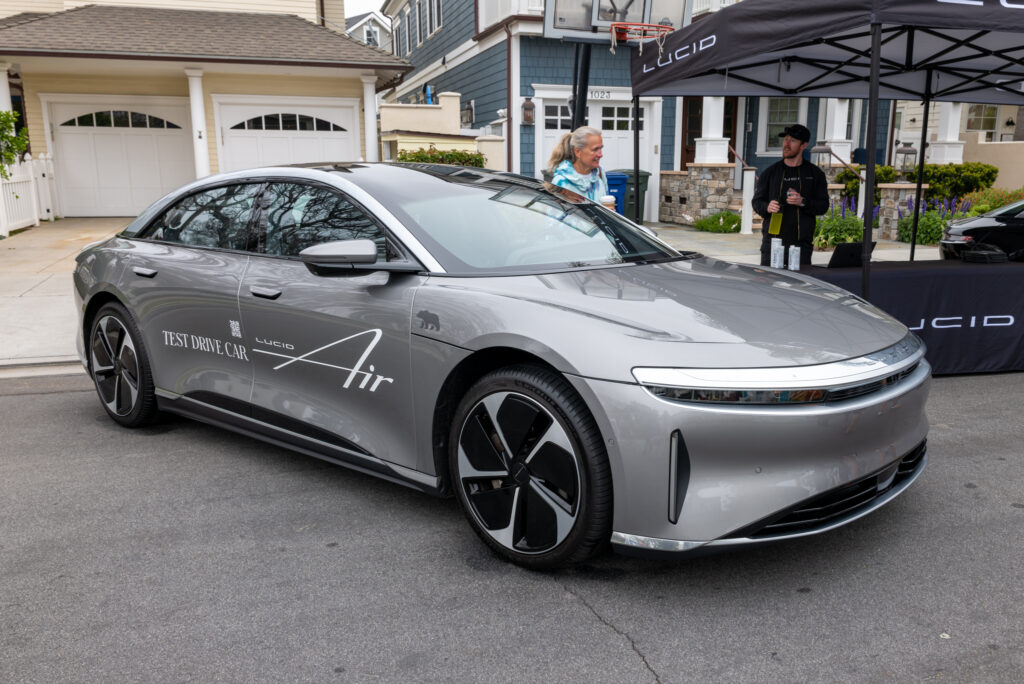 The top-of-the-range Dream edition reportedly has a range of 520 miles (840 kilometres). It was recently named the 2023 World Luxury Car of the Year by World Car Awards. Remember, you heard it here first.
Canine capers in vintage cars
Finally, I could not resist including some shots of this canine encounter between a 'pedestrian' and a 'motorist'.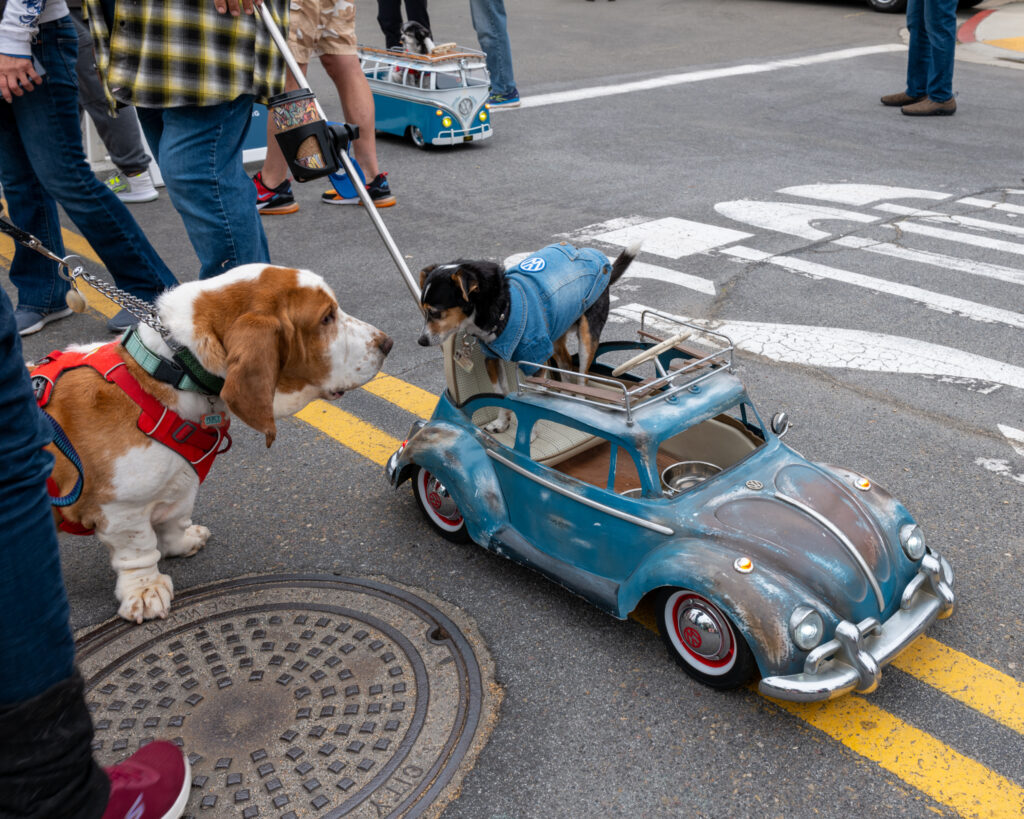 The Basset Hound appears puzzled but intrigued by a denim-suited Jack Russell/Chihuahua mix, perambulating in a miniature, weather-beaten VW Bug. He is soon to be confronted by a small Spaniel riding in a miniature VW Camper Van.
Motorcars on Mainstreet 2023
As you can see, this event has it all, and I did not even mention the live musical accompaniment from a local rockabilly band. I think there is a good chance that it will reappear in 2024, given the level of interest it generates. Hopefully, that will be under bright blue, cloudless skies. I wonder what futuristic vehicles we might see in next year's edition. One thing is certain, though: we will be seeing many of those spectacular vintage cars again, one year older and so even more vintage.
Do you like attending vintage car shows? If so, do you take along your vintage camera gear and watch? Do you own a vintage car? Would you describe yourself as a 'petrolhead'? If so, tell us all about it in the comments below.
---
---
Join our community and play an active part in the future of Macfilos: This site is run by a group of volunteers and dedicated authors around the world. It is supported by donations from readers who appreciate a calm, stress-free experience, with courteous comments and an absence of advertising or commercialisation. Why not subscribe to the thrice-weekly newsletter by joining our mailing list? Comment on this article or, even, write your own. And if you have enjoyed the ride so far, please consider making a small donation to our ever-increasing running costs.
---