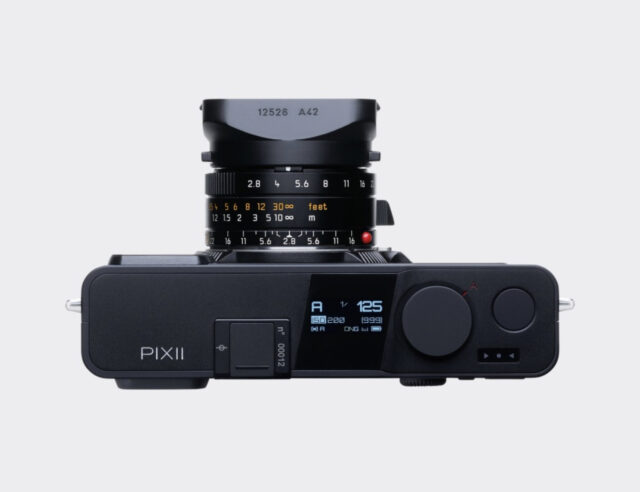 The new Pixii Plus camera features an improved rangefinder with a base length increased by 13.5mm. The extension of the triangulation helps increase focus precision for use with ultra-fast lenses such as those with f/1 aperture. The larger base measurement also provides extra clearance, up to 72mm, to accommodate the larger barrels of the fastest lenses.
Focusing comfort
Pixii's engineers have combined these optical enhancements with a new mechanical design. The rangefinder optic is now controlled by a micro ball bearing sliding along the translation shaft. This both increases the focusing comfort and improves the overall accuracy to a large degree.
The optical viewfinder with a magnification of 0.67x offers independent LED backlit frame lines for standard prime lenses of 28mm, 35mm, 40mm and 50mm (full-frame equivalent). The viewfinder incorporates exposure indicators, a dynamic information display and automatic parallax correction. The intensity of the LED elements can be adjusted.
Full Macfilos review of the previous Pixii model
M-Mount
Using the Leica M-Mount, the Pixii is capable of working with almost all modern and vintage lenses from Leica and third-part manufacturers. The APS-C sensor results in a crop factor of 1.5 which increases the focal length of lenses made for the full-frame Leica sensor. A 50mm lens, therefore, becomes in effect a 75mm when mounted on the Pixii.
The 26MP backlit CMOS sensor, no changes here, uses the 3:2 format and features a standard Bayer colour filter but no low-pass filer. The all-electronic shutter operates at speeds ranging from 2s to 1/32000s. There is a native monochrome mode as standard.
The camera body, is machined from aluminium and offers an accessory shoe, tripod socket, and strap lugs. The body dimensions are 138 × 79 × 33 mm and the weight is 460g. Controls include a manual shutter-speed selector with automatic speed mode, a two-stage shutter, a top-panel OLED display screen and in-finder control screen for settings and menu selection. Internal storage ranges from 16GB to 128GB, depending on specification at purchase. Since there is no SD slot, the choice of internal storage size (below) is an important consideration.
New software, magnetic eyepieces
The Pixii Plus is accompanied by a new software release which adds auto ISO, focus peaking and zoom, geotagging, improved out-of-camera jpegs and EXIF support for lenses using an external viewfinder. All the new software features are also available to owners of the A2572 version of the Pixii.
In a new development, Pixii is introducing a range of magnetic eyepieces which simply snap into place in front of the viewfinder. They provide for -3 to +3 diopter adjustments. The company claims that the magnifying power of 1.5x helps users to focus more precisely when using long focal lengths. The 1.5x correction lens is suitable for focal lengths of 50mm and above.
All Pixii cameras feature an APS-C sensor with a 1.5 crop factor in relation to full-frame lenses. So, for instance, a 50mm M lens is transformed into an effective 75mm focal length.
The Pixii Plus, as with all previous versions, is available directly from the manufacturer in France. The starting price for the 16GB model is €2,699, pre-tax. The model with 128 GB storage costs €3,150.
Now you have seen these improvements, have you changed your mind about the Pixii? Have you pressed the WANT button, or are you still on the fence? Please let us know in the discussion below.
---
Join our community and play an active part in the future of Macfilos: This site is run by a group of volunteers and dedicated authors around the world. It is supported by donations from readers who appreciate a calm, stress-free experience, with courteous comments and an absence of advertising or commercialisation. Why not subscribe to the thrice-weekly newsletter by joining our mailing list? Comment on this article or, even, write your own. And if you have enjoyed the ride so far, please consider making a small donation to our ever-increasing running costs.
---