This is possibly the quickest review I have ever written, but I wanted to get the word out about the Fujinon 90mm f/2 R LM WR (the Fuji XF 90 to its friends). This is the lens that I have been waiting for. Save your pennies. Break the piggybank. Max that card. Pawn your granny. Get one. Now.
Back in the day, when I used on a regular basis Leica M lenses and bodies (proper, film ones) I had a "full set" of glass ranging from 15mm (Voigtländer) through 28, 35, 50, 75, 90 and 135mm. The "holy trinity" of Leica was of course 35-50-90 and with that combination one could – and I did – shoot pretty well everything. But there were times when it was necessary to go a little bit wider or longer. The Leica range in M-mount (forgetting for a moment the Visoflex) topped out at 135mm for the simple reason that that was the longest focal length that could accurately be focused on the M rangefinder base length. Contax went to 180mm, of course, with their rangefinder (the "Olympic Sonnar" was legendary and rightly so) but their cameras were a little wider in the base length and hence more accurate at the top end.
Heath Robinson
Even then, Leica restricted themselves and came up with Heath Robinson-esque solutions to enable Leica Man to get the best results with his long lens. Maximum aperture on the 135mm Tele Elmar was restricted for years to F4 and then in the 1960s came the Elmarit-M which delivered a blistering f2.8 albeit with goggles which made it awkward to carry. It also weighed as much as a pygmy hippo which tended to go against the Leica philosophy. It was impossible to be a nimble photo ninja with a lens that looked as if it could be used for grinding coffee and should have little wheels to help move it along. Still, I had one and it was a good performer.
Above: Barnack the cat in closeup, cropped
Fuji of course have no such restrictions. Their system today tops out at 230mm and the roadmap gives us hope for a 100-400mm in 2016. That would extend the range to 600mm in old money.
So why is an old cynic like me so excited about a 90mm? Because reach isn't everything. The ability to zoom isn't everything, and rumour had it that this was a cracking lens from a company that already makes some crackers. That, plus the fact that it takes me a step closer to the set that I wrote about in the second paragraph of this review. In 35mm terms the 90 is 137mm, a focal length that is ideal for travel and portraiture. It delivers a decent reach in a relatively compact form. All of that is nice, but the lens itself has to deliver – and this one does.
Construction
Enough waffle. Let's look at the object of my affections. The 90 tips the scales at a fairly porky 540g. Putting that into context, the 56mm, with which it is bound to be compared, is a comparatively svelte 405g. In the hand and on the camera it most resembles the 490g 18-135mm and is fractionally heavier even than that. The result is a lens that you won't necessarily want to carry every time you go out, but that is the price you pay for a lot of glass – 11 elements in 8 groups including 3 ED elements.
Construction is to the usual Fuji standard: A generously wide focus ring differentiates it from the 18-135 that it superficially resembles and makes manual focus a pleasure. The box includes a deep bayonet hood that adds about 2½ more inches in length (it also by the way includes a lens pouch – that can stay in the box for now). This is a WR lens and, while the middle of an English Summer is giving me little opportunity to test this, I have no doubt that the 90 will prove as useful an all-weather companion as the 18-135. Interestingly, it is internally focusing, which I am sure helps the weatherproofing but also means that it doesn't rack back and forth as you focus.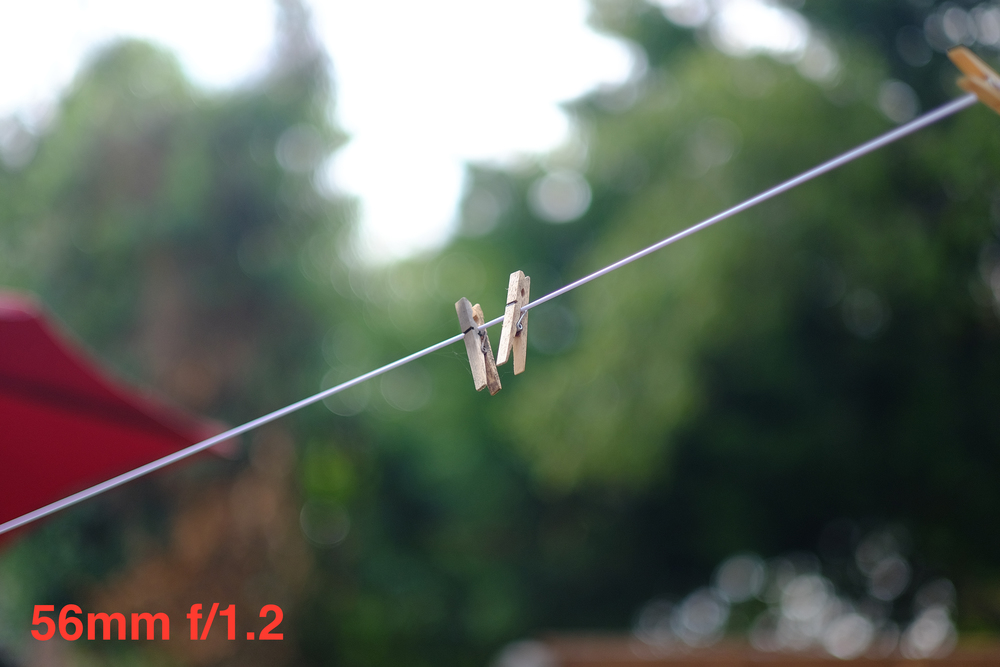 The mount is metal, of course, since this is an XF lens, and it mounts with a satisfying click. There have incidentally been some reports of rattling and dust in early copies. All I can say is that mine is silent and dust free. For the purposes of this short exercise I bolted the 90 on to my trusty X-T1. It makes the camera as front heavy as you would expect but is a compact and easy-handling package particularly with the accessory grip mounted. I also tried it on my X-Pro1 but more of that later.
Much has been made of the speed of focus of this new lens and I have to say that it is snappiness personified—no hunting or hesitation here and the viewfinder pops in an instant, even on the X-Pro. This is due to the new "quad linear" motor that I expect to see more of in other lenses in the future. I used it as I prefer to work normally—handheld, wide-open with a third of a stop of underexposure. All images are SOOC jpgs.
Bokeh bonkers
I've actually left the best to last. This is an f/2 lens. That's fast in anyone's language, particularly so with a 90mm/135mm equivalent. Never mind the light-gathering power (although that is impressive) but the real party piece of this lens is the bokeh that it delivers. Have a look at the peg pictures to compare it with the 18-135 at 90mm, and the 56mm. I used all lenses wide open and the difference shows: The 18-135 can manage only a pedestrian f/5.6 at that focal length. The f/1.2 of the 56mm and the f/2 of the 90 blow it into the weeds in terms of out of focus rendition. Confession time—I love a bit of bokeh, me and I can see myself wielding this lens wide open all the time. One slight surprise (although not if I think about it) is that this lens performs well in the close up range, with close focus to 60cm. I'll try it with extension rings in the days to come.
I have had time this weekend for no more than a quick try-out, but I cannot help but be impressed. In every department this lens is a killer. I can't wait to try it for portraiture, action and street work. Allied to an X-T1 running Firmware 4.0 it is a tremendous addition to the Fuji line-up. I desperately wanted to take a copy of this lens to Le Mans a few weeks ago but there were none to be had. I am down on my knees praying that the imminent 1.4x teleconverter will be re-fettled to allow it to work in combination because that would be a killer duo.
Please Mr.Fuji
But, Mr Fuji, please hurry up and get that X-Pro2 out. We know it is coming. We know you are trying to make it the best that you can, but I am itching to try this lens on it. I mounted it briefly to my X-Pro1 and had a brief foretaste of things to come. When the X-Pro2 is a reality, this is the first lens that I shall pack when I travel. With this, the 23 and 35 I have a new "holy trinity" for the 21st century, compact, high-quality, fast and fun.
You can also find Bill Palmer at Rangefound and Lightmancer