One of my favourite shows of the year is the Irish Classic and Vintage Motor Show which is held usually on the first Sunday of July at Terenure College which is not far from where I live in Dublin. It is hosted by the Irish Jaguar and Daimler Club and also involves the Irish Veteran and Vintage Car Club. In Ireland, antique cars are those which are pre-1905. Veteran cars are those made between 1905 and 1918 and vintage cars are those made between 1919 and 1930. Cars from between 1931 and 1945 can be classified as post-vintage. Classic cars are those made post-war up to whatever date you fancy, with some having a cut off date of about 30 years old .
I like to take low wide-angle shots of cars at shows. Some years ago this photo taken at the Terenure Show did very well for me in an international competiton organised by LFI magazine. It is a Mercedes Benz 300SL 'Gullwing' taken with an M9 and 24mm Elmar.
This time I wanted to give the Leica Wide Angle Tri Elmar (WATE) 16-18-21mm a try out on the Leica M10. The lens is actually a zoom, but I only use it on the actual settings as it comes with a large optical multi-finder with frame-lines and adjustable settings for different focal lengths as well as parallax compensation. This is often affectionately called a Frankenfinder. I prefer it to the EVF as you can see outside the frame lines and adjust as much as possible to eliminate other spectators at car shows from photos.
This lovely pair of Austin Healeys have birthday banners. A birthday present suggestion, perhaps?
The information for this says that it was taken at 16mm but I know it was not shot at that focal length. If I can explain briefly, the six bit code automatically tells the camera it is a 16mm, but you can change this in the menu to 18 or 21mm. If, however, you switch the camera off it switches back to indicating 16mm when the camera is switched on again. I don't really care about recording such details and apertures and shutter speeds as well, so I stopped doing the manual entry of focal length at the show. These details never appeared when we shot film on 'real cameras' and are, ultimately, only for beginners, pub bores or perfectionists. When I was a beginner, about 35 years ago, I used to keep a little notebook and write down films, apertures and shutter speeds used. I no longer feel the need to do this. When you change focal length on the WATE you also have to keep adjusting the Frankenfinder, which, ultimately, can become a bit of a pain.
Here is an example of a Jaguar XK Coupe taken with the WATE. The lens really shines on this type of shot.
Some may ask why I do not use a zoom but the Leica Ms are not really suited to zooms and, in addition, the WATE is vastly superior image and distortion wise to any other wide-angle zoom I have ever used and I have tried some very good ones such as the large Nikkor f/2.8 12-24mm.
On my way around the show I met my friend Donal Begley who is a collector by nature and has some fine watches, pens and early Nikon cameras. He also has this wonderful pair of cars, a Riley from the 1930s which he restored himself and a Bentley from the early 1950s. He was happy to pose for a photo.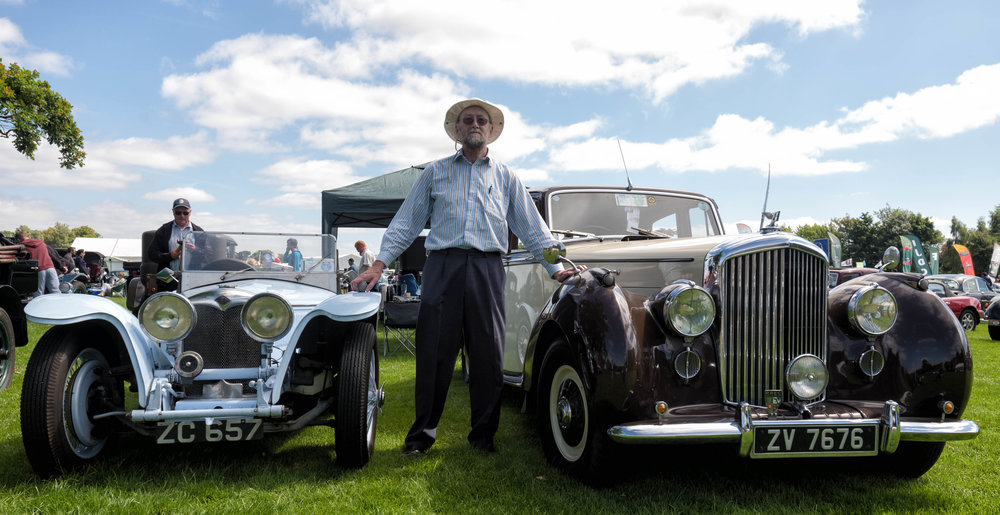 Next I came across a lowered Volkswagen which was coloured mid grey, so I just metered off the car and converted the photo to black and white. I like the result.
Before leaving the WATE section of my shoot here are three photos in a series of what is called, I think, a 'Rat Rod'. This is definitely not from any category that falls within the veteran, vintage (and so on) groups, mentioned above, but it fitted within the overall scope and atmosphere of the show. The two little hot rod cars beside the 'Rat Rod' arrived in the back of the vehicle and seemed to be for the owner's children.
At this stage I was tired of adjusting the Frankenfinder, so I switched the WATE for the 24mm Elmar which had worked so well for the Gullwing photo. I continued to use the Frankenfinder which has a 24mm setting.
The first photo I took with the 24mm was this one of a Jaguar E-Type Roadster. I was about 12 years old when this car was introduced and someone in a house that I passed on my way to and from school bought one. I always lived in hope that he would start it up while I would be passing by. Sometimes I got lucky.
Another category of car that I loved, even though they came from way before my time, were the large green Bentleys from the late 1920s and early 1930s. Perhaps it was because my father had seen these magnificent machines racing in the International Grand Prix races in Phoenix Park Dublin during that era. This wonderful specimen was at the Terenure Show.
Despite my love for the Bentley, my choice of car of the show was this wonderful Delage from the 1930s. I had a chat with the father of the owners (two brothers) and he took down the hood for me and showed me some other features on the car.
At the show, some owners open the engine covers to show what lies beneath. I was particularly taken by the brass elements on this De Dion Bouton engine
Finally, a modern Ferrari which, while it is not a classic today, has a good chance of becoming one over time. The 24mm lens has captured the curves on the car's bodywork very well.
I enjoyed my day at the show. The M10 (the best handling digital M yet), and the two lenses I used, produced impeccable results, notwithstanding the challenges to my dexterity from the WATE and Frankenfinder. The EVF, which has other uses, stayed in my bag.
I took many more photographs of the show and some of them can be seen here.
_______________