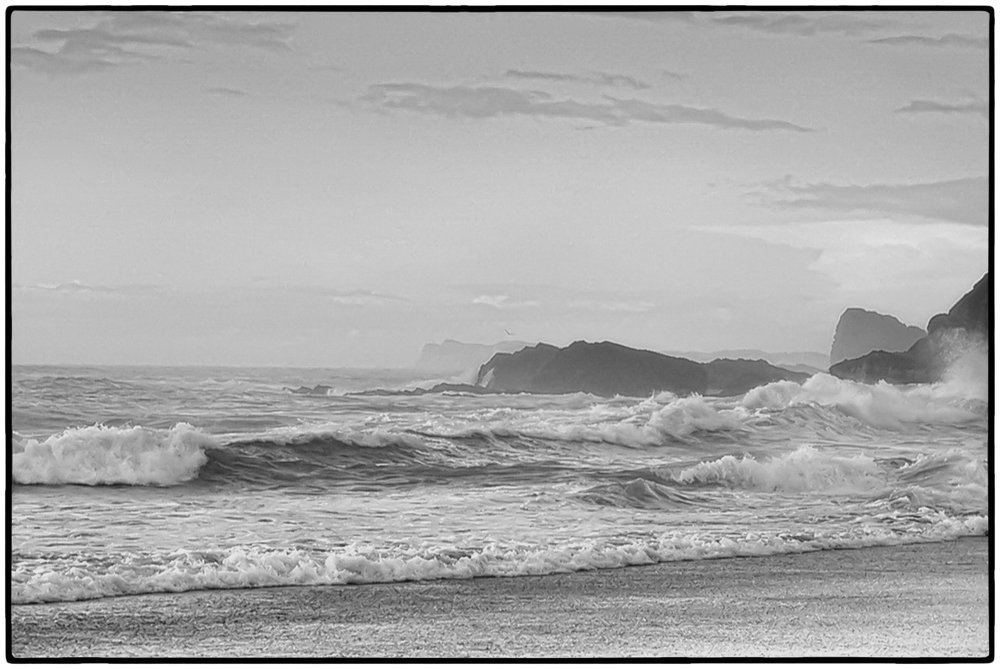 Since I came out of hospital last year after my serious health episode I have been working hard to get really fit again. This means that wherever I am my early morning walk is conducted at a faster pace than previously. So when I was visiting a friend in beautiful Blueys Beach on the mid-coast of New South Wales a few days ago, I crept out of the apartment just as the sun was coming up and set off up the stunning surf beach at a very brisk pace.
I had gone only 100 meters when I realised that I had not picked up my camera. I though "no worries" I'll give it a miss this time. Then I looked along the beach and saw the surf rolling in, the sun breaking through the mist and the rocky outcrop of Seal Rocks outlined on the horizon. There could be a photo in that somewhere. So I turned tail and crept back in to picked up my X1.
And I am glad I did. I took just a couple of photos and this is one of them. It is a big crop and the colour original was very blue — because the scene was itself very blue. I spent some time trying to dial out the blueness but in the end took out so much colour that it was black and white and I decided that it actually looked better in monochrome. So I did it properly and converted the file in Silver Efex Pro.
______________
You can find more from John Shingleton at The Rolling Road and on on Instagram at therollingroad.