In the pursuit of further bonding with the little Leica X2, I recently took it as my sole camera to Australia's island state of Tasmania for a week of varied activity. My quest was to use it primarily for some motorsport photography as well as a walk-around camera. Now I know that a fixed 35mm lens wouldn't ever be a preferred option for motorsport, so I saw this exercise as a personal challenge to see what images I could find outside of its (and my) comfort zone.
But first, what was the motorsport event? It was Targa Tasmania, one of the world's few remaining tarmac rally events. Six days of outright speed on public roads which are closed and officially controlled to be clear, for rally stages of up to 50km. Dangerous, yes, but a massive thrill. I had driven a classic Porsche in a number of these events, and finally, in 2014 we got on to the podium and did the champagne spray. It was on that day that my co-driver said "That's it. It's been a fun journey, but we will never have another event better than this, so we're retiring". She was right of course – she generally is, as I've come to realise through many, many years of marriage!
Above: Team Kelly. Owner and co-driver Jim with son and driver Evan with the classic quattro. And (right) Parc Ferme, inside the Silverdome in Launceston (taken with iPhone) Click on images to enlarge
This year I was down there as service crew for a team who were running a classic 1984 Audi Ur-quattro. It was a car that I did have an emotional attachment to, having previously owned it for a decade but doing little with it in that time. Friend Jim bought it from me and decided to put it back into its natural environment. So my job was merely to ferry the crew to and from the days' proceedings, help with refuelling out on the course, and be a general "gofer" as necessary.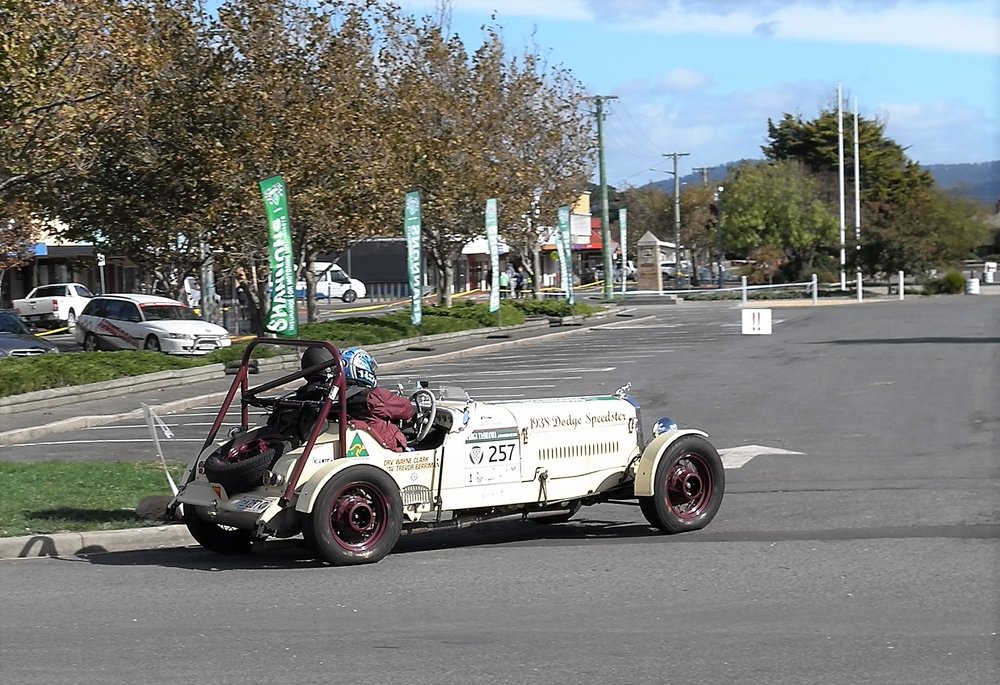 Above: Classic vehicles being taken to the limit. Heavy cropping of X2 images needed.Click on images to enlarge
Cars are held in a posh security compound each evening, and this provides the public an opportunity to get up close and personal with them. There was a good selection of European and British machinery in the classic classes, along with more modern supercars capable of crazy fast speeds.
Yes it was good, until it got a broken nose, and needed late night workshop repairs Click on images to enlarge
The Audi ran well throughout the six days, except for an excursion into an earth bank on Day 3 when they were leading their competition. Yes, the car was at the limit at the time, and the words of the classic hit song "it's a fine, fine line between pleasure and pain" ring true. Damage wasn't significant, but the loss of time ended any chance of a Category win.
It was fun to see what pictures I could find with the X2 (and less often the iPhone when I didn't have the X2 at hand). It certainly isn't the camera to be using out on the course with everyone else with their big Canon (or should that be Cannon!) zooms. But the service area and the cars coming and going for the day did provide opportunities.
Above: Fettling in the service park Click on images to enlarge
Targa Tasmania is an event where the outright fastest will always be a high powered modern vehicle; this year it was a Dodge Viper V10. On the other hand, it is great to see over 100 wonderful cars from the last millennium which are taken out for some very spirited pedalling.
Above: British heritage, then and now Click on images to enlarge
And this owner was living her dream of doing a rally on every continent in her classic Porsche 356 Click on images to enlarge
It was during downtimes that it was good to have the light, little, nearly-pocketable X2. On the final day of the event, I stayed in Hobart while the team went out to race the stages in the nearby countryside. My job was to have my phone with me just in case…, so I used the time to take a walk through the Salamanca markets and nearby revived waterfront area. These markets are held every Saturday adjacent to the old bond stores of earlier days and are ultra-popular with tourists and locals alike.)
Overall, it was a good week. The team did well, with the minor off-road incident being the only downer. Good food, good accommodation, good company (a bit intense sometimes, but that's motorsport), and overall good times. The X2? Well, I'm still coming to grips with it. On reflection, next time I'd probably take the D Lux 109 or some Fuji kit. But a fun challenge with the X2 nonetheless.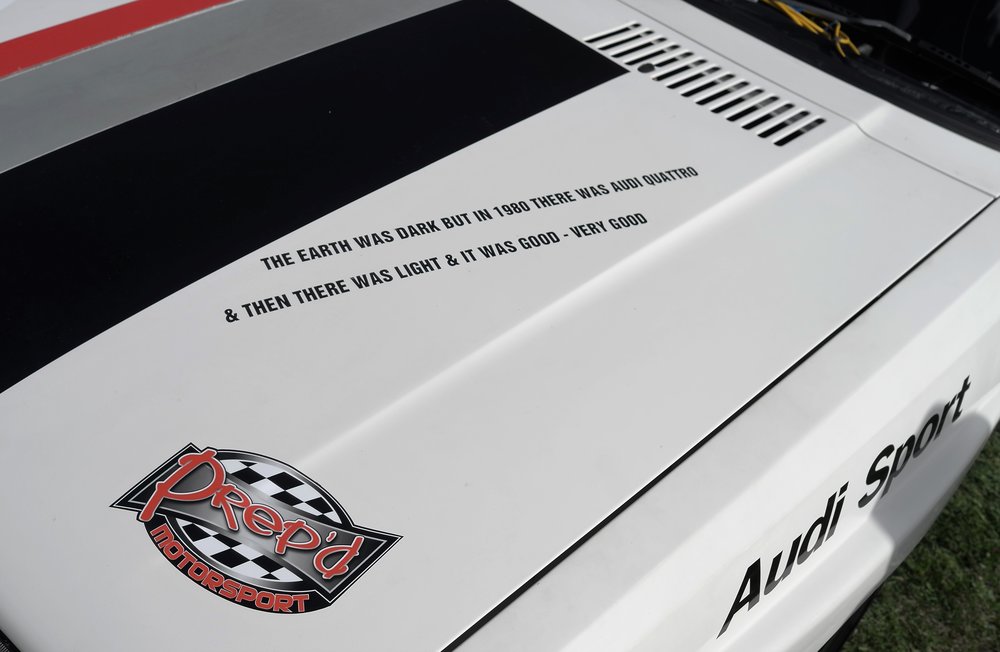 Above: Messages up close Click on images to enlarge
Above: Service crew. It's hard to get good help nowadays…. but do note the upside down humour on the rear window of the Audi RS6 service crew vehicle
_______________