I am very fortunate to own two classic Porsches. I purchased the first one, a 1977 2.7 litre 911 in brilliant yellow, way back in 2001. It was an orphan, neglected and very untidy with the weird Sportomatic semi-automatic transmission. Because of the transmission, which no one wanted, it had been standing in a Sydney secondhand car yard for months. After watching it for all of those months, I finally acquired it for a very good price. It is an Australian-delivered car and it had all the handbooks and service records and a nearly complete tool kit as well as the original compressor for the still unused space-saver tyre.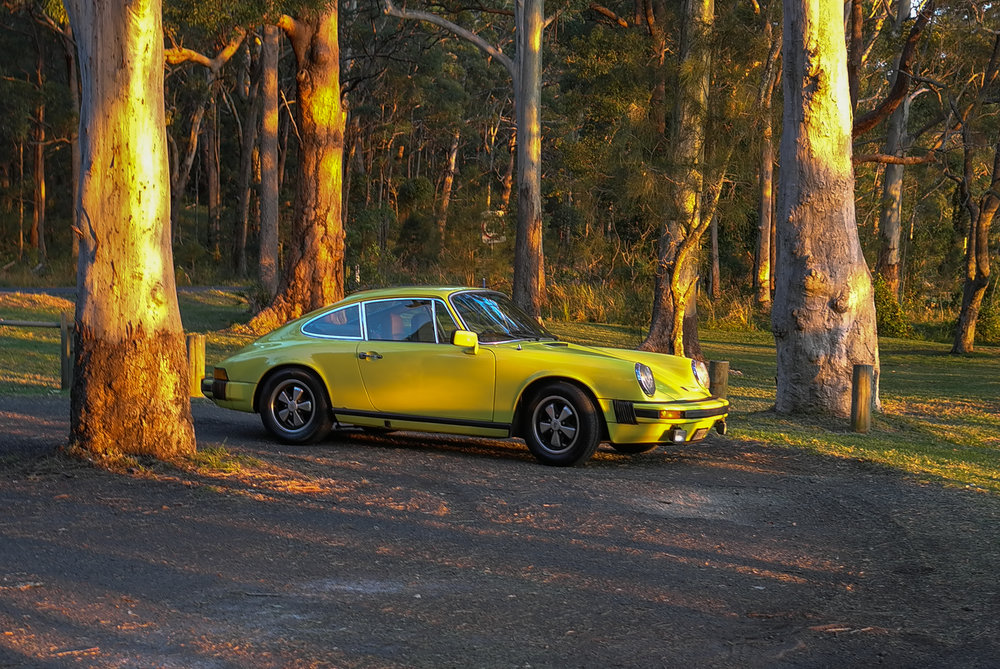 Over the years I have restored the car to a smart, original condition — but not exactly concours material. The Sportomatic transmission has gone and been replaced with a period-correct five-speed manual gearbox. Some panels have been repainted and on others the paint has been cut back and polished. The original factory aircon system has been totally upgraded and now works well. The interior is a dreadful beige — beige seats and door panels and a beige carpet. Yuk. But it is original.
Desirable
My second example is a silver 1971 911T — one of the very desirable early classic Porsches. Again this was an orphan car, albeit with an interesting history. When I acquired it in 2007 it had been under a car cover in a garden in inner Melbourne for six years. See the photo.
After bought it my first thought was to turn it into a racetrack car. However the Sydney Porsche specialist, who did the work in waking up the sleeping beauty after its long hibernation, persuaded me that it was in too good a condition to suffer that fate.
So I have retained it as a road car, although it has made some competition appearances on racetracks including the wonderful but now-defunct Speed on Tweed event around the streets of Murwillumbah in northern New South Wales. Check the photo of me pushing it between the barriers on that wonderful street circuit. One mistake and I would have had a bent car and it was not insured for the track. I did not win any prizes that weekend but I had a load of fun. And that's all that counts for me. The picture was taken by a friend with a Canon G9.
My primary interest in owning the two Porsches is in driving them. Sounds like a statement of the obvious but the sad fact is that nowadays many older Porsches are kept as so-called garage queens with their owners driving them only to concours events and car shows. Both my cars are driven hard and fortunately where I live offers wonderful opportunities within a short driving distance. Opportunities to drive them as the maker intended — fast and hard. In the past three weeks, I have driven both of the cars on long road trips in NSW. You can read accounts of both the recent trips on my blog.
Photogenic
As well as the delight of driving Porsche 911s, they are, of course, so photogenic. The 911's classic shape must be the most photographed car ever. On Instagram and Tumblr there are literally thousands of sites featuring photos of Porsche 911s. Arguably it is impossible to get an original photo of a Porsche 911 — but I still continue trying.
My passion for Porsches actually goes back further than my interest in Leicas. I acquired my first Porsche, a Dinky model of a 356, in 1958. That was ten years before I acquired my first Leica, a IIIA. It was then a further 43 years before I acquired my first real Porsche whereas, on the other hand, there have been many Leicas along the way.
The first Leica photo of one of the Porsches I can find is of me in the yellow 2.7 at a delightful hill-climb event near Dapto, south of Sydney in 2003. This photo was taken by a friend using my then recently acquired Leica Digilux 1. I won my class that day and was awarded a little plastic trophy. I should add that the competition was pretty weak — just a Datsun 260Z and a Triumph TR something or other in the 2- to 3-litre class — so it was rather a hollow victory. But I reckon that it is a good photo.
I have a lingering affection for the Digilux 1 because, although it is a really rather odd camera, it is capable of taking great photos — see the Macfilos story on Digilux 1 photos in China. And it also takes good infrared photos. Sadly the two batteries I have for the Digilux are both defunct and I have not got around to buying a replacement.
Since that early Digilux photo both my cars have posed many times for my X1 — see the overhead shot — my Q and my X Vario. On the recent road trips, I used the X Vario on one occasion and the X1 on the most recent outing.
Putting a sock on it
When I am travelling with a camera in the Porsches I either carry it in a small canvas bag, in the case of the X Vario or the Q, or an old walking sock — the X1. I don't believe in fancy expensive camera bags which shout "steal me". I always put the cameras on the floor in the front passenger footwell. Down there they cannot fly around in hard cornering as they would if stowed on a seat. I am a gear minimalist so I only ever take one camera with me and which one I use is down to how I feel on the day. I do try to spread my love around. All three take superb photos with excellent IQ and I count myself fortunate to own them.
Classic Porsches and Leicas: A magic combination.
___________
You can find more from John Shingleton at The Rolling Road and on Instagram at therollingroad.