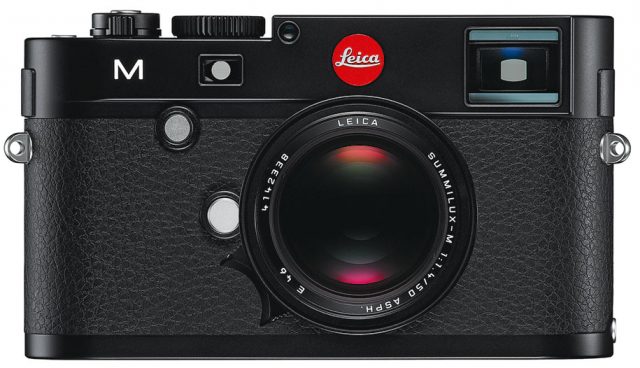 The M10 is alive and kicking, but it is to be called simply the M. In future it will be the previous M, the new M and the next M. In line with all the rumours, the M features a 24Mp CMOS sensor with live view and focus-peaking assistance. Plus, for the first time, we get HD movies. the M uses the same EVF2 electronic viewfinder (a sit-on-top accessory) as the X2. No price has yet been announced, although I did hear talk of £5,100 (including or excluding tax, not clear), and it will be available from January.
The surprise is that the rumoured M-E is also here. But instead of being a Fuji-style live-view compact, as many expected, it turns out to be the old M9, complete with CCC sensor and a new coat of paint. Leica says it will be available immediately and this explains the rush to discount the M9 range. Again, no firm price as yet.
by Mike Evans, 17 September 2012
PRICING UPDATE
M-E: £3,900 inc. VAT
M: £5,100 inc VAT
These are hefty price tags but look quite reasonably by Leica standards. The new sub-£4k price of the M-E represents a price drop of around 25% on the cost of the M9 only a few weeks ago. This all explains the big discounts offered recently on the M9 and the subsequent fall in second-hand values. The new 24MP live-view M at £5,100, no more than the old M9 until recently, will be seen as acceptable value by Leica enthusiasts.
The Leica Monochrom, at £6,200, is now looking poor value since it is essentially the cheaper M-E but with a monochrome sensor. True, it is a specialist camera, but the £2,300 price differential seems excessive. These are interesting times for Leica and, at last, some indication that the company is worried about the strong competition from the likes of Fujifilm. And whither the outgoing M9? Since it is more or less the same as the new M-E, I can see it remaining a strong seller on the second-hand market at around £3,000. In a sense it could be elevated into classic status as the last of the numbered Ms. But those who bought recently will have to take a substantial hit.