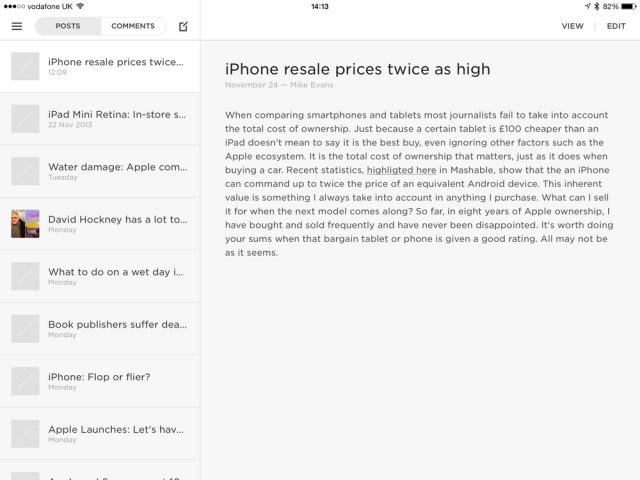 When I read about the new iOS editing app, Blog, from Squarespace I was mildly interested. I didn't expect much because the original blog apps were unwieldy, difficult and profoundly disappointing. When I opened Blog I was astonished. This is a complete rewrite and, for the first time, Squarespace has a state-of-the-art editor that really works. It is a nothing short of a revelation.
Unlike the earlier app, Blog can deal with more than one blog page rather than simply with the designated home page. In the case of Macfilos, for instance, that enables me to work on the tech blog (macfilos/home) and on the photography site (macfilos/photo) without leaving the one application.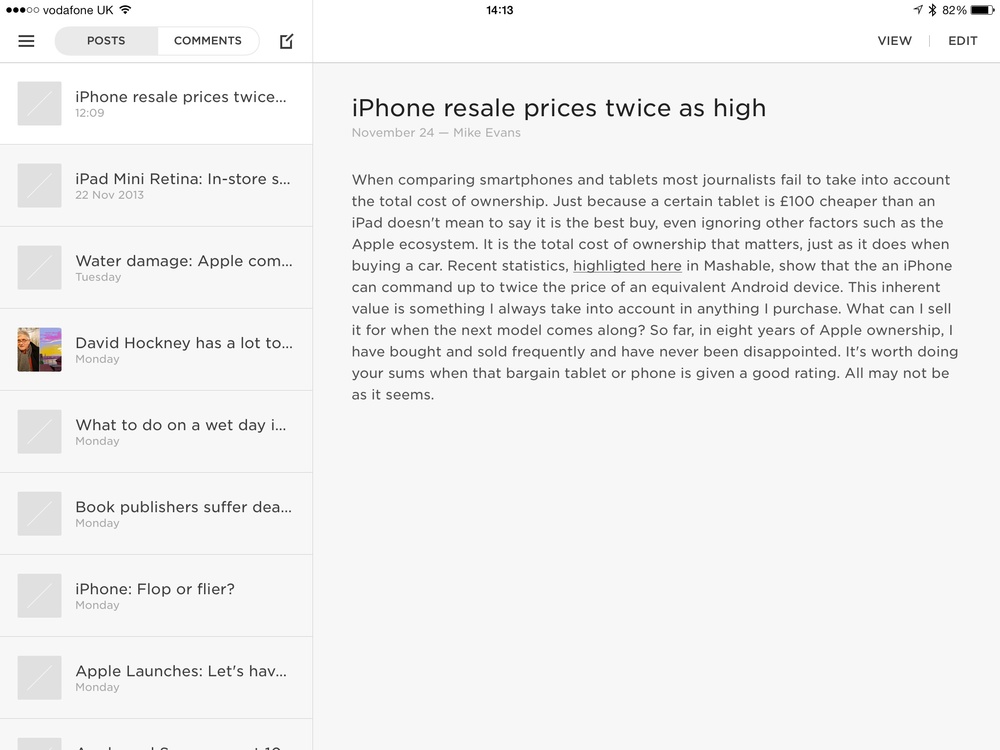 The main editing screen supports Markdown and is actually quite a respectable tool, not as fully featured as Editorial or similar editors, but adequate and reliable for composing on-the-road blog posts. As far as I can see, it lacks a finished text view and proof reading has to be done with Markdown code showing. However, the app does support the unusual Squarespace 6 layout engine which relies on manipulation of "blocks" of text, images or embedded code. It is now very easy to grab an image (from the camera roll or saved albums) and insert it between text blocks. As an example, this post has been composed entirely on my new iPad Mini retina.
For the first time it is actually a pleasure to write an article on an iOS device, at least on the iPad, but I have no reason to suppose that the system will not work acceptably on the smaller screen of the iPhone with the usual constraints.
Apart from the previous lacklustre iOS apps, my one big gripe with Squarespace 6 has been the awful, funereal web interface. The text editor occupies a cramped box in the middle of the browser (although it can be expanded to full page) and editing is an unrewarding experience, often accompanied by difficulty in placing the cursor. Insertion of images is a hit-or-miss affair and it is often difficult to grab an image to move it around. Suddenly, here on iOS, I find a better editor: One that Squarespace should be porting to OS X to free us from the contraints and dangers of on-line editing.
Blog also handles comments with aplomb and deals with category and tag selection in a much better fashion than the web-based editor. In fact, as an all-round tool, Blog is a mighty step forward. For the first time since I updated to Squarespace 6 from Squarespace 5 I feel confident in issuing forth with just an iPad in my bag. I believe I could live with just an iPad in a way that was not possible until now. I will no longer find it essential to carry a MacBook when leaving home for more than a day or two. This is a big step forward for blogging kind.
Three other Squarespace apps have been launched at the same time as Blog. There is an update to Note, a quick notetaking program, Portfolio which synchronises with any galleries of photographs on your blog and Metrics, a means of monitoring visitors, popular content and other statistics.
While I have not yet tried Note or Portfolio, I have spent some time with Metrics and I love it. This is another great concept from Squarespace and is set to become a much-visited app on both my iPhone and iPad. At first I wondered why metrics data could not have been incorporated in the main Blog app. But, after exploring the depth of information available, including comparative graphs, I can see the wisdom in keeping it separate. There is just one metric still missing: The ability to check on the number of subscribers to RSS feeds. The Macfilos/home tech blog is linked to Feedburner and I can see full metrics from that site. For the photography blog I went with the Squarespace RSS feed and, to my surprise, discovered that statistical information is not yet available. Nevertheless, Metrics is another huge advance and I look forward to getting to grips with the improved levels of information avialable.
With Blog and Metrics Squarespace has hit the mark. These are first-class apps, well designed and apparently fully functional (at least, I have not yet discovered any bugs, if they exist). The excellence of the Squarespace 6 iOS presence is in stark contrast to the ropey old web editor faced by Mac or PC users. I hope sincerely there is a Mac version of Blog nearing its release date. If not, users will become increasingly intolerant of the shortcomings in the web editor.