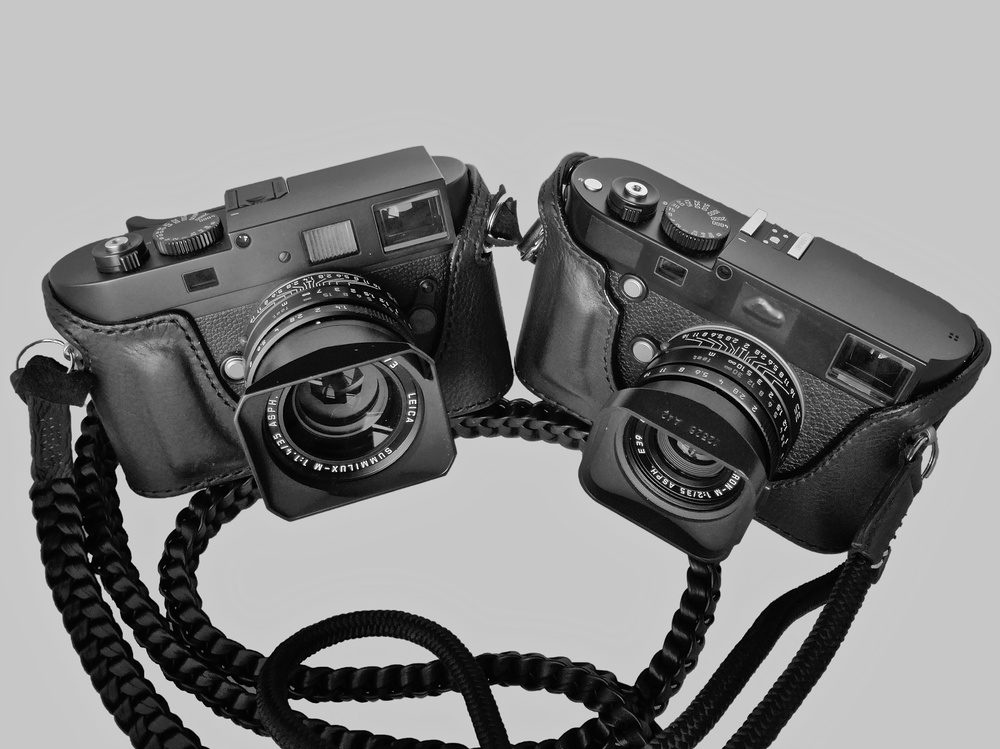 The perfect camera case. Is there such a thing? It's like looking for the best computer bag or the ideal iPhone protector. There is always something different to tempt the fickle. So it is with those lovely retro half-cases so beloved of Leica owners. They are practical, as a protection, and add a bit more grip to the camera. But primarily you are in for the gorgeous looks.
I have searched the world for my perfect half case and have at last found it in Korea of all places, hand-crafted by the Italian-sounding Arte di Mano outfit. Along the rocky path to half-case Nirvana I have tried most offerings. Those I haven't owned I have examined closely on friends' cameras. My conclusion is that the right combination of leather, feel and craftsmanship is hard to find. Above all, fit is important and it is vital that the cut-outs for screens, controls and other bumps are exactly right. Too many cases, including some from leading suppliers, have very sloppy tailoring, especially at the back of the camera. Often, no two cases are exactly the same and this is blamed on the vagaries of hand craftsmanship. Yet, as I have discovered, this is not always the case and there is no excuse for such sloppiness.
I neared the end of my quest when my photographer friend George James acquired an Arte di Mano stealthy black case to go with his new Monochrom. It was love at first sight. This, I thought, is the perfectly crafted half case made from the best leather, a soft matte-black that epitomises what I think of as luxuriously ideal.
The red Artisan & Artist I had picked up secondhand from Aperture in London was no longer good enough for my Monochrom, so I started investigating ways of getting my sticky hands on one (or two, as it turned out) cases from Arte di Mano. George had ordered his from the Leica store in Miami, which is an easy option and possibly slightly less worrisome for the English-speaking customer. Instead, though, I soon found myself in detailed correspondence with the helpful Sejun Kim at his JnK-Handmade workshop in Korea.
Ordering a customised case from the other side of the world needs some thought and, frankly, I was initially a little wary. Would it be as good as George's case, would it fit perfectly, would Sejun interpret my additional requests to the letter? By this time I had decided to get twins–a stealthy all-black case for the Monochrom and an equally stealthy copy for the M (Typ 240). Sejun's standard M case features contrasting white stitching but I wanted black stitching to match the appearance of the Monochrom case.
For the Monochrom I chose the version with the cut-away for Tim Isaac's Thumbs Up grip. It is a standard option at Arte di Mano. This case has a tailored leather back to fit around the screen and controls. In contrast, the M case is of open back design. As I said, I asked Sejun to change the stitching to black to make the case match the appearance of the Monochrom version. I asked for both cases to be lined in green plush material; there is a choice of colours as standard.
Since all custom cases are made to order, I paid in advance (ouch!) and sat back to wait the three weeks Sejun quoted. On the dot a package arrived from Korea containing two perfectly crafted camera cases. It was a painless process.
To say I am delighted would be an understatement. These are without doubt two of the nicest Leica half cases I have ever seen. The fit on both cameras is exceptional, especially so with the back of the Monochrom case which faithfully follows the contours of screen and controls. There is none of that waywardness seen on some competitors' designs. If you are going to spend this sort of money you are entitled to demand perfection and Sejun will provide it in spades.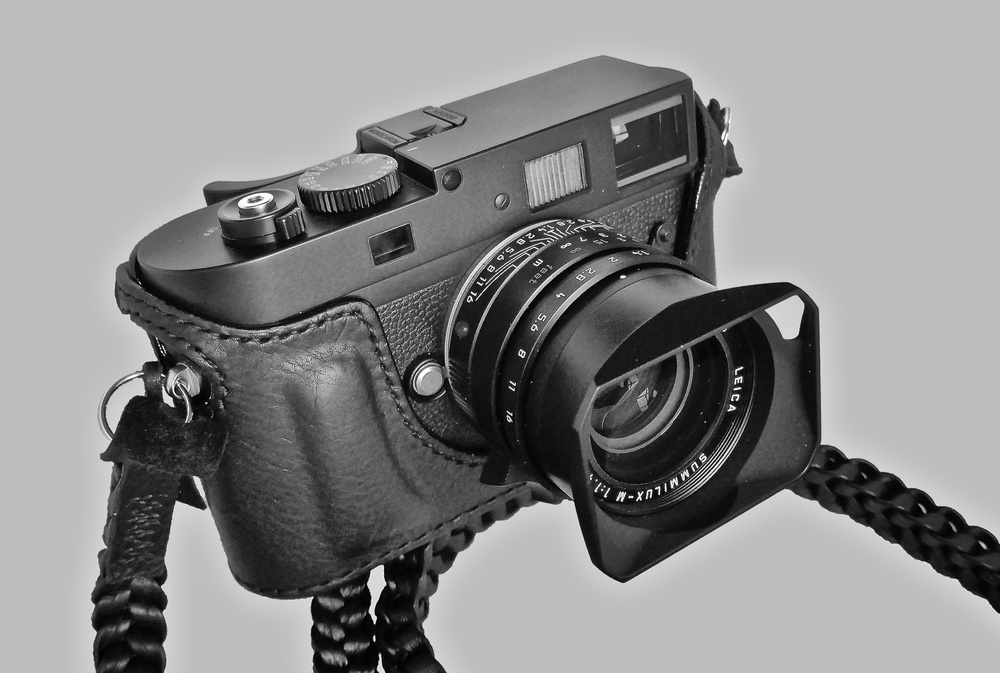 Of the two, I prefer the closed-back design of the Monochrom case; I can delight in the regularity of the fit and the perfect tailoring. The M case is less intricate but the open back makes for easier removal (which, of course, you have to do often to access the battery and SD card). The closed Monochrom design makes it a bit fiddly to get the top cross bar to slip over controls and screen.
Both these cases have perfectly regular flat bottoms which allow the camera to sit securely without falling over. Only with larger heavier lenses (such as the 50mm Summilux in chrome) is there a danger of the camera tilting down. Other cases I have tried are less regular at the bottom and allow the camera to wobble. Believe me, I have seen some atrocious bottoms on my quest for Case Perfect. It's a small point but one that can become irritating if it isn't right.
One of the big conundrums when choosing accessories is whether to go for handgrip or case. I have handgrips for both the M and MM. There is little doubt that they offer maximum grip, especially when using longer lenses. They are techy rather than arty. Nevertheless, a good case can also add to grippiness, but to a lesser extent. My two Arte di Mano cases have a sort of vestigial leather bump at the front, just right for the fingers, and this helps. The standard Monochrom case (as opposed to the Thumbs Up version I ordered) also has a leather bump on the back below the shutter to act as a sort of built-in Thumbs Up. The M camera already features a small metal thumb grip as part of the design.
On balance I much prefer the appearance and feel of both cameras when fitted with the Arte di Mano cases rather than the accessory grips. Still, it's nice to have both options and I will continue to use the handgrips when I feel the urge or for special occasions when maximum grip is required.
These cases are made from soft Minerva black leather and cost around $390 each, depending on specification. The Thumbs Up version of the Monochrom case costs $10 extra, for instance.
Where to find:
This Leica Store in Miami has a good web site which will give you a clear indication of the range and options. Sejun Kim's web site is less easy to navigate, being in a combination of (mainly) Korean and English. You will get the idea, though, and the pictures are pretty. Sejun is eminently approachable by email and will happily deal in English so you can be sure you will get exactly what you want.
After that it is just a case of sniff sniff, feel feel, grip grip and enjoy.