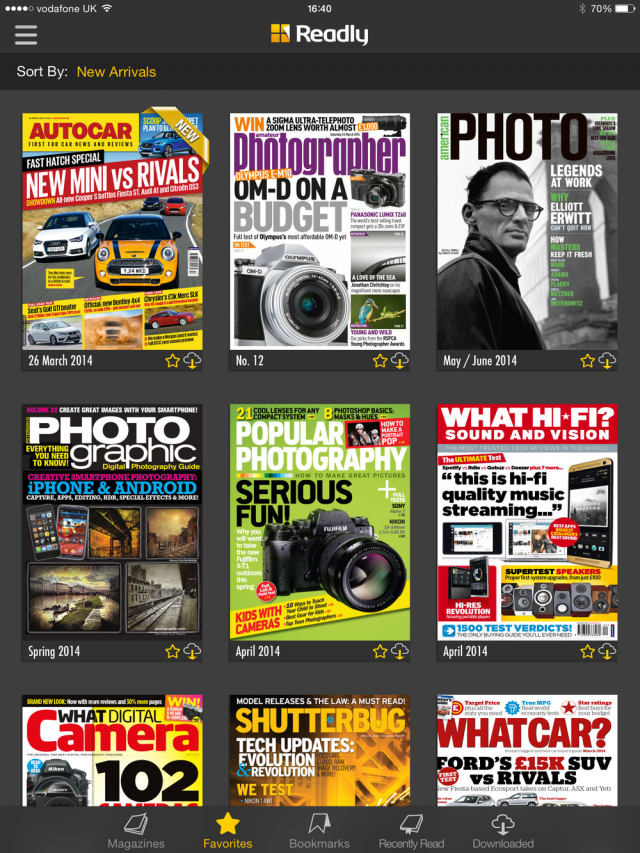 Since I subscribed to Spotify I have hardly listened to my old iTunes library (which, I have to say, consists of old CDs ripped to my Mac many years ago). With Spotify I can roam the musical world and listen to whatever takes my ear.
So I am a ready candidate for a Spotify for readers. It's called Readly and it gives you unlimited access to over 400 magazines together with back issues. At first I was a bit sceptical, having recently decided against subscribing to paywalled newspapers, but I will give Readly a go. I signed up for a two-week trial which gives me the opportunity to browse around and find the stuff I'm interested in. If I like it, which I think I will, the monthly sub is £9.99.
Readly is currently active in the USA, Britain and Sweden. Still, despite not being a Swedish speaker, I find there is still a lot there to interest me. At a quick trawl I've added six photo mags, including our own Amateur Photographer, two British car titles and a couple of audio/hi fi monthlies. Other interests are well catered for, including cycling where there is a whole clutch of periodicals. I was disappointed to find no computer magazines, either in the USA or UK, but I imagine titles will be added regularly.
The same all-you-can-eat approach as Spotify is hugely attractive and encourages exploration and trial and error. It's also ideal to have your entire stack of magazines in one location. Readly is definitely a good idea and I look forward to trying it out.