In the past couple of years I've become addicted to photo fairs. I will travel miles for a good old rummage among the old cameras, accessories and books. There is usually something of interest although it is often a needle and haystack job. Still, that's all part of the fun, the possibility that you could unearth a little gem that you have long wanted—or, even, a gem you didn't know you wanted until you saw it.
Back in May I was at the large London fair organised by the Photographic Collectors' Club and wrote about it here; today I was out at the crack of dawn to travel to Sidcup in Kent for the small and South London Camera Fair. Organiser George Kozobolis (yes, originally from Greece) is enthusiastic and knowledgeable, a good photographer in his own right. You can even buy a bottle of virgin olive oil straight from his brother's olive groves. Now that is definitely something you wouldn't have expected. These fairs are an eclectic mix of old and modern and I have become used to seeing the same dealers' faces as they do the rounds of the local events.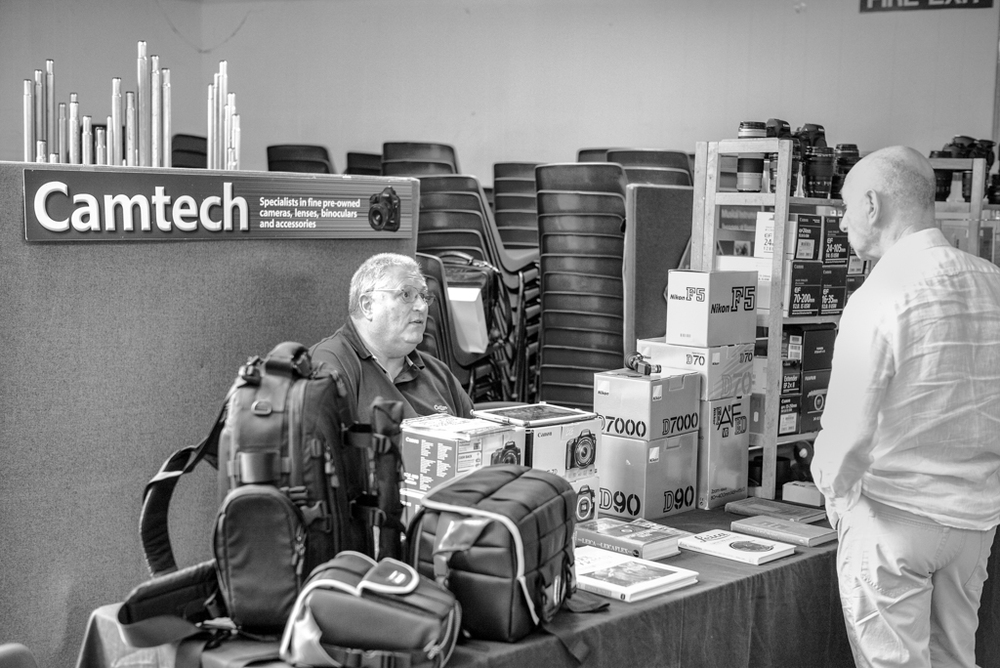 I was an early bird visitor at 8.30 am—we all know what they say about catching worms. I admired several nice Leica Ms and lenses at a regular exhibitor, Camtech, which is a familiar name in the advertisement section of Amateur Photographer, but didn't feel in a buying mood.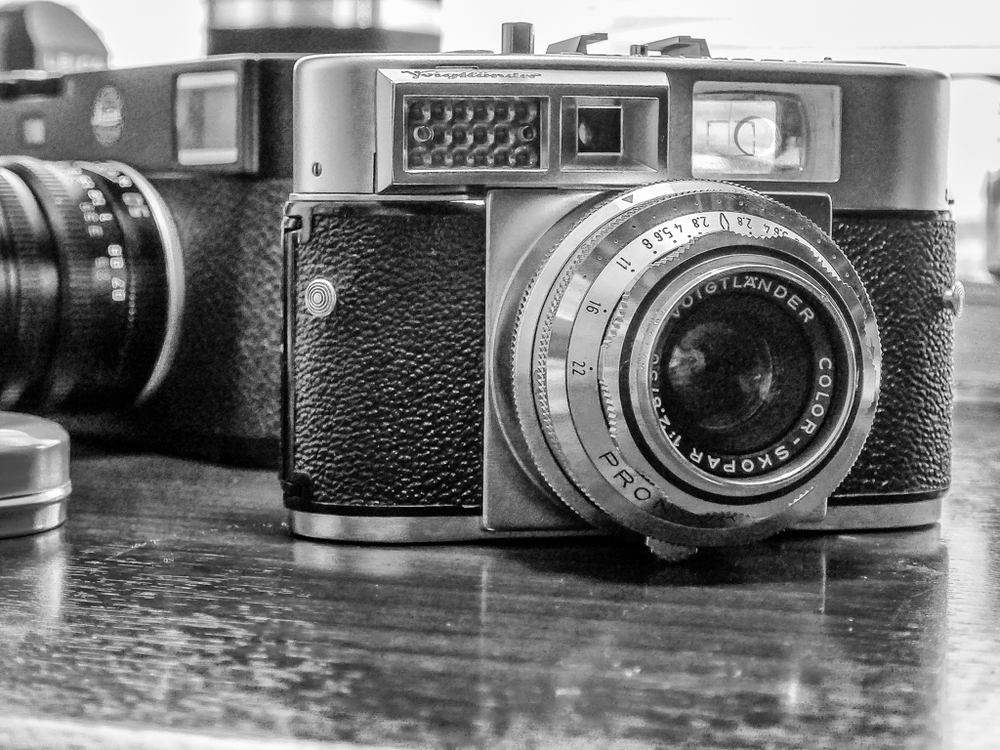 In the end I didn't come away empty handed. I spied a really clean and apparently fully working Voigtländer Vitomatic II at Webster's Cameras and pocketed it for £30. Probably this was a bit over the odds but it is in excellent condition for a 56-year-old compact. And I was feeling in an expansive mood since I hadn't found anything else I desired. I am feeling quite pleased because this camera, in its day, was an excellent choice. With its fixed Color-Skopar 50mm f/2.8 lens but relatively slow (1/300s minimum) Prontor-SLK shutter, it is an extremely smart and usable little film camera even today. Not only does it have a coupled light meter (which appears still to be accurate despite the ancient selenium cell), it is a full rangefinder with a super large viewfinder and bright framelines. Any Leica owner will be immediately at home.
The design has its quirks, with a drop-down flap, similar to a modern battery compartment cover, which must be released before swinging back the loading door, and a flush rewind knob which has to be freed by a rather unobtrusive lever. The film counter window is on the bottom, exactly where you wouldn't expect to find it. Still, sans instructions, I did manage to load a roll of Ilford HP4 and I was out taking pictures in no time.
This is a camera I could get used to using and it will complement my Leica M3, IIIf and MP for when I am in a film mood. It is worth £30 just to be able to sit and look at it.
Future South London Camera Fairs take place on September 7, November 9 and December 7 at Kemnal Technical College, Sevenoaks Way, Sidcup, DA14 5AA.
All photographs taken with Leica M and 50mm Summilux ASPH except the Voigtländer shot which comes from a Leica C.