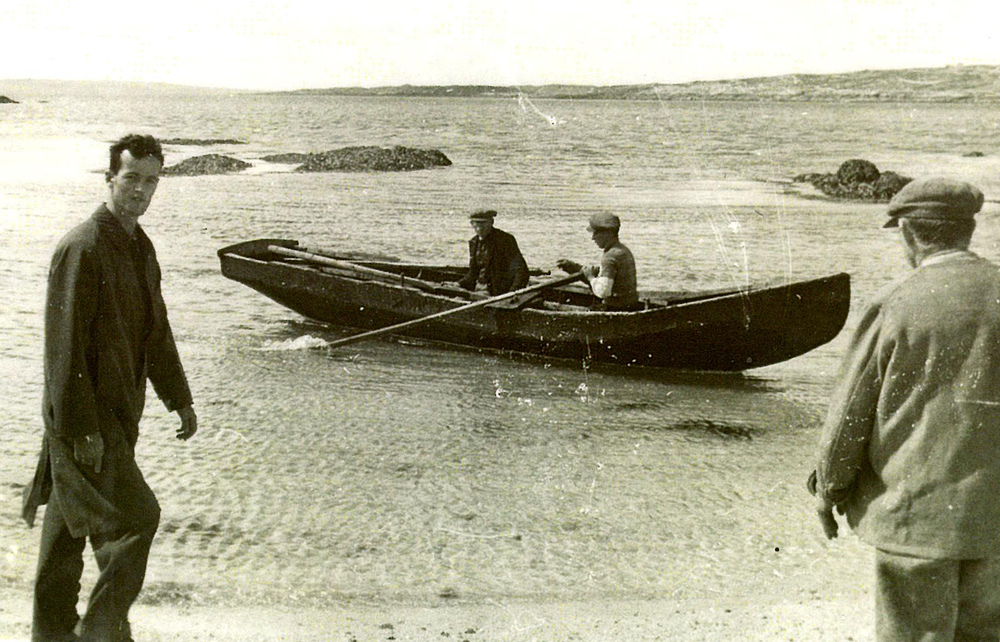 The Woolwich Leica story by Mike Evans last week reminded me that I, too, have a copy of The Leica Manual; in my case this is a 1937 edition which I keep on my iPad for reference. And to add a bit of spice to the story, I recently acquired a full set of original user manuals for most Leica LTM and M models.
It was, however, the receipt from the Woolwich chemists that really got me thinking. I can top it with an earlier receipt, from 1940, and produce the actual camera that my father, Anthony Fagan, purchased, for nine guineas, on January 31 of that year.
The bill, complete with a twopenny Irish stamp (the same stamp duty rules on receipts applied here in Ireland as they did in the United Kingdom) is for a Super Baldina 35 mm folder. Again, as with the Woolwich transaction, it was sold by a chemists, Slattery's of Parnell Street in Dublin.
So what was nine guineas (nine pounds and nine shillings) worth in 1940? The answer is a lot of money by modern standards. At the very least, based on the cost of living index, it would now be about £500. However, according, to a well known camera valuation website the sale price of this camera today, in average condition, would be a mere £60.
Baldina v. Hedgecock
It's interesting to compare this purchase with the Leica IIIc and lens bought by Mr. Hedgecock in Woolwich in 1952. In the intervening 12 years the second war had come and gone, taking with it a sizeable chunk of the buying power of the pound sterling. The £9. 9s. 0d of 1940 would have been worth around £32 in 1952, just about one third of the cost of the second-hand Leica purchased by Mr. H. in that year. It makes sense in terms of relative values. This relative value holds good even today in used market valuations, as I paid about £200 for a 1949 Leica IIIc in average condition some years ago.
The Super Baldina folder with its f/2.9 Meyer Görlitz lens and Compur shutter, is still in good condition after 75 years. I don't make much use of it mainly because the lens isn't the best; there were better optional lenses available at the time.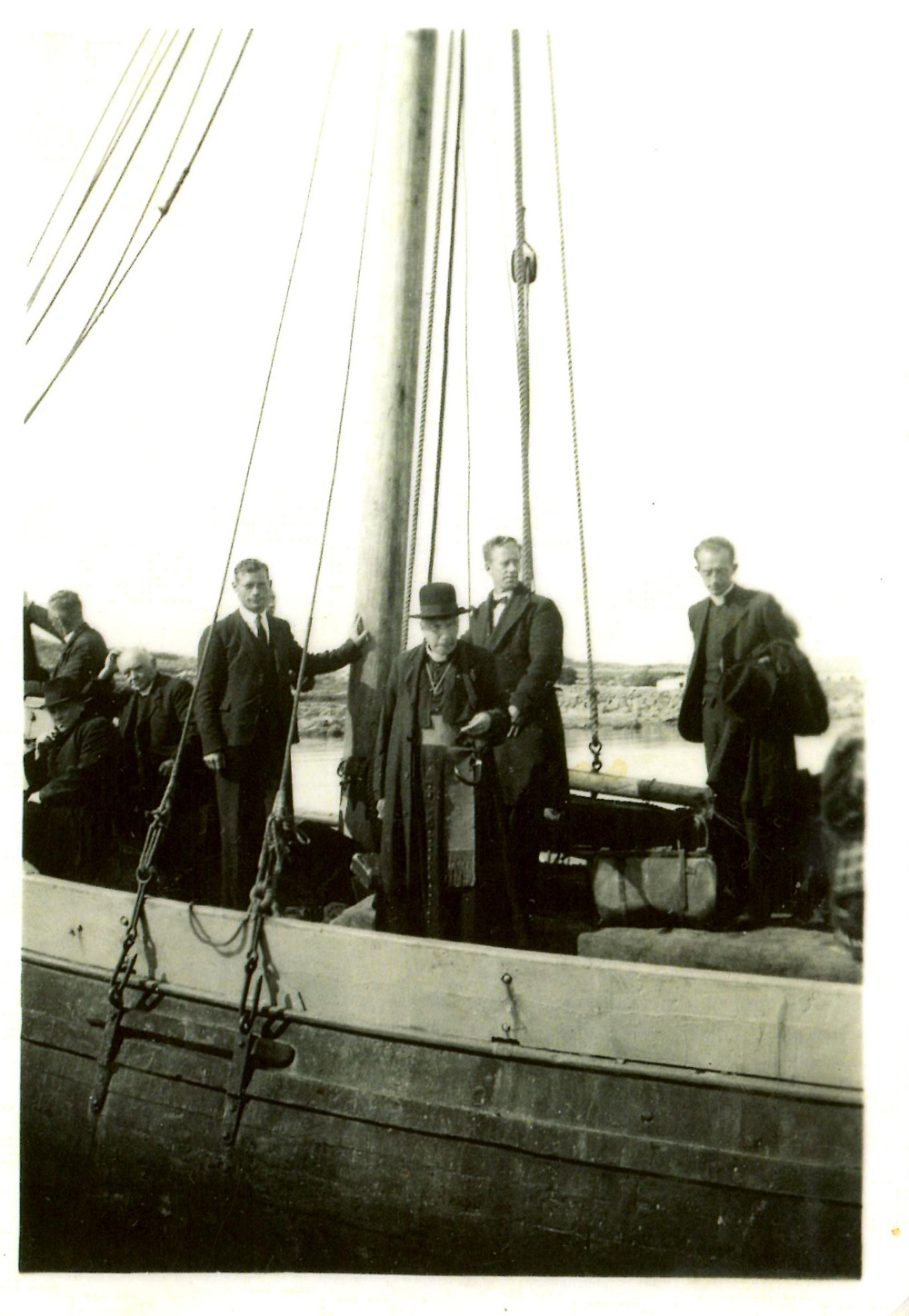 East German enterprise
Baldinas were manufactured by Balda Werke in Dresden. Its Baldina and Super Baldina folders were regarded as "medium priced" at the time. The Meyer optical company, of Görlitz near the Polish border in eastern Germany, later became part of the VEB Pentacon organisation and all lenses were rebranded as Pentacon. It was the second East German lens supplier after Carl Zeiss Jena. The Meyer f/2.9 was a low-cost lens fitted to the cheaper Baldinas. More expensive models were graced with high-end Schneider Xenars and Xenons or Zeiss Tessars and Biotars.
Above, left to right: Galway Hooker, side view; Galway Hooker reflection; Galway Hooker with harbour and cottages; traditional carrying of the Currach. Click on images to enlarge
Galway Hooker
What type of photos did my father take with the camera? He was 24 at the time he bought the Baldina and, until he got married at the age of 31 in 1947, he went on his holidays most years to a place called Carraroe in Galway in the Irish (Gaelic) speaking part of the West of Ireland called Connemara.
Included here are some of the many photos he took there with this camera. The first of these is of a sailing boat called a Galway Hooker. These have red sails (not that you would know from the photographs) and are used for fishing and other duties around the many bays and islands in that part of the world.
The shot of a bishop (well, senior cleric anyway!) blessing a Galway Hooker, stands out. This photo is somewhat timeless and it looks like it could have been taken anytime between the 1880s and the 1950s. Another picture includes my father, the young man in the long coat on the left, and another traditional boat called a Currach.
Currachs were originally made from animal skins over a wooden frame but in more recent times canvas was used as a better substitute. Can you believe that men went shark fishing in such boats? The beach here is a coral strand, one of the few in these islands and the water is as clear as you would see in the Caribbean.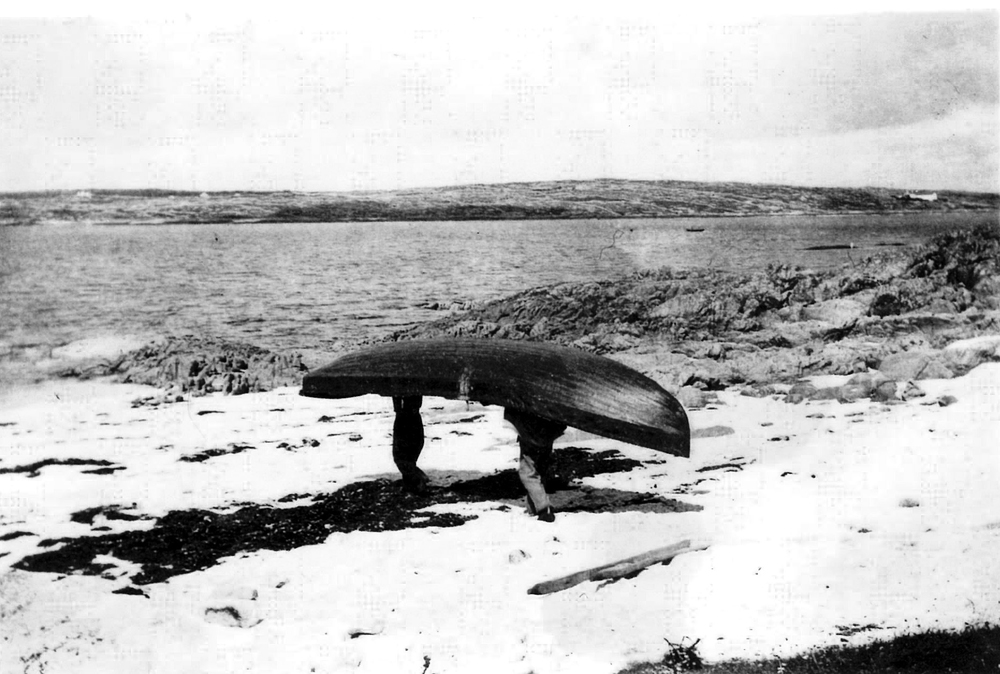 Making hay
My Dad's photos really are images from another era. As kids in the 1960s we went to Connemara on our holidays but we did not think anything of what we were seeing. At that time Connemara retained a lot of its traditional ways. My father brought us to tea with the O Cathain's (O Kanes), the family he used to stay with in Carraroe, and we went down to play on the coral strand. We also enjoyed fishing and saving hay and chasing after donkeys and all the other mischief city kids get up to on a visit to a place like that.
The family we stayed with in the 1960s were the Currans. This was further back in Galway Bay nearer to Galway City but they still had the stone walls and all the trimmings. Mr Curran's sons had been in the UK 'working on the buildings' and they had built him a nice new bungalow. During the summer he would move back into his thatched cottage and rent out the the bungalow to city folk like ourselves. We used to go up the cottage in the morning to get a jug of milk. You can imagine our surprise when we found that the milk for our cornflakes was still warm!
All of this has changed utterly in the last 50 years. Thanks Mike for bringing me back to my father's time through a simple image of a receipt for a camera.
Finally, a look at the breathtaking setting for the photographs in this article