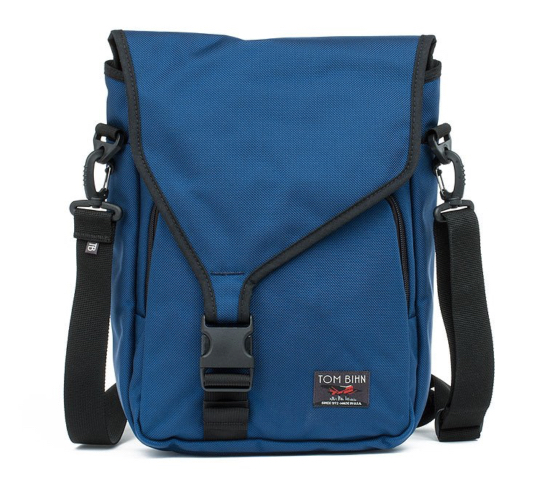 In common with my colleague Bill Palmer (our Fuji guru) and many other photographers I know, bags and cases loom large in my consciousness. I am not alone in having a thing about bags. I love my Billingham Hadley Pro, for heavy lifting duties, and the little Hadley Small. I even slot a Hadley Small "bucket" insert into a backpack when travelling.
Sometimes, though, a bit of lateral thinking doesn't go amiss. A couple of weeks ago I dusted off an old Tom Bihn Ristretto vertical laptop bag. This used to be my constant companion around town or on vacation. It takes an 11in MacBook Air or 12in MacBook plus a load of other stuff you might need on a day out. But I never thought of it as a camera bag and that's why it had been languishing in a cupboard for several years. I've been concentrating on cameras and seldom leave home without one. So camera bags were the vogue.
Sagging
Towards the end of the last year I found that my usual bags, the Hadley and, even more so, the Hadley Pro, were uncomfortable when laden. I found my left shoulder sagging and began to suffer upper back pain when walking. What to do?
It was the Tom Bihn "Absolute Shoulder Strap" that got me thinking. This accessory for use with most Tom Bihn bags, has extra thick padding and features a "patented, internal control-stretch system that's a lifesaver when carrying a heavy bag." I know, we've heard it all before. But in this instance it really does work. I've used it with my Tom Bihn Empire Builder bag and that's capable of packing a really heavy load.
Mistake rectified
As I remember from past experience, this magical shoulder strap works so well on the much smaller Ristretto laptop bag and I decided to see if it would help my upper-back problems. Unfortunately the Absolute strap isn't an option for the Billingham bags — they have permanent stiched-in straps. So I began to wonder if the little Ristretto could double as a camera bag. For some reason I'd not thought of this before. Mistake, as it turns out.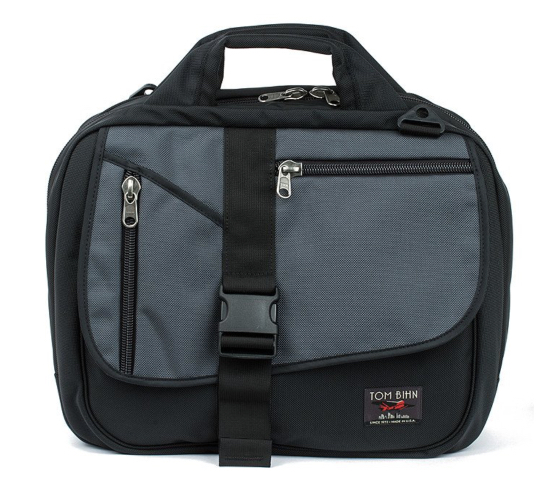 So down came the Ristretto, on went the Absolute Shoulder Strap and in went my Leica Monochrom and current lens of the week, the 28-35-50mm Tri-Elmar-M (which I will be writing about soon). Easy peasy.
The Ristretto swallows an M camera with absolutely no problem and there was even space to add a lens or two. I put the camera in the padded laptop compartment at the back of the Ristretto (this pocket seems to expand without limit), leaving the large centre compartment and the front organiser pocket free for other things.
I then wondered just what this Ristretto could handle. What about the Leica SL with the 24-90mm zoom? Never, I thought, but I was wrong. Slip in the SL lens first and the it sits there, fully protected and ready for action. With this combination in the back pocket plus my usual stuff (pens, notebooks, spare SD cards, batteries, a prop stand for my iPhone 7 Plus, a backup battery for the phone and a Logitech Keys-to-Go keyboard) and I was ready for action. This little lot, including the bag, tips the scales at 3.8kg. It's a pretty hefty load, yet it doesn't feel too unwieldy or bulky. The size of the SL and lens isn't apparent when you sling the bag over your shoulder with the Absolute Shoulder Strap.
The Ristretto is a slim little number but turns into a veritable Tardis when ready for the road.
Springy
That strap really does perform with such a weight. It has a springiness that helps cope with the laden bag and the large foam shoulder pad sits firmly in place, even on a slippery jacket. It feels like part of your body and, much to my surprise, I can skip down the road, SL at the ready, without any feeling of strain.
This is a bit of a mystery. How can a simple shoulder strap perform such a miracle? I'm not sure, but I do know that it works. For over two weeks I have been using the Ristretto with a variety of cameras and none (not even the SL) has been too big for comfort. Of course, this isn't a camera bag as such. It has its limitations in the lack of separate containers for lenses or a second camera. But as a day bag it works really well. With it slung over your shoulder you can forget it as you cannot forget a normal camera bag. The vertical construction has something to do with it, I suspect, but it really works. The Ristretto can also accept a wide range of Tom Bihn pouches and accessories which I will cover later.
For over ten years I've been a Tom Bihn fan, although I lapsed during the last three or four of those years. While the Ristretto has been sidelined, however, my Tom Bihn Synapse 19 backpack has been in constant use for travelling. It's a well-thought-out backpack with lots of compartments and swallows all the things you need for travelling, including cables, computer, cash, passport and documents. It even has two side pockets which double as organiser pouches or containers for a small water bottle.
Camera insert
For me, though, the beauty of the Synapse 19 (there is a larger Synapse 25) is that it accepts the padded insert from a Billingham Hadley Small camera bag. This holds most of the camera stuff I generally travel with, leaving room on top for other gear. On days out I often pack a waterproof or extra jumper at the bottom of the bag, allowing the Hadley insert to sit on top so that the camera is easy to get to. It just works.
Tom Bihn, for it is he, operates out of Seattle, WA, and produces an astounding range of thoughtfully designed travel gear. Enter his web site at your peril. I'm telling you, you will be hard pressed to leave with your credit card unstretched.
It isn't only the bags that get the juices flowing, it's the bewildering array of organiser pouches, straps and accessories. In the past I've maxed out on Tom's organiser punches in a wide variety of sizes and designs — some with clear plastic fronts, some with mesh, others including dividers for cash and credit cards. I use these little organisers every day and in profusion when travelling.
Accessory pouches
All Tom's bags feature a number of internal rings which serve as attachment points for all the accessories. Add a key strap or two (in various lengths) and all your pouches can dangle safely, easy to find and impossible to loses. As an inveterate looser of things, I even employ a clear organiser pouch as my main wallet. It holds cash and credit cards and sits in the left-hand trouser pocket, safe from pickpockets. I use an accessory key strap to attach it to a belt loop for added security.
On at least two occasions in the past five years I've found my wallet dangling from the belt look and realise that without the security of the strap I could have lost it. On one occasion I was even on the point of calling to cancel my credit cards when I found I was sitting on the wallet (having traced the length of the little strap).
Tom Bihn is system right enough. And I'm delighted I have renewed my previously happy coexistence with the Ristretto bag. With the comfort of the Absolute Shoulder Strap, the Ristretto is rapidly becoming my favourite photographic and computer day bag.
Product shots: Tom Bihn
_______________
Subscribe to Macfilos for free updates on articles as they are published. Read more here
Want to make a comment on this article but having problems? Please read this