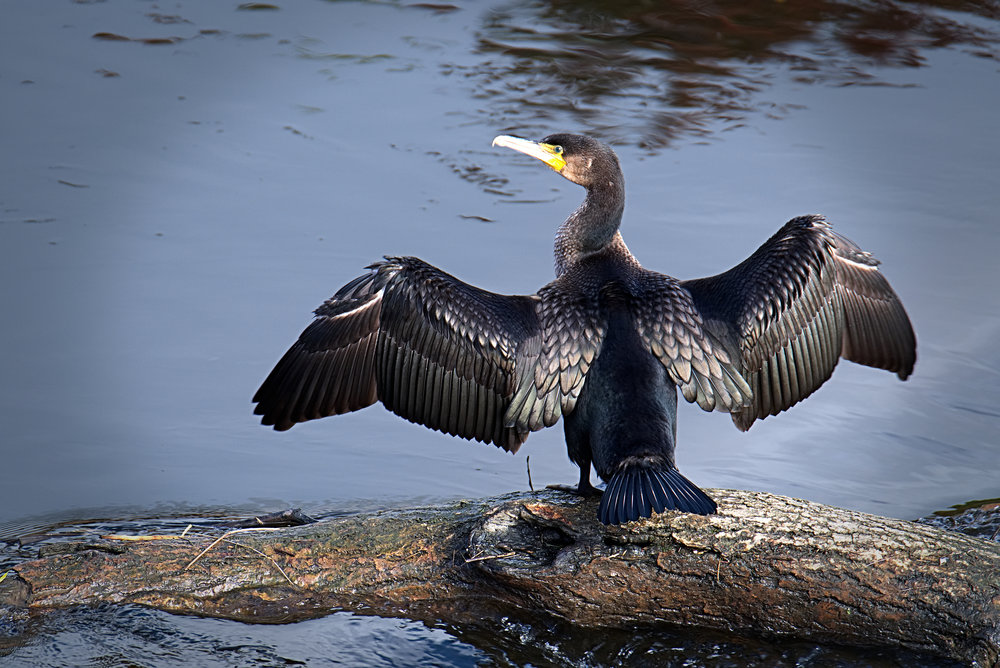 Cormorants have had a bad press over the years. Historically they have been portrayed as a symbol of evil and greed, as a dark bird of evil omen, often seen to be harbingers of shipwreck and death. Shakespeare indeed made his own contribution to this negative depiction of cormorants in four of his plays. In the next four hundred years many others have followed suit and, even today, to describe a person as a cormorant is the opposite of a compliment.
As told by Richard J King in his superb natural history "The Devil's Cormorant", (University of New Hampshire Press 2013), this darker view of the cormorant was particularly prevalent in the Western world. There was however another side to the picture in China, Japan and some other Eastern countries where the art of cormorant fishing was an honoured part of national life and culture. Junji Yamashita, Japanese master cormorant fisherman, encapsulated this alternative view in his statement: "The cormorant is the bridge between God and man". However, the Chinese could certainly see both sides of the picture and sometimes colloquially described cormorants as "black devils".
As King continues: 'Behold the cormorant: silent, still, cruciform and brooding, flashing, soaring, quick as a snake. Evolution has crafted the only creature on earth that can migrate the length of a continent, dive and hunt deep underwater, perch comfortably on a branch, walk on land, climb up cliff faces, feed on thousands of different species, and live beside both fresh and salt water in a vast global range of temperatures and altitudes, often in close proximity to man."
I like cormorants a lot and spend some time watching them, albeit a fraction of that spent by Richard King. From afar, they can seem less colourful and less immediately attractive than other water birds. However, they display an astonishing range of colours in the right light and particularly when they spread their wings out to dry. I hope that this comes across in some of these images.
All my photographs of cormorants have been taken at the weir in Chester, UK, which is in my opinion ideally situated for photography, being within easy walking distance of the city centre and blessed with a splendid variety of coffee shops nearby for refreshment of weary photographers.
Most of these images were taken with my Fuji XT2 with battery grip using the XF 100-400mm lens with the 1.4TC. I have found this to be a very satisfactory combination for wild life photography. In particular, the 1.4TC really extends available reach without in my opinion compromising the image quality of the lens. This leads me to consider the possibility of ultimately acquiring the 2.0TC, although reviews from other users caution the need to adapt to the inevitable loss of another stop. It would presumably be very much restricted to good light conditions.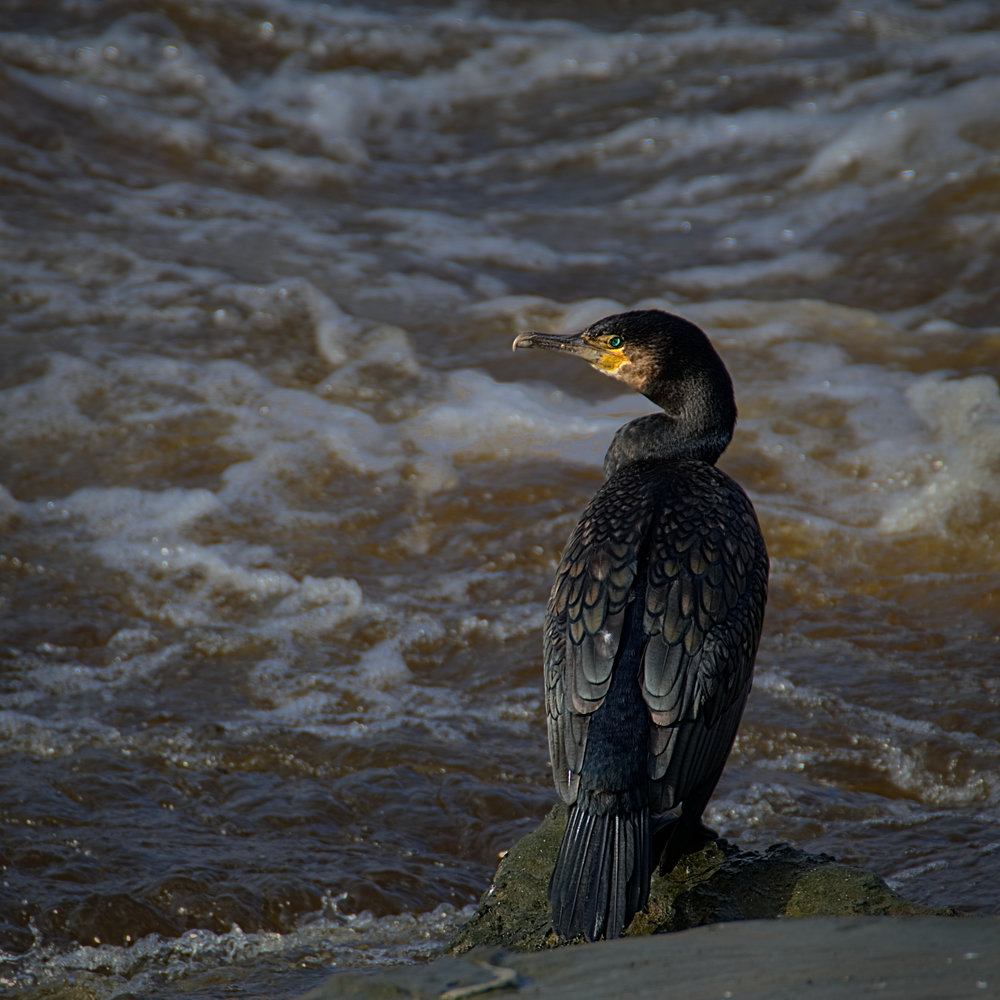 Sometimes I use a monopod for added stability but some locations near the weir are fortunately provided with useful bracing and supports in the form of iron railings and the stone parapet of the bridge over the river Dee.
As King notes, cormorants are often found close to man and at Chester they are not afraid of road traffic across the bridge or of pedestrians on the banks. They are however well protected by the rushing flow of the water over the weir which then swirls around the rocks below the weir where the birds rest up and spread their wings to dry between fishing expeditions.
Of course, the cormorants are visitors to the weir at specific times and when river conditions are favourable for good fishing. They are often to be seen in the early morning but again only if the river levels are low enough for their roosting rocks to be visible. When the Dee is in spate, the cormorants fish elsewhere.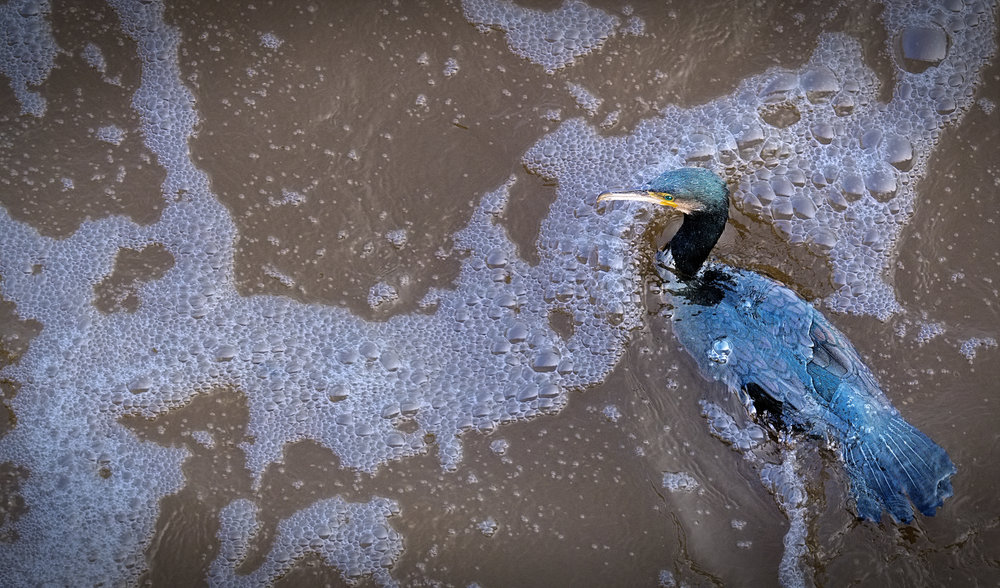 In some respects therefore, cormorants are ideal wild-life subjects for the photographer. However, it isn't easy at all to photograph a cormorant with its catch. Once they have flipped beneath the water, they are most unlikely to re-appear at the same spot. They are magnificent swimmers and can stay submerged for minutes, re-appearing thirty yards, or more, away with their catch. It is therefore almost impossible to keep ones eye to the viewfinder, through a telephoto lens, in the hope of spotting their return. Many times I have "lost" an individual bird through failing to see where it had re-surfaced.
The three images of the cormorant with an eel in its beak which follow were taken two years ago with my Canon 5D II. I am still hoping to better these with my Fuji kit which is so much more capable but so far the cormorants haven't obliged!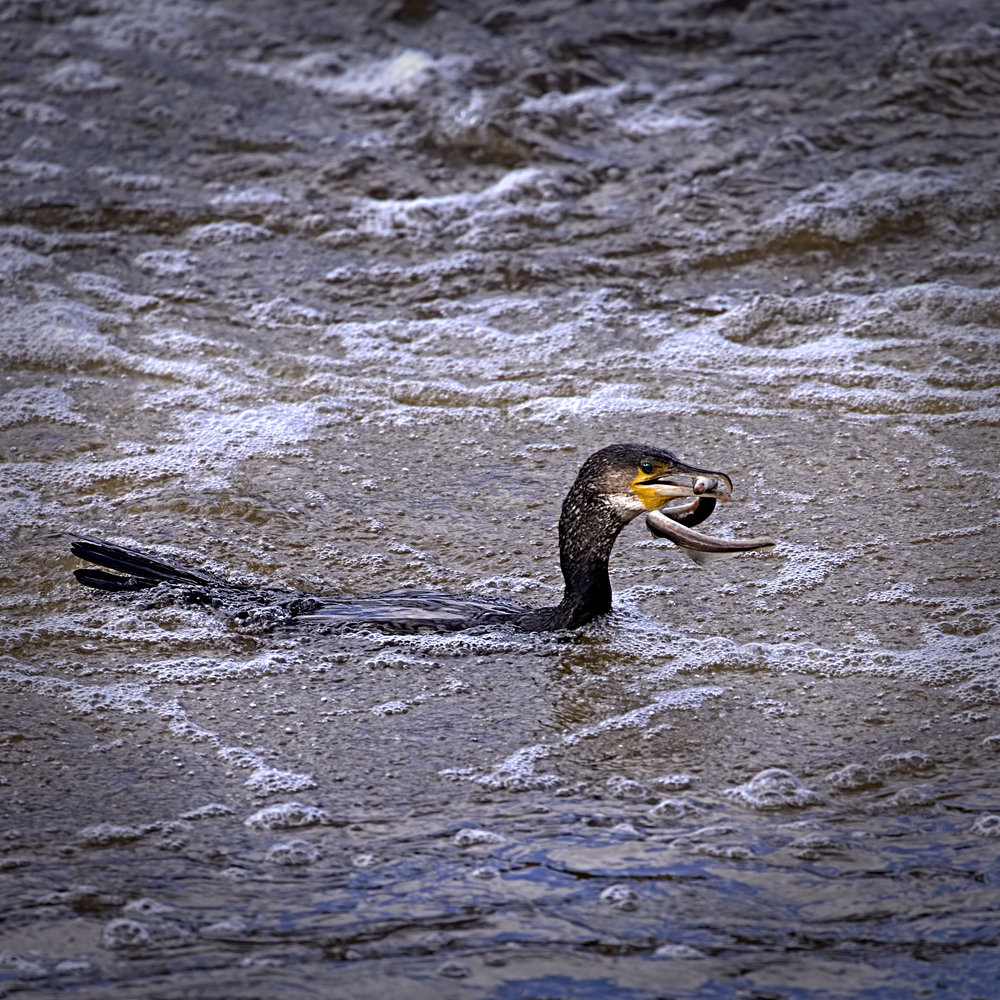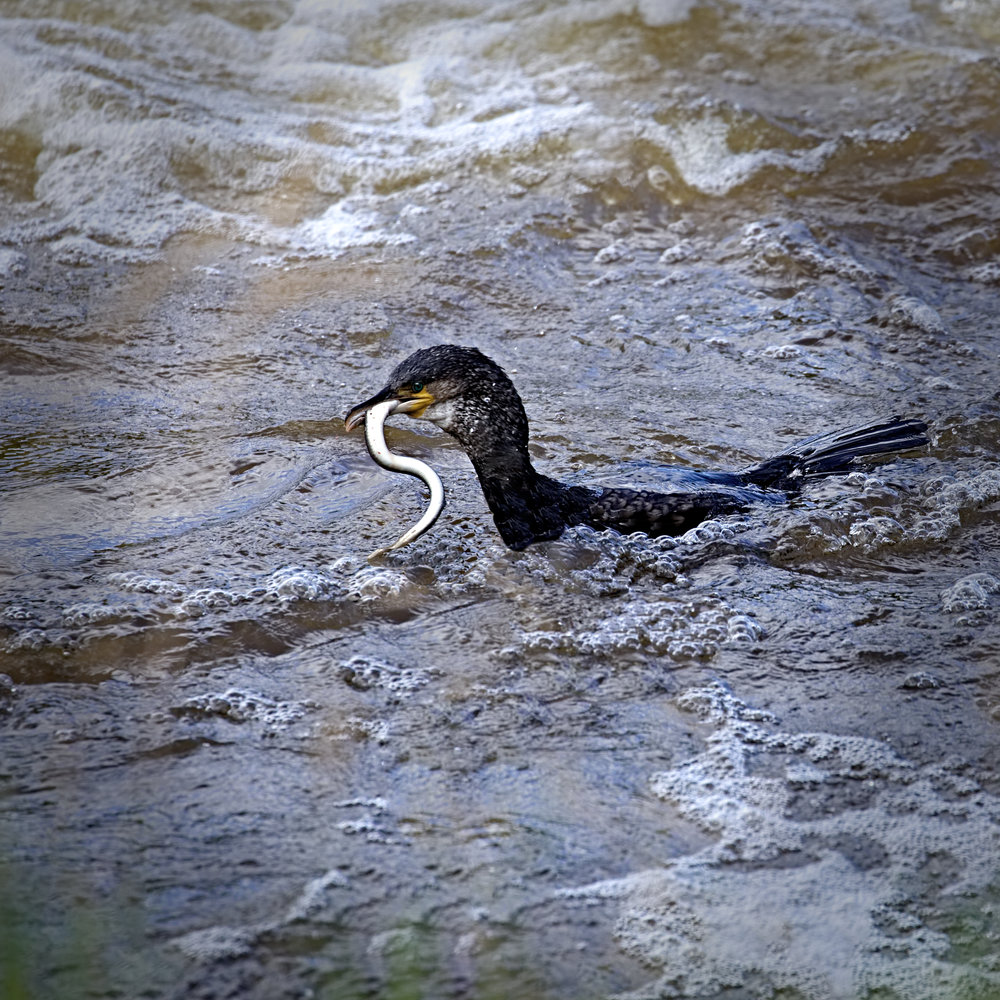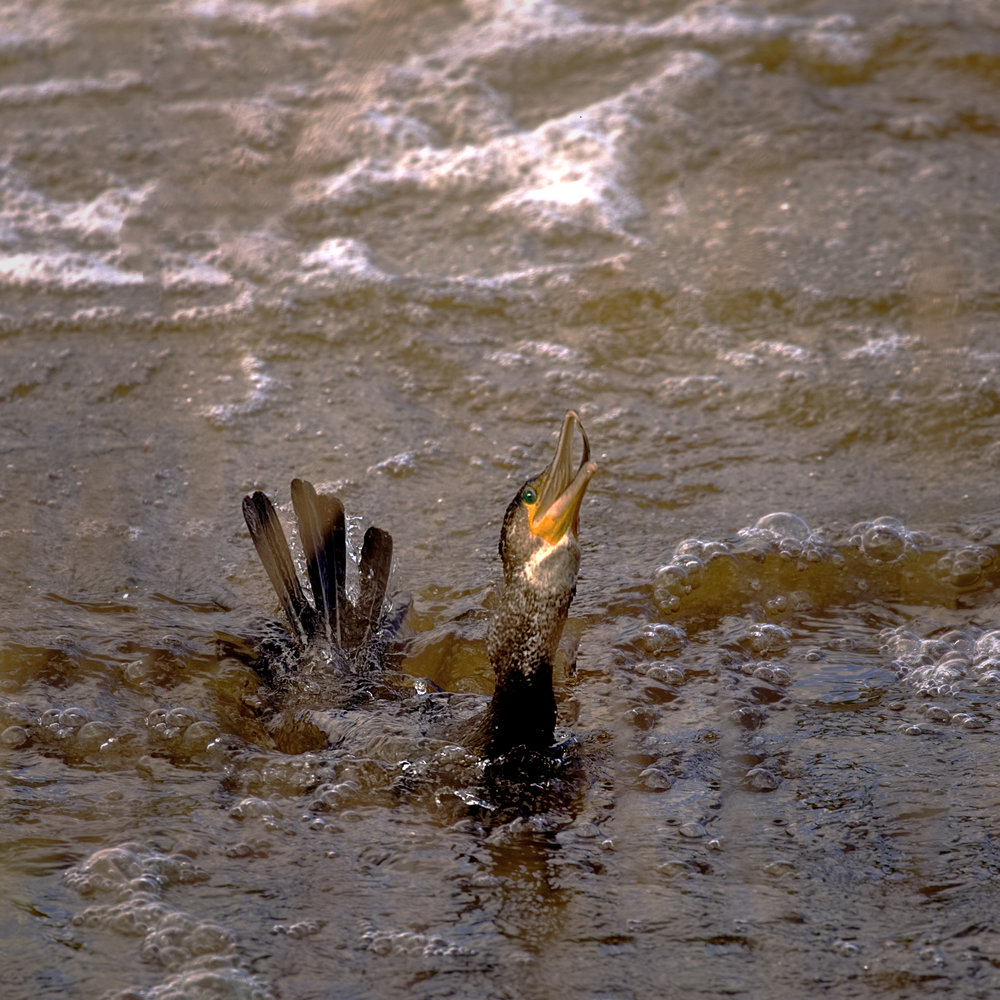 I have always been interested in cormorants but now I think it's time to back Richard J King in his magnificent re-evaluation of this interesting and beautiful bird. Perhaps this may encourage others to see the dark cormorant in a new light? Apart from thoroughly recommending King's book to them, I shall however leave others to make up their own minds.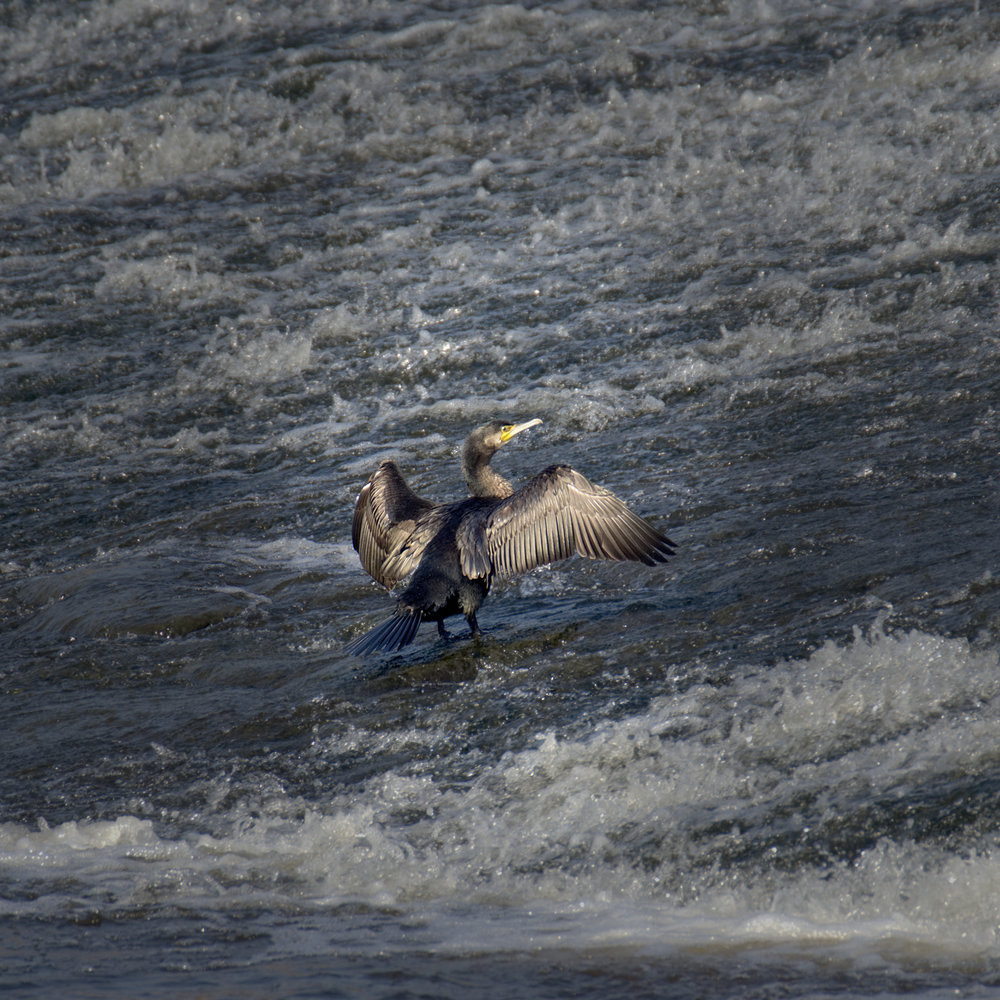 ________________