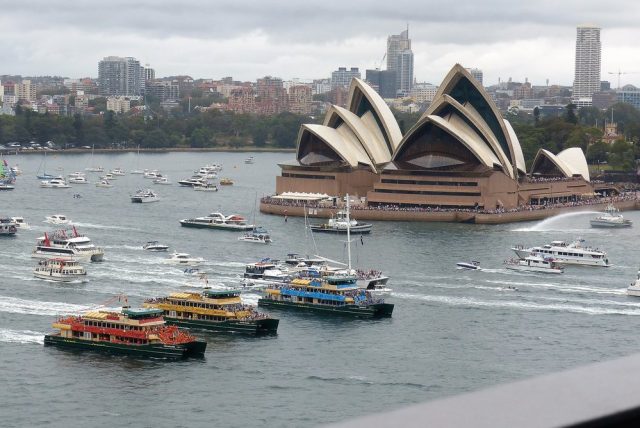 Ansel Adams can be paraphrased as saying that if he got twelve good photographs in a year then it was a good year. Admittedly he did use large format plate cameras, so life wasn't as easy for him as it can be for us with our digital cameras and markedly higher image and reject rates. However, it's now the start of 2018 and one good pic per month is an aim that I'm setting for myself this year.
So, with January nearly over I set out on the Australia Day holiday, January 26th, to try to get a photo that I was happy with, for that month at least. More on success or otherwise at the end of this short discourse, but let me first set the scene.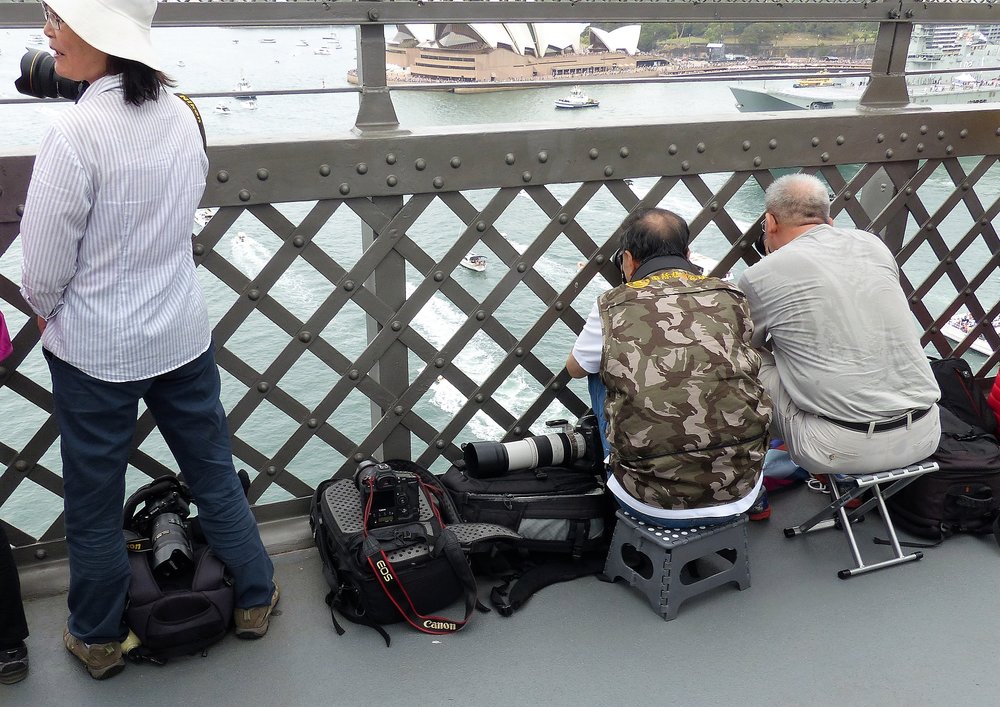 In Sydney an iconic location known to all is the Sydney Harbour Bridge. So, on Australia's celebration day what better way to look for a photograph than to take a walk across the footpath on the bridge. Starting in the city we, my better half and I, found the old sandstone steps up to the bridge and set off on the quite long walk across it. We were surprised at how many people had the same idea. Folks out on a leisurely stroll, and a huge number who had set up camp for the day looking down to the harbour through the security railing. Most of them had Nikon and Canon DSLRs with big bazooka lenses.
I too had decided that since the bridge is quite high above the harbour I would need a lens with some reach. So it was a good day to use a now-nearly-ancient Leica V Lux 4 that I have been given or loaned (not entirely sure which of those) from my daughter-in-law as she continues her journey into the world of top-end Canon. And for those of you who have not yet thought of it, yes it is a "bridge camera"! Boom Tish, I apologise for that one, but I just couldn't hold back.
As we started across the bridge I realised that the day could be a disaster. Although it was warm and humid in Sydney, there was no sunshine anywhere. The light was terrible. Dull grey cloudy skies reflected as dull grey water and a great big dull grey navy ship stationed in the middle of the harbour. Very flat gloomy outlook. It was to be a challenge for sure.
However, it was fun to have a playtime with the V lux 4. They are great little cameras. A Leica refined clone of the Lumix FZ200. Less than half the size and weight of a regular DSLR with a long zoom. Small sensor yes, but the Leica 25-600mm equivalent lens with its constant f/2.8 aperture produces excellent images in daylight, even on a dull day. Halfway across the bridge I took a general harbour shot through the security railing, then zoomed right in on the the warship and took another pic. Yes, the zoom and range were working perfectly, even if I had not yet seen any subject matter worthy of a pic that I really liked.
It was as we approached the northern end of the bridge that I finally got two shots that I was happy with. One was a classic harbour photo with the opera house in all its glory, enhanced by the three ferries racing each other in front of it. The second was a view down from the bridge into Bradfield Park where people were securing their real estate for the afternoon and evening entertainment to come. Yes, it was a dull and murky day, and some sunshine would have made it perfect. But we play with the hand that we're dealt, and at least I finally had two photos to choose from for the month of January. Phew.
___________