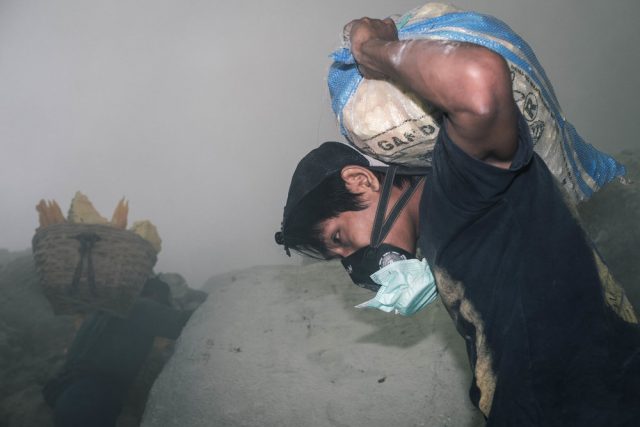 There are many questions and concerns which arise when planning a journey. Choosing the right camera and gear is often not easy and invariably a challenge. For me though, the decision was straightforward. As a street photographer, I am very comfortable with using the Fuji X100F in my hometown Berlin. Being very experienced with that camera, I chose it as the tool to capture my project on Mount Ijen in Indonesia where I wanted to photograph the local sulfur miners.
The Idea
I was travelling for more than three months in Southeast Asia. Most of this time I spent in Indonesia. For around six weeks I stayed with a local family in the mountains near the famous Ijen. The Ijen is well known for its "Blue Fire" which attracts hundreds of tourists every night during the summer period. However, The Blue Fire wasn't my first choice as a subject. I wanted to document the incredible work the sulfur miners do at the crater every day.
The Ijen is a rich resource of sulfur, and the miners carry over 70kg of the element every day — from the bottom of the crater right to the top. To me, such work seems unbelievable, and I wanted to show this dedication to the rest of the world.
Why The Fuji X100F
As I already mentioned, I am very familiar with this camera since I use it for my everyday projects on the streets of Berlin. Of course, I was apprehensive about the camera's ability to survive in the toxic environment of the volcano crater. The Ijen is an extremely unfriendly environment, to say the least. Toxic smoke and dust are rises constantly and covers not only the camera but also the photographer. Therefore I had to work while wearing a gas mask to give myself as much protection as possible.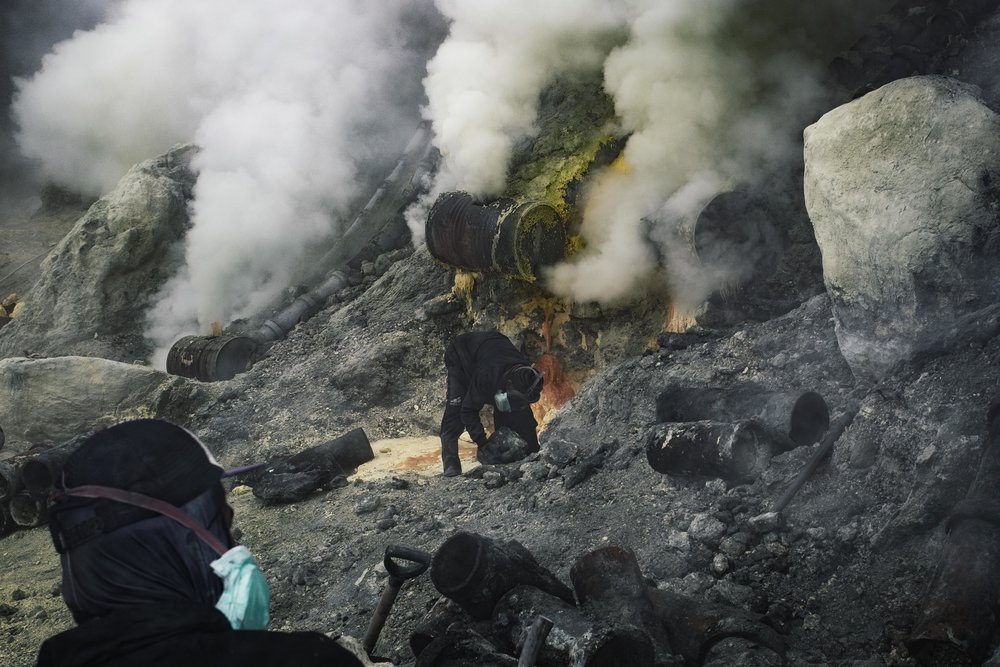 The X100F seemed like the perfect choice for the task. The 35mm full-frame equivalent lens proved ideal on these narrow mountain paths. With a lens like this, I have the flexibility to photograph people as well as the landscape and general environment.
Another advantage of this competent mirrorless camera is that it features a fixed prime lens and therefore should be less vulnerable to outside influences. With an interchangeable lens design, my concern would be that it would be much easier for the dust to settle on the sensor via the lens mount. I wouldn't change lenses there anyway, and I am very confident in using just a single prime lens. Therefore the Fuji X100F was the perfect camera for me.
How did it turn out?
In my opinion, the camera did a lot better than I did. While I was so exhausted from going up and down the crater and couldn't really focus on taking pictures for a very long time, the camera did fantastically well. Of course, there was a little dust settling on the body, but it had no impact on the image quality. Even now, a few months later, I have not had to have the camera serviced, and it still works like a charm.
The images turned out great in my opinion, and I couldn't have imagined any other camera would be a better option for me to do this project. The camera is relatively lightweight, which helps in the hiking and walking on the steep and challenging paths of the mountain. It doesn't seem like much, but at the end of the day every gram that you can save will have a noticeable impact and leave you feeling better.
Mirrorless cameras for projects
I know that mirrorless cameras are not the most popular for photojournalism projects and most professionals still use Canons and Nikons for their work. But this has more to do with experience and their whole gear lineup. They have already invested a stack of money in equipment which is compatible with that one manufacturer. Switching gear isn't that easy for them anymore, and they can't suddenly go for Fuji or Sony although both these manufacturers have great cameras for that kind of work.
If you are not invested in one manufacturer yet and are looking for a new camera, then I would recommend that you take a very close look at the Fuji and Sony cameras. They are great small and lightweight cameras and offer the best mirrorless technology that is available at the moment.
The Fuji X100F might not be exactly your camera of choice, because it doesn't allow you to zoom for example, but if you are travelling and seeking but effective camera, why not go for a compact camera instead? These are also excellent cameras that can give you exactly what you need. And these days a new camera doesn't have to be expensive.
For any more "ambitious" work, I can wholeheartedly recommend the X100F. Sure, it might not be for everyone, but the camera has a high potential, when used correctly, to create a great photo project.
About Sebastian Jacobitz
I am a street & travel photographer from Berlin and had the opportunity to travel through Southeast Asia for more than three months. On my photography blog: I share these stories and want to inspire everyone to enjoy photography as well.
_____________