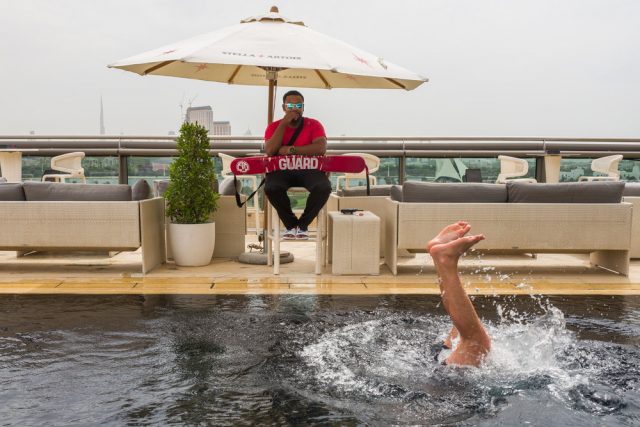 It's mid-afternoon and over 38ºC in Dubai. Thirst.
And it's the middle of Ramadan so the city is quieter than usual and the only place to get a beer during daylight hours is in the bar of a tourist hotel.
Besides the rooftop pool at my hotel, a bored lifeguard sits holding a flotation device. There is only one swimmer around. I am having a beer in the aircon in the enclosed bar area looking out at the pool when I see a photo op. My room is on the next floor so I hurry there and grab my camera. As soon as I am back and in position, right on cue the swimmer dives under in front of the lifeguard. By a complete stroke of luck, I get the picture. Then it's back to that cold beer.
It's a pity that it was overcast and very hazy as the impressive Dubai skyline would be much more visible on a clear sunny day.
The photo was taken in May 2018 with my Leica Q.
__________
You can find more from John Shingleton at The Rolling Road and on Instagram at therollingroad.