When it comes to travelling, apart from the medicine and clothing paraphernalia, I guess one of the most excruciating dilemmas some of us must have experienced at one point is: What camera will I take?
Shall I take my big 24-megapixels (or more) monster with its amazing lenses or shall I take another route? Is my camera a tool that can produce amazing files when pixel peeping (I guess most of them will remain on a hard drive without being ever printed) or is my camera a social friend that will enable me to meet friendly and amazing people who I will be sharing nice moments with and who won't be frightened by a bulky zoom or lens when they are ready to have their photo taken?
Having got rid of bulky cameras, my choice was quite limited. Shall I take my X2 (thank you, John, for the fantastic articles with your X1) or the Ricoh GR + a GRD 4 as back up in both cases if one should fail?
Although I know the files of the Ricoh do not have the soul and density of the Leica, my choice always came down to the Ricoh. Image quality is , and you can crop to 35 and 47 in addition to the original 28mm. You lose some pixels when cropping, but the quality remains good when using it. Another advantage is that you don't have to travel with three lenses if you can accept the pixel limitations in when cropping, I'm not a zoom shooter and always ended up selling zoom lenses them when I bought them.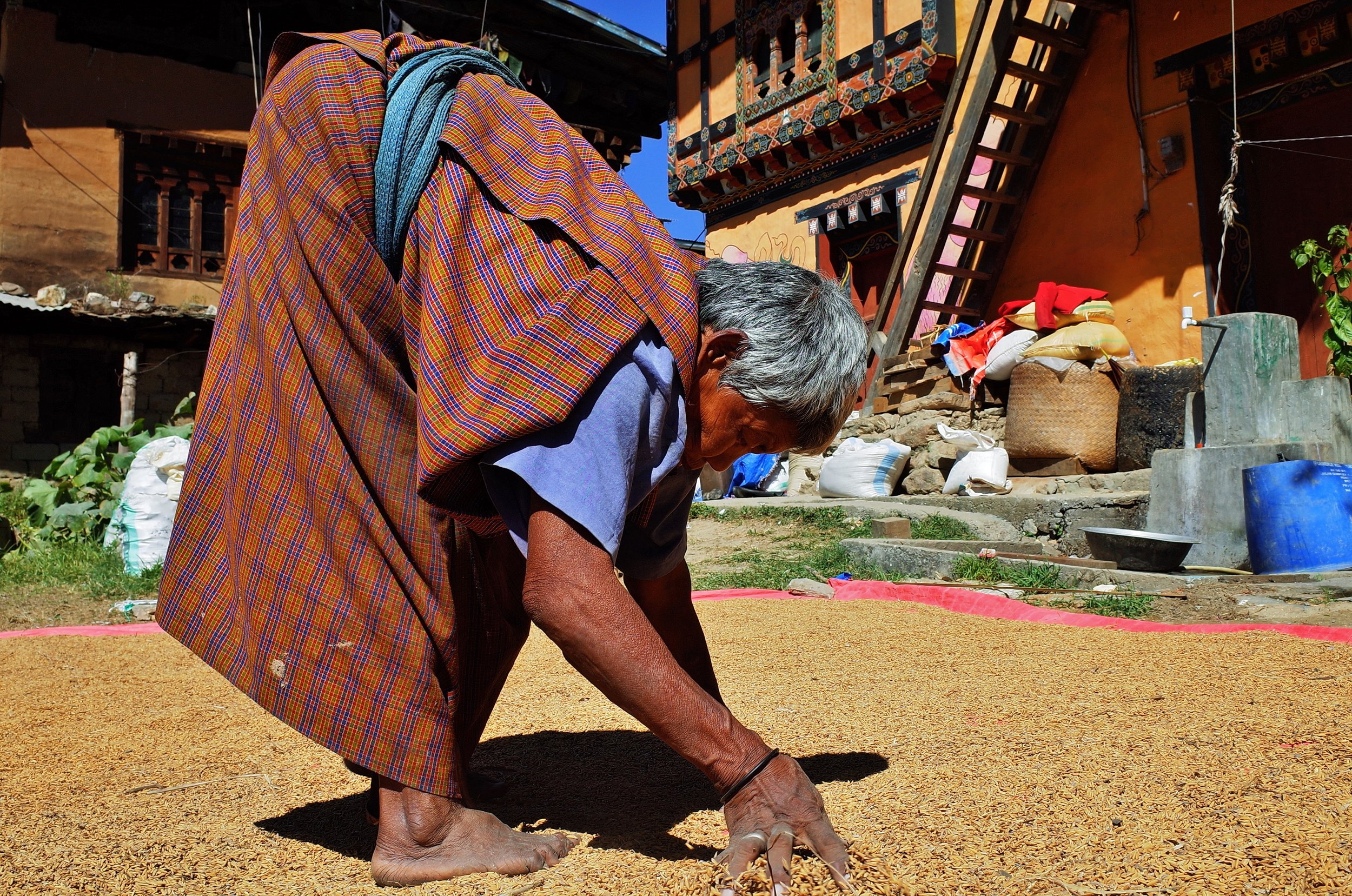 Two years ago, my wife and I went to the Kingdom of Bhutan — or the country of gross national happiness. We flew from Delhi, along the Himalayan range, had a glimpse of Mount Everest and eventually landed in Paro (Bhutan international airport) with the impression that the wings of the plane touched the rice paddies on the mountain slopes.
This kingdom as big as Switzerland and it provided one of the most impressive trips my wife and I have ever made. The architecture was amazing, but what will remain forever printed on our minds is the kindness of the Bhutanese people.
The scenery was, of course, breathtaking, as one may easily imagine. What was extremely impressive, though, was the terracing of the flora. Trees cover the mountains up to 6,000 metres, rice is cultivated at altitudes up to 2,000 metres and sometimes more, and the glaciers and snow appear around 6,500 metres (funny when you think that le Mont Blanc is a mere 4,810 metres high).
The main difficulty was in adapting to the height, especially when hiking in the mountains. In the beginning, although we used to mountaineering in the Alps at home, we were short of breath at these altitudes.
I did a few shots of monuments and landscapes (the Ricoh was handy), most photos were of people as they are not afraid of being photographed and sometimes ask to have their picture taken. I remember the occasion in Thimphu (the capital) when visiting the Memorial Chorten (a big stupa) where old people come to pray for the younger generations and their families. As soon as I started taking one picture, a whole crowd came down on me to have their photos taken. Fortunately, cameras have jpegs, and software engineers have invented 64 and 128GB SD cards!
Our guide and experienced driver (you have to be experienced on Bhutanese roads) also contributed to a fantastic trip. Anyway, you need one as you can't visit the country like a backpacker. Bhutan is an exotic country with really amazing people. I don't know if their famous gross national happiness has something to do with it, but if your back and spine are willing to absorb potholes the size of a small bomb crater, if you're "suicidal" enough to travel roads where blocks of Himalayan mountains fall onto the roads without any warning, it's well worth a visit.
You also need to like spicy food. The national dish, a sort of gratin dauphinois (potatoes, garlic and yak cheese with loads, tons of spices) will make your hair stand on end, and you'll be crying and sweating through every pore even if you are used to spices. I guess it's hotter than a very hot Madras curry.
This photo was taken in the capital Thimphu at nightfall, cropping to 47 mm. It was almost pitch-dark, and that girl was behind the dart shop window. The GR is quite unobtrusive, so I was able to take a candid shot. When she realised she was being photographed, she had a broad smile, and her grandfather waved at my wife and me. Communication ensued, thanks to sign language, and the moment will remain in my memory. Had I had a huge camera (let's say a Canikon with a 24-70 f/2.8 -—no offence meant there), I wonder if I would have been able to take that image.
I guess the walls of our houses or flats don't look like this one and I imagine we would be censored in our western world if we decided to have one on our walls. Yet penis painters are renowned in their country and well-sought after. The legend says that one of the local lamas tamed an evil dragon by showing his penis. That lama must have been a potent one (excuse me, ladies). But having one painted on your house is supposed to bring you luck and protect your family.
If you chance to go there (and not buy the M10 or the CL as you have spent all your money on a trip and can no longer afford it), you can always get a brochure at your local Leica store and pray to god or whoever or whatever you believe in that you are the lucky winner of the lottery. You will remember people's kindness and smiles. I'm pretty sure that the Ricoh's discretion and unobtrusiveness helped when taking photos. Mine is on the verge of dying after years of flawless service and pleasure of use, I wonder if I'll upgrade to the long-awaited 24mp GR III or buy a new GR II as the prices will surely drop when the new one is on sale early next year, The second solution would enable me to keep exploring, as Louis Amstrong would say, this wonderful world.
_____________