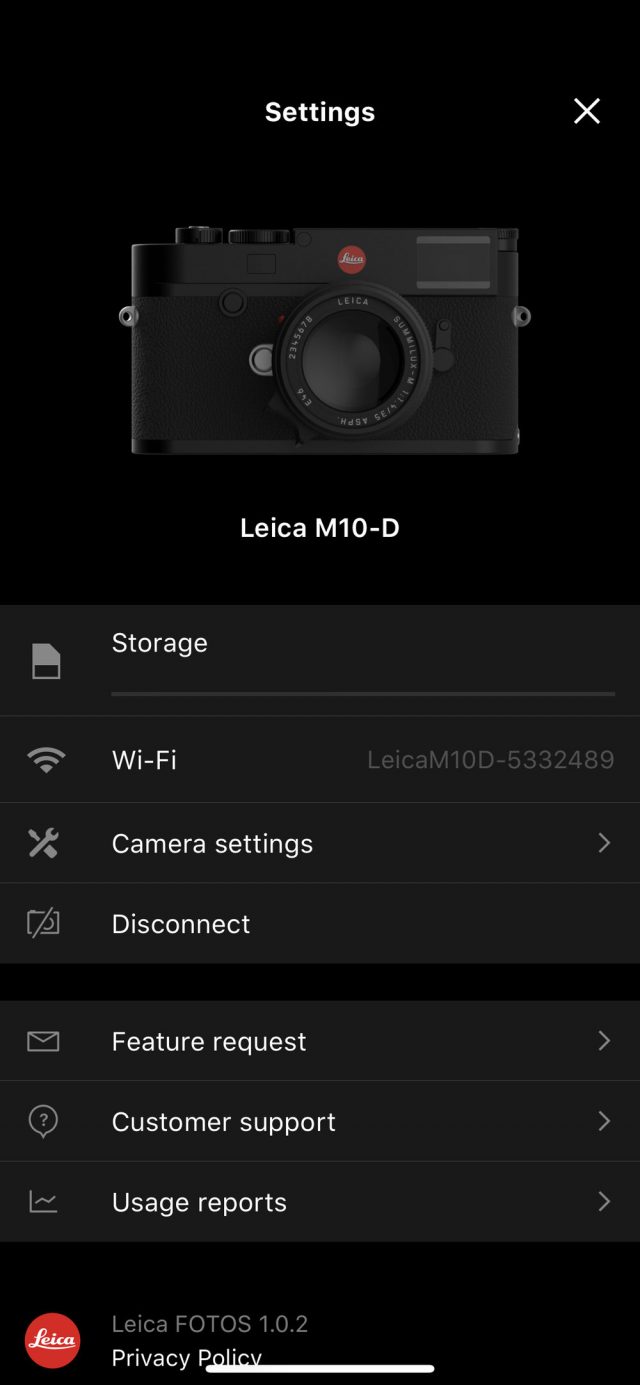 This news came as a surprise. I thought the FOTOS app had been announced weeks ago. I've been playing with a beta version, but at the time of the launch of the Q-P I found it in the Apple App Store — so assumed it was fully live and operation. Anyway, it is now officially here. The bottle of champagne has been cracked on its bows and you can download it with confidence.
FOTOS supports the Leica S (Typ 007), Leica SL, Leica M10, Leica M10-P, Leica Q, Leica TL2, Leica TL, Leica T, Leica CL, Leica D-Lux and Leica V-Lux cameras. Further cameras will be added soon.
Press information
Free for release after 25th September 2018, 12-noon (CET)
Leica Camera releases new FOTOS app for easy sharing, editing and remote control of its digital camera systems on smartphones
Wetzlar, 21st November 2018. At photokina 2018, Leica Camera AG announced an entirely new photo app for Leica cameras: Leica FOTOS. As everyday companions, today's smartphones handle a multitude of tasks in a single device. The new Leica FOTOS app has been created specifically to aid photographers, allowing users to move their images to post-production apps on the go, manage their image libraries, share images online directly, and remotely control their camera system from their phone. In the past, Leica Camera offered a a range of apps that could be downloaded and installed for each individual different camera system. As of now, the Leica FOTOS app replaces them all and can be used across all previous systems with a designated app.
The focus of the development of the Leica FOTOS app was on greatly improving the user experience for digital Leica photographers; how could the process be simplified to be as comprehensive and as uncomplicated as possible? As a result of this, the app enables Leica photographers to seamlessly integrate their smartphones into their daily photographic workflow – from connectivity with the camera, data transfer and mobile digital postprocessing to sharing the finished pictures on social media, easily, conveniently and quickly.
Leica FOTOS connects directly to the camera via Wi-Fi and saves the registration details to allow the specific camera and smartphone to pair automatically, quickly and conveniently. Leica FOTOS enables photographers to access the Live View function of the camera and remotely change exposure-relevant settings such as the aperture, the ISO value, the shutter speed and exposure compensation from a smartphone. It also allows wireless control of the shutter release, which opens up entirely new creative opportunities.
Thanks to the high-resolution display of modern smartphones, pictures can be viewed immediately at full size to assess their sharpness. The exposure parameters are also displayed, which can be extremely helpful for adjusting the settings for subsequent exposures.
As soon as a personal selection has been made, the pictures can either be shared on the user's social networks, or saved for mobile post-processing on the smartphone. Leica FOTOS can be used for this in combination with many popular software tools, ranging from Adobe® Lightroom® Mobile® to VSCO®. To exploit the full potentials of digital image processing, the pictures can also be transferred to the respective post-processing app in DNG RAW data format. If users wish to save the finished pictures after processing on their smartphone, they can take advantage of the option for saving them to a separate Leica Album – this keeps painstakingly composed and processed pictures from the Leica FOTOS app separate from simple day-to-day snapshots.
The Leica FOTOS app currently supports Leica S (Typ 007), Leica SL, Leica M10, Leica M10-P, Leica Q, Leica TL2, Leica TL, Leica T, Leica CL, Leica D-Lux and Leica V-Lux cameras. Further camera models will be added in the near future.
The Leica FOTOS App is available to download today for iOS and Android devices.