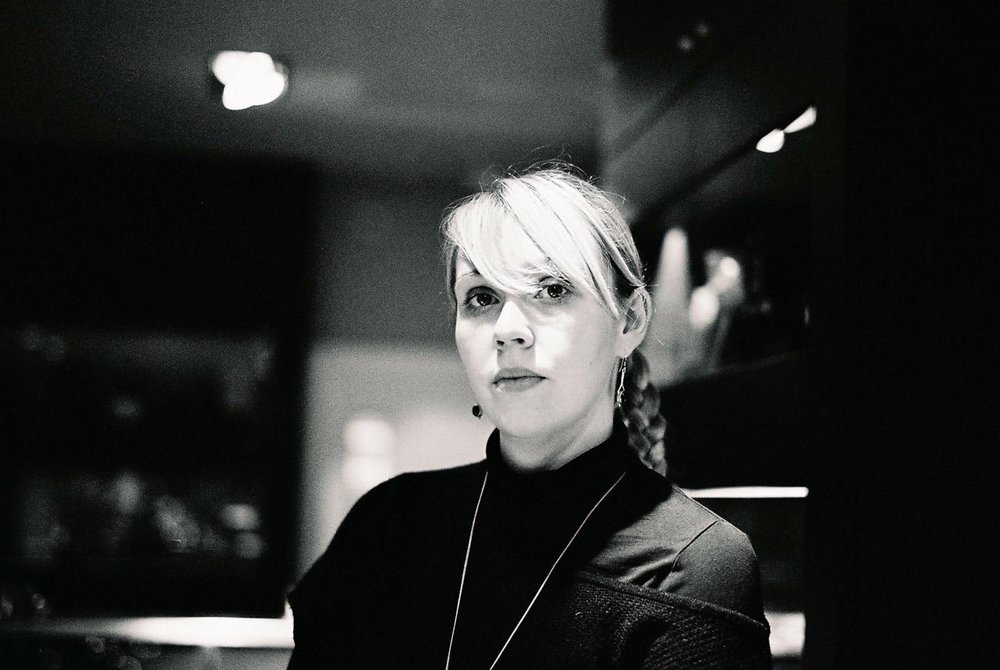 All the talk about the new Leica M10-D with no screen on the back (so you can't see what you're shooting — or may, or may not — have shot) reminded me of another camera (which I haven't used for a while) and which has no screen, and whose company was owned by Leica for a few years (so in a way it is a sort of Leica) and that's the little 5-megapixel digital 'pretend M3' Minox.
We-ell, it really has 3 megapixels, but with some "interpolation" it gives the equivalent of — roughly — 5 megapixels.
Ah, correction: it DOES have a teeny screen on the back, but the screen's of such really awful quality, and you can't properly see what you've shot on it — just that you've probably shot something — that I'd forgotten altogether that it really does have some semblance of a screen. It also, like the M10-D, has a little wind-on lever which is just for show: it doesn't actually do anything, but pretends to be a wind-on lever and to provide a bit of a 'thumb-grip', exactly like on the M10-D!
The teeny Minox 'M3' has a permanently fixed — but manual 'guesstimate' focusing — lens, with a pretty useless screen, and no frills. (Though it does have menus for over/under-exposure, white balance, but not shutter speed, aperture or ISO adjustments).
It's not much good outdoors, but — strangely — it can be really good indoors! (Those characteristics seem to be because (a) its AUTO white balance tends towards blue, and (b) it seems to choose mainly 1/10th sec shutter speed ..although occasionally 1/140th, but only in VERY bright light ..hence outdoors it tends to hopelessly over-expose, and to blur — with its slow shutter speed — and it gives a blue tint, too (..unless the white balance is altered from AUTO to Daylight).
Oh, that black-&-white picture up at the top? That's a receptionist at the London Leica Store, taken with a Leica which — just like the M10-D — has no screen on the back, and it has no light meter, either, but it does have a small sticky-out wind-on lever like the M10-D. It's a 1954 original M3, with a current 50mm f/1.4 and a £5 roll of b&w, colour-processed, Ilford XP-2 film. (More from the screenless M3 below)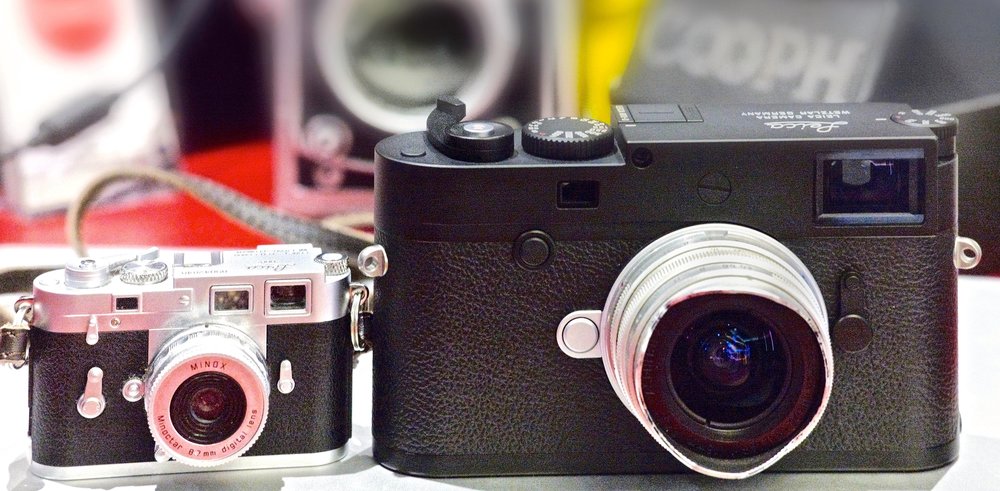 I thought I'd compare the little, teeny, inconspicuous, 'toy' and pretty much screenless Minox, with the big, hefty, "full-frame" screenless M10-D . Well, not the actual screenless M10-D, as I don't have one right here (though I had it there for the picture) but its sibling, the M10-P. Same camera, which has a useful screen on the back, which I promise I won't look at. There, I've taped cardboard over it to get the complete, full M10-D experience!
Incidentally, although screenless — and US$500 extra for being screenless — you CAN display on the M10-D whatever you're shooting, or what you've just shot: simply clip on the £390 / US$575 (that's only another US$575 to bring the screen back) 'Visoflex 020' add-on electronic finder.
(So I've just spent US$1,075 on removing the screen, and on putting it back on again.)
That electronic finder lets you see what the sensor's seeing, and then gives you 5 seconds' — naughty for peeping! — playback for each photo. Or just use Leica's Fotos app to display your pics on a nearby smartphone, via bluetooth from the camera.
Oddly, another digital camera arrived a couple of days ago: another one which has no screen at all, so you absolutely cannot see what you've just shot , and it has only an optical finder. And — like the M10-D — it, too, has a wind-on lever, but this one is actually used to "wind on", or to pretend to wind on and to cock the shutter. That's to say, there's a mechanical interlock to stop you taking your next photo, until you've pushed the wind-on lever, just to get that pretend experience of film!
This is the Kickstarter-funded Yashica (not the original Yashica; the name's simply licensed now — as presently with 'Polaroid' or 'Kodak'). It is the 'Yashica' digiFilm Y35 camera. It runs off two AA cells (which go in the 'film chamber' inside the swing-open back), it takes an SD card in the base (just like the M10-D) and uses so-called "digiFilm" cartridges — which look like APS film cassettes — to tell the camera how to "process" the photos. So there's an 'ISO 200' cartridge for smooth results in bright light, and an up-to-ISO-1600 cartridge (for dimmer light, and grainier results), one for black-&-white photos, one for guess-what-you'll-get weirdly "cross-processed" or "distressed" photos — and so forth.
You can take out and swap these cartridges at any time, to get whatever mixture of pics you want. Otherwise, of course, you can simply adjust your pictures in Photoshop, or whichever program you prefer, after the event. But as the Y35 delivers only .jpgs, you can't start with a basic RAW picture from it and then make adjustments afterwards to that, to avoid quality loss in editing.
And opening the back "mid-reel", to change "digiFilm" cartridges, feels -v-e-r-y- -o-d-d- as if the film(?) inside will get ruined ..except that, despite its retro looks, there IS, of course, no film in it.
The camera really does look rather like an old Yashica Lynx, or an Oly 35 RC, SP or ED, but the whole thing is simply lightweight plastic, the 'film rewind' knob is just a pretend moulding on the top, and the simulated rangefinder windows don't do anything at all; they're also just pretence!
The lens is fixed to the body, and has a fixed focus range from about 3 feet to infinity. You can't choose the aperture, and you can't choose the shutter speed — it's all automatic, just like the digital Minox (though the teeny Minox does have a choice of white balance and focus).
The Y35 DOES have that over/under-exposure knob on the top, though. It is, indeed, a 'toy' camera — as many a Kickstarter commenter has moaned — but if you like a bit of fun and nostalgia, and feel like forking out US$150 (about £117, or €131) for a quirky one-off, then why not? Except that — yes, I know — you can buy a decent used real Yashica 35 and several rolls of film for the same price, or less. But then you have to add processing and printing, and possibly scanning, costs.
(Incidentally ..uh, oh; here he goes again.. Dr Sugaya, who created many (most?) of the real Yashica film cameras — including those Porsche-designed Contax-branded models like the '139' and the 'RTS' — told me that of all his 'children', he loved best the fixed-lens Yashica Electro 35, available for about the same price as this plastic 'ersatz' Yash, here on eBay unless it's already gone.)
I suppose what I like about the cheeky plastic Y35, besides its supposed 14-megapixel resolution (which is, frankly, hopeless once you start to enlarge or crop from it), is also the shameless and rapturous over-the-top hype of its Kickstarter campaign:
"YASHICA digiFilm Camera is a mean [sic] of capturing moments at your will. Randomness in a photo is never reckless, minimalist is never simple and leaving blank is never empty. Even the smallest scenery can have the biggest impact. What pours life into the images is the Y35, digiFilm Camera, and the eyes behind the viewfinder."
Rapturous drivel so similar to so much of Leica's own PR waffle, such as:
…the Leica M10-D focuses on the desires of many photographers to concentrate solely on the act of making pictures"
— instead of er, baking a cake, tying their shoelaces, doing a raindance?
Of course, thinking of cameras with no (or a hidden, foldaway) screen, and a physical wind-on lever, there's Cosina's pioneering 2004 Epson R-D1, whose wind-on lever DOES actually cock the shutter! It is a converted film camera, after all, but with a six-megapixel APS-sized Sony sensor where previously there'd have been a frame of Tri-X, Kodachrome, or whatever. And it takes great pictures, with a Leica M-mount, so you can use whichever are your favourite Leica-fit lenses, although you do get an APS 1.5x 'crop' — or magnification — so a 24mm lens gives pictures which look as if shot with a 35mm lens on a "full-frame" sensor, etc.
The R-D1, unlike any M Leica, has a life-size finder, not reduced to 72% or even less, so it's very easy to focus. The odd thing, though, is that the rangefinder rectangle, in — roughly — the middle of the finder, appears to move up and to the left as you focus closer. The frame lines — manually selected with a little switch — actually move down and to the right, as with Leica rangefinders, to avoid cutting off the top of the picture as you focus closer, but in the Leica finder that central focusing patch moves too, and so you hardly notice the movement of the entire view, including informative LEDs, if there are any.
The Leica finder — the optical window which you look through to focus — appears perfectly normal as you focus closer, but the R-D1's finder patch seems to "take a walk" — up and left, the closer that you focus — because only its frame lines move, and NOT the focusing patch as well!
Above: Frame lines in the R-D1 also move down and right the closer you focus, but the focusing patch itself doesn't move. This makes it seem to travel up and to the left as you focus closer. Things do look larger and closer through the 100% R-D1 finder, compared with the lesser magnification Leica finders.
The R-D1 finder isn't as cluttered as current Leica finders, only ever having one single set of chosen frame lines in it, not pairs of frame lines as in Leica M finders — which currently have 35 & 135, 28 & 90, 50mm & 75mm pairs nowadays.
And here, to finish with, are a few more photos taken — like that first one up at the top — not with the screenless M10-D, but with another screenless M camera, which – just like the M10-D – gives no immediate access to your photos, and doesn't even have a built-in light meter nor any kind of auto-exposure, although it does have a wind-on lever on the top, like the M10-D. This, though, is a film-loading Leica M3, so the wind-on lever really winds the film and cocks the shutter. Great in bright daylight. But no film is as good in dim light as a digital M10-D (or, for that matter, a Sony A7S).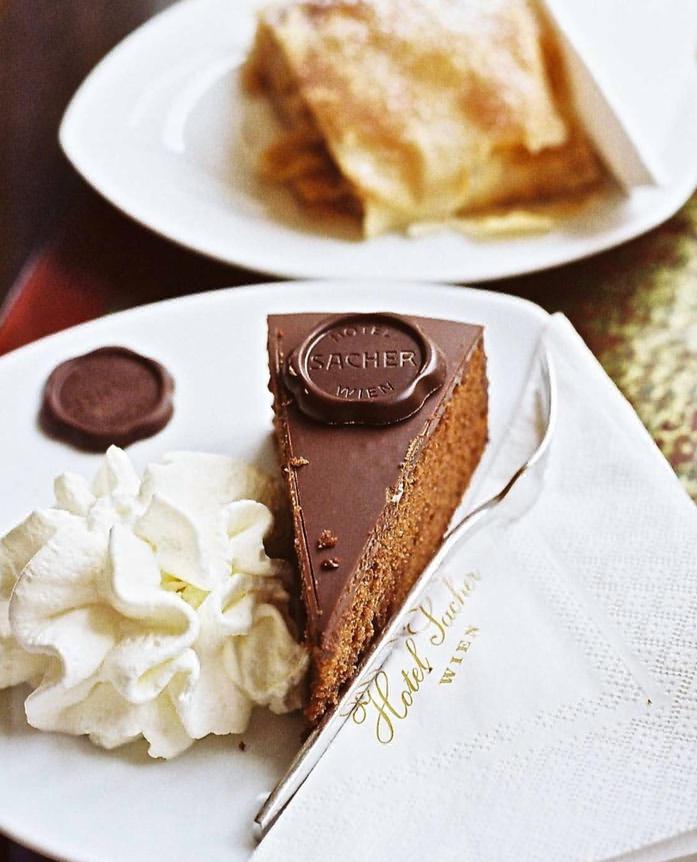 Five cameras: M10-D, Minox pretend 'M3', 'Yashica' Y35, Epson R-D1, original M3. All screenless (..well, the Minox is almost screenless, and the R-D1 screen folds away to invisibility). All featuring a 'wind-on' lever. All with a different shooting experience. But all take decent pictures, once you get the hang of them.
But only one can take pictures forever without needing a battery. Though you do have to replace the film every 36 shots, for the cost of a £ fiver ..and you do have to push its winder TWICE for every shot you take, as these pictures were taken with an early, therefore "double-stroke", M3).
P.S: I also have an "I'm Back!" on the way: that's a new, chunky plastic clip-on device, which sits on the back of a film camera, allowing (low-grade) digital pics to be shot with an M3 (the horror!), OM-1 or OM-2, Contax G, Nikon F, or (almost) whatever old camera(s) you still have lurking in the cupboard. Now why would anyone want to do that?
So stay tuned – with Mike's indulgence – for another, later, report on the silly, but nostalgic, crowdfunded "I'm Back!" back.
RELATED ARTICLE
London's Scala cinema and a photo that caught the imagination