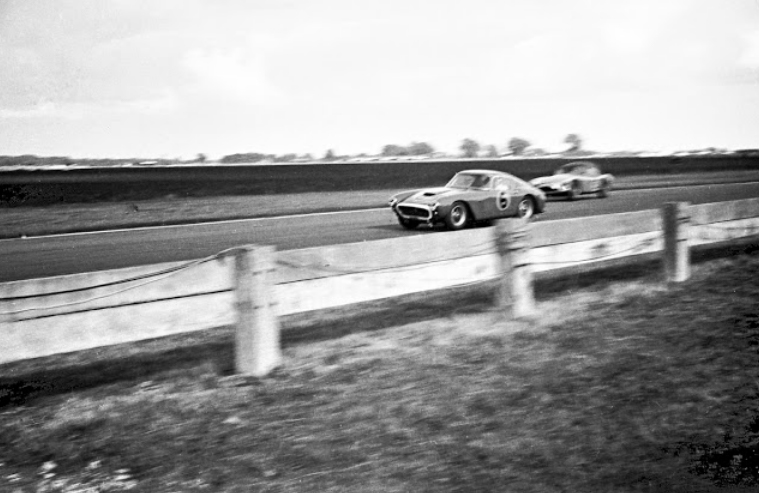 This photo was taken by me at the 1960 TT (Tourist Trophy) sports car race at the Goodwood motor racing circuit in Sussex. The race was won by Stirling Moss, driving Rob Walker's Ferrari 250 GT. The picture shows the Ferrari 250 GT of private entrant Pierre Dumay overtaking what looks like an AC Bristol on the back straight at Fordwater corner. Even in this poor picture, the Ferrari looks superb, but it retired early from the race with a gearbox problem.
It is interesting because it may well be my oldest surviving photograph. The race was in August. I received my first camera, a Halina 35X, on my fourteenth birthday in July, and this picture was taken with that camera. I processed the Kodak Plus-X film myself. The Halina was a Leica lookalike — made in Hong Kong — which at the time probably meant that it was made in China but exported from Hong Kong which was still a British colony and hence it did not attract duty coming into the UK. It had reasonable reviews at the time and it served its purpose as my starter camera. I had my eyes on either a Agfa Silette or an Aretta B but they were both out of my price range. The Halina cost just 8 pounds sterling, $12, the cost of 30 minutes' parking at Sydney Airport today!
Five-hour trek
I travelled to the race with a friend using public transport. I lived in Ewell in Surrey at the time and my friend lived nearby in Surbiton. We took a bus to Kingston-upon-Thames, then a train to Chichester and a Southdown bus to a village near the circuit. Then we walked some distance down lanes between hedgerows to the back of the track. We had a very basic timetable but only for the trains — and it was a long journey. It took us over five hours one way. We were very determined.
We arrived after the race had started. There was no gate at the back of the circuit, so we climbed over the wire mesh fence. Free admission. We arrived home very late after a long walk back to a bus route and then the train to Kingston. My parents were completely relaxed about me heading out on such a long trip with so little information. No helicopter parents for me.
I clearly remember that there were no other spectators along the back of the circuit. It was a stellar entry and it was a classic race. The entry list reads like a who's who of motor sport greats: Stirling Moss, Roy Salvadori, Innes Ireland, Graham Hill, Jo Schlesser, Willy Mairesse, Jo Bonnier, Mike Parkes, John Whitmore and more. The only big player missing was Jim Clark who must have been up on his farm for the weekend.
If you are not into the motor sport stars of yesterday, to put it into musical terms, this is like going to a concert and finding that the artists appearing that evening are the Rolling Stones, Pink Floyd, Queen, The Who, Fleetwood Mac ,Bruce Springsteen, The Beatles and Dire Straits.
Stirling Moss
Stirling Moss was a superb driver. We stood on the fence and waved to him as he came through Fordwater, pedal to the metal and drifting, and he gave us a big wave with just one hand on the steering wheel. I can still remember it with absolute clarity. Magic. Forget the modern Goodwood Revival meeting TT race. I saw the real thing. I count myself very fortunate.
Twenty five years later I was living in Australia and I brought Stirling Moss out on a Jaguar Australian promotional tour and I had the opportunity to ask him if he remembered waving to two boys out on the back of the Goodwood circuit during his TT race win. Sadly he had no recollection of it.
My friend's name was Mike Worrell or maybe Worrall. I lost track of him a few years later. I wonder if he maintained his early interest in motor sport. I don't do Facebook so cannot try to find him there, but if anyone out there knows a Michael Worrell or Worrall, formerly resident of Surbiton, Surrey, in the UK — now about 72 years old — please let me know.
______________
You can find more from John Shingleton at The Rolling Road and on Instagram at therollingroad.