As part of National Heritage Week, I have prepared an overview of Irish photography since 1839, the Gallery of Photography in Ireland, where I am a board member.
Later on, we will be holding a series of exhibitions, publications, and talks looking back over the history of photography on this island under the general title 'In Our Own Image' and my talk will kick the series off.
The presentation will be for a general, non-technical, and non-academic audience. I am showing here just a fraction of the images that will accompany the material. Above all, though, the emphasis will be on a historical timeline rather than deep dives into particular areas. This will be explored later in the 'In Our Own Image' series.
Engagement
The remarkable photograph above was taken in 1887 at the 'evictions' (generally for non-payment of rent) in Bodyke, County Clare. The people are protesting against the evictions and the effigy is either that of the landlord or one of his bailiffs who got struck down as he went about his eviction business.
Many years of land and rent wars preceded the Irish War of Independence and the battles to resist evictions in Bodyke were some of many which took place in Ireland at that time.
What is remarkable about this picture is the way in which the individuals engage with the camera, something which is not common in 19th-century photography. I will show another example from the same event in my talk. This can be seen as a new confidence merging among Irish people.
I have chosen around 50 photographs to illustrate some 180 years of photography, to display during the 40 to 50 minutes of the talk. I have not gone for the best, whatever that might mean, or even my own favourites. I have a strong belief that the main function of photography is to record people, places, and times and that if art ensues, that is a bonus.
Irish photography is not just about Irish photographers and can cover any photograph taken in Ireland or of an Irish subject or taken by an Irish photographer anywhere in the world. Or, it could simply be down to using Irish photographic equipment or methods.
Grand Tour
The above image was taken by Irish photographer John Shaw Smith at around 11 am on Friday, 17 October 1851 at the port of Piraeus near Athens. The camera did not record this detail, but the wife of the photographer, Mary Shaw Smith, did in her diary. Smith was doing a form of 'Grand Tour' on which he took many calotypes. Was this the first Irish holiday snap?
This particular calotype could have required up to five minutes to capture and there is some subject movement. Arranging this scene would have taken some 'greasing of a palm' to achieve, of course.
My talk will have several themes threaded into it. One of them will be how improvements in photographic methods and camera technology changed what could be photographed.
When he first saw a daguerreotype, the French painter Paul Delaroche declared, "From today, painting is dead".
This was, of course, not true, but one of the themes in my talk will be related to the subject of the interplay between photography and painting right up to the present.
Recreation
One interesting case involves a Dublin-based photographer who was sued successfully for recreating a painting in the form of a stereo photograph.
This stereo composition was created by Dubliner James Robinson after he had seen a painting by Henry Wallis, entitled 'The Death of Chatterton'. It depicted the suicide of an 18th-century youth who had been caught producing fake medieval poetry. People in Dublin were paying a shilling to see the painting, which was one of the wonders of the mid-19th century.
However, a gentleman by the name of Augustus Egg had bought the painting and had sold the reproduction rights to a certain Turner, who successfully sued Robinson over his rights to reproduce the image.
Notwithstanding this case, some later photographers also produced similar images and were not sued, so one might assume that the market in 'Dead Chatterton' images had been saturated by that time.
The amusing thing is that the process has now gone into reverse, with many painters today employing photographs as a basis for creating paintings. I will come back to the photography versus painting theme elsewhere in my talk.
20th century
Coming into the 20th century, I will briefly cover World War I and the Irish War of Independence, of course. There are a number of themes there, including photography at the battlefront, saving photographic collections, and an early example of 'fake news'..
In the period after independence, we had the creation of a new nation with new schemes such as the Shannon hydro-electric scheme at Ardnacrusha, County Clare
This shows not only a new Ireland but also the type of modernistic photography that was definitely 20th century in tone and feel. In this case, there is also a painting to show for comparison purposes.
Dublin
Another theme that will run in my talk is one revolving around O'Connell Bridge across the River Liffey, which many Dubliners might regard as the 'dead centre of Dublin'. I will show the bridge being used for religious, secular, and commercial purposes in three different photographs stretching across the mid-20th century.
This photo by Larry Burrows shows the celebrations on O'Connell Bridge on the night that Ireland was declared to be a republic in April 1949, which was just a few months before I was born, so I feel a connection to this scene.
I have a mini-theme running through the postwar years called 'As Others Saw Us' which will show how visiting photographers such as Henri Cartier Bresson, Dorothea Lange, and Evelyn Hofer photographed Ireland and the Irish. I always feel that is an important role which foreign photographers can play in any country by holding a mirror to the soul of a nation.
The postcard
In the same field, perhaps, but slightly on a slightly different tack, are the postcards of Ireland and elsewhere produced here by the Englishman John Hinde. They depict a traditional Ireland, but one where the sun appears always to be shining and in colours which we never knew existed. Sunglasses are advised when looking at these. The issue of stereotyping will come up here, of course.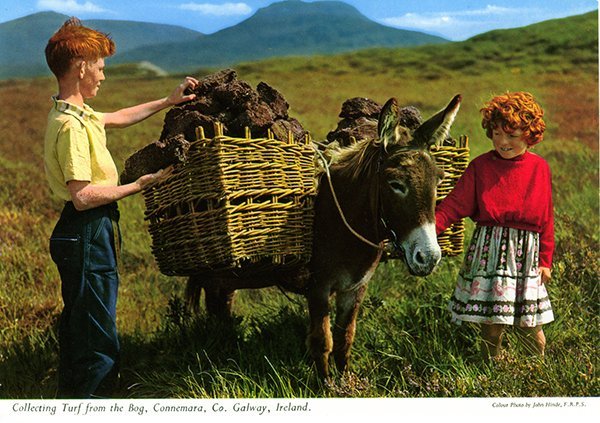 I will touch on 'The Troubles' in Northern Ireland and I will bring the story up to date as far as I can. There have been many great Irish photographers in more recent years, but I am only showing the work of a few of them as time and space do not permit even a representative sample.
The object is not to show a sequence of great photographers or even great photographs.
Street scenes
One influence that seems to be pervasive among Irish photographers is that of Cartier Bresson. Many photographers have walked around the streets of our cities and even ridden on our buses, taking black and white photographs of life around them with a Nikon or a Leica. This photo, taken by Tony O'Shea, on the top of a Dublin bus is typical of that type of photography.
Here I have shown only seven out of about 50 photos that will be in my talk. Given time considerations, I will be doing more of a horizontal timeline rather than a vertical deep-dive on each photo.
Such detail will come from others later in the series. There will be themes and mini-themes running throughout. My major points will be about how valuable visual history is and the central role that photography plays in this and the need to conserve, preserve and present such history.
This is vital since, without knowing who we were, we cannot really know who we are. It is true not only in Ireland but of the world in general.
I hope that Macfilos readers around the world will join me on August 17. I promise to make the talk interesting for a broad audience, but there will be much to interest photography specialists and enthusiasts.
---
Join our community and play an active part in the future of Macfilos: This site is run by a group of volunteers and dedicated authors around the world. It is supported by donations from readers who appreciate a calm, stress-free experience, with courteous comments and an absence of advertising or commercialisation. Why not subscribe to the thrice-weekly newsletter by joining our mailing list? Comment on this article or, even, write your own. And if you have enjoyed the ride so far, please consider making a small donation to our ever-increasing running costs.
---