We live in an era where taking and sharing photographs is easy: phones are equipped with excellent cameras, countless social media channels are available for posting images, and a global audience awaits. So, what is the point of exhibiting photographs or visiting a photographic exhibition?
Arranging an exhibition of photographs is no small undertaking. Creating a body of work worthy of display is an obvious prerequisite. Convincing someone to exhibit that body of work in a controlled space is an equally obvious requirement. Printing and framing photographs at a reasonable size and scale can be expensive and time-consuming, and while the host venue might assist, publicising the event takes more time and money.
As someone who has just exhibited their photographs for the first time, I have considered 'the point' at length. I would like to share my perspective on the value of photographic exhibitions and my experience of staging one.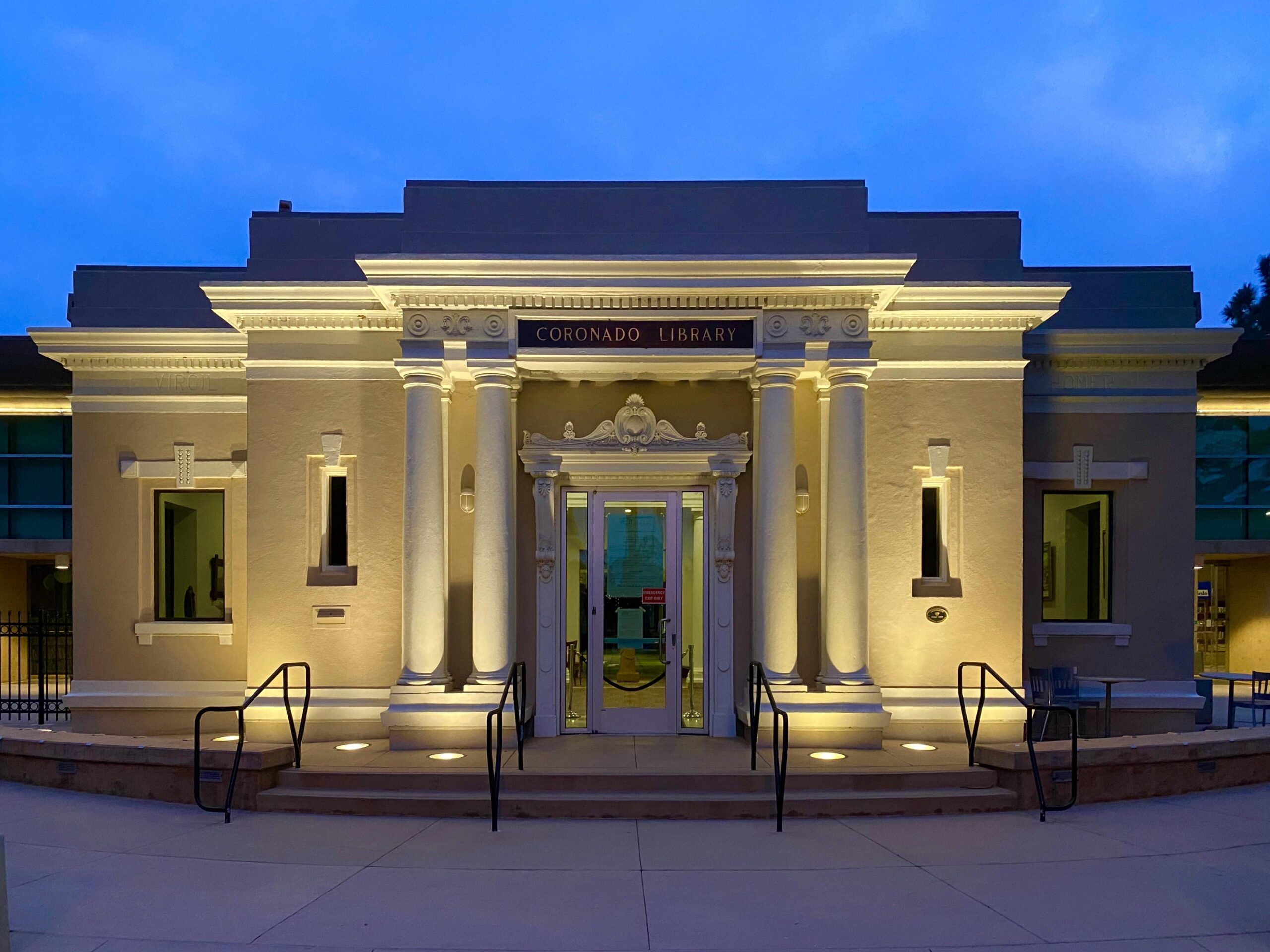 The Venue
Firstly, here is some context. The exhibition to which I refer — Abstract Coronado: Our city from a different perspective — is currently running at the beautiful Coronado Public Library in the city where I live.
Designed by architect Harrison Albright and funded by the local philanthropist John D. Spreckels, the library was built in 1909, its neoclassical facade gracing Orange Avenue, the city's main drag. Enlarged since, it hosts an extensive book collection, a performance space and a spectacular foyer featuring a huge mural by a renowned Mexican artist Alfredo Ramos Martinez.
The exhibition comprises twelve 16×16 inch photographs arrayed horizontally in identical 20×20 inch frames. It opened with an evening reception on September 29. So far, the feedback has been positive. Nevertheless, what's the point?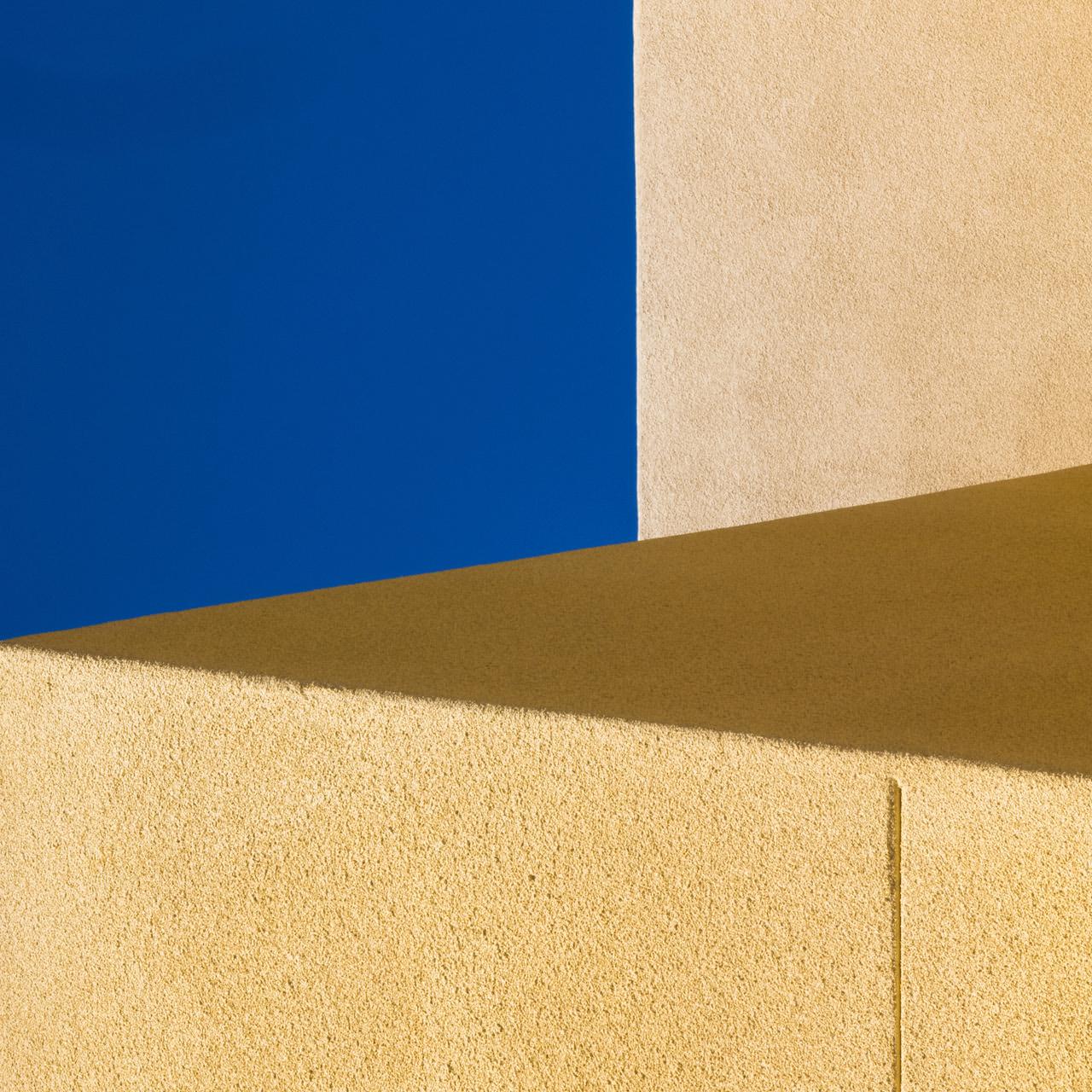 The Visitor
An exhibition is an experience. Visitors encounter physical objects hanging against a wall: large, framed images in high resolution rather than small, low-resolution images they are accustomed to seeing on mobile devices. They walk through the space looking at the photographs, perhaps sharing their impressions with others.
They are provided with a narrative accompanying the display and informative captions for each photograph. They can step back and take in the collection as a whole, reflecting upon its unified theme. Visitors to an exhibition might even meet the photographer whose work is on display, especially those attending an opening reception. A photographic exhibition is not just an experience; it's an enriching experience.
The Photographer
What about the photographer whose work is being exhibited? What is their motivation for staging an exhibition? I can think of several. Firstly, validation of their art: someone is prepared to host an exhibition and others are prepared to visit.
A further motivation could be financial, particularly for someone trying to make a living through their art: visitors might become purchasers. Surely though, the most important reason artists exhibit their work is for it to be seen in all its glory.
Although artists often say they create art for themselves and don't care whether anyone else likes it, locking it away out of sight would forfeit the opportunity to enrich the lives of others. Exhibiting art enables others to engage with it, bringing to life the three-way transaction between artist, artwork and art lover. Presenting large-scale prints in an exhibition is a superb way of doing just that for photographic art.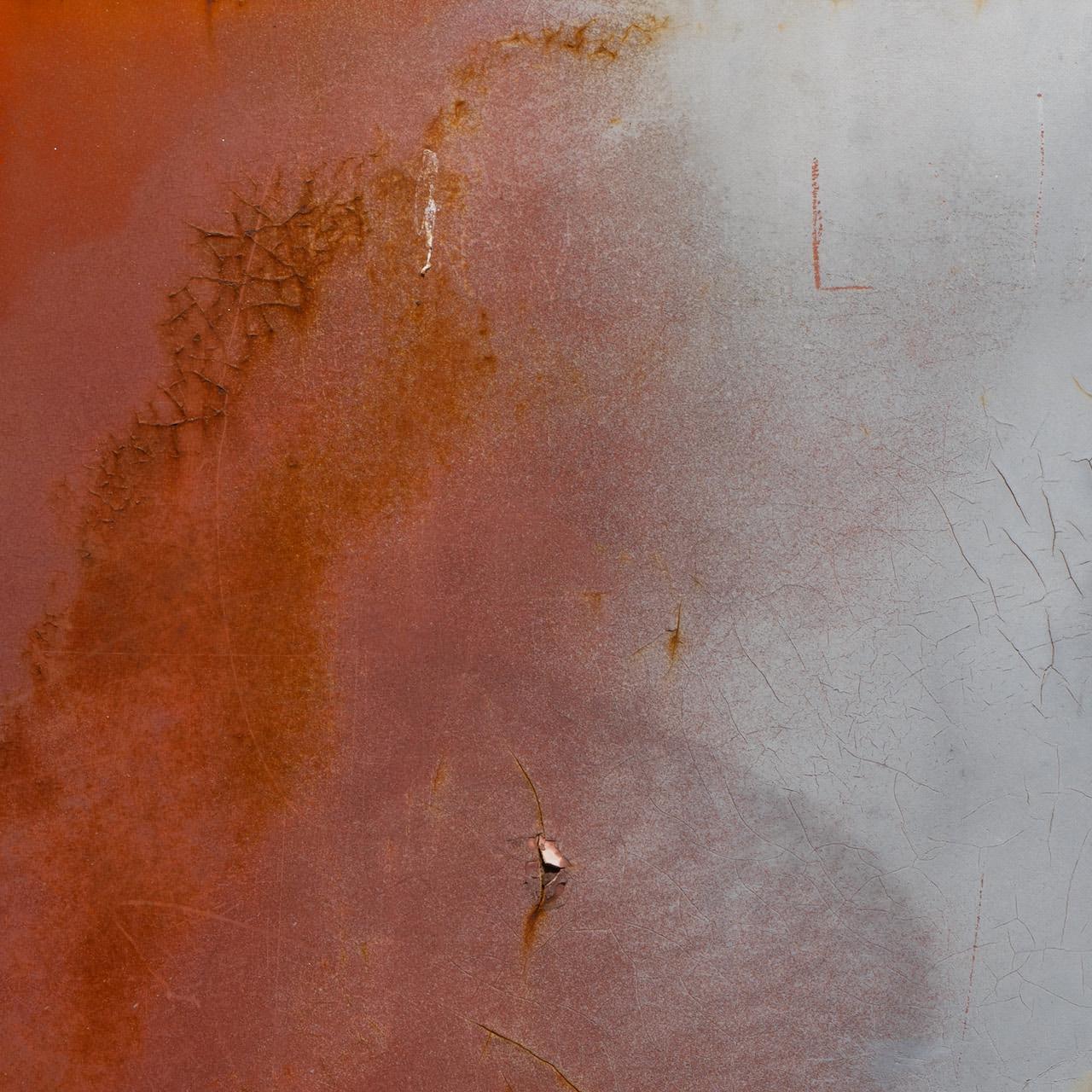 As both photographer and a member of a local community, my objective in arranging an exhibition of my work was to engage that community in seeing its environment from a fresh perspective.
Coronado is indisputably photogenic, but what's the value in capturing yet another image of the iconic Hotel Del Coronado or palm trees waving in the breeze? What about looking through a different, more abstract lens?
I shared my interest in abstract photography in an earlier Macfilos article. Since then, I have assembled a collection of abstract photos taken exclusively in my home town. As I gathered more examples, I suspected local residents would be intrigued to see a collection of 'modern art' fashioned from scenes they might pass every day. An obvious way of presenting them would be via a curated exhibition at a nearby public venue. So, I set to scheming how I might pull that off.
The Enquiry
The Coronado Public Library, which regularly hosts art exhibitions in its historic Spreckels room, seemed the perfect venue, so I sought out the person responsible for coordinating these events. I was referred to a senior librarian, to whom I wrote, asking whether the library was open to proposals for an exhibition of abstract photographs of the city taken by a resident.
The library director replied, diplomatically informing me that they did not feature the work of individual artists, instead assigning exhibition space to art societies and clubs, thereby allowing the work of many more artists to be displayed.
However, given that I lived locally and the photographs were taken locally, he offered the possibility of displaying them on one of the under-used wall spaces in the library, such as the 'Teen' section, provided there was a significant educational dimension to the exhibit.
Bingo! I began work on a concrete proposal along those lines.
The Proposal
I surveyed and measured the proposed display area, calculating that there was sufficient space to mount twelve 20×20-inch framed photographs. I wrote an accompanying narrative comprising an introduction to abstract architectural photography, an outline of the four-step process I use to create abstract images (recognising, capturing, processing, and presenting) and a conclusion inviting visitors to try it for themselves.
I created a mock-up of the proposed exhibit in Google Slides and had three 16×16-inch photos printed as examples. I presented my proposal to a small group of library staff who enthusiastically supported the project. Although it would be aimed primarily at high school-aged library users and held in the Teen section, they felt there would be considerable interest in the broader community and proposed holding a launch reception open to all comers.
We agreed that each caption should indicate approximately where each photograph had been taken so that enthusiastic visitors could track down and view the original scene for themselves.
The Logistics
Early in my exploration of abstract photography, I adopted a square format surrounded by a white border as a standard presentational style. This allowed me to exploit the intersection of the surrounding 'frame' with the image's geometrical elements and (pretentiously) emphasise that these were works of art, just like paintings.
Unwittingly, this choice of format significantly reduced the availability of ready-made matted frames I could purchase for mounting prints; it seems the world prefers rectangular photos and frames. Nevertheless, I eventually procured a set of black 20×20 inch frames, matted for a 16×16 inch image.
The photographs were printed by a local store as 16×16 images with two-inch borders, yielding a final 20×20 print that slipped directly into the frame. Bob's your uncle. At the back of each frame was a pair of identically located hook grips that would simplify the future task of hanging multiple frames in perfect alignment.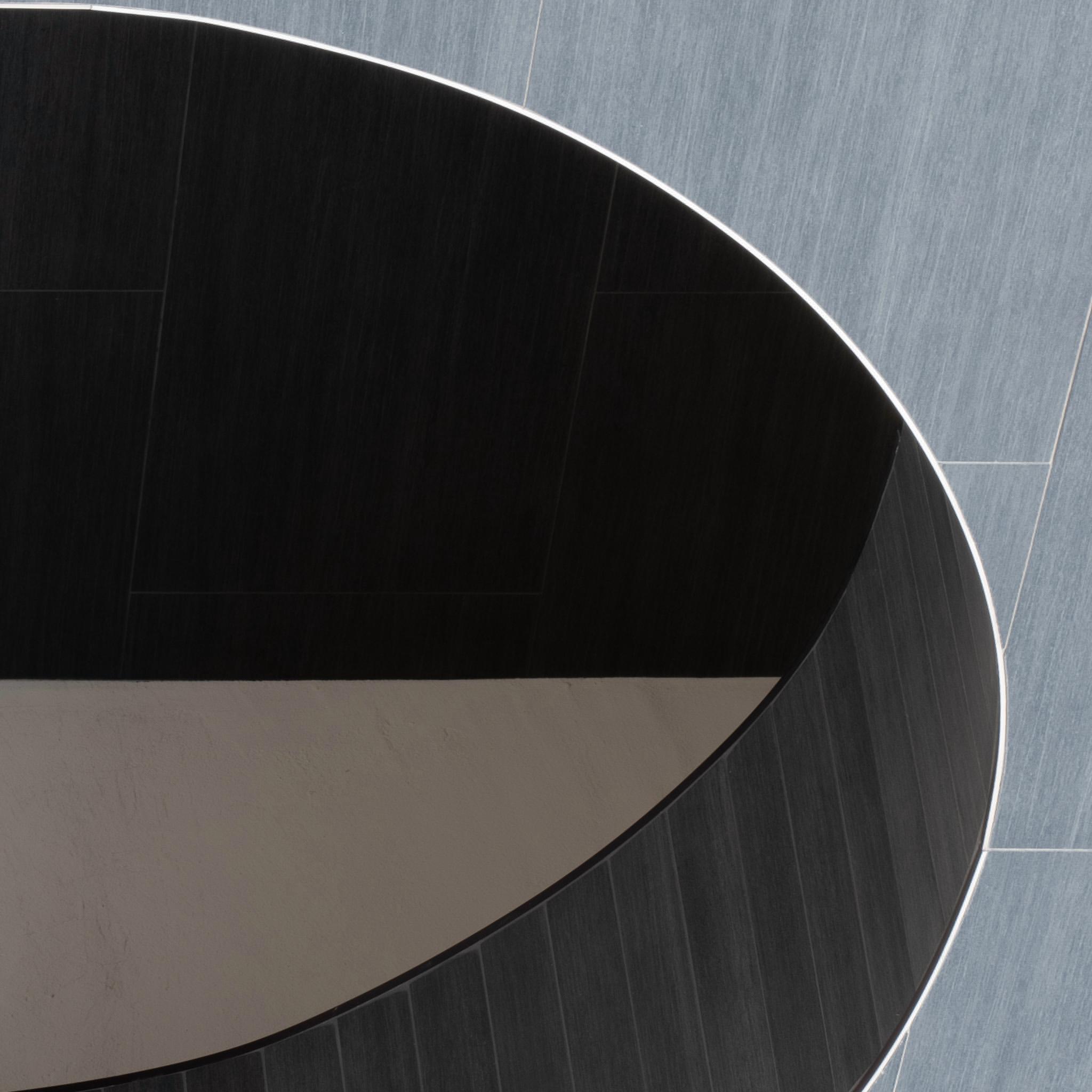 Each framed photograph cost approximately $48 to produce. I titled and initialled each in pencil, declaring it the first of a limited edition of ten. If anyone wanted to buy a print, I decided to charge $140 (£117), equivalent to three times the production costs, the profit going to the Friends of the Library.
The library team arranged a fresh coat of paint for the display walls and installed a ceiling-mounted hanging system, where descending cables allow complete control of the vertical and horizontal placement of hooks. With the aid of a spirit level, all twelve frames, together with captions and blocks of accompanying narrative text, were mounted — not quite in a jiffy but nevertheless looking pretty spiffy.
The Exhibition
I confess that seeing my photographs exhibited was a thrill. Although just twelve in number, they created a pleasing collective impression. Many friends attended the (alcohol-free) opening event and a (free alcohol) post-event soirée, adding to the sense of occasion. It was great fun discussing the concept and examples of abstract photography with reception attendees.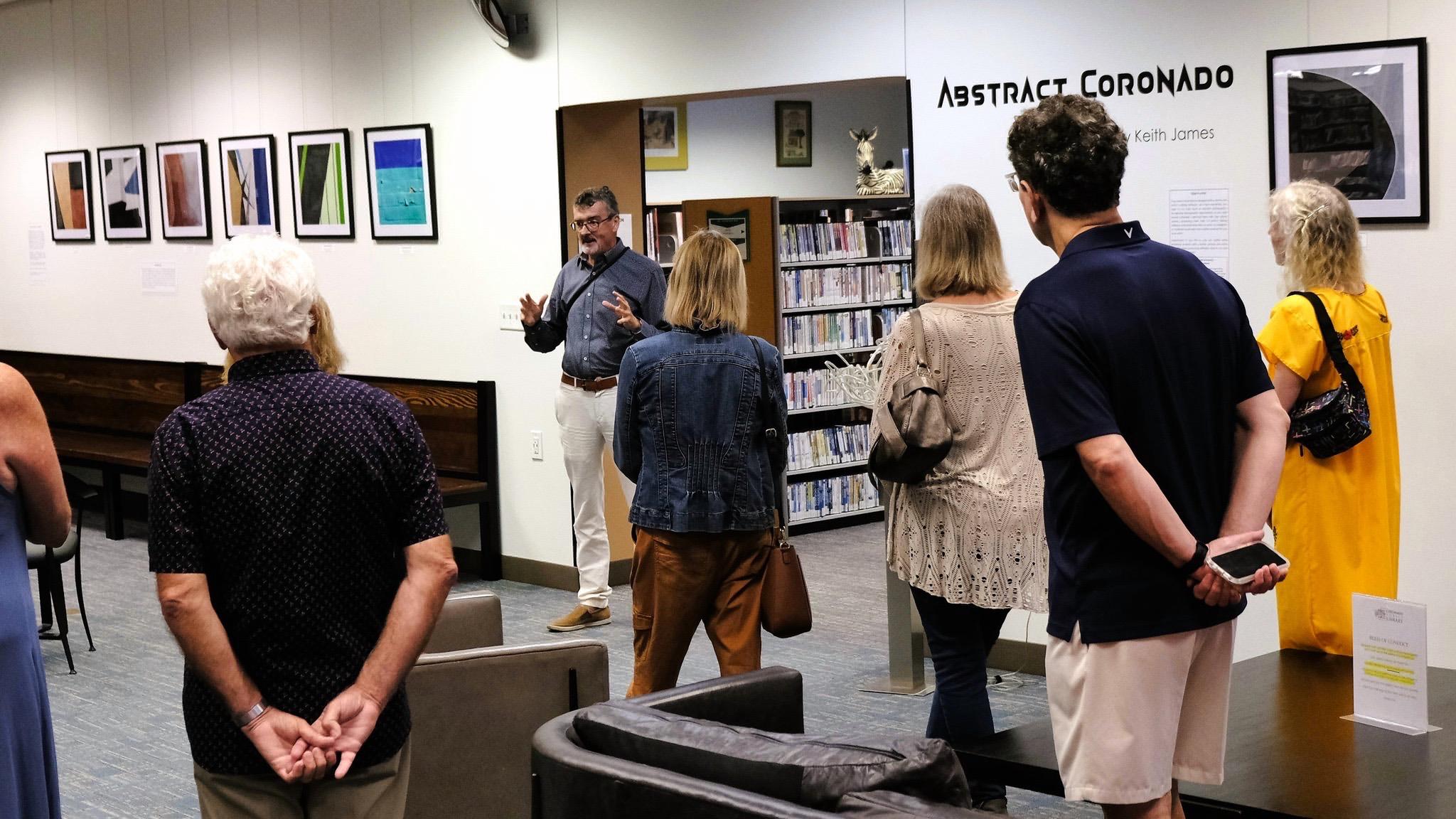 The Bottom Line
I am now convinced of the value of photography exhibitions in our social media era. Many elements have to fall into place in order to stage a successful showing, but I believe they are rewarding for both exhibitors and attendees. My modest exhibition featured a tiny slice of my photographic collection, albeit one that was key to unlocking this opportunity. Having experienced the direct feedback of strangers who attended the exhibition, I would love the chance to stage another, drawing upon a different strand of my photographic interests.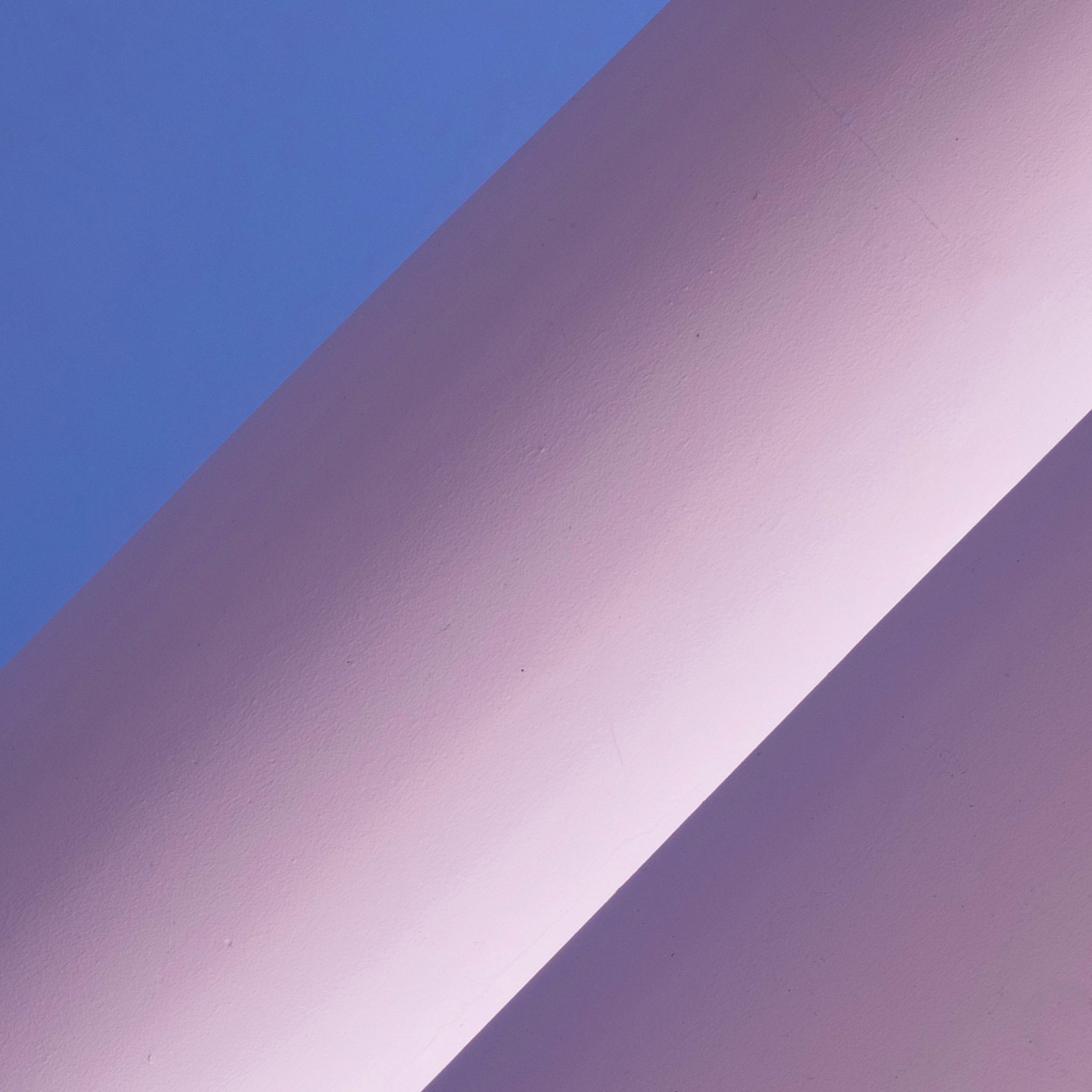 Please share your perspectives on photography exhibitions in the comments section. Do you have experience staging or attending an exhibition that shaped your outlook on photography? How many and what type of photographs were exhibited? Do you have any advice for photographers hoping to exhibit their work? I look forward to hearing your views.
---
---
Join our community and play an active part in the future of Macfilos: This site is run by a group of volunteers and dedicated authors around the world. It is supported by donations from readers who appreciate a calm, stress-free experience, with courteous comments and an absence of advertising or commercialisation. Why not subscribe to the thrice-weekly newsletter by joining our mailing list? Comment on this article or, even, write your own. And if you have enjoyed the ride so far, please consider making a small donation to our ever-increasing running costs.
---