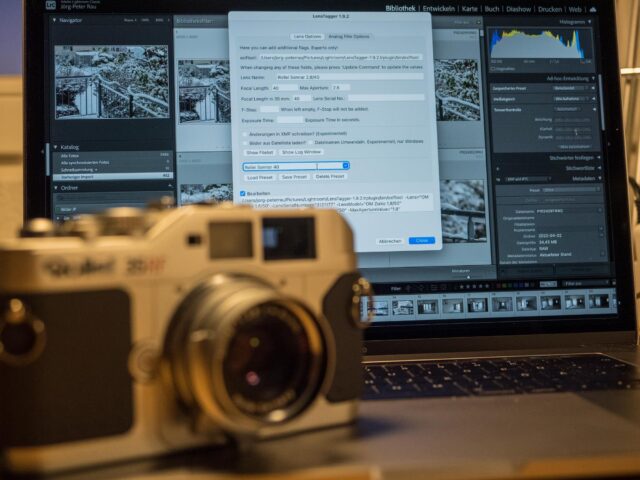 Now, which lens did I use to take this photo? This is a question that almost everyone who shoots on film or with vintage lenses asks themselves. How satisfying it is that there is a practical solution. It's the LensTagger Lightroom plugin and here I explain why and how I use it.
It is far more than just a convenience feature: Modern cameras write the lens used for an image, together with the selected focal length and aperture value, into the so-called Exif file. This is a standardised format for metadata that is embedded in the actual image file. As we all know, the cameras' image processors use the provided information to make electronic corrections to the image, including distortion, vignetting and chromatic aberration. In addition, these metadata are a great help when it comes to sorting a large number of images.
Adding Exif data to analogue images? LensTagger will do the job
Of course, those who shoot on film do not have this kind of support. With scans, what appears in the Exif data is normally some information on the scanner. Furthermore, a more or less historical lens attached to a modern mirrorless digital camera cannot leave such a fingerprint because there is no electronic communication between lens and body. Yet such information inside the image file would be quite interesting – for example, if one wanted to determine the character or performance of a lens systematically, wouldn't it?
Only the newer Leica Lenses have 6-bit coding… for the rest, the LensTagger Lightroom plugin is helpful
And so, we come back to the M-Files. In this project, I am dealing with cameras and lenses with M-mount that do not belong to the Leica M system. Consequently, the lenses I review for the project inherently lack 6-bit coding. If you do not manually set a pro forma profile on your Leica M or SL, you will, already after a short time, no longer remember which pictures you took with which lens. And this is precisely where, working with historical Minolta and Konica lenses or even current models from Zeiss or Voigtländer, the LensTagger Lightroom plugin has proven to be very helpful. It works with almost all versions of Adobe Lightroom Classic, but as far as I understand, not with cloud-based Lightroom CC.
My workflow looks like this. I put a non-coded lens on the camera and set the automatic lens detection to Off. The first picture I take is a sheet of paper on which I write the type of lens I am using. When I change the lens, I repeat this procedure (I actually avoid changing lenses and prefer to work with two bodies if possible). If I don't have a piece of paper at hand, I type a note with the first file name into my mobile phone.
Sure you can distinguish images by the "look" of the lens… sure???
On the other hand, what doesn't work is recognising pictures afterwards by their "look". Sure, when I'm out and about with a certain 50 and a certain 21, I can tell from the angle of view which shot I took with which lens. But with the 35 and 50 combo, it's difficult – as I recently experienced while researching an article about the new Voigtländer APO lenses. And with one and the same focal length, I sometimes find it difficult to distinguish between the pictures by the particular rendering. In other instances, it is quite obvious.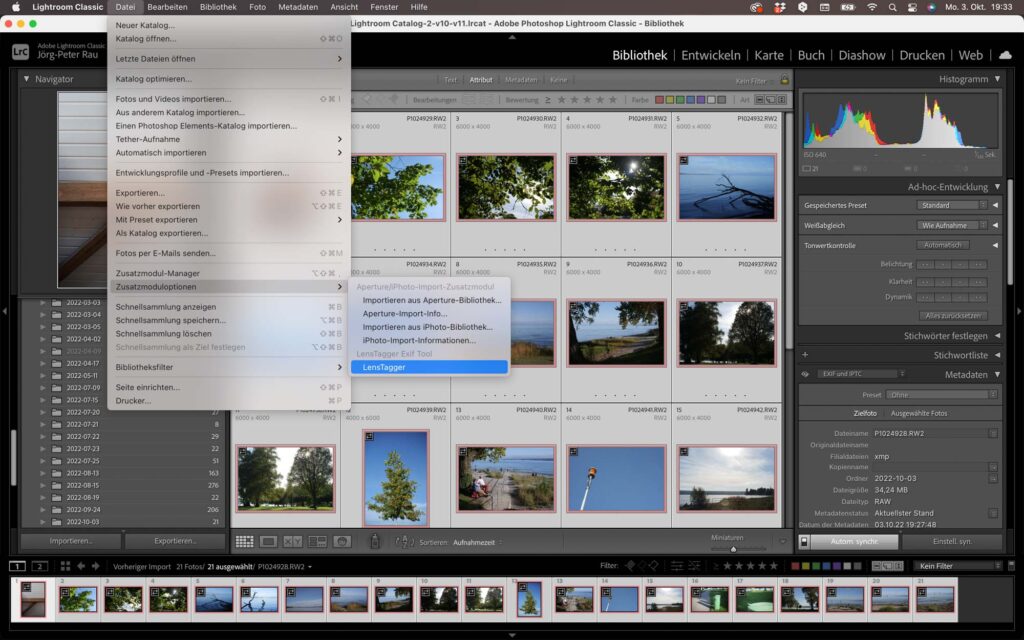 My workflow with the LensTagger Lightroom plugin
Back to my workflow. So, I import the raw files into Lightroom and immediately flag them with colours, depending on the lens used. Let's say everything flagged red was taken with the very competent yet affordable Zeiss ZM Planar 50/2. Next, I select all the "red" pictures and start the TensTagger Lightroom plugin. In this plugin, you can create presets for all kinds of lenses. But first, you must save the metadata of the images you want to edit with cmd+S (Mac). Then load the preset, update the command (easily forgotten!) and run it. Lens Tagger will manipulate all Exif files of the selected images. In the end, you have to reload the updated metadata once (how depends on your LensTagger Lightroom plugin version). Sounds more complicated than it is.
One of the best features of the LensTagger Lightroom plugin: presets
But the LensTagger Lightroom plugin can do even more. In addition to "Lens Options", it also has "Analog Film Options". Thanks to this feature, you can create presets for the camera, film material and much more. In the end, you have digital data with a nice metadata set. This certainly doesn't always replace the notebook that has been a photographer's companion for decades. But it can be very helpful for post-processing digitalised images. And it helps to manage the scanned images in Lightroom parallel to the digitally created ones. So far, I fully agree with this PetaPixel article.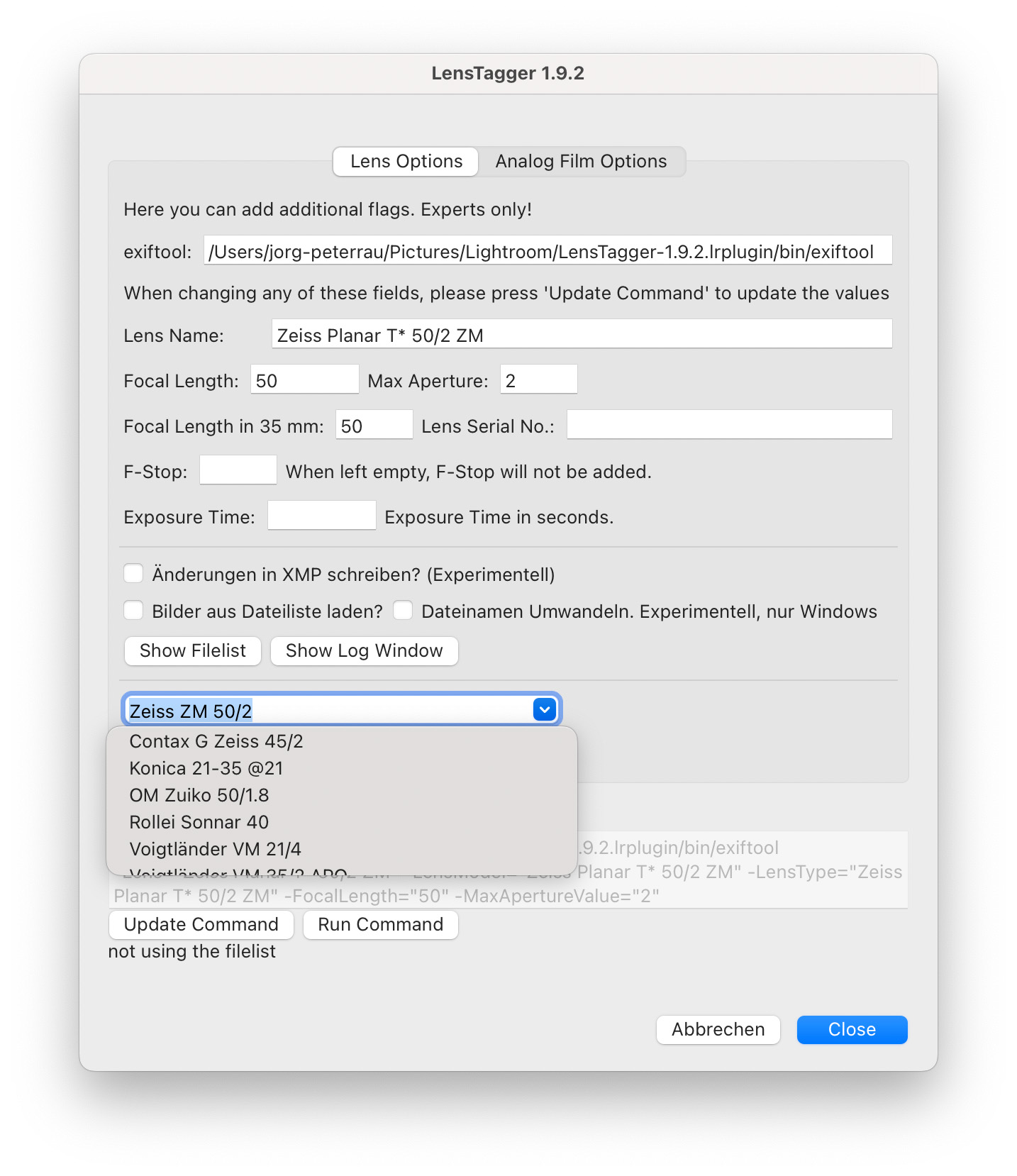 If you use it regularly, LensTagger is a matter of routine
Working with the LensTagger lightroom plugin is uncomplicated with a little routine. I use the plugin in two Lightroom Classic versions: 2015.14 (this was the end of the line for my very old iMac) and the current 11.5 on my newer laptop. The installation is trouble-free and is well described on the LensTagger page. By the way, the plugin is free. A decent donation should, however, be a point of honour if you actually use the LensTagger Lightroom plugin.
For me, the LensTagger Lightroom plugin helps me keep track of my pictures and the lenses I use. And that doesn't just apply to the M Files, because I also like to occasionally mount an old Olympus OM lens on my Panasonic S5. That's always a moment of truth, by the way, because you can see the whole and pure optical performance of the lenses. Sometimes I'm surprised at how good a 40-year-old lens performs, and sometimes I'm disillusioned by an optic that I always thought was quite good in analogue times (and still is!). But that's another story.
But it could also be that I'm just a pedant. One who always wants to have his Exif data intact just out of principle. But maybe I'm not completely alone in this?
You can get the LensTagger Lightroom plugin here. Do not forget to leave a donation.
What is your experience with a combined analogue/digital image workflow? Did you ever miss lens info in your image files because the lens you used could not communicate its technical data to the camera? Do you use the LensTagger Lightroom plugin, or do you know other solutions for working your image files? Or do you not care for image files at all? Discuss!
---
---
Join our community and play an active part in the future of Macfilos: This site is run by a group of volunteers and dedicated authors around the world. It is supported by donations from readers who appreciate a calm, stress-free experience, with courteous comments and an absence of advertising or commercialisation. Why not subscribe to the thrice-weekly newsletter by joining our mailing list? Comment on this article or, even, write your own. And if you have enjoyed the ride so far, please consider making a small donation to our ever-increasing running costs.
---