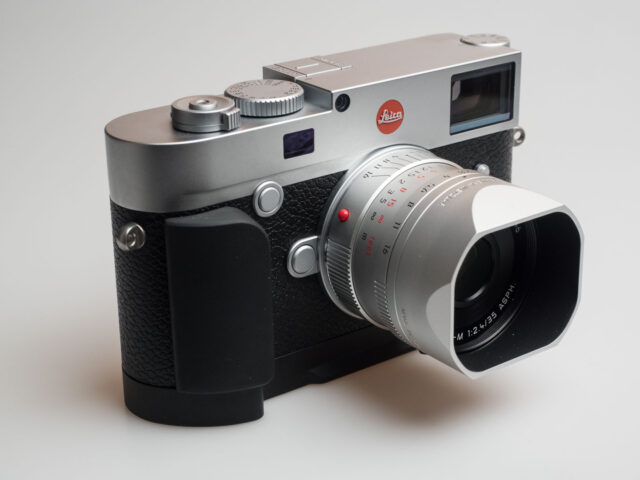 Improved handling, easier access to the battery and a tripod adapter: The Kamerakraft LM Grip for the Leica promises many advantages. Despite my initial doubts, I soon came to appreciate its advantages. It's just a shame that this beautifully made accessory is so hard to come by…
A Leica M camera is a bit like a Porsche 911, isn't it? It looks best the way it comes from the factory. No accessories, no spoilers, no extra rims, no embarrassing stickers — none of that makes this icon any more beautiful. And no soft release button, no thumb rest, no grip or whatever on the camera — it will ruin the look of this design icon. That's what I have thought for a long time.
Step by step, the camera got its accessories…
Then a thumb rest was added to my collection. It's undoubtedly an improvement in terms of holding the camera steady in hectic moments, as well as in very dark situations where you don't want it to shake. I first had one for the Q, and later for the M. Now I needed a good connection for the M10 to my wonderful Novoflex tripod, which comes with an Arca Swiss compatible connector. And I came across the Kamerakraft LM Grip.
… until the Kamerakraft LM Grip proved to be a game changer
As usual, the Kamerakraft LM10 Grip version 2.0 was sold out. So, I put myself on the mailing list. After a few weeks, Kamerakraft got in touch. I ordered a black grip and received it a few days later, direct from France. I put it on the M10, and it has remained there most of the time. It's definitely an improvement. I do have a better grip on the camera. And the battery door makes changing the battery (a frequent exercise for M10 users) so much quicker.
Just exchange your base plate with the Kamerakraft LM Grip
Kamerakraft is a business run by Vincent Bihler in France. He is a photographer and produces a few select accessories in an artisanal way. The Kamerakraft LM Grip is made from solid aluminium and appears to be very well made. The instructions are minimal: just remove the existing base plate (and preserve it for later, of course) and attach the grip. It can stay there forever — the memory card is accessible and there is a standard ¼" thread and a tripod quick lock rail (Arca standard).
The quality of the Kamerakraft LM Grip is excellent, and its effect on the camera's appearance is less pronounced than I thought. On the other hand, the handling of the M10 is much improved, and it hardly takes up any more space in your bag. The material fits the camera well, and the profile is as grippy as the manufacturer promises. Finally, you can have your camera with or without the removable base plate, depending on the day's mood.
The Kamerakraft LM grip is even useful for tripod use
In common with many other rangefinder photographers, I struggle with tripod use. It takes away all the elegance, speed and inconspicuousness of rangefinder photography. On the other hand, it does improve your results in low light, where you don't have to go to extreme ISO settings. Shooting with super-high resolution sensors, such as the 41-megapixel sensor in the Leica M10 Monochrom, is also remarkably safer. Remember, the smaller the pixel pitch, the greater the risk of minimal blur due to camera shake.
Not from Leica – but neither is it cheap
I have no idea what a Kamerakraft LM Grip for the M11 would look like. After all, there is no baseplate to replace. But there is a version for all film Leica M cameras, the Kamerakraft LM Grip V3.0. Unfortunately, it is usually sold out (maybe for good now). According to his website, Vincent Bihler is planning a new edition for 2023. The Kamerakraft LM Grip V2.0 for the M10 is also often unavailable. But with a little patience, you might get one of the planned 250 pieces. The price of €299 is no bargain, but I would say it is worth it.
How does it look? Matter of taste, I would say
Back to the aesthetics: I got used to it. And several times in the past few weeks, I have been glad to have the quick release for the tripod. Incidentally, if you are wondering whether silver or black is better, the black version still looks pretty good on a silver camera, but the other way around, I doubt it. If you want the camera to look like it did when it left the factory, no problem. You don't have to remove a bulky spoiler, just unscrew the Kamerakraft LM Grip in a few seconds and remount the original baseplate…
What do you think? Do you use an extra grip for your camera? Or a thumb rest? Or are you happy with the ergonomics of your camera as it comes from the factory? Is there an accessory you would particularly recommend? Or one that you have had bad experiences with? And is using a tripod an issue for you at all? Let's discuss it in the comments section.
---
---
Join our community and play an active part in the future of Macfilos: This site is run by a group of volunteers and dedicated authors around the world. It is supported by donations from readers who appreciate a calm, stress-free experience, with courteous comments and an absence of advertising or commercialisation. Why not subscribe to the thrice-weekly newsletter by joining our mailing list? Comment on this article or, even, write your own. And if you have enjoyed the ride so far, please consider making a small donation to our ever-increasing running costs.
---