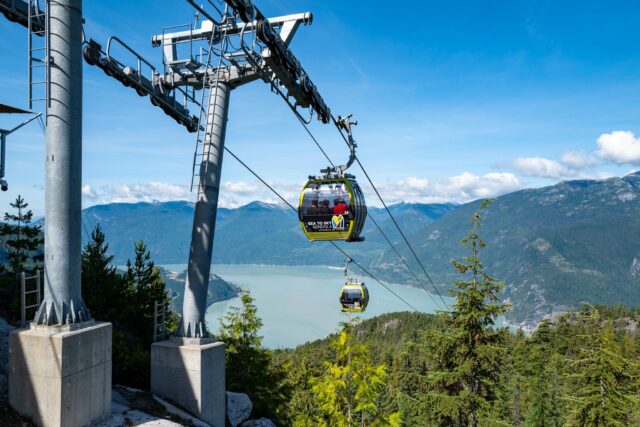 Travelling the world is a guaranteed way to find new sights and subjects to photograph. Unfortunately, it often comes with the wear and tear of long flights and jet-lag. So, what about a foreign destination in the same time zone that's just a short, direct flight away? Let's pack the Q2 and head for the Pacific Northwest.
San Diego is a wonderful place to live. However, there are a few disadvantages to being tucked away in the south-western corner of the United States. One is the challenge of traversing the sprawling Los Angeles conurbation to reach the north of the state. Another is the epic, eleven-hour flight required to reach the historic, cultural centres of Northern Europe.
In my view, the enriching experience of a trip to Europe easily justifies the cost and effort of travelling there. But, a shorter hop to historic and cultural centres closer to home makes for a welcome, and less demanding alternative. Hence, the idea of a visit to the Pacific Northwest, including the west coast of Canada. A few weeks ago, I packed my bags and off I went.
First stop on a tour of the Pacific Northwest: Vancouver
Our itinerary included three cities linked by two ferry trips: Vancouver BC, Victoria BC, and Seattle. In this first article, I will cover my exploits in Vancouver.
The direct flight from San Diego to Vancouver, BC takes less than three hours. With no checked luggage, we proceeded swiftly through immigration to the curbside. After a thirty-minute cab ride, we were in the centre of the city. We had chosen the month of August for our visit, guaranteeing warm, sunny weather throughout.
Vancouver is a gleaming, modern city surrounded by spectacular areas of natural beauty. Visitors enjoy views of mountains to the North and bodies of water in almost every direction. It is one of the most ethnically and linguistically diverse cities in Canada, clearly reflected in its culture and cuisine. It also offers a wealth of sites and scenes to attract the attention of a visiting photographer.
With just four days in the city, including a one-day excursion into the nearby mountains, exploration was necessarily limited. Nevertheless, we saw enough to convince us that Vancouver is a must-see destination if you live on the West Coast.
Water, water everywhere…
Vancouver sits on a peninsula and so, by definition, is surrounded by water. It also is located near a mountainous region full of lakes. Seaplanes therefore offer a convenient mode of transport for visitors heading to destinations at higher elevation, or seeking an aerial view of the local terrain.
We heard the characteristic drone of their prop engines as soon as we left the hotel for a stroll along the waterfront. A nearby seaplane terminal, with aircraft constantly arriving and departing, used an inlet of Vancouver harbour as a 'runway'.
We did not avail ourselves of a flight, but I have no doubt that aerial views of the city and mountains would be spectacular.
Vancouver is also a major cruise ship stop for tourists en route to and from Alaska. We witnessed an almost daily ritual of passengers disembarking and checking into local hotels, ahead of a flight home. Of course, we also witnessed the reverse sequence too. The cruise industry appears to be a significant contributor to the local economy.
Granville Island Public Market
Granville Island is a small peninsula, projecting into False Creek, a body of water just south of downtown Vancouver. You can see it in the map of downtown Vancouver above. In the 1970s, it began its transformation from an industrial wasteland to one of the most treasured public spaces in the city. It is now Vancouver's premier artistic and cultural centre. Its urban, waterfront location together with its industrial and maritime heritage attracts millions of visitors each year.
It is the site of Granville Island Public Market, home to over fifty independent food vendors. These cover every imaginable style of prepared food, as well as fresh produce from the surrounding territory.
Neighbouring stores sell various craft and artisanal wares, from musical instruments to fabrics woven on the premises.
Granville Island turned out to be a perfect spot for photographing people, performers, and passing watercraft. I practised my informal portrait skills with the help of friendly (mostly) stallholders.
Stanley Park
Before travelling to Vancouver, friends had encouraged us to rent bikes and cycle around Stanley Park. This was excellent advice. The park is a true jewel among Vancouver's many delights. It sits at the northwestern edge of the downtown area, occupying around a thousand acres. That's about one fifth larger than New York's Central Park. It is surrounded by Burrard Inlet, English Bay, and Vancouver Harbour.
Although there are roads and cycle lanes criss-crossing the park, circumnavigation via the Vancouver Sea Wall is the winning move. The route passes totem poles, a lighthouse, rock formations and offers stunning views of the North Shore area. This, and the mountains beyond, can be reached via the Lions Gate Bridge, visible from the bike path.
The park was established when the city incorporated in 1886. The city council of the time wisely chose to devote the land to recreational use, rather than build upon it. It is widely regarded as one of the best parks in the world.
Whistler
The second piece of advice we received when telling people of our planned trip to Vancouver, was to include a visit to Whistler. About ninety minutes drive north of Vancouver, Whistler is one of the largest ski resorts in North America. As locals are proud to tell you, it was also the venue for the 2010 Winter Olympics.
The first sixty kilometres of the journey from Vancouver to Whistler, along BC-99, runs beside the Howe Sound. Passengers sitting on the left side of the bus enjoy gorgeous views of Bowen, Gambier and Anvil Islands.
We stopped off at the 'Sea-to-Sky Gondola', a recreational aerial tramway just south of Squamish. The cable car, opened in 2014, takes visitors almost three thousand feet up the mountain. As you might expect, the views on the way up, and from the platform at the top, are spectacular.
If you have a head for heights, you can walk across a narrow, pedestrian suspension bridge and hike further into the forest. Although there were many people walking the trails, it was not difficult to find quiet spots where the only thing to be seen was trees, and the only sound to be heard was the breeze.
Whistler itself, in summer, is a small, bustling town filled with tourists, shops, and restaurants. Gazing up above the buildings, one can see the mountains to which skiers flock in winter.
Wherever we went, we saw flowers—in barrels, beds, and hanging baskets—and Whistler was no exception. It seems the inhabitants of the Pacific Northwest like to celebrate summer by decorating their towns and cities with floral displays.
Rivers and waterfalls
On the way back to Vancouver, we drove alongside the Cheakamus River. Despite it being late summer, the river was full, its water green from minerals washed down from the mountains above.
We made one further stop en route, at the Brandywine Falls. I thought the name Brandywine existed only in the world of J.R.R. Tolkien, crossed periodically by Hobbits. Apparently not. These falls were named well before the Shire sprang from his imagination. Again, despite visiting late in summer, the falls put on an impressive show. Although enjoying the sunshine, we reminded ourselves that for most of the year, the Pacific Northwest has a reputation for wet weather.
Seafood and skyscrapers
Throughout our visit, we sampled the delicious seafood served in Vancouver's many fine restaurants. Although I have been known to post articles on food photography, I refrained on this occasion, primarily because of lack of space. So, you will just have to imagine them.
The Vancouver skyline features numerous architecturally innovative high rises. They encompass both ultra-modern and regional ethnic designs. We even saw one on fire. An over-enthusiastic resident grilling on their balcony, we presumed…
The Leica Q2 meets the Pacific Northwest
The only camera I used on the trip was my Q2. Once again, it proved itself a consummate and versatile performer. Landscape, architecture, portraiture, and street photography all fall within its scope. Its fast lens puts indoor shots well within the frame. Even outdoor, when shot wide open, its shallow depth of field delivers offers numerous creative opportunities. It has now become a faithful travel companion. As impressive as its sibling, the Q3, appears, I don't feel any urgency to upgrade.
Our final excursion while in Vancouver was a trip to the ferry terminal, where we boarded a ship headed for our next destination: Victoria, BC.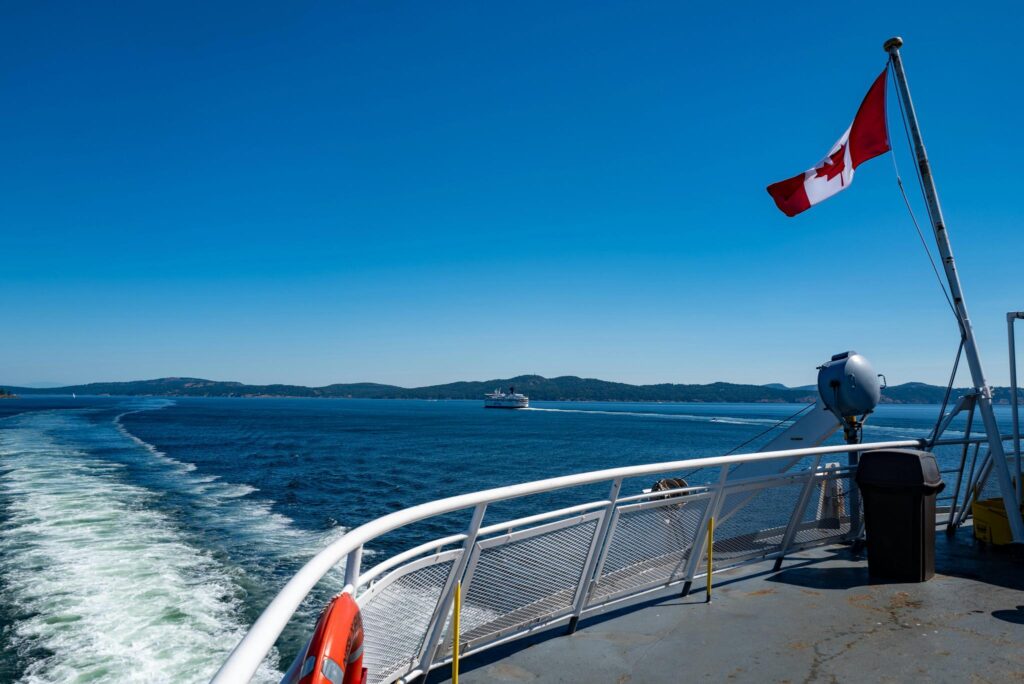 I will be covering that in part two of this travelogue about the Pacific Northwest. If you like flowers, you won't want to miss it.
Have you visited, or do you live in Vancouver? Should I have taken a seaplane ride? What should I add to my itinerary for my next trip? Please let me know in the comments below.
---
Join our community and play an active part in the future of Macfilos: This site is run by a group of volunteers and dedicated authors around the world. It is supported by donations from readers who appreciate a calm, stress-free experience, with courteous comments and an absence of advertising or commercialisation. Why not subscribe to the thrice-weekly newsletter by joining our mailing list? Comment on this article or, even, write your own. And if you have enjoyed the ride so far, please consider making a small donation to our ever-increasing running costs.
---