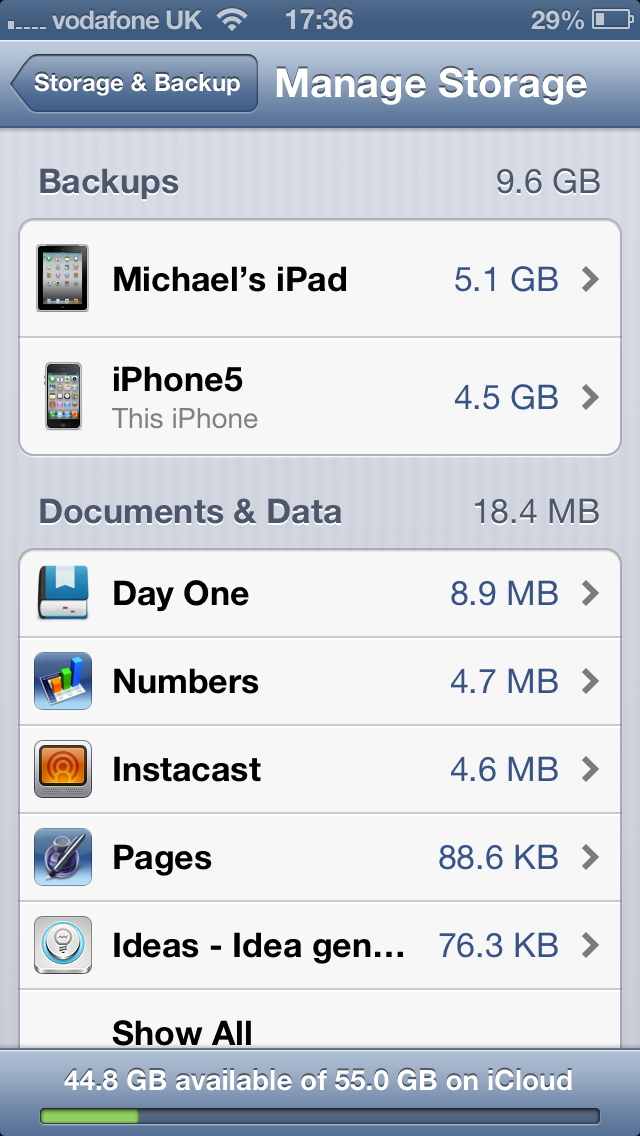 Long-time MobileMe subscribers have enjoyed a free six-month extension while Apple sorted out iCloud and coped with the transition. Everyone should by now have migrated to iCloud, but the storage package bought under MobileMe comes to an end this Sunday, September 30.
I was previously on the 50GB plan which is now an expensive $100 (£70) a year. I reckon I can get by on the mid-range plan of 20GB for $40 (£28). There is also a 10GB option costing $20 (£14). In every case, you get your free 5GB added to whichever plan you choose.
Check your current status in Settings/iCloud/Account. You will see your current plan which you can change, either up or down. The new plan will show up on your devices on October 1. Until then you will see the current figures.
Bear in mind that the first 5GB is given to all iCloud users without charge. It is worth checking if you can manage to keep under that limit by deleting some data.
Go to Settings/iCloud/Storage & Backup/Manage Storage and you will see just what is being used.
The first thing to check is redundant backups of old iOS devices. In my case I found backups of my old iPad 2 and, more recently, the iPhone 4S. Both these, totalling around 9GB, have been deleted, leaving just the two current devices protected by iCloud.
My Documents & Data section is tiny at just over 18MB. Many of my apps, including OmniFocus, Drafts and, of course, Evernote, are kept on independent services. If you use Photo Stream, which I don't, you will see a bigger total here.
As you will gather from my screenshot, I could get by with the 10GB subscription, giving me 15GB total storage. I decided, however, to pay the few pounds more and take the 20GB (25GB) plan.
by Mike Evans, 28 September 2012