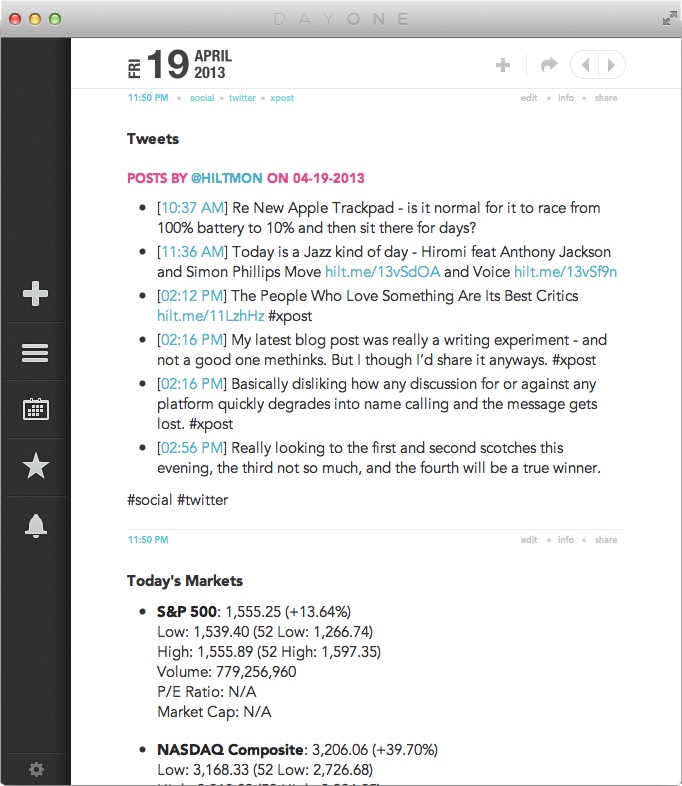 745 days in the bag and I am still writing every day in Day One. In the past, using notebooks, diaries, Filofaxes and various Mac applications, I have never managed more than thirty consecutive days. Day One is just so convenient and goes everywhere with me: it is on my phone, on my iPad mini and on both my Macs, perfectly synchronised and ever ready for my ramblings.
At its core, Day One is very simple: A date and a blank page. But there is a great deal more to it than that. It can handle Markdown, add weather information, accept tags and include photographs. You can even grab pictures on your phone from within Day One.
Using Brett Terpstra's Slogger, you can summarise your social network feeds in the journal. You can even use Slogger to journalise OmniFocus completed tasks as an automatic record of daily achievements.
Tulio Jarocki has just completed his Journaling with Day One series, a deeply knowledgeable exploration of Day One in all its glory. He does a better job of explaining the capabilities of Day One than I could ever do and I strongly recommend reading the series.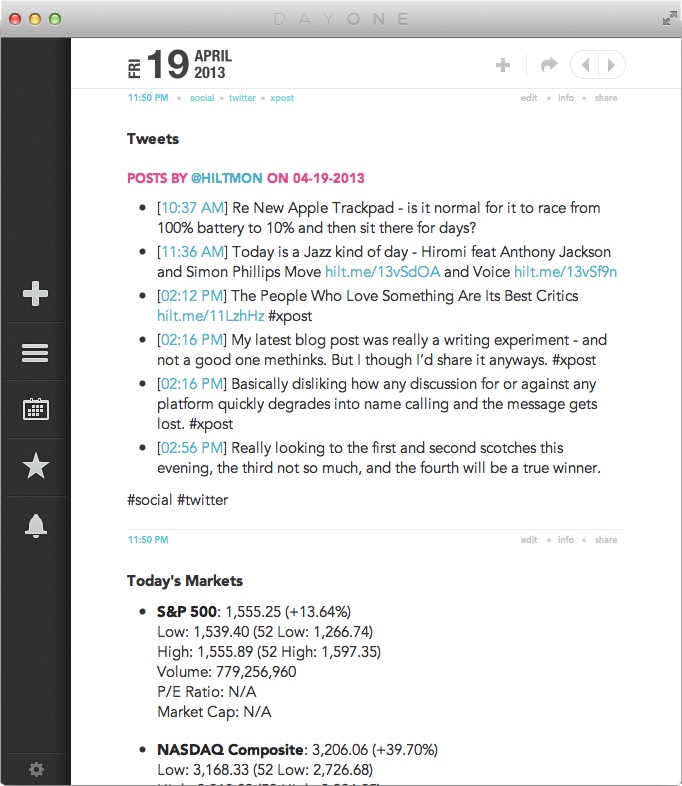 Hilton Lipschitz, an independent software consultant, demonstrates the power of Slogger as a feeder for Day One in this article. As he admits, it takes a bit of effort to set up all the feeds but the result is worth it
The message is that Day One can be as simple or as complex as you wish to make it. My usage is pretty straightforward, a relatively simple journal which is intended for my own consumpton and reference. Already I see the benefits of keeping track of activities and I only wish I could look back on a whole lifetime of daily doings instead of the ragbag of journals, diaries and notes currently sitting in a storage box in the attic. The beauty of an application such as Day One is that there is nothing to store in the attic when you get old; it will all be easily accessible from the Cloud.
by Mike Evans, 20 May 2013