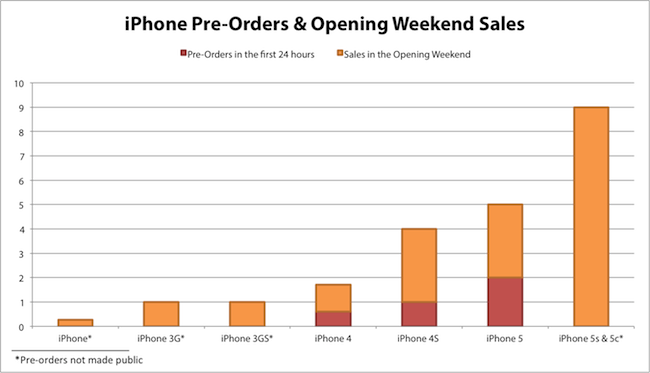 They say that a week is a long time in politics. In stock analysis, an hour is a pretty long time. But and when it comes to Apple, 47 minutes is the longest. At 7.57 Eastern Time this morning Seeking Alpha published a gloomy report on analyists' views of weekend iPhone sales:
Weekend action sobers up analysts' view of iPhone sales

Weekend sales of the iPhone were probably close to the bottom of the 5M-6M range he expected, says Piper's Gene Munster. About 95% of those waiting in line were there for the 5S, says Munster, with about 90% upgrading from an older version (83% were upgrading when the 5 was launched, 73% for the 4).
At least one analyst had expected weekend sales of 7.75M, according to Bloomberg.
BMO's Keith Bachman hit the malls to find longer lines than last year's iPhone 5 launch, but writes this off as having to do with no pre-orders for the 5S. 5C sales look like a disappointment even to his already-muted expectations for that unit. The gold 5S is a hit, but little supply exists, with one visited store running out in the first 30 minutes.
The iPhone 5 sold 6M units over its first 10 days last year – a number Bachman doesn't think Apple will be able to match with this year's launch thanks to the lack of enthusiasm for the 5C and fewer selling days until a press release. He sees downside risk to his September quarter estimate of 31M units sold.
It was enough to make any Apple shareholder jump from a top-floor window. Yet only 47 minutes later came this from the same source:
Apple sells 9M new iPhones in 3 days

It's a blowout number for Apple (AAPL) which reports selling 9M combined of the iPhone 5S and iPhone 5C in the first three days following their launch. This compares to about 5M expected by some analysts after popping in on the malls over the weekend, and the 7.75M at the top end of forecasts.
As if this is not bad enough, earlier this morning analyst David Trainer was pontificating on Appledoom in his article entitled Apple Stays Rotten. Some rot. Some Apple.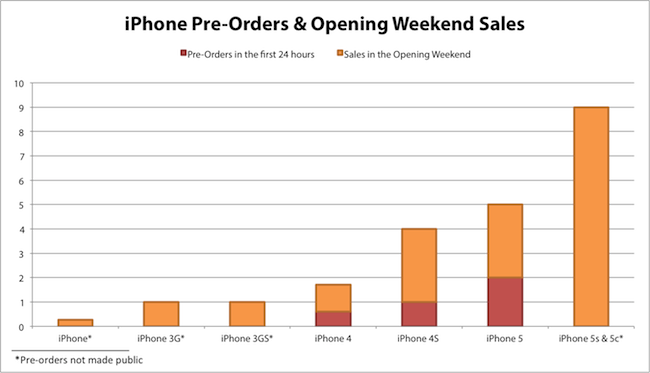 The above graph, published earlier this morning in Macstories, illustrates just how rotten Apple has become. Despite all the doomsayers of recent weeks, the company has had its most successful phone launch ever. And over 200 million customers have updated to iOS7 within three days. Perhaps Federico should have published his graph upside down just to placate the financial analysts.
As an Apple investor I take a very jaundiced view of analysts' views (with the honourable exception of Horace Dediu's). Much of their comment is designed to encourage short-term trading in a stock and Apple is a perfect candidate for a quick buck. I tend to rely on my own eyes. I notice how many iPhones and iPads I see on the morning bus; I calculate the percentage of Macs in Starbucks; and I keep my nose close to footfall in Apple Stores wherever I happen to be in the world. When I see an empty one I will start to worry.