In its first week Microsoft Office for iPad has been successful, with over 12 million free downloads. When the suite was introduced I was very negative because, for me, I saw no need for anything other than the free iWork suite. That said, I can understand that the millions who use Office at work will welcome the ability to edit and work on documents in native format. The free apps, as I understand, allow viewing but not editing. The smart option seems to be to subscribe to Office 365 Personal which gives you the Mac suite plus full access to the iPad apps. Tom Bradley at TechRepublic explains:
When you buy the standalone Microsoft Office desktop suite, that's all you get. The desktop suite costs significantly more up front and is licensed for only one PC. Period. Office Home & Student 2013 costs $140, and it only includes Word, Excel, PowerPoint, and OneNote. For $220, you can get Office Home & Business 2013, which adds Outlook — or for $400 you can get Office Professional 2013, which includes everything in Office Home & Business 2013, plus Publisher, Access, and some additional tools.

Compare that to Office 365. Office 365 Personal costs $70 per year. It includes licensing for the current version of Office on a PC or Mac, and on a tablet, and it also comes with 20 GB of cloud storage on OneDrive, plus 60 minutes per month for Skype calls. Just comparing the value of Office 365 Personal against the cost of Office Professional 2013, it will take almost six years of Office 365 subscription payments before you'll spend the same $400.
If I needed the full compatibility with Microsoft Office and, more to the point, if I still created extensive spreadsheets, documents and presentations, the subscription-based access makes a lot of sense.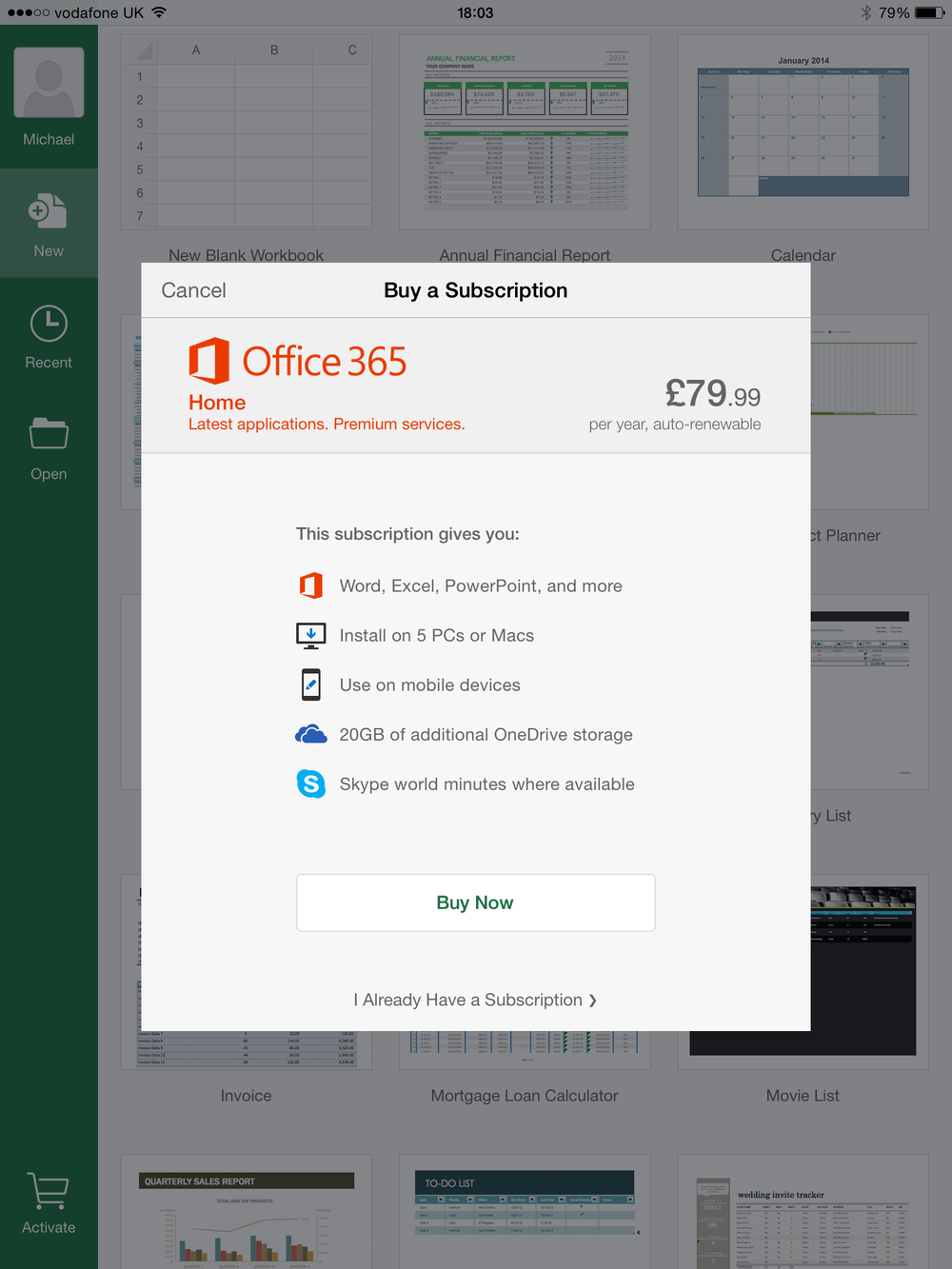 Even within the iWork suite I have no need for Keynote and I make very sparing use these days of Numbers and Pages. Most of my work is centred on plain text or Markdown which serves well for the writing I do. But the subscription service does appear to be a good deal, particularly since Office 365 includes three apps that have no integral iWork equivalent: Outlook, OneNote2¹, Publisher2 and Access.
Apple does offer free apps for Mail, Calendar and Contacts which mirror Outlook but in a less integrated fashion. In the past I have been no fan of Outlook although I admit I haven't used it for many years. I also tend to prefer the more flexible approach of Apple's PIM applications.
Apple should be pleased with the positive reaction to Microsoft's initiative. It provides much greater integration of Apple products for business users and should be a positive factor in explanding sales of iPads and iPhones.
Here in the UK, Amazon is offering the family pack of Office 365 for an annual subscription of £65. It sounds like good value to me, particularly since it can support up to five users in one househol―plus giving an extra 20GB of cloud storage per user and up to 60 minutes' free worldwide Skype calls per month. It also gives full access to the iOS apps and this is now the icing on the cake.
I cannot fault the value. The main question is whether or not I really need Office 365. While the cost seems reasonable, it is an annual recurring charge. Apple's quite respectable suite of competing applications come free.
¹ I am now told that OneNote is not included in the Mac application but it is available as a separate download from the Mac App Store. Access and Publisher are for PCs only.
Note: The above Amazon link offers an annual subscription of £65. If you subscribe direct with Microsoft the UK price is £79.99