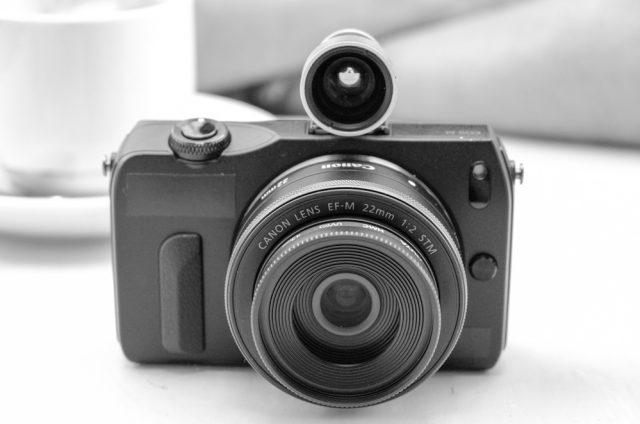 Canon came late to the APS-C mirrorless party in mid 2012. Its entrant, the EOS M, is an attractive and well-built little camera which has failed to make a big impression. It was criticised initially for its slow autofocus and, despite having one of the best touchscreen implementations in any camera, the lack of an electronic viewfinder option didn't help. And at around £800 it didn't exactly fall off the shelves.
Fast forward two years and the M has been invigorated by new firmware, with much improved autofocus speeds, and it has fallen in price to a point where it could be seen as a screaming bargain. This is what my street photographer friend Steven Kwan thought when he picked one up for a relative song earlier this year. Since then he has taken to the camera in a big way and believes it is the ideal large-sensor compact camera for travel. Steven owns a Leica M9 and also a Canon 6D rig, which he uses for his professional work, and he knows what he's talking about when it comes to photography.
Earlier this week he let me try the EOS M and the impressive 22mm pancake prime with its 35mm-equivalent field of view*, a lens which perfectly matches the dimensions of the camera. The camera is surprisingly solid and dense and feels extremely well built. I hadn't expected this substantial metal feel based on appearances. Says Steven:
I prefer the 22mm because it is so convenient and produces excellent image quality. I also have the rather slow 11-22mm and the 18-55mm kit zoom to make a very useful overall package. Autofocus is now much better than it was originally although, frankly, it is still slow compared with Panasonic's GX7 and the Olympus OM-Ds. That said, I prefer to have the larger APS-C sensor and I am impressed that the EOS gives me full compatibility with my Canon DSLR lenses, with adaptor of course.
But what about the lack of a viewfinder and a control system that relies so heavily on the bright 3in touchscreen?
Initially I thought the lack of a viewfinder would be a deal breaker. But I have to say I now like using the screen for composition and adjustment. The system is really well thought out, responsive and I particularly love the ability to click on a focus point and immediately take the picture without having to touch the shutter release. Of course, I still have a hankering for a viewfinder and that's why use this Voigtländer 35mm OVF which is more or less right for the 22mm lens. It comes into its own on sunny days and for street work.
Steven believes in the little Canon so much that he has used it on several occasions for professional work, including hotel interiors that he specialises in. Above all, though, he thinks it makes a great travel camera because of its small size, large sensor and versatile range of lenses.
The EOS M is now selling for under £300 with the 18-55mm kit zoom, which is a good overall performer on par with the usual DSLR kit offerings, and it represents compelling value at this price, particularly when you remember it started life at around £800.
* The Canon has a slightly smaller sensor than standard APS-C, as found in other cameras, with its crop factor of 1.6 instead of the more usual 1.5. Hence 22mm translates into 35.2mm at 35mm equivalence .