The day I acquired Neil, my lovely special edition M7, I ordered a red-stripe Urushi strap from Harry Benz in Toronto. It was my friend George James who put me up to this, telling me that a Benz was the only strap to have. I believed him, as I always do. I'm a bit suggestible like that. And now that my custom-length black and red Benz has arrived, I am grateful for the introduction. It really is superb.
The Urushi, which is named after the legendary Japanese artists known for their urushi-e lacquer technique, is made from black water-buffalo leather. The edges are rounded off, cleaned, sanded and polished before the five-step hand application of a lacquer developed specifically for leather. According to Harry, this lacquer will not crack or peel. We shall see.
Both ends of the strap have a thickened wedge-shaped leather loop which holds the split ring away from the camera body so that, in normal use, there should be no chance of the rings harming the camera paint.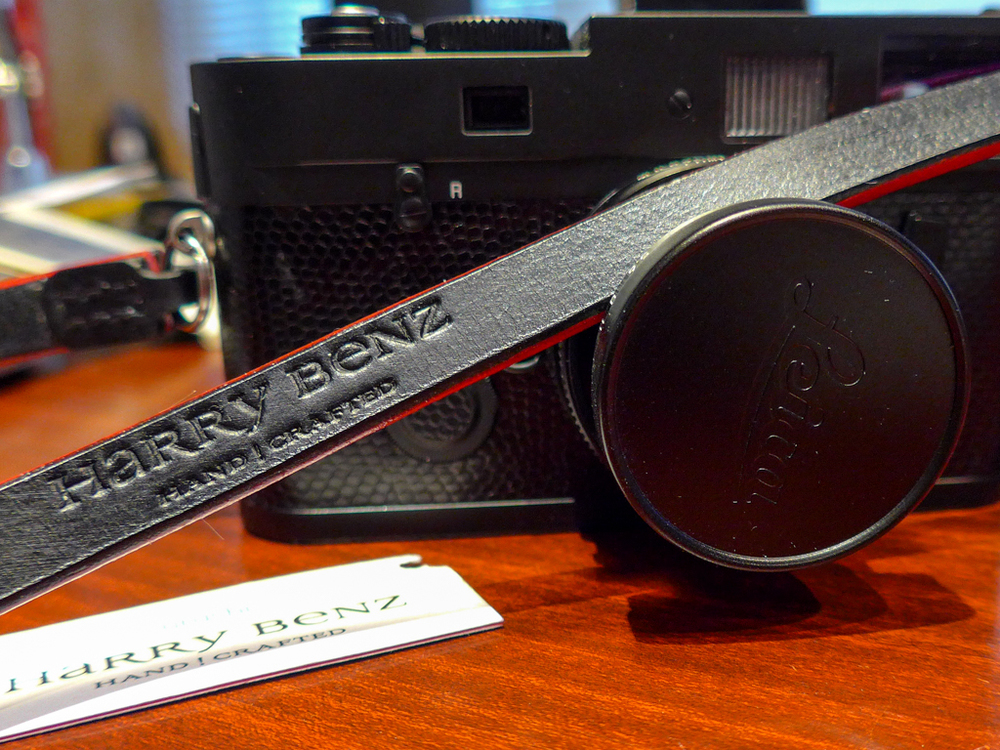 As it happens, the red lacquer is a perfect match for the Leica red although, it has to be said, Neil the M7 is a monochrome dandy: Only the little red engraving against the on/off switch and the red dot on the lens is there to harmonise. But I think the Urushi would go well with any Leica M of any vintage or finish.
A further bonus is that the Urushi, as with other straps in the Harry Benz catalogue, can be made to your custom size, up to a maximum length of 130m (51in). Since the strap is not adjustable it is worth experimenting and getting the length just right before you order. I chose 108cm which is perfect for my size. Barton1972 braided leather and Artisan & Artist silk straps are also unadjustable but come in two different lengths rather than being offered in custom sizes.
Cost of the Urushi, bearing in mind the made-to-measure option, the quality and finish, is a reasonable $139 CAD and shipping to the UK was a further $20. So, $159 dollars in all equates to about £87.50. Neil deserves it. Now all that's missing is Neil's custom leather half case which is on its way from Arte di Mano in Korea as I write. Watch this spot.