The Ricoh GR arrived at Macfilos just after launch and I used it for a month or two. I was not blown over and, for some reason which I cannot now fathom, unimpressed with the results. I certainly missed the built-in electronic rangefinder that I had enjoyed with the Fuji X100S and other cameras. That was last year.
A few months ago I had the chance to sample the latest fixed-lens street camera from Fuji, the X100T which, like the S, has an ingenious hybrid optical/electronic viewfinder. But after putting it back to back with the very slightly larger Fuji XT-1 (and the nifty f/2.8 27mm pancake lens) I was convinced that I preferred the X-T1 as a more versatile all-round camera.
The X100T is a superb camera and presses all the right buttons. But it is too large for the pocket and therefore not a camera you want to carry with you all the time in conjunction with a larger camera. Use an X-T1 and slap on that tiny pancake lens and you have as good a street camera as you could wish for; and a few Fujinons in the bag make it even better.
After I sent back the X100T I started to look around for an alternative fixed-focal-length camera that would be something I would take out all the time, even when carrying a larger Leica, Sony or Fuji. One day my eye lit upon the Ricoh GR sitting unloved on the top shelf. Let's give it another try, I thought.
Only the gods know what I was thinking of in rejecting it in 2014. Here and now in the Spring of 2015 I have again fallen in love, only this time it is love at second sight. The Ricoh is a captivating little beast that is genuinely pocketable and can be carried to most occasions without making me look like the camera geek that I am. Appearances are everything.
For the past three months this little camera has accompanied me everywhere, from excursions in Britain, to Copenhagen, Athens and the island of Mykonos.
The Ricoh's rather dowdy, uninspiring looks are part of the attraction. This is a camera I can use without restraint and, because it makes me look like a goofy tourist, I can grab street shots without being too obvious. And, joy of joys, this little device with its large 16.9MP APS-C sensor (without anti-aliasing filter), loves making black and white pictures. Just like a Leica Monochrom.
Design
This latest GR is almost identical in appearance to the the small-sensored GRs which preceded it. It takes an expert to tell the difference (look for the TAv setting on the mode dial to be sure).
The all-black exterior is unadorned with silver or other highlights and the overall impression is that this is a rather frumpy, uninspiring point-and-shoot camera for the masses. Nothing could be further from the truth.
For starters, the body is machined from magnesium alloy (contrary to one uninformed review I read which complained that it was plastic) and is rock solid. The quality is obvious when you look beyond the dull fascia. The main controls, a long, lozenge-sized shutter release, tiny mode dial with locking button, two soft adjustment rings and four customisable function buttons, are precise, well thought out and decidedly unfiddly for such a small device. I don't particularly like the push-push on-off toggle, preferring a visible switch, and I dislike the exposure compensation/playback zoom rocker which sits right at the top right of the camera back where it is easily pressed by mistake.
This is easily the worst feature of the GR. Every time I use the camera I constantly find the setting has changed. I've tried keeping my thumb further to the left, on the edge of the screen, but I soon forget and start prodding that awful rocker. I would dearly like to be able to disable it, but no such luck. Instead, I have set the exposure compensation steps to 1/3 EV instead of 1 EV which a least minimises the damage.
The body has a small pop-up flash to the top left, next to the hotshoe. The hotshoe on my camera normally houses an optical viewfinder, the small, neat, 28mm-only Ricoh GV-2. Conventional strap lugs are missing. Instead there are three thread-through slots, two in the normal position at either end of the toplate and a third at the bottom right-hand size of the body (in the centre).
While it is disappointing not to be able to employ a traditional split-ring wrist strap, my Gordy with string loop looks fine and is just the right length for holding the camera in one hand. And three strap lugs are very versatile in that, if you prefer a neckstrap, you can fit it to the narrow side and let the camera dangle on its side.
The 3in 1.23MP screen captures impressive detail. While it suffers in strong sunlight in common with all camera screens, this one is more than adequate. I have had fewer problems composing shots in strong sunlight than I expected. I got used to it very quickly and now use the screen much more often than the optical viewfinder. It is neither touch-enabled nor capable of tilting. Just a plain, simple little screen.
Lens
I do like the design of the short, stubby extending lens (which opens a modest 12mm) and I love the automatic lens cover which is the best arrangement for a pocket camera. No need to worry about UV filters or lens caps.
Ricoh is noted for the excellence of its optics and this 7-element design is no exception, with its fixed 28mm focal length and f/2.8 maximum aperture. While this compares unfavourably on paper with the f/2 of the popular X100T or the f/1.7 of the Leica X, I see no problem since this is a camera almost purposely built for street photography where a wide-depth-of-field f/8 is the normal prejudice.
A wide fixed focal length of 28mm is not for everyone. I admit that I am a fan of 50mm, but a wider field of view is often very useful, as I found recently in the narrow streets of a Greek village. Most street photographers prefer the 35mm of the Fuji or the classic 35mm Summicron on the Leica M, but in reality there is not a vast gulf between 28mm and 35mm.
This is especially true when you take the sensor size into account. Cropping from a tiny sensor has its limitations and it is always better to shoot the desired focal length. But with the larger APS-C sensor it is possible to achieve good, printable results from quite severe crops, certainly to the equivalent of 35mm and 50mm.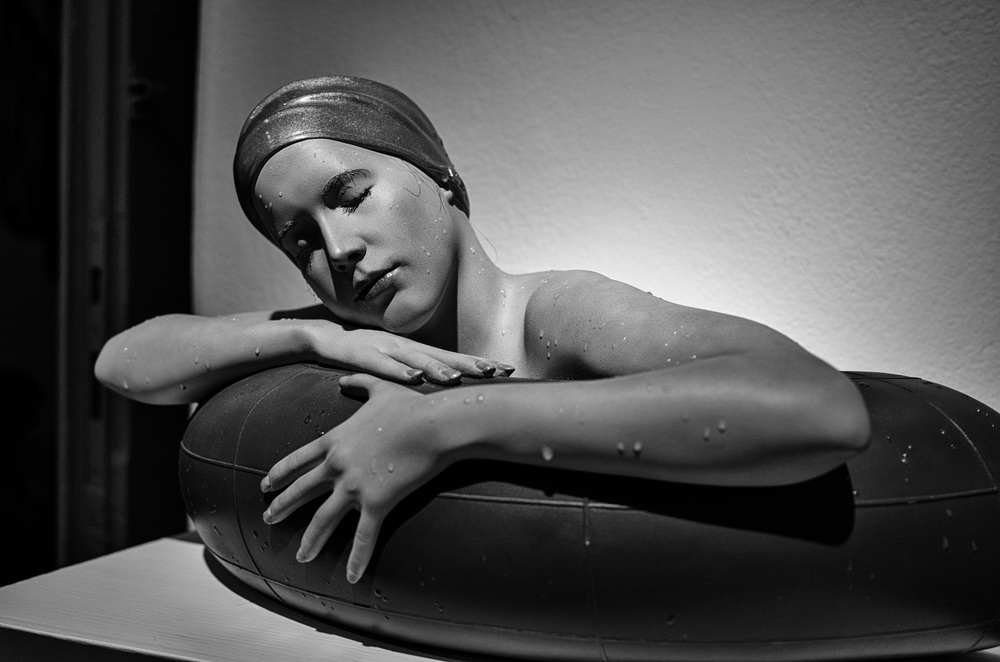 The Ricoh has a trick up its sleeve here. A toggle (assignable to your chosen button) moves the focal length from 28mm to 35mm and then on to 47mm ( you can restrict it to just 28/35 if you wish). It's very convenient, particularly for framing a subject when the alternative would be to shoot at 28mm and crop in post-processing.
Of course this is not magic, it is simply an electronic zoom which can be achieved just as effectively in Lightroom. But it does have its uses and I have found myself employing it more than I ever thought possible. The essence of this facility, again, is the large sensor size which makes cropping less painful.
Another big asset is the built-in ND filter which can be set to operate automatically. I love this facility to shoot wide open at f/2.8 even in brilliant sunshine. The camera has a maximum shutter speed of 1/4000s.
The Ricoh is thus very versatile in comparison with faster cameras with slower shutter speeds (such as the f/1.7 Leica X which struggles to use the lens wide open in even modest sunshine unless a physical 43mm ND filter is screwed onto the lens).
There is a rather expensive 21mm adaptor lens that screws to the lens bezel (after removing the trim ring) but I have not had an opportunity to try it. It is large affair (see the above picture, showing adaptor and the larger GV-1 21/28mm finder) and somewhat tarnishes the GR's qualification as a pocket camera. But from what I have read it is effective and makes for a very compact travel outfit in conjunction with the GR.
Menu system
Ricoh has one of the best menu systems in the business. That is my humble opinion, of course, so bear that in mind before objecting. The simple white on black type in a pleasing, simple font is pure bliss. There are just three tabs, one for shooting adjustments, one for key customisable options and a third for set-up. If you ignore the set-up section, which is not in daily use, the simplicity of this layout is exemplary.
ISO settings from 100 to 25,000 are available, together with two auto modes, standard and Auto-Hi which allows parameters to be set. Rather confusingly the setting for combining maximum ISO and minimum shutter speed, something I use constantly, is available only in the Auto-Hi setting.
On the Ricoh I normally set this function to Auto 1600 and 1/60s (which at more than twice the lens's 28mm focal length should be perfectly acceptable in avoiding camera shake). All this works well except when used with TAv mode. In speed, aperture and program modes it works as advertised when Auto-Hi limit is set (1600, 1/60s as above). In TAv mode, where the aperture and speed can be set manually with the ISO setting governing the auto exposure, only Auto ISO is available. This means that in poor lighting the ISO will top out at 25000 and this is usually undesirable, although the examples shown in this review are not at all bad.
The otherwise excellent TAv mode has to be used with caution at night or indoors if over-noisy results are to be avoided. This is a quirk that has obviously been done for some reason, but I am not sure why. In general, as with most of my cameras, I prefer to work in aperture-priority mode and the Auto-Hi ISO setting, with its limit parameters, is perfect.
Reader Treve Kneebone has a workaround for this (which I haven't had a chance to verify but i am sure he will be right):
Set Dynamic Range Compensation to Strong. This caps Auto ISO to 8000 in TAV mode and doesn't affect RAW files.
It should be noted that in low-light conditions the shutter speed can drop below 1/60s even on Auto-Hi. It seems that the camera uses the specified shutter speed unless it is not possible to get a shot at the accompanying maximum ISO value. If the light is too low the operating system nannies you and goes beyond the fixed speed in order to get the shot. Not ideal but you can live with it if you know the beast.
There are three customisable personal settings which are accessed from the top mode dial as MY1, MY2 and MY3. Almost every aspect of the camera's operation, including focus mode, exposure mode and ISO parameters can be set up and memorised. It is all very straightforward but inordinately useful stuff.
In use
This is a high-performance camera that is intended to be with you at all times. While not quite shirt-pocket material, it fits in most jacket pockets and because of the robust body and covered lens it demands no mollycoddling.
It is a solid little beast but weighs a mere 245g. Stash it in a pocket or throw it into a small corner of a bag and it doesn't object. In fact, I carry this as a discreet, wide-angle shooter even when toting a full-frame camera and lenses. I am never faced with the decision whether or not to take it; I just throw it in the bag because it takes up little space and weighs almost nothing.
Autofocus in good light is quick and I have come to rely on it most of the time. It is slower in poor light, as is the case with many cameras. However, zone focus is available in the near snap-to-focus mode where the lens moves to a predetermined setting when the shutter button is depressed. I usually set the hyperlocal distance in the Ricoh menu to 2.5m and, when snap-focus mode is selected, the lens defaults to this setting after sleep or power off. There is no focus ring on the lens and I would not therefore recommend using manual focus (which is controlled by the ADJ dial on the back of the camera). But zone focus works well.
When in snap-to-focus, the vertical manual focus scale on the screen shows the depth of field in green, depending on the aperture. For instance, at f/11 it tells you that everything from approximately 1.5 meters to infinity will be in acceptable focus (this is helped, of course, by the wide-angle lens). Open wide to f/2.8 and the range is more restricted obviously. For street photography at f/8 or f/11 the snap function is invaluable and means there is no need to wait for autofocus nor to worry about what is actually being focused on. Leica users will love this.
Incidentally, the focus menu consists of Multi AF, Spot AF, Pinpoint AF, Subject Tracking, MF, Snap and infinity. When infinity is selected, the snap-to-focus scale shows the vertical depth of field scale on the screen (at f/11, a surprising 1.5m to infinity in acceptable focus). The macro mode allows focus down to 10cm and works well. I use the Ricoh for most of the product shots on Macfilos and is is a reliable performer, capturing an impressive amount of detail with commendable sharpness.
The mode dial includes the usual suspects—Program, Aperture, Speed, Manual, Video, Auto—plus three "MY" settings for customised setups. In addition, the popular Pentax TAv mode has its place on the Ricoh. This enables aperture and speed to be predetermined, with the camera adjusting ISO sensitivity to achieve the correct exposure.
All in all, this is a simple set of controls that will appeal to the photographer who likes to command the camera and who is aware of what is needed to achieve results. That said, the auto mode takes care of all the decisions when needed, just as with most run-of-the-mill shooters.
Although this is a tiny camera, not much bigger than the average cheap point-and-shoot, it performs to professional standards. It feels good in the hands, despite the size, and the small front grip is particularly comfortable. Used with a good wrist strap, the Ricoh makes a very congenial carry-around companion.
The big difference between this camera and the Fuji X100/S/T is the lack of a viewfinder. When I received the Ricoh last year this was a big deal and I thought long and hard about whether I could live without a finder. At the time I decided I couldn't and I bought the neat and rather cute GV-2 which offers a small view but with clearly visible framelines.
There is a bulkier 28/21 GV-1, with framelines for 28mm and 21mm, which many prefer because of the larger window, but I went for the more discreet lines and the single focal length of the GV-2. Strangely, though, while I am a great advocate of viewfinders, I find myself using the Ricoh mainly through the rear screen. It is the only camera I have used where I am comfortable composing on the screen. I suppose it is all part of the goofy tourist image, just like any iPhone snapper. When I come to think of it, over the past month I haven't squinted through the viewfinder more than a couple of times. I might take it off to make the camera even more pocketable.
Image quality
Again, though, I have to come back to the discreet looks and the unthreatening nature of this camera when considering image quality and output. No camera that looks this pedestrian has a right to produce such excellent results. The Ricoh continues to surprise. It is right up there with the Fuji X100, X-E2 and Leica X-E or X in terms of image quality.
And, probably thanks to the missing AA filter, it produces some of the most stunning black-and-while conversions I have seen from an APS-C sensor. In fact, I have come to think of the GR as my mini Monochrom. I work mainly in RAW and use Silver Efex Pro for monochrome conversions, so I have not really explored the jpeg capabilities. But, from quick sampling, the camera does a really good job of processing if you do prefer to work in jpegs. All the colour samples at the end of this review are taken from RAW and processed in Lightroom.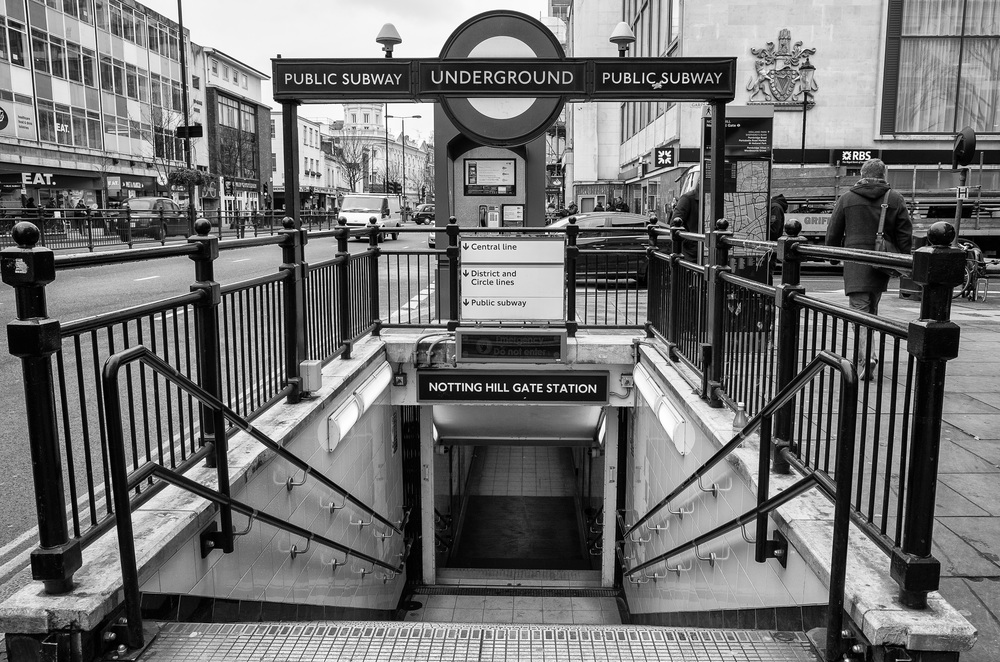 I have found that the camera has a tendency to blow highlights (just like the Leica Monochrom Mk.I) and this is possibly down to the missing AA filter. It isn't a significant problem but does need watching.
ISO performance is surprisingly good. Sensitivity of 3200 is perfectly usable (see the photography of the pen shop) and even 25600 is presentable in emergency (see the picture of Amalfi restaurant in Soho). Overall, I am hugely impressed with the performance of this little camera.
Battery life is good for about 250 shots, depending on the power saving settings and whether or not you make extensive use of the screen. As a very compact camera it has a very compact battery which, in turn, means a very compact life. If you buy the Ricoh you will need at least one extra battery to see you through a day's shooting. However, the same applies to most of its competitors and, even, the Fuji X-T1 and Sony A7.
The Ricoh charges via a USB cable, something that I find particularly convenient and much preferable to having to cart around a separate, proprietary battery charger. While some people hate the idea of in-camera charging (how can I charge a separate battery while using the camera?), in the real world I do not find any disadvantages to this system.
When travelling, the USB cable takes up no room and you can, if you wish, charge the camera from an iPhone power unit or, even, from the USB socket of a laptop. More to the point, if you forget to take the cable you can buy a replacement in almost any mobile phone shop in the world. You will have a tough time finding a spare charger for most cameras, especially outside major cities.
Conclusion
If you are in the market for a high-performance fixed lens camera with a large sensor and compact dimensions, this is the one to go for. Other contenders such as the Fuji X100 have more bells and whistles and some, such as the Leica X-E or X, have arguably more pedigree.
The larger Leica X and the Fuji X100T are also much easier to use in manual focus mode. But none is as pocketable as the Ricoh. The nearest competitor in size, also with an APS-C sensor and 28mm lens, is the unloved Nikon Coolpix A. The Ricoh simply demolishes it, both on paper and in the sales charts.
There is one other fixed-lens contender, the Sony RX1r which brings a huge full-frame sensor to the party. Again, though, it is a relatively large camera and is certainly not as pocketable as the tiny Ricoh.
The Ricoh GR is a stunning little performer than impresses at every level. It looks inoffensive and rather boring. But beneath that unthreatening pussycat body beats the heart of a lion.
The GR has become the one camera that is always with me. It is so compact that it fits in a pocket. The automatic lens cap removes the need for a case or accessory cap and it can be thrown around without worry.
A new GR is rumoured to be with us in the space of a couple of months. It is said to have a redesigned lens, larger grip and other detailed improvements. But, at the end of its life, the current GR is a monster bargain for its street price of around £400. I recommend it highly.
Colour Supplement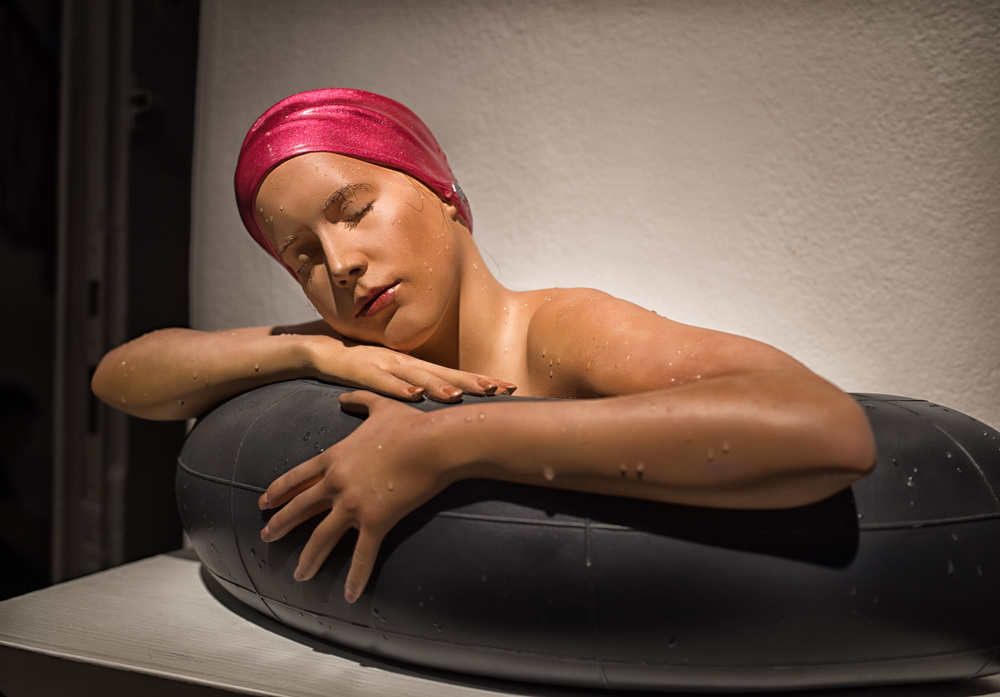 Full specification of the Ricoh GR