Contrary to popular modern belief, Leica cameras were plentiful back in the 1950s when I first started. Indeed the camera shops had windows full of them BUT they were all pre-war or the spoils of war. As this was a time when Britain had to export or die, the last thing our government wanted anyone to do was import foreign goods, and especially not from any country which until very recently had been a bitter enemy.
It was thus quite impossible for anyone to simply walk into a camera shop and buy a new Leica, even from such as a pre-war Leica specialist or agent. On the other hand, if you were a professional photographer (and could prove you desperately needed such as a new Leica to be able to do your job) you might stand a chance. You could apply to what had been the wartime Ministry of Supply for an import licence, a process which involved navigating your way through masses and masses of red tape.
Fortunately I was working as a professional and felt I could put up a good case for a IIIf because it was flash synchronised whereas the many WWII or pre-war cameras on offer were not. I had to get my import licence application signed by a Justice of the Peace, also my employer or newspaper editor and a doctor or senior policeman. All of this took a very long time with no certainty of success. Nevertheless, that was how I got my wonderful 1954 IIIf.
Bentley disaster
In those days I was about the only person in the UK media shooting colour so I also needed a second body, which (variously) was either a IIIb or IIIc modified for flash synchro, and this all worked fine. But one day in the late '50s I was photographing the Gold Cup car races at Oulton Park, Cheshire, and standing on a earth mound right on the edge of the track (no Armco in those days). An eight-litre Bentley spun in from behind me, quite literally demolishing the mound I was standing on and knocked me flying. My camera case with the vital second body and most of my lenses disappeared under half a ton of earth.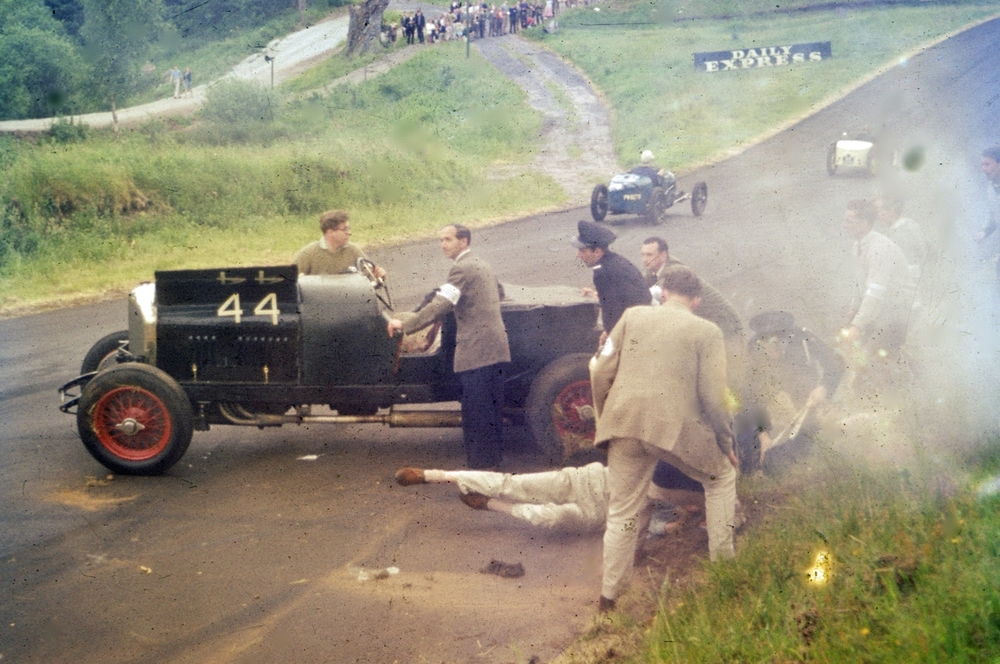 Despite the offending vehicle being a late 1920s vintage eight-litre Bentley, this it was not a vintage race. Rather, as happened in those days, it was called the Formula Libre race, and it was won by a young unknown chap who had just come over to the UK from Australia by the name of Jack Brabham!
Destroyed
But what of my precious Leicas which I then had to dig out of the dirt? Well the IIIc and case were destroyed and I was not insured. The lenses were full of earth but just about repairable, although clearly I was not going to be able to shoot colour and black and white again until I managed find and afford the necessary replacements.
The money raising bit itself took quite a while before I took the chance of applying yet again to the Ministry of Supply to be able to buy another IIIf. If I were to get it I would have paid £109 which was a relatively vast sum in those days. Indeed, it is probably now equivalent to around £3,000 in terms of purchasing power. This time round, fortunately or unfortunately, the Ministry was on the ball. I soon received a letter approving my application and asking which photographic dealer I wanted it delivering to.
Black market

I opted for the Ministry to send it to Camera Thorpe in Derby who were my nearest dealers. They then got very exited because they had never had a new Leica before and, this being still in the days of the black market, they offered me half as much again over the new price if I was prepared to go in and and legally take possession but then sign it over to them. I declined. Came the big day when I did go in to collect and I was horrified to find Leica had moved on by then from making the IIIf to the IIIg and that was the surprise package I received.
You might think it strange now but I was gutted. There I was having to pay my life savings for a camera I just did not like. It had grown bigger and was no longer the lithe compact the IIIf and its predecessors had been. And I hardly ever used a 50mm lens (and I still don't) so the much vaunted bigger viewfinder was a complete waste for me, especially as they had not merged it with the rangefinder into one eyepiece window like in the then-new M3.
This was especially apposite for me because my job was very dangerous and I much preferred to use a framefinder a) because we could see round it as well, and hence spy the odd race car with evil intent and b) because it covered all of our range of lenses and so did not need changing in the heat of the moment when, for instance, we were also trying to screw out a 90mm and screw in a 135mm.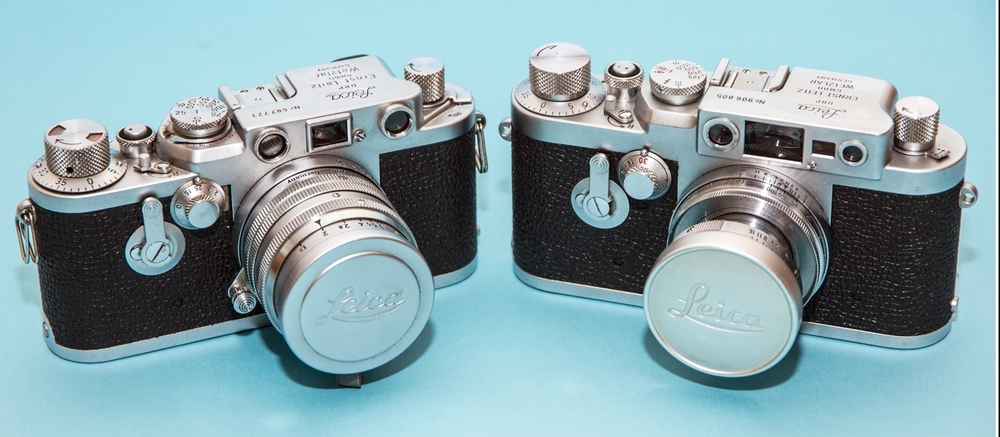 To cut a very long story short, I used the IIIg for six months or so then managed to do a straight swap for a mint IIIf and was happy again. The swapee thought it was Christmas and his birthday all rolled into one but I never regretted it and never looked at another IIIg either until a couple of years back. Then I sort of rediscovered it and came to love it in the collector sense. Indeed, if I had to choose now, I might even take the g over the f, but it is still the IIIf which was THE big milestone for me.
A word on the pictures
Note: Click on the thumbnails to enlarge them
Copyright Notice: All photographs in this article are the copyright of Don Morley and may not be downloaded or reproduced without express permission.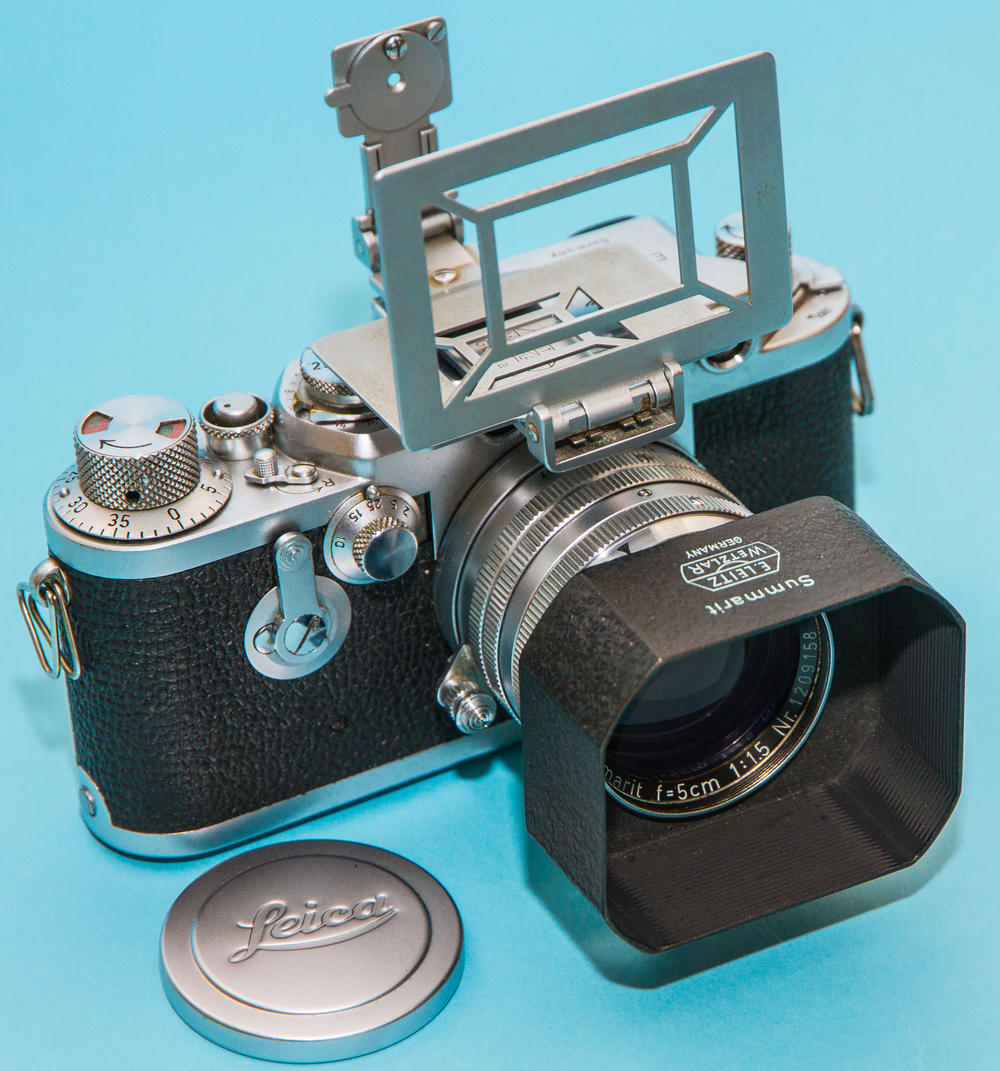 The shot of the single camera at the top of this article is of my 1954 red dial and delayed action IIIf with 1954 50mm f/1.5 Summarit lens fitted with its unique lens hood. On the camera is my circa 1954 Leica ROSUL viewfinder which has frames for 5cm, 9cm, 13.5 cm lenses and was a vital accessory in my day for dangerous sports and better than the bright-line finders because you had to change them for each individual lens length.
This is not the actual camera and lens I used in 1954 (at least not as far as I know). But it is similar. Incidentally, I sometimes use the finder and the Summarit on my M9 and both work very well still for digital, though best to stop the lens down to f/2 or below and then up the contrast a bit in Lightroom or whatever.
IIIf and IIIg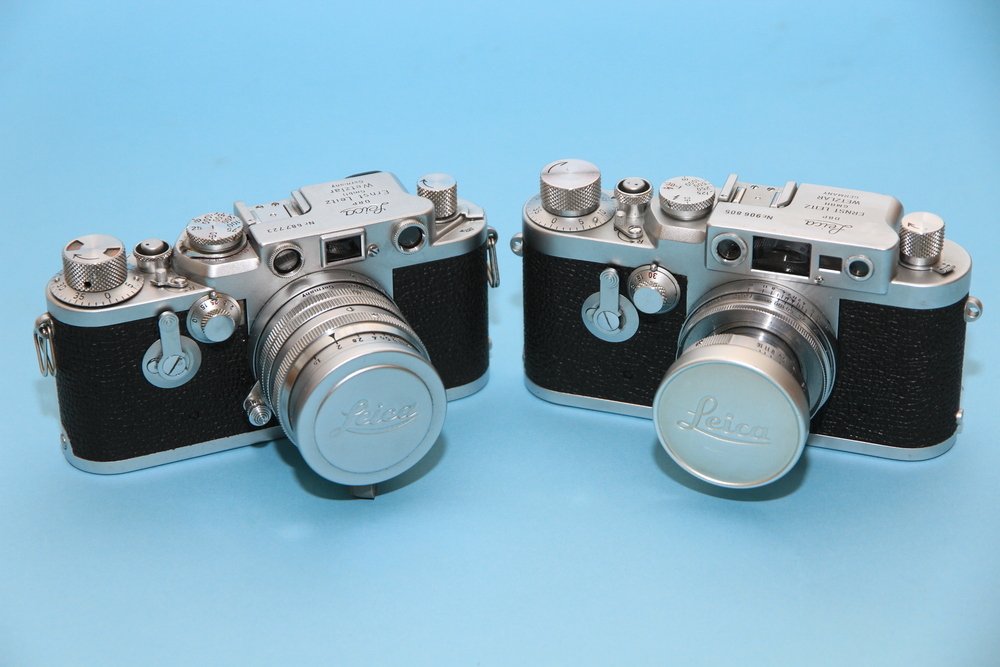 The view of the two cameras together shows the IIIf as above plus my 1957 IIIg and its 50mm f/2 Summicron, a lens I never managed to afford back in the 1950s. In fact, my original new IIIg came with a 50mm f/2.8 Elmar which I still have a soft spot for (I do have a mint M version). So neither cameras are my originals BUT both are same year as the ones I used in the fifties.
Press outfit
The picture of the outfit: This again is my 1954 IIIf with my screw thread lenses, some of which are very rare. So the camera is shown fitted to a screw-thread Leica Visoflex II (OTYDO) which in screw-thread fitting form is quite rare in itself (I have two), and as shown it has the (OTXBO) right-way-round pentaprism, then behind this the picture also shows the upright magnifying finder/viewer.
The lens fitted is a ultra-rare E. Leitz Canada 280mm f/4.8 Telyt which is direct M rather than screw fitting and is quite rare in itself. My particular lens is even rarer still, so much so that very few of even the most esteemed of Leica specialists have ever heard of it, though it does get a few almost throwaway lines in Erwin Put's book.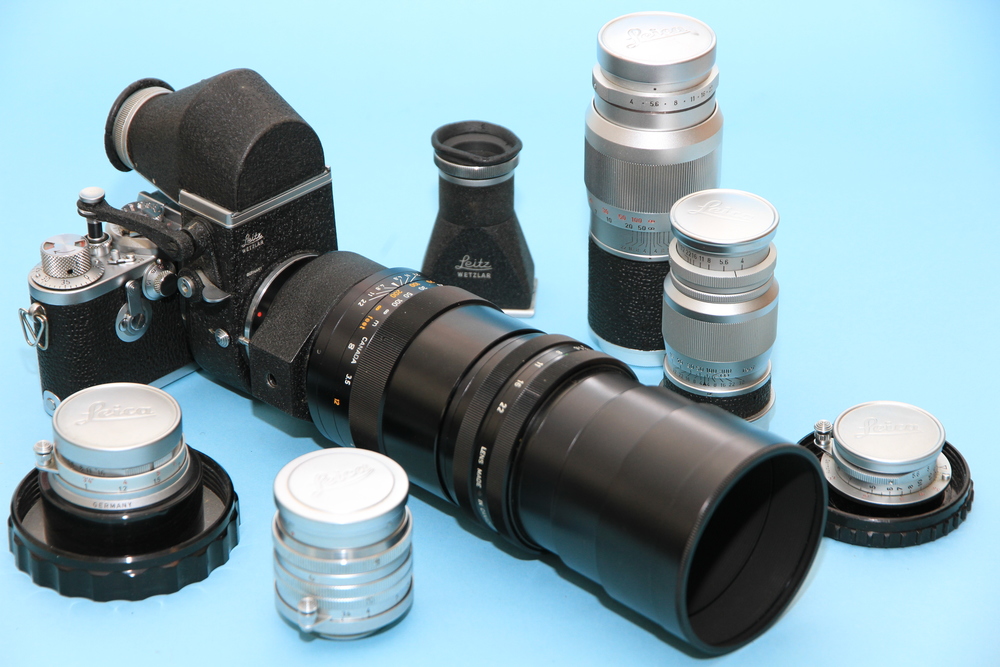 Basically, this is from the era when virtually all Leica's lenses were made by Leica Canada rather than by or at Wetzlar and near the time of the German Leica company's first big financial collapse. The 280mm Telyt was re-designed by Leitz Canada so it was more suited for use on the 'R' models as well as the 'M', and even changed the mount so it no longer needed the old OUBIO adapter which on the previous version was needed both to fit and to be able to rotate it.
Anyway, as said, Canada much simplified all of this in addition also to improving it optically, and these versions are also quite rare. What it seems even very few experts know about, they then had another 1980s go at making even more improvements to this lens just about the time the entire Leica company was imploding. [Editor's note: In a comment to this article, Dr. Andreas Kaufmann says: "the Canadian factory of Ernst Leitz never was closed. It exists until this day under the name of Elcan—Ernst Leitz Canada—and produced the last lenses around 2008 (f1 Noctilux)]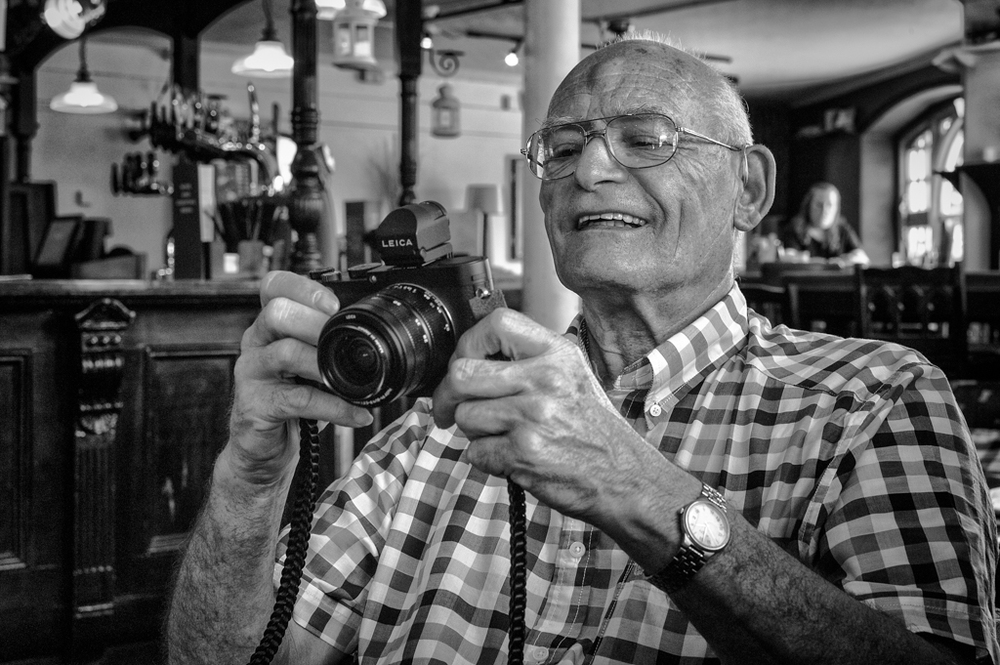 As said, Puts is the only writer I have known to pick up on this, and it does not look as though even he knows very much about the very final few; he just says something like "from lens number ……… this lens was re-designed optically to give better definition and contrast".
Well, my lens is after that number, and I still have the box and its Passport, etc. It was not sold (by Leica UK) until 13 November 1984, which, if I recall correctly, was quite a long time after the Canadian factory had closed. Obviously I had a much earlier version back in the late 1950s.
Also in the picture are my 50mm Summarit and 50mm Summicron as already mentioned, plus a circa 1954 90mm f/4 Elmar and two other real rarities: My 135mm f/4 Elmar, which is very unusual in screw-thread form, and my even rarer 28mm f/5.6 Summaron of which Leica made only a relative few (fewer, in fact, than 4,000 in screw-thread form) and did not make at all as an M-fit lens.
Don Morley, photographer extraordinary
Difficult making a comment on this article? Please read this
Subscribe to Macfilos for free updates on articles as they are published. Read more here